The 5 Best Wireless POS Systems for Retailers
What are the best POS systems for retailers on the go?
Data as of 12/10/22. Offers and availability may vary by location and are subject to change.
Point-of-sale (POS) systems are an essential part of taking payments and automating business tasks. Wireless POS systems give retailers and staff the flexibility to conduct transactions anywhere in the store and on the go—at a farmers market or beside a customer's car.
These systems vary in levels of complexity. Some are a smartphone with a wireless card reader, while others are entire mobile POS systems that can take all forms of payment and perform business management tasks on the go.
These mobile solutions have changed POS forever and Square is leading the pack. It was one of the first to design mobile POS solutions for small businesses and it is, to this day, still one of the best providers.
Best wireless POS systems for small business
:

Best overall

:

Best processing rates

:

Best iPad POS

:

Best accounting tools

:

Best inventory management
Data as of 12/10/22. Offers and availability may vary by location and are subject to change.
Data as of 12/10/22. Offers and availability may vary by location and are subject to change.
If you have a smartphone and an email address, you're already most of the way to getting your wireless POS system up and running with Square. Square offers a free mobile card reader to all new customers. With that mobile reader, you can accept credit card payments anywhere that your smartphone has service.
Plus, Square comes with numerous built-in point-of-sale features like employee management tools, inventory tracking, and loyalty programs. This makes it easy to get a bundle of great features without having to spend a dollar. You only pay the 2.6% + 10¢ processing fee whenever you charge a card.
Payment Depot: Best processing rates
Data as of 12/10/22. Offers and availability may vary by location and are subject to change.
Payment Depot is an all-around great processing provider, offering lower processing rates than any of our other recommendations. In addition to those low rates, Payment Depot also offers some of the best wireless POS hardware with its Clover terminals.
Payment Depot offers the Clover Flex terminal, for example, a wireless handheld device that can easily be transported around your shop and around town. This device also features a plethora of POS features like accounting and inventory management solutions.
Pairing the cheapness of Payment Depot processing with the POS power of a Clover terminal makes for one of the most powerful mobile POS solutions on the market today. That's why we recommend Payment Depot so highly.
Data as of 12/10/22. Offers and availability may vary by location and are subject to change.
Shopify is a longtime player in the online shop game, but did you know it also has solid POS options for small businesses? Shopify lets you combine the power of online and in-store in powerful, time-saving ways.
You can, for example, synchronize the inventory of all your store locations so that your customers can always have access to your entire inventory no matter where they meet you. For example, let's say a customer wants to purchase something but can't find it at the store they're in. You can order that item from one of your other stores and ship it right to their home. It's that simple.
And, best of all, Shopify runs on Apple iPads, so you can easily help your customers on the go. Whether that be on the sales floor or in a temporary local market, just pick up your iPad and ring up the sales.
Data as of 12/10/22. Offers and availability may vary by location and are subject to change.
AccuPOS is a classic POS solution for businesses. It's meant to be a workhorse, handling restaurant and retail workflows with ease.
AccuPOS also makes a wide range of POS hardware for both retailers and restaurants. It offers traditional cash register-based options in addition to wireless POS systems for iOS and Android devices. You can use AccuPOS's Mobile POS devices to boost the efficiency of your restaurant, for example, by allowing waitstaff to send orders directly from the table to the kitchen.
In addition to the wireless capabilities, AccuPOS also offers line item integration with many popular accounting packages, including QuickBooks, Peachtree, and Sage Simply Accounting. PCI compliant credit card processing functionality is included in the AccuPOS Cash Register module. This is a flexible POS system with many features, making it attractive to the small retail business or restaurant.
Data as of 12/10/22. Offers and availability may vary by location and are subject to change.
NCR is one of the most long-standing and notable POS providers. Founded in 1884, NCR has managed to keep its services relevant to small-business owners for over a century.
Its POS system features a complete inventory management package that helps you manage both product inflows and outflows. NCR also offers online ordering and contactless payments so that you can offer takeout and curbside service that customers can access from their own device—sometimes the most mobile POS is the one the customers already have in their hands.
NCR also makes it easy to manage your kitchen and staff with both kitchen and employee management tools. Oh, and of course it has plenty of mobile POS options that utilize your smartphone or tablet.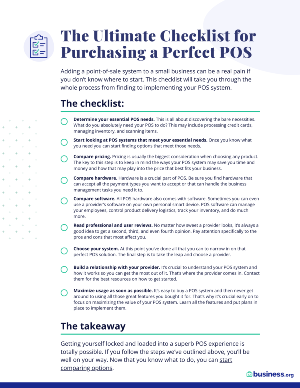 Follow these steps to purchase the perfect POS system
Read our free ultimate checklist for finding the right POS for your business. Don't get saddled with the wrong system. Enter your email and the checklist will arrive promptly.
WIreless POS isn't just the future anymore, it's the standard, and it's here to stay. Businesses want to reach their customers in unique and convenient ways. Wireless POS makes that possible.
Square is leading the pack by offering businesses the convenience of portable sales without the hassle of commitment to long-term contracts. Our other providers each offer their own unique take on the wireless POS as well:
Payment Depot offers incredibly low processing fees for the wallet-conscious entrepreneur
Shopify makes it easier than ever to run a mixed online and in-store operation from the convenience of an iPad
AccuPOS takes the headache out of accounting with Quickbooks integration
NCR offers time-tested service in addition to loads of time-saving features like inventory management tools
Whether you're just looking to get started with a wireless point of sale or you're ready to unleash a fleet of mobile POS devices, our top picks can get you where you need to go.
Are you still looking to compare more POS options? Check out our top picks for the best POS systems on the market today.
We found and examined 25 different POS providers that offer wireless solutions. We then narrowed those brands down to our top five by examining what we thought were the most relevant use cases and essential features that businesses may need in a wireless POS system. These features included mobile processing options, available hardware, and software integrations.
Yes. Most modern POS providers offer wireless options. That said, not every piece of POS equipment is wireless.
NCR, for example, offers POS hardware that has to be connected to a power outlet to run. This stationary terminal is not a wireless POS solution. You can, however, purchase a mobile reader from NCR that would be considered a wireless POS system.
So, if you want a wireless POS system, be sure to let your prospective or current POS provider know that's what you're looking for. Wireless POS systems are also often referred to as mobile POS systems.
In many cases, yes. A lot of wireless POS solutions come in the form of a credit card reader that is used via a smart device connected to the internet.
If, for example, you have Square's mobile reader, you'll have to download the Square app to build your product catalogue and create a transaction for your customer.
That said, not all wireless solutions require you to use a smartphone or tablet. Clover offers smart terminals, for example, that are standalone devices that can take transactions without needing to be connected to a computer or smart device.
What are some mobile POS alternatives?
The main alternative to mobile POS are digital wallets like Venmo or Apple Pay. These apps allow for easy peer-to-peer transactions. Digital wallets are best for single-person businesses and freelancers because they don't offer a unified system for registering and tracking payments.
You can't build a product catalogue on a cash app, you can't manage and track inventory, and you can't set up logins for employees to make sales. Additionally, many who use digital wallets for their sales will also use them for personal transactions, making it more difficult at tax season to separate expenses.
Disclaimer
At Business.org, our research is meant to offer general product and service recommendations. We don't guarantee that our suggestions will work best for each individual or business, so consider your unique needs when choosing products and services.