POS Systems Move to Tablets and Smartphones
The days of needing huge cash registers or other devices tethered to one location as a point of sale (POS) system are long over. There are a variety of POS systems available for both iOS and Android platforms.
Some mobile point of sale systems include credit card scanners that attach to the phone or tablet, while others leverage newer Near-Field Communication (NFC) technology to process a sale by having customers tap their smartphone on the POS device. Google Wallet is an example of NFC technology revolutionizing the point of sale process. There is little doubt that mobile point of sale solutions are a trend, saving small businesses money compared to larger systems.
Industry veterans like NCR are getting into the mobile point of sale game with their NCR Silver app also for restaurants. Silver handles cash, credit cards, and checks seamlessly. It also includes an attachable credit card reader and can scan bar codes using infrared. Silver offers a free 30-day trial and then costs $79/month.
Silver also offers extra functionality, like the ability to email receipts to the customer. Once an email address is acquired for a customer, it is possible to engage in a variety of CRM functions, including tailored email marketing campaigns leveraging sales data history. Christian Nahas, leader of the NCR Silver team, feels customers are attracted to an experienced point of sale company, like NCR. "They are attracted to our stability, they are attracted to our history, they are attracted to our robustness, they are attracted to, 'This is what we do.' We are not a deal company that also has a point of sale or a payment company that also has a point of sale," said Nahas in an interview with "Entrepreneur."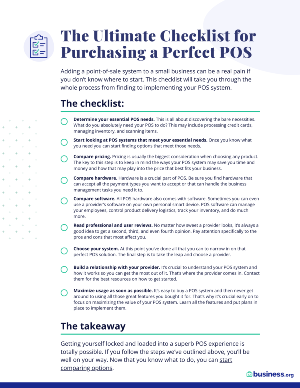 Follow these steps to purchase the perfect POS system
Read our free ultimate checklist for finding the right POS for your business. Don't get saddled with the wrong system. Enter your email and the checklist will arrive promptly.
Android Point of Sale Options
With Apple currently investing in NFC technology, Google Wallet gained a head start over a similar virtual wallet application from Apple. Thus it makes sense, given NFC's application in mobile commerce and banking, that a host of mobile POS options exist for the Android platform.
One popular mobile point of sale systems powered by Android is AccuPOS, which offers functionality tailored to the restaurant business and is essentially a mobile version of the company's PC-based point of sale solution. It requires users to bring their own tablet. Price varies depending on system size.
As more and more companies offer mobile point of sale apps, the smart business owner should research all options, whether they are for iOS, Android, or cross-platform. Many companies allow the free downloading of apps, which is great for testing out the user interface. Finally, you should weigh any price differences between competing systems against the included functionality, as well as support and service options.