5 Things to Consider When Choosing a Cash Register for Your Business
A cash register is a necessity for any product-based business that performs numerous transactions on a daily basis. Depending on a business's needs, a cash register can range from basic, with limited features, to a comprehensive point of sale (POS) system with a long list of features.
If you're trying to decide which type of cash register is right for your business, we have outlined a few things for you to consider before making a purchase so you find the system that is a perfect fit for you.
1. Consider your size and needs.
The first thing to consider is how large your business currently is and your projected growth for the next few years. Perhaps you have thousands of items in inventory with several departments. Or you may be running a considerably smaller operation with only a few dozen items in inventory and a small shopping area.
It's important to understand what you see for yourself now and in the near future so you can decide what your system needs are.
If your business is relatively large with numerous products, purchase a comprehensive POS system with a barcode scanner and product codes to streamline transactions. This is also a good choice if you foresee significant growth in the near future because this system offers scalability.
A more simplistic cash register will probably suffice if you have minimal inventory, only a handful of transactions, and fewer overall needs. Chron Small Business puts lower end systems between $100 to $1,000, however they can reach up to $20k!
2. Look for security features.
Keeping cash, checks, and electronic payment information safe is always a concern. That's why it's important to look for some fundamental security features.
A locking drawer will ensure that unauthorized individuals can't gain access to cash and checks. You may also want to consider installing a cash drop box nearby so large sums of money can be safely stored. This will prevent the amount of cash in your register from exceeding a certain amount, which can deter both internal theft and robbery.
Also, a password feature will keep unwanted parties from using the cash register and accessing sensitive customer payment information.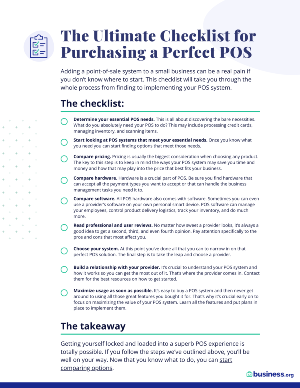 Follow these steps to purchase the perfect POS system
Read our free ultimate checklist for finding the right POS for your business. Don't get saddled with the wrong system. Enter your email and the checklist will arrive promptly.
3. Explore benefits of inventory tracking.
If your business only has limited inventory, then a basic cash register should suffice. Otherwise, when dealing with large inventory quantities, you can benefit from a more comprehensive POS system with an inventory tracking feature.
This will automatically monitor daily transactions so you're always aware of exactly how many products you have on hand. Rather than performing inventory counts manually, this feature can save time and prevent you from running out of a particular product.
4. Consider receipt printing options.
Another issue to consider is whether you want to use a thermal or print ribbon cash register. The initial expense of a thermal printer is more expensive but can save money in the long run. Because they use heat to print receipts, you don't have to continually buy new ink cartridges. A print ribbon printer is less expensive upfront and the text on receipts is clearer, but you will have the expense of ink cartridges.
5. Decide if you want to buy from a retailer or a vendor.
When looking for a basic cash register with minimal features, shopping at a retailer is usually your best bet and you may be able to find a quality register locally. Otherwise, looking online should yield plenty of options. Some business owners even shop secondhand and buy used models for even lower prices.
If you're looking for a sophisticated POS system, it's smart to buy directly from a vendor. They should offer several packages and pricing options to accommodate your company's needs.
Pay attention to these guidelines to help you choose a cash register that fits both your business's needs and budget. After implementation, you should notice increased efficiency in daily operations and speedier checkouts. This means more productivity and happier customers because they can complete transactions without issue.
Check out some related topics like the Best Wireless POS Systems, Pros and Cons of Using Self-Checkouts, Best Virtual Terminal Processing, Choosing a Cash Register, Payanywhere Review, Sumup Review, Cloud Based POS Systems, Tablet and Smartphone POS, or Do You Need an EIN.