Top 5 Tips on Point of Sale for Retail Managers
At a glance, the point of sale (POS) system might seem like an unremarkable tool for business, but many retail managers do not use or even know about numerous functions it has. Can your store afford to stay in the dark? In many cases, increased profitability waits on the actualization of these functions. Below is a guide on POS for retail managers, laid out in five easy-to-implement tips.
1. Use your store POS to streamline inventory procedures
When you use the POS to log every item in your store, you have a clear record of inventory exists. While there are numerous ways for products to get lost (theft, misplacement, damage, etc.) you get the closest to transparent inventory with this electronic record. While bargain stores are not necessarily built for this method, clothing and high-end stores are bona fide candidates.
2. Clean up the pay screen
A lot of POS have unused pay screen options, which can cause a lot of problems, both for employees and customers. Holdups at the cash register can be annoying for customers and lead them to think twice before coming to your store when they don't have all day to shop. Clean up the pay screen so that only cash, credit card discount, loyalty/rewards, and any other frequently used options are left. Less cluttered screens help allow for faster-moving lines.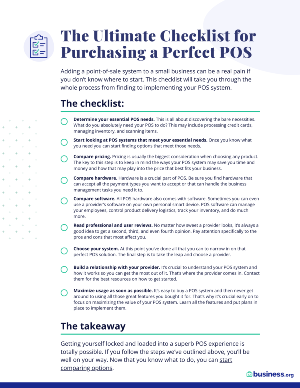 Follow these steps to purchase the perfect POS system
Read our free ultimate checklist for finding the right POS for your business. Don't get saddled with the wrong system. Enter your email and the checklist will arrive promptly.
3. Limit opportunities for theft
You might be overlooking some of the safeguards built into the store POS. Things you can do to help avoid cash thefts include limiting the types of transactions that you can void, stopping "No Sale" drawer openings, and requiring management approval for cash refunds. These simple steps can lead to significant reductions in employee thefts at the cash register.
4. Have a POS do double duty in payroll and sales functions
If you are still using a time clock or something similar to manage payroll, you are potentially losing money. Most employee responsibilities revolve around the POS, especially when clerks double as cashiers. By combining the payroll and in-store duties on the same system, you'll have an easier time ensuring employees only clock in when they are ready to start work at the cash register. Plus, when they clock out on a POS after a shift, they won't be changing clothes or chatting on your dime.
5. Establish a rewards program with the technology at hand
Most POS systems for retail managers allow you to set up a customer loyalty program. It's fairly simple to do, but there are usually short guidance classes available if you need some assistance. Customer loyalty programs help retain customers and a discount of 10-15% after multiple purchases will often direct a customer back to your store instead of a competitors.
Shrinkage will always threaten your operation's bottom line, but you have the tools at your disposal to minimize lost inventory as you move forward. By putting every function of your store's POS in play, you can increase profitability in a big way.