QuickBooks POS Review 2023
It's a good solution for current QuickBooks users, but not the best POS system out there.
Data as of 12/9/22. Offers and availability may vary by location and are subject to change.
The QuickBooks POS (point-of-sale) system is an intriguing offer on a number of fronts. First, it's fundamentally designed to work flawlessly with the QuickBooks accounting software. Second, it has a pricing style we don't see too often. Costs may be front-loaded, but you'll likely see savings in the long run.
It's not all peaches and cream, though. This POS system is not as competitive if you aren't currently using QuickBooks. There are POS systems out there that are more flexible and featured. So we wouldn't necessarily recommend this POS system to anyone who isn't already using QuickBooks.
Additionally, there are plenty of POS systems that integrate with QuickBooks very well, so this one is not your only option even if you are using the software. That's why we're going to dive deep on why you should or shouldn't look into investing in this POS system.
QuickBooks POS plans and pricing
| | | | |
| --- | --- | --- | --- |
| Plans | POS Basic | POS Pro | POS Multi-Store |
| Price | $1,200.00 | $1,700.00 | $1,900.00 |
| Ring sales | Yes | Yes | Yes |
| Track inventory | Yes | Yes | Yes |
| Ecommerce integrations | Yes | Yes | Yes |
| Basic reporting | Yes | Yes | Yes |
| Works with some tablets | Yes | Yes | Yes |
| Rewards and loyalty program | No | Yes | Yes |
| Manage employees | No | Yes | Yes |
| Advanced reporting | No | Yes | Yes |
| Manage inventory for multiple stores | No | No | Yes |
| Advanced reporting for individual stores | No | No | Yes |
| Get started | See Plans | See Plans | See Plans |
Data as of 12/9/22. Offers and availability may vary by location and are subject to change.
Instead of having you pay a monthly fee to access their POS system, QuickBooks gives you lifetime access for a flat one-time fee. When you consider that some POS systems will charge up to $100 a month and more for access to their system, you start to see why investing in QuickBooks can pay dividends fast.
That said, not all POS systems do charge a monthly fee. Square, for example, gives you access to a huge suite of POS features for no monthly fee. But Square has a reasonably expensive processing fee. That leaves us with the question of QuickBooks's processing fee.
The fee you pay for processing with QuickBooks depends on the payment plan you choose.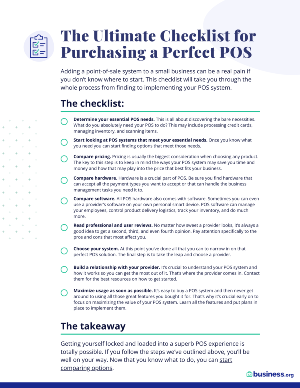 Follow these steps to purchase the perfect POS system
Read our free ultimate checklist for finding the right POS for your business. Don't get saddled with the wrong system. Enter your email and the checklist will arrive promptly.
Data as of 12/9/22. Offers and availability may vary by location and are subject to change.
Either one of QuickBooks POS' payment plans can save you money if you know which one to pick. If, for example, you do a high volume of transactions every month or you do only a few more expensive transactions, you may actually save money using the monthly plan. If you do lower volumes of transactions or you do a lot of smaller transactions, the pay-as-you-go plan may be a better choice.
Compared to the pricing of other top competitors, QuickBooks is basically par for the course, though the fact that they have two options does give them a bit of an edge over some competitors. Even Square, however, has a few different plans  if you need more functionality and a cheaper processing fee.
So it's not an outright pricing win for QuickBooks here, but they're at least not overcharging.
QuickBooks POS is best for QuickBooks accounting customers
You should definitely consider the QuickBooks POS if you're already using the QuickBooks accounting software. Integrating your accounting with your POS tasks is a time-saving and headache-mitigating feature. There's no reason you should be manually entering sales into your accounting software in this day and age.
Compare QuickBooks POS vs. competitors
Data as of 12/9/22. Offers and availability may vary by location and are subject to change.
Upfront costs and lackluster features
Not all businesses will want to drop $1,200 for access to POS software. It's a lot to pay when you consider that the QuickBooks POS software is not packed with top-tier features. At best, most of the functionality QuickBooks offers is patently basic and unremarkable. It gets enough of the job done that we don't have any huge problems with it, but it doesn't stand out in any big way.
Also, don't forget to consider the fact that you still have to invest in hardware after you buy access to the POS software. Once you've dropped cash on hardware and software, you're in pretty deep. If you don't end up liking the QuickBooks POS software all that much, it would be hard to financially justify a switch to a different vendor.
On the other hand, a competitor like Square has no upfront costs and no long-term contracts so you can hop in and pop out at your leisure. It may be worth your while testing an option like Square before you give QuickBooks a spin since there's a lot more money at stake with a QuickBooks investment.
If you do end up liking QuickBooks, however, its front-loaded costs can save you money in the long run. But that's still a bit of a gamble. And it's not one we'd recommend to anybody who isn't a current QuickBooks customer.
QuickBooks POS key features
QuickBooks POS does a few things quite well. Most obvious is its seamless accounting integration, but there are a couple more features you should be aware of.
The inventory software in the QuickBooks POS is designed to help you identify top selling products and peak sales periods. It's also built with tools to protect you from overselling your inventory online.
Keeping track of your stock is crucial to successful business management and it's nice to have that process integrated into your POS—it keeps things easy and automatic. While QuickBooks does offer inventory management features, it's certainly not a standout contender. Its functionality is pretty run of the mill.
If you need additional inventory functionality like ingredient tracking or automatic restocking, you'll either have to go to a third-party management suite or look for a POS provider with more robust inventory tools.
All that said, QuickBooks has your basic needs covered.
QuickBooks allows you to offer your customers custom gift cards. Gift cards are a great way to increase cash flow, and the gift card program offered by QuickBooks isn't out to nickel and dime you. It's a smart, straightforward program that allows you to build customer loyalty with custom gift cards.
QuickBooks is a good POS system. It isn't a standout offering, but it's a good alternative to some of the other big POS players—especially if you're already using QuickBooks accounting. If not, we would recommend trying something else before you choose QuickBooks as there are more feature-rich, similarly priced options on the market.
To take a look at some of the top QuickBooks contenders, check out our recommendations for best POS systems on the market today.
Does QuickBooks POS track inventory?
Yes, it does. But in our professional opinion it's far from the best inventory tracking system on the market. It's got the basics covered, but there's a lot that could be added to make it more useful to the complicated inventory realities of restaurants and grocery stores.
Is there a monthly fee for QuickBooks POS?
No. The POS software doesn't have a monthly fee. That said, you may end up choosing a processing plan that has a monthly fee. You don't have to, but there are ways to pay monthly for processing.
We examined QuickBooks by looking for essential POS features needed in all modern systems. We also compared its pricing to other top providers on the market. Finally, we examined third-party user and professional reviews to confirm and validate our research.
Disclaimer
At Business.org, our research is meant to offer general product and service recommendations. We don't guarantee that our suggestions will work best for each individual or business, so consider your unique needs when choosing products and services.