Helcim is a great processing product for small businesses. Its rates are smartly designed to help fuel your business growth, and its lack of contracts and hidden fees means you don't have to worry about long-term commitments or being overcharged for transactions.
Data as of 2/22/23. Offers and availability may vary by location and are subject to change.
We need to say right out the gate that if you're a small business that wants to save money on processing, you need to check out Helcim. Helcim is a smart processing package with intuitive features designed to make customer payments easy.
Making credit card processing simple sounds like a pretty obvious goal for a processing company, but so many processors out there don't make accepting payments all that easy—many sell dated hardware and software with a pricing package that nickel and dimes you.
That's why Helcim processing is a breath of fresh air. Its software and hardware is flexible and modern, and its pricing is completely transparent.
| | | | | |
| --- | --- | --- | --- | --- |
| Monthly sales volume | Swipe, dip, or tap rates | Keyed and online rates | Monthly fee | See plans |
| $0.00–$25,000.00 | Interchange + $0.08 | $0.25 + 0.50% | None | Get Started |
| $25,001.00–$50,000.00 | $0.07 + 0.25% | $0.20 + 0.45% | None | Get Started |
| $50,001.00–$100,000.00 | $0.07 + 0.20% | $0.20 + 0.40% | None | Get Started |
| $100,001.00–$250,000.00 | $0.06 + 0.18% | $0.15 + 0.35% | None | Get Started |
| $250,001.00–$1,000,000.00 | $0.06 + 0.15% | $0.15 + 0.30% | None | Get Started |
| $1,000,001.00–$5,000,000.00 | $0.05 + 0.12% | $0.10 + 0.25% | None | Get Started |
| $5,000,000.00+ | $0.05 + 0.10% | Interchange + 0.20% | None | Get Started |
Data as of 2/22/23. Offers and availability may vary by location and are subject to change.
This pricing system is where Helcim payment processing really shines. As you can see, your processing rates go down the more volume you process—your business grows, but your rates shrink. And there's no monthly fee.
Other processing companies whose rates scale with volume will increase their monthly fee to recoup lost profits from lower processing rates. Not Helcim. You never have to pay a monthly fee no matter how cheap your processing fee gets.
What about contracts and hidden fees?
Helcim has no contracts or hidden fees. The only extra fee you'll ever pay is $15 for any chargeback disputes that are won by the customer. If you win the dispute, however, you'll pay nothing for the chargeback.
Helcim is best for most small businesses who want to save on processing costs
Helcim has competitive processing rates, no monthly fee, and a pricing structure that scales with sales volume. It's safe to say that almost any business will save money processing with Helcim. It's legitimately impressive how cheap its processing costs actually are.
Additionally, Helcim has a number of point-of-sale features and online web tools that make managing your inventory easier and help you sell your wares online. Best of all, many of its online processing services are designed for business owners who don't have any programming experience.
With competitive rates and features that help small-business owners modernize their processing practices, it's easy to recommend Helcim to most small-business owners.
Who is Helcim not recommended for?
There are two parts of Helcim's package that may be a deal-breaker for you: its monthly fee and lack of some point-of-sale features.
Firstly, monthly fees are a deterrent for businesses that are brand new to processing. If you're unsure about hitting a consistent sales volume every month, it's hard to justify paying a monthly fee for a service that works for you only part of the time.
But that may not actually be a total deal-breaker because Helcim will waive the $20 monthly fee for the first six months of processing if you ask for it. And there are no cancellation fees with Helcim. So, you have six months to get your processing volume where you want it before those monthly fees hit.
Secondly, if you're looking for restaurant management tools or detailed rewards programs, you're out of luck. As far as our research is concerned, Helcim has neither of these features.
So if you don't have consistent sales volume or if you need a customer rewards program or restaurant point-of-sale features, you may want to check out a processor like Square that offers a more comprehensive point-of-sale system without any monthly fees.
Great customer service
Flexible hardware solution
Features tailored to small business
Missing POS features
Users online rave about Helcim's customer service. Review after review talks about the friendly staff and helpful advice. Good customer service is a must with processing. Any outages or technical issues that may arise can lose you a lot of money if they aren't resolved quickly. It's also nice to know you have a capable team to help integrate Helcim into your business.
Once Helcim is integrated, you'll find that so much of the service is useful for small-business needs. Helcim's proprietary terminal will make it easy to accept payments in-store and on the go. Plus, you'll have great tools for building an online payment portal and managing your inventory. All key features in a modern small-business ecosystem.
The only serious negative in Helcim's processing program is its lack of some point-of-sale features. Many businesses want a way to provide a rewards program through their point-of-sale system. Helcim doesn't offer any rewards program functionalities. It's also limited in what it can do for restaurants.
So if you really need those features, Helcim may not be for you. But if those features are more optional than necessary, stay tuned for the features Helcim does offer.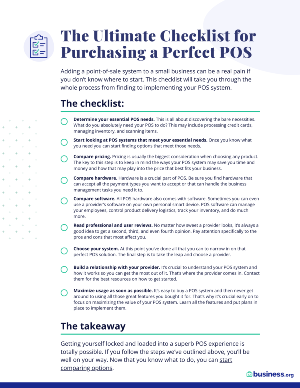 Follow these steps to purchase the perfect POS system
Read our free ultimate checklist for finding the right POS for your business. Don't get saddled with the wrong system. Enter your email and the checklist will arrive promptly.
| | | | | |
| --- | --- | --- | --- | --- |
| Brand | Processing fee per transaction (swiped) | Processing fee per transaction (keyed) | Basic Monthly fee | Learn more |
| | 0.30% + 8¢ | 0.50% + 25¢ | $0.00 | See Plans |
| | 2.6% + $0.10 | 3.5% + $0.15 | $0.00 | See Plans |
| | Interchange + $0.07 | Interchange + $0.07 | $99.00 | See Plans |
| | Interchange + 0.15% + $0.07 | Interchange + 0.30% + $0.15 | $10.00 | See Plans |
| | Interchange only | Interchange only | $99.00 | See Plans |
Data as of 2/22/23. Offers and availability may vary by location and are subject to change.
Helcim may not have every feature that other processors do, but what it does have is really well made and intuitive.
The Helcim card reader is a small terminal that's packed with processing power. You can use it with your computer, tablet, or mobile phone—and it's easy to switch between the three.
The Helcim card reader can connect via Bluetooth to your phone, allowing you the freedom of taking mobile payments. Or you can prop it up on a stand in your store and leave it there. It's a reader that goes where you want it and allows customers to swipe, dip, or tap their card.
One of Helcim's point-of-sale features is customer tracking. This service includes a number of useful ways of keeping track of your customers:
Automatic addition of new customers to the database
Secure storage of card and payment information
Simple note-taking feature on customer profiles
Generated customer purchase habit reports
Contact portal for emailing customers
These features make it easy for you to learn more about your customers: what they like, who they are, and what they expect from your business.
It's also really handy to have customer credit card information available whenever you need to run the card of a customer who has already purchased with you before—and you can even set up monthly subscription programs. Best of all, the card data stays in Helcim's vault, meaning you don't have to worry about transaction safety.
Helcim has an intuitive inventory management program that comes bundled with all the features you need to keep an eye on your stuff:
View product quantities from all your devices
Get special alerts when inventory is low
Organize your products into useful categories
Sync inventory across in-store, mobile, and online sales channels
This inventory management system can also generate reports based on your sales and inventory trends to help you understand seasonal trends and your product inflow and outflow more clearly.
Plus, each product you add to your inventory database can be customized by adding a photo of the product and creating product variants for sizes, colors, and so on.
Helcim can help you accept payments online in a number of ways:
Add a payment portal to your existing website
Create an online store
Use Hecim's application programming interface for a more customized checkout experience
With Helcim's payment portal and online store creator, you don't need any programming experience. You can use Helcim's platform to easily add a processor to your website or design a whole online store.
Best of all, your inventory management tracking information is used to help populate the store. So as long as you're fastidious in loading all your wares into the inventory management program, your site will stay updated with all your latest inventory.
Helcim's application programming interface is the only online tool it offers that requires programming skills to use. But you're only really missing out on total customization if you don't go the programming route. Even the non-programmer tools have a lot of customization options.
Helcim is really making a splash for small businesses that want a simple and powerful way to accept credit cards. And with all the tools Helcim offers to make it easy for businesses to set up an online store, track inventory, and build their customer database, it's hard to say no to what's on offer here.
If you're looking for a company that has a few extra point-of-sale features, you should check out some of our other picks for the best credit card processors of 2023.
We analyzed and vetted Helcim's processing package, looking specifically at hardware, software, and pricing. We compared these categories to other top competitors. We also dug through over a hundred reviews and expert opinions.
Disclaimer
At Business.org, our research is meant to offer general product and service recommendations. We don't guarantee that our suggestions will work best for each individual or business, so consider your unique needs when choosing products and services.