Residential vs. Business Internet: Is Business Internet the Better Route?
27% of businesses are unhappy with their internet provider.1 Make the switch today to a robust business internet service provider.
When running a small business, there's nothing more frustrating than a slow internet connection. Unreliable internet not only ruins your weekend Netflix plans, but it can also make your entire business come to a hard stop, putting a wrench in your sales, customer relationships, and productivity.
Whether you work from home or have a small office, making the switch from residential internet to business internet may be the solution to losing potential customers through slow internet. However, be prepared to foot a higher bill each month.
But how exactly does business internet compare to residential services? Since most people are more familiar with residential internet, we'll take a closer look at the pros and cons of business-grade options. Read on to discover how to navigate business internet and determine if the benefits outweigh its high costs—and if it's truly better for your business than residential services.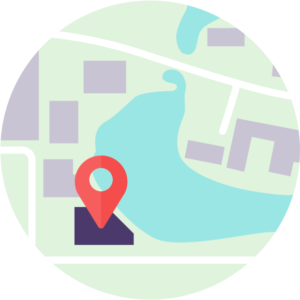 Enter your zip code to find the best business internet providers in your area.
The internet industry measures speed in megabits per second (Mbps). So the greater the megabits per second, the speedier your internet is. But like we mentioned above, increasing the number of internet users and simultaneous tasks can bump up internet lag. Data heavy tasks can also slow things down— think large file downloads or video conferencing. To prevent lag spikes during crucial business hours, cut back on internet activity by scheduling data backups after hours.
Pros and cons of business internet
Speed
Dedicated connection
Service level agreements (SLAs)
Customer service
The cost
Pros of business internet
Like with anything else in life, there are pros and cons to business internet. Since we like to be optimistic, let's start with the good stuff.
Lightning fast speeds (usually)
Our utopia of streaming devices and smartphones have allowed us to live in a culture of instant gratification. The faster, the better. And the same goes for internet speed. Whether you're a mom-and-pop shop or a Fortune 500 company, there's no room for slow internet connectivity, especially if your business operates entirely online.
Fortunately, the days of dial-up internet are over. Instead of dealing with a long, tedious process and dropped connections, most modern high-speed internet speeds range between 25 megabits per second (Mbps) and 1 gigabit per second (Gbps).
If you regularly upload large files or use interactive services like VoIP, these speeds are crucial to your business. With download speeds reaching 1,000 Mbps, the plans on our best business internet providers list may be just what you're looking for.
A dedicated connection, also known as dedicated internet access (DIA), is a crucial tool for many small businesses. Essentially, it's a private connection for only your business, so you don't have to share your bandwidth with anyone else.
Most business internet plans offer dedicated internet. With a dedicated connection, you won't experience much lagging—unless you have too many users for your plan's bandwidth. Sometimes, DIA services are also symmetrical, which means they provide the exact same upload speed as download speed. With that kind of power, your network can perform frequent file sharing, data storage, seamless streaming, and more without a hiccup.
Shared internet access (SIA) is the opposite of DIA. It's a shared bandwidth where other internet customers in the area, often residential, use the same line—which will likely cause speed lags. This model works for residential broadband because consumers are rarely engaged in business-critical activities.
Although each business uses its own IT infrastructure, we think the choice is clear here: dedicated internet is the better option for business. With a dedicated service, you'll have consistent speeds and a better connection—and with symmetric speeds, your business will be unstoppable.
Best High-Speed Internet Providers for Small Businesses
Service level agreements (SLAs)
Some business internet providers offer robust service level agreements (SLAs) to guarantee that you get what you pay for. Low latency, 24/7 support, and near-perfect uptime are most likely guaranteed in your agreement. For business users, the peace of mind associated with service level agreements is often worth the premium price tag.
If your expectations outlined in your SLA aren't met, your internet service provider is required to compensate you in the form of discounts, credits, or early contract termination. Now that's what we call customer service—which brings us to our next point.
And when it comes to the internet, the larger your employee base, the more speed your business needs. Again, with two people downloading data, the download speed is cut in half. So if you have five people downloading files at the same time instead of one person, it will take even longer for each person to download each file. That's why larger businesses with more users need faster internet plans.
For example, if you operate a call center with more than 30 employees on the phone and internet simultaneously, you'll need to pull out the big guns and opt for a 1 Gbps, or 1,000 Mbps, plan. On the other hand, if you run a small mom-and-pop shop with only a few employees, a 75 Mbps plan may do the trick. However, you may want to add a cushion to your internet speed to make room for business growth.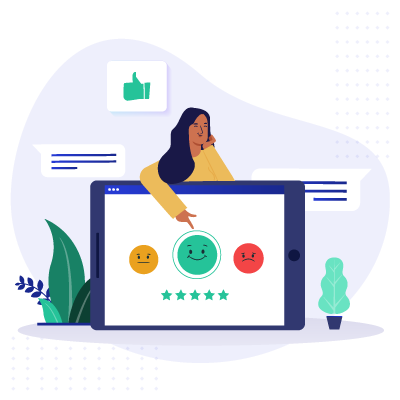 Expert Advice, Straight to Your Inbox
Gain confidence in your business future with our weekly simple solutions newsletter.
If you're worried about the cost of business internet compared to residential internet, rest assured it comes with a wide spectrum of benefits, including reliability and faster upload speeds. So the investment is more than worth it.
To help accommodate different business needs and sizes, most internet providers offer a variety of speed tiers. With this in mind, use the following table to understand different internet speeds and how they can benefit your organization.
Tip
ISPs' fine print will include terms of service and acceptable use policies. Make sure to read these carefully before signing on the dotted line.
Excellent customer service
When it comes to residential internet, customer service and tech support can be hit or miss. And that's a problem when you're dealing with issues like high latency, which can lead to disrupted conferencing, slow streaming, and revenue loss. Unfortunately, you can wait ages for answers from automated chat or phone assistance. And getting left in the dust by your current ISP is downright infuriating.
While residential users tend to have lower-quality access to help, business users may have access to 24/7/365 expert support. Since time is money, be sure to ask your ISP how often on-site technicians are accessible.
Cons of business internet
Now that we've covered the many benefits of business-grade internet, let's discuss the one and only downside.
You probably saw this one coming. If you want to unlock the unbeatable benefits that come with business internet, prepare to pay for it. Some business internet plans can cost as much as $200 per month. But other than the unfavorable and costly price tag, we couldn't find any glaring disadvantages to business internet.
To help you determine if you can allocate part of your budget to business internet, here are some of the most affordable introductory plans from our favorite providers:
| | | | | |
| --- | --- | --- | --- | --- |
| Plan | Starting price | Max download speed | Internet type | Learn more |
| Frontier Business Internet | $54.98 | 500 Mbps | Fiber | View Plans |
| Verizon Fios Business Internet | $69.00 | 100 Mbps | Fiber | View Plans |
| Comcast Starter Business Internet | Contact for a free quote | 35 Mbps | Cable | View Plans |
Data effective 10/20/22. At publishing time, pricing and features are current but are subject to change. Offers may not be available in all areas.
It's important to note that pinching pennies on your internet service could result in a spotty connection that may lead to profit loss and a damaged business reputation. That being said, every business owner has their own unique needs, so we recommend shopping around to find the best business internet service provider that meets your budget.
The right combination of fast speeds, SLAs, dedicated connections, and reliable customer service makes the investment in business-class internet a no-brainer. However, for small businesses and solopreneurs who work from home, the financial commitment may seem overwhelming. Fortunately, there's no shortage of business internet providers with smooth services.
Residential vs Business Internet FAQ
Is business WIFI better than residential?
Although business internet service providers are more expensive, they often have faster upload/download speeds. So yes, business wifi is technically better than residential wifi. 
What is the difference between residential and business internet?
Business internet comes with features specifically designed for business success, like SLA's (service level agreements), a dedicated connection, and faster speeds.  Residential internet comes with features, or extras, specifically designed for home-based internet, like smart devices or TV streaming services.
Disclaimer
At Business.org, our research is meant to offer general product and service recommendations. We don't guarantee that our suggestions will work best for each individual or business, so consider your unique needs when choosing products and services.