eFile.com Review 2023: A Safe and Low-Cost Tax Return Option
eFile.com is an online tax tool best for people making under $100,000, but it may not be a great fit for small-business owners.
Data as of 12/7/22. Offers and availability may vary by location and are subject to change.
While comparing this online filing tool to other popular companies, we made sure to consider accessibility, cost, and functionality. eFile is an affordable and relatively simple option, but it does lack some of the more desirable features of its competitors.
Filing taxes online has become the norm for millions of Americans, but it can be tricky to decide which online tool is right for your small business. eFile.com is a relatively simple online software that offers a free federal filing option, as well as two paid plans that are much cheaper than competitors like TurboTax and H&R Block, but it might not be a great option for small-business taxes. Let's take a look at these pricing breakdowns, key features you can expect from eFile, and some notable pros and cons.
As one of the more affordable online options, eFile typically provides promotional codes such as 25% off. Be sure to check out its website for current offerings.
All plans below charge a $22.49 fee for state filing (or cheaper, depending on promotions).
$0. The first option includes a free federal filing for single or joint filers with a W-2. This plan covers income up to $100,000.
$20.99. If you have dependents, a mortgage, or retirement income, you'll want to use this second tier plan. This plan still requires an income under $100,000.
$37.49. This plan is the best option for small-business owners because it includes support for itemized deductions, personal income, and business income. This plan also allows for filing an income over $100,000.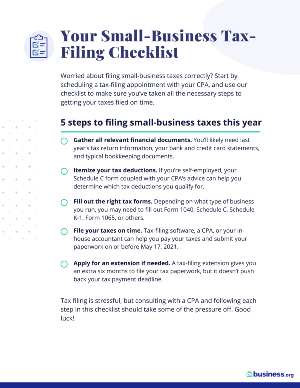 Your 5-Step Tax-Filing Free Checklist
Business.org's free guide helps you file your taxes with confidence.
Some of the things that impressed us about eFile.com include the user-friendly interface, secure connection, and, of course, the price tag. The company also does a great job of putting tax jargon into layman's terms—making it easier to understand what information you need to provide and what you might be leaving out.
One reason we rated eFile as high as we did is because the software really is pretty user-friendly. eFile offers a guided or self-guided experience and includes helpful prompts and calculations along the way. Plus, the software will always save your spot so that you can pause and return without losing any information.
Secure and safe connection
eFile is a safe and secure way to file taxes online and is officially authorized by the IRS. It uses multiple factor authentication and encrypts data with 256-bit encryption. The company also prides itself on customer privacy, as stated on its website: "Unlike some tax software providers who resell customer information to advertisers, we do not sell any of our customer data to third parties."
For Deluxe and Premium customers, eFile offers tech support both online and over the phone. Response time is relatively short, and you can choose from a list of frequently asked questions, or submit a unique request.
Because eFile is relatively simple in its offerings, it remains one of the most affordable options for online filing. For example, H&R Block's cheapest DIY filing plan costs $49.99, and TurboTax starts at $39.
eFile strengths and weaknesses
Here are some of the more notable pros and cons for using eFile.com.
Free federal filing option—W-2 users who make under $100,000 can file federal taxes quickly, and at no cost.
Easy-to-use software—eFile software features a sleek, clean design and helpful prompts.
Secure—eFile is authorized by the IRS and guarantees the safety of your information.
More affordable plans than leading competitors—For a pretty comprehensive software, the price is definitely lower than leading competitors.
No free state filing—Several competitors offer free state filing, depending on eligibility, but eFile has a flat-rate $28 fee.
Very limited free federal option—While the $0 federal filing option is there, small-business owners will have to pay for the Premium plan to do their more complicated business taxes.
Limited customer support—Customers of the Deluxe and Premium plan have the option to use online or phone support, but that support is limited. Response times vary, and you won't be able to get help from a tax professional, but rather an expert on the software itself.
Not very mobile-friendly—Unlike its leading competitors, eFile.com does not have a mobile app and is not very mobile-friendly. This can be a pain for filers who want to update information anytime, anywhere.
eFile.com is a safe and secure way to file your taxes online. With super affordable options (including a free federal filing option), comprehensive software, and technical support, eFile is a great option for some. However, it does lack some enticing features compared to its competitors, and tax expert support is limited. eFile.com is not our first choice for small-business owners, but for those with an uncomplicated tax situation and who make under $100,000 a year, it's a great simplified tool.
Want to learn more about filing taxes as a small-business owner? Check out How to File Taxes If You're Self-Employed on Business.org.
Is eFile a legitimate site?
Yes—eFile.com is a legitimate website that offers cloud-based software for filing your taxes online. It uses data encryption and will send your information directly to the IRS.
Is eFile.come approved by the IRS?
eFile.com is authorized by the IRS to file taxes online. The software sends your information directly to the IRS when you are ready to file and provides a speedy return (if you're expecting to receive a tax return).
Is e-filing safe?
e-filing is a safe and secure way to file your taxes. In fact, over 80% of all filings were completed electronically in 2020. eFile.com uses 256-bit encryption to secure customer information.
How much does it cost to file on eFile.com?
eFile offers a $0 federal filing option for individuals and joint filers with a W-2 who make less than $100,000 a year. For those with dependents, mortgages, and self-employment income, eFile offers a Deluxe plan at $20.99 and a Premium plan for $37.49.
Disclaimer
At Business.org, our research is meant to offer general product and service recommendations. We don't guarantee that our suggestions will work best for each individual or business, so consider your unique needs when choosing products and services.