Netsuite Software Review 2023
We dug into Oracle Netsuite to see if it matches up against other ERP and inventory management cloud software systems. Here are our findings.
Data as of 12/14/22. Offers and availability may vary by location and are subject to change.
Oracle's NetSuite software is an all-in-one enterprise resource planning (ERP) cloud system designed to keep large businesses running 24/7. Built primarily for finance and accounting, NetSuite can also optimize your business supply chain, customer relationship management, human resources, ecommerce, inventory management, and more. With seven core modules that can be added to your plan, NetSuite is ready to grow with your business and take it to the next level.
It's important to note that this software is not designed for everyone. NetSuite primarily focuses on large and enterprise-level businesses, not small businesses. It costs too much and has features that are designed to grow multinational businesses with hundreds of employees—not the next-door mom-and-pop shop.
Because of its range of customizable features backed by Oracle's popular software, NetSuite is a great choice for enterprise businesses that can afford its price tag and will utilize those features.
Netsuite Review Table of Contents
Netsuite: Plans and Pricing
Like other Enterprise Resource Planning (ERP) systems on the market, NetSuite doesn't offer pricing up front. But, after some digging, we found that the base cost for the software is $999 per month with an additional $99 per user per month fee. Immediately, that takes the majority of small businesses out of the running.
Compare Netsuite plans and pricing
| | | | | | | |
| --- | --- | --- | --- | --- | --- | --- |
| Plan | Starting price | Price per user | Set up fee | Features | Integrations available | View Plans |
| NetSuite | $999.00/mo. | $99.00/user/mo. | Yes | Customizable | Yes | Learn More |
Data as of 12/14/22. Offers and availability may vary by location and are subject to change.
So, what does NetSuite include with that hefty price tag? That's a great question. It starts with four features in the core NetSuite cloud platform:
From there, users can customize by adding modules to the software. Unfortunately, we don't know how much the additional costs, as the pricing—as with most ERPs—is by request.
Best for enterprise businesses
Oracle's NetSuite software is an ERP system designed for enterprise businesses with large budgets looking for fully integrated, comprehensive in-house software to get all of their systems on the same page. (If you're looking for other inventory management options, check out our list of the best software on the market.)
How do NetSuite's price and features compare to other inventory management systems—and especially ERPs?
Compare NetSuite vs. competitors
Data as of 12/14/22. Offers and availability may vary by location and are subject to change.
* With annual billing
º Requires or uses out of system integrations
With a price nearly double its closest competitor, NetSuite is an expensive inventory management choice that doesn't offer many features up front. So, why is it so pricey? A lot of the value comes from its integration with Oracle's cloud-based system and its ability to grow with your business.
Is it worth it? That depends on your business. You may find that the list of features corresponds to what you're looking for with an inventory management and finance system. Or you may find that its cost is too high to justify and that it doesn't integrate with software you already use—like Wix and QuickBooks.
Don't worry, there are many other inventory management ERP systems to choose from like Brightpearl, Cin7, and Fishbowl. Choose the best one for your business.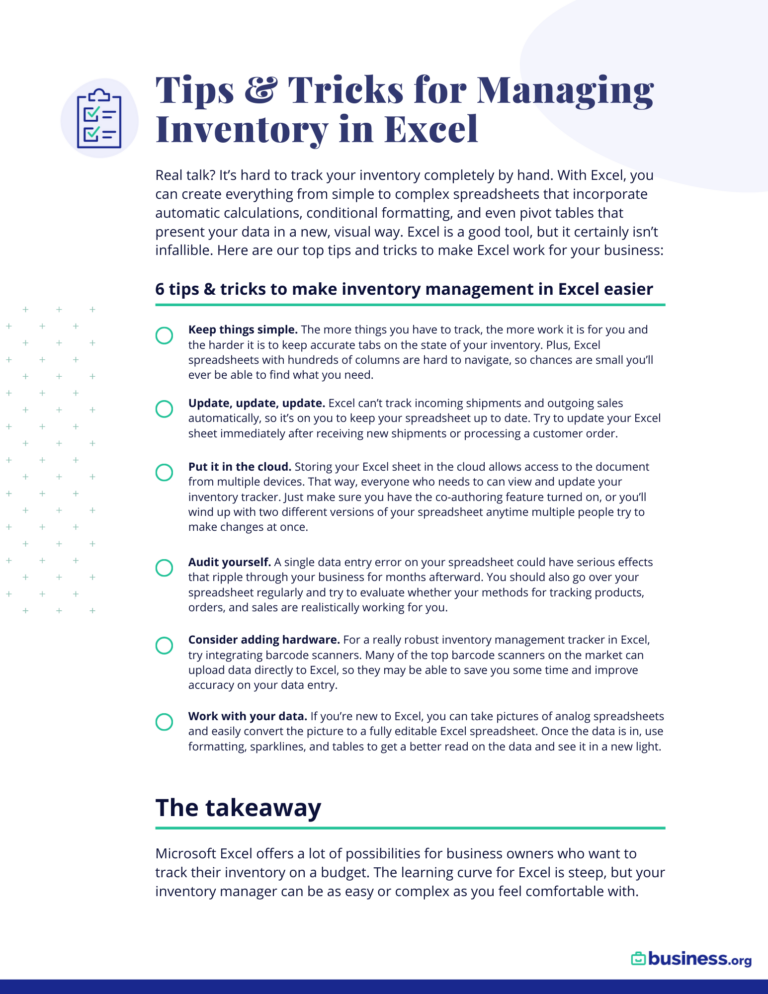 Get your free template
Keep your inventory organized, monitor shipments, and track vendor reliability with our customizable Excel inventory template and our included tips and tricks.
So, what do you get with a NetSuite subscription? NetSuite is based around financial management so the beginning modules include accounting, inventory management, order management, and tax management.
As your business grows, you can activate new modules and add users to your subscription. There are seven main NetSuite modules for businesses to choose from, which allow you to build your business up and tackle new challenges:
With NetSuite, your inventory management system will come fully equipped with a financial management module ready to take on everything from planning and budgeting to accounting and fixed asset management:
Advanced financials: Budgeting, expense allocation, amortization, and statistical accounts
SuiteBilling: Invoice and billing management
Revenue management: Reporting, automated revenue forecasting, and more
Planning and budgeting: Modeling capabilities and approval workflows
Multi-book accounting: Business transaction records
OneWorld: Global business management
Dunning letters: Automated payment collection
Fixed asset management: Detailed asset reporting
Electronic bank payments
Contract renewals
This significant set of modules is almost never present in inventory management systems. For this alone, NetSuite is a great investment for a large business.
Customer relationship management (CRM)
Customer relationship management is a hallmark of a good ERP system and is integral to any company—large or small—because customers keep you in business. NetSuite's CRM module is really straightforward with four main features:
Aligning and overseeing customer relationships
Marketing automation, interaction history, customer service, and more
Sales and partner performance tracking
Quote generation, order management, sales forecasting, and ecommerce integration
By compiling data, CRM enables you to know each customer's preferences before you add the personal touch.
Inventory and order management
This is the other big part of the NetSuite system. NetSuite has barcoding and warehouse features, but it really goes above and beyond with its advanced features for inventory management and order management:
Inventory management: Demand-based inventory replenishment and multi-location inventory management
Order management: Automation for order promising, allocation, orchestration, and execution processes
This system is calibrated to your needs, and its automated processes ensure that you can focus on procuring new items and selling them to your customers.
The NetSuite SuiteCommerce system allows you to sell on a variety of channels. You can track everything—across all of your sales platforms—from NetSuite without leaving it:
Support for both B2B and B2C
Mobile point-of-sale solution with full inventory and customer information
Tracking for invoice payments and order statuses
SuiteCommerce provides an omnichannel experience whether your customers are shopping in-store, online, or on a mobile device. Plus, with support for consumers (B2C) and business buyers (B2B), you'll never lose a sale.
With NetSuite, you don't need a third-party human resources platform—it's all built in. The HR modules include setups that allow you to do everything from payroll to maintain employee records.
The HR module allows you to customize NetSuite for your entire business.
If you're wondering what an HR ERP is, check out this crash course with our HR expert.
Professional services automation
Automations make your life as a business owner easier. With automation, you don't have to hire people to input data—they can be on the sales floor working with customers instead.
Most inventory management systems these days come with built-in automations. In fact, we've seen a lot of these processes as part of the above modules already. The professional services automation modules take it to the next level with different modules designed to simplify your business:
SuiteProjects: Help with project management, job costing, and resource allocation
OpenAir: Simplify organization for complex projects
This is where it all comes together. NetSuite's supply chain modules impact all levels of your business and will help you become more efficient with your inventory and commerce. With seven different modules, NetSuite's supply chain system is designed for a variety of businesses:
Procurement: Improves purchasing operations
Warehouse Management System (WMS): Manages everything from receiving to picking, cycle counting, and returns
Demand Planning: Forecasts anticipated sales based on data
Quality Management
Work in Process (WIP) and Routings: Tracks the manufacturing process
Work Orders and Assemblies: Connects inventory to manufacturing
Advanced Manufacturing: Connects financial reports, inventory, and outstanding orders with data to see resource utilization
The COVID-19 pandemic has caused many businesses to experience ongoing supply chain disruptions. NetSuite's supply chain modules allow you to view everything from manufacturing to the warehousing of products, which is especially helpful during these shortages.
Built for the cloud
Designed for finance and inventory management
Includes SuiteApps integrations
Cost and pricing model excludes small businesses
User experience design is stuck in the past
Includes too many features
As one of the first cloud-based ERP systems, Oracle's NetSuite has a leg up on most competitors. It is not available as on-premise software, but NetSuite pushes updates to the back-end of the cloud software so you never have to pay for a new version each year. Plus, as your business grows, you can add new users and modules to your software, and it's all added in the cloud with no need for new software.
NetSuite is built for finance and inventory management. Having the two together—in one ERP system—allows you to see your revenue versus expenses as it relates to your inventory too. In fact, adding in other modules—or synching your financial and inventory data—are the primary reasons businesses switch to NetSuite.
With over 582 app integrations designed specifically for NetSuite, you can be sure that you'll find the app to match your needs. However, since NetSuite has specific standards for SuiteApp integrations, you may not find some of the usual brands as direct integrations, which can complicate some essential needs like payment processing. Here are just a handful of integration categories that come with NetSuite:
Analytics
Ecommerce
Logistics and shipping
Payment acceptance
Supply chain planning
Warehouse management
With a base cost of $999 per month, and additional users costing $99 per user per month, this pricing model takes most small businesses out of the running. The fact that pricing is so hard to find and that there is really only one plan makes it difficult to recommend NetSuite. It's confusing and, unlike other inventory management systems, you don't know what you're getting up front.
Having used other Oracle systems, we can say their user experience and design is not the best. It's, honestly, still stuck in the '90s—which makes sense considering NetSuite is the oldest cloud ERP system. And when comparing it with how other inventory management systems look, NetSuite ranks last. It's not an intuitive system, and when time is money, that's a big consideration for an ERP system.
With HR, CRM, inventory management, automations, finance, and supply chain management, NetSuite is trying to be your all-in-one solution, but it gets bogged down with too many features. Most inventory management systems—and even most ERPs—are based on a couple of distinct features like accounting or inventory management. Instead, NetSuite tries to be a holistic ERP designed for any business, and it's not very focused.
NetSuite is a strong enterprise resource management system that aims to be the singular cloud software solution for enterprise businesses. With seven sets of great features, NetSuite tackles it all—from supply chain to HR, finance to CRM. It's built for the cloud, which means you can access it on any device anywhere in the world, and it is backed by one of the largest software companies in the world: Oracle. Unfortunately, it's a bit outdated, its many modules can make it a bit overwhelming, and with a starting price of $999 per month, it is not designed for small businesses.
If you're looking for a system to bring your business together, NetSuite is a great choice because of its versatility and easy access. Schedule a demo and see what it offers, or jump right in with a sales call and get a customized plan. Overall, NetSuite is a great ERP and its features will help your business grow globally.
If you're looking for a basic ERP solution that focuses on finance and inventory management and is backed by a global software company, then NetSuite fits the bill. But its user interface and cost leave a lot to be desired. Plus, without the option to integrate with some major applications, NetSuite is fully reliant on Oracle. That backing makes it a powerful—but isolated—software system for businesses.
NetSuite is one of the most expensive ERP solutions on the market with a starting price of $999 per month and an additional fee of $99 per user per month. Because NetSuite is a customizable ERP, the pricing is based on what features your business needs. So, it may end up more expensive if you're looking for additional features.
Why is NetSuite so expensive?
That's a great question! It is one of the first—and largest—cloud ERP solutions, and it has built the majority of its features and software in house. But it only offers four main feature modules up front, so there isn't a good explanation for its high cost.
No, with a starting cost of $999 per month, NetSuite is not affordable. It is, in fact, one of the most expensive inventory management or accounting software options available. Even as an enterprise resource planning software, its cost is way above the rest! Its cost means that NetSuite is only affordable for large and enterprise-level businesses.
Is Oracle NetSuite different from Oracle?
NetSuite is a subsidiary of Oracle. Oracle founder Larry Ellison originally funded NetSuite, and it included staff from Oracle. Its products have also included licensed Oracle database software. Oracle bought NetSuite in 2016, when Larry Ellison owned nearly 40% of NetSuite's share. Since then, NetSuite has operated as a global subsidiary of Oracle.
Oracle is well known for its computer software, which includes many database management systems. In fact, Oracle is the fourth largest software company in the world—after Microsoft, Intel, and IBM—with sales in excess of $39 billion and a market value of $227.7 billion 2021.1 In 2016, Oracle expanded into cloud software when it bought NetSuite for $9.3 billion.2 From there, it created Oracle Netsuite, a cloud-based business management system that includes accounting, ERP, CRM, and ecommerce. With the reach and cash from Oracle, NetSuite has expanded and become one of the premier ERP systems for businesses. Oracle has remained a software and services business.
In our review of Oracle's NetSuite ERP system, we looked at pricing, features, customer service, SuiteApps/integrations, usability, ecommerce, enterprise planning, reporting, finance, and user interface to decide our rankings for the software. We compared it with other top inventory management choices to determine the value of the software for different businesses and to see how it ranked. We calculated our star ranking based on a series of numerical grades focusing on pricing, features, integrations, and ease of use. Our review is subjective and based on how we believe these features will work with larger and wholesale businesses.
Disclaimer
At Business.org, our research is meant to offer general product and service recommendations. We don't guarantee that our suggestions will work best for each individual or business, so consider your unique needs when choosing products and services.