The 5 Best Warehouse Management Software of 2020
---
Warehouse management software goes beyond what you'd normally get with a regular inventory management solution. If warehousing is a top priority for your business, these are the platforms we'd recommend.
Most inventory control software is geared for retail businesses. But what if your company doesn't operate a full-blown retail location?
If your business is based primarily out of a warehouse, you need a solution that emphasizes supply chain management, inventory tracking within and between storage locations, and customer order fulfillment.
That's where a warehouse management system (WMS) can come in handy. Warehouse management solutions help you keep on top of warehouse operations—and they may or may not include other inventory features commonly found on retail-focused software.
If you're looking for a warehouse-centric inventory system, we recommend checking out one of the five options highlighted below.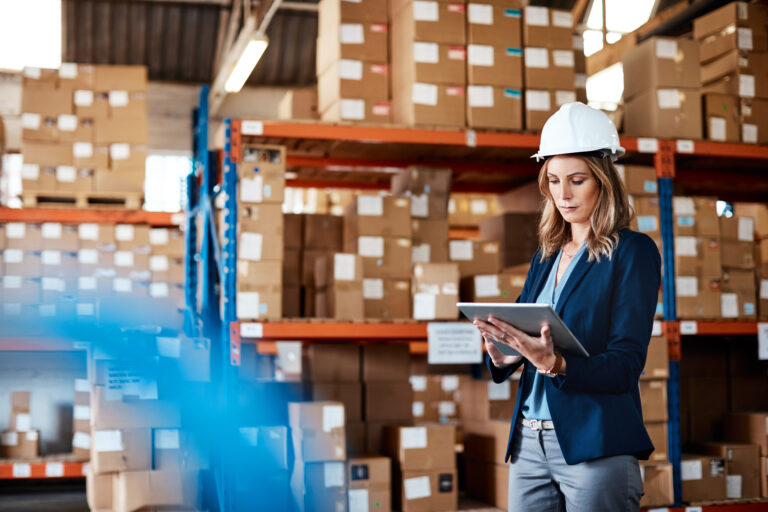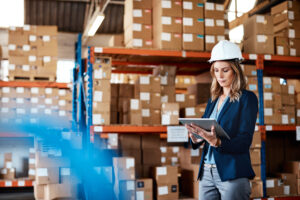 Best warehouse management options at a glance
Our top five warehouse management systems all allow you to track your inventory across multiple locations. They're also all compatible with barcode scanners—which makes a lot of sense considering how much easier warehousing becomes when barcode scanners are in the picture.
Here's how our five contenders stack up in terms of the most popular warehouse management features:
Top inventory tracker apps compared
| | | | | | |
| --- | --- | --- | --- | --- | --- |
| Feature | Fishbowl Warehouse | Manhattan WMS | Oracle WMS | NetSuite WMS | TradeGecko |
| Starting price | $4,395.00 | Price available upon request | $1,500.00/mo. | Price available upon request | $199.00/mo. |
| Multiple warehouses | ✔ | ✔ | ✔ | ✔ | ✔ |
| Multichannel fulfillment | ✔ | ✔ | ✔ | ✘ | ✔ |
| Barcode scanning | ✔ | ✔ | ✔ | ✔ | ✔ |
| Warehouse automation | ✔ | ✔ | ✔ | ✘ | ✔ |
| Cross-docking support | ✘ | ✔ | ✔ | ✘ | ✘ |
| Order streaming | ✘ | ✔ | ✘ | ✘ | ✘ |
| Mobile app | ✔ | ✔ | ✔ | ✔ | ✔ |
| Labor management features | ✘ | ✔ | ✔ | ✘ | ✘ |
| | View Plans | View Plans | View Plans | View Plans | View Plans |
Data effective 6/30/20. At publishing time, pricing and features are current but are subject to change. Offers may not be available in all areas.
Fishbowl Warehouse: Best overall warehouse management software

Fishbowl
Number one in value
Fishbowl Warehouse may look more like a traditional inventory management software than some of the other options on our list. But when it comes down to it, Fishbowl delivers the warehousing and supply chain features you need at a fraction of the price.
Fishbowl makes for a pretty decent warehouse management solution, thanks to its focus on usability and affordability.
Fishbowl offers a ton of features to help you keep tabs on your inventory levels. You can track inventory movement between multiple locations and even study sales trends on a warehouse-by-warehouse basis. Fishbowl also makes order fulfillment a breeze, thanks to its embedded UPS features.
Fishbowl Warehouse also integrates seamlessly with QuickBooks. This helps you maintain inventory accuracy since you don't have to manually enter your inventory levels into your accounting system.
All that being said, Fishbowl isn't a perfect warehouse management software. In fact, it lacks a few warehousing features that other platforms on our list provide—like cross-docking support, which helps you efficiently move product where it needs to go as quickly as possible.
So how did it get our number one spot? It provides exceptional value. Fishbowl software starts at $4,395, which seems pretty steep until you remember that's the price for a lifetime of use. While you can renew your software for $1,395 per year to continue getting access to new updates, you don't have to renew—your existing software will continue to work. And since you don't have to pay monthly fees, the service is actually extremely affordable.
Manhattan WMS: Best for fast shipping

Manhattan
Flexibility and power
Manhattan WMS is an intense third-party logistics (3PL) warehouse manager that provides lots of fulfillment methods. So however you prefer to prioritize and fulfill your customers' orders, Manhattan WMS can keep up.
Manhattan WMS is, at its core, a flexible inventory management and warehousing platform.
For starters, Manhattan gives you more freedom in your supply chain management by letting you arrange multi-carrier deliveries. That means you can choose to have your goods shipped by multiple logistics providers along the way, so you can choose the fastest or most cost-effective supply chain solution for your needs.
Once your goods arrive at your warehouse, Manhattan WMS offers cross-docking support. So if your items arrive and need to be shipped out immediately, you can use your warehouse inventory management software to order a cargo transfer from one truck to another. You can also take advantage of Manhattan's order streaming feature to prioritize shipments with fast turnaround times—even pulling items from other orders to fulfill priority orders.
Beyond order management, Manhattan also makes it easy to optimize your warehouse layout for easy picking and packing. You can also set material handling policies, ensuring everyone in your organization knows the processes for moving, protecting, storing, tracking, and controlling your inventory.
Oracle Warehouse Management Cloud: Best labor management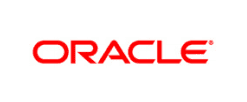 Oracle
Make it efficient
Oracle Warehouse Management Cloud is our pick for businesses looking to prioritize warehouse efficiency. Oracle's warehouse management system offers in-depth reporting tools to help you manage and track workforce performance across your warehouse.
Oracle Warehouse Management Cloud (or Oracle WMS) really shines when it comes to labor management options. With Oracle, you can easily measure completion times for warehouse tasks. You can also track efficiency by work group, work area, and even by process type for even greater insight. This gives you an accurate picture of your warehousing tasks and helps you set doable material handling goals for your employees.
At its heart, though, Oracle WMS is an enterprise resource planning (or ERP) system. As such, it offers a robust warehouse management system that doesn't skimp on asset tracking or traditional inventory management. You want to track shipments across your supply chain? Automate fulfillment on sales orders? Oracle can handle it all.
Just keep in mind that Oracle's comprehensive ERP solutions come at a hefty price. The cheapest WMS option available is the Oracle Warehouse Workforce Management Cloud, which clocks in at $75 per month per employee. But that's with a minimum of 20 employees, so the true cost is a whopping $1,500 per month at least.
So if you're looking for a more affordable warehouse management software, Oracle isn't the right choice for you.
NetSuite WMS: Best for perishables

NetSuite
Keep tabs on all your perishable goods
If you've got items that can't stay on the shelf indefinitely, you'll love NetSuite's warehouse management solution. Between the software's expiration tracking and shelf-life tracking, you can easily ensure your products get into your customers' hands while they're still fresh.
As part of the Oracle family of brands, NetSuite takes after its business brother by offering comprehensive ERP software. That means, with NetSuite, you don't just get warehouse inventory management—you also get logistics management, production management, and financial management.
Like Manhattan WMS and Oracle WMS, NetSuite lets you set material handling policies. This helps you define your strategy for put-away and product picking, so you can make your business as efficient as possible.
NetSuite's warehouse management system also helps you with advanced inventory tracking, keeping tabs on product expiration dates, shelf lives on specific items, and bin locations. That way, you can easily find and prioritize items that need to be sold sooner rather than later.
TradeGecko: Best for wholesale

TradeGecko
Specialization in B2B sales
With TradeGecko's customizable B2B ecommerce platform, order management and fulfillment for your biggest wholesale orders has never been easier.
Like Fishbowl, TradeGecko incorporates a lot more traditional inventory control features than other warehouse management systems on our list. For instance, TradeGecko includes demand forecasting and purchase order generation.
But that doesn't negate the fact that TradeGecko also offers a ton of features that are handy when it comes to warehouse operation.
TradeGecko offers bin-level tracking, so your employees can easily find the items they need when working on order fulfillment. You can also track your inventory across your supply chain in real time. And best of all, TradeGecko offers a Fulfillment by Amazon integration on Business plans and higher—so you can focus on your wholesale business rather than individual customer orders.
And it certainly doesn't hurt that TradeGecko is one of the most inexpensive warehouse management software systems on our list at just $199 per month. Just saying.
Warehouse management software FAQ
What is the best warehouse management software?
If you're looking for a warehouse management system, our top pick is Fishbowl Warehouse. It may not offer cross-docking, order streaming, and other top-tier warehousing features. But Fishbowl can help you generate purchase orders, track items across your supply chain, and efficiently fulfill customer orders—with more than a few traditional inventory management features thrown in the mix. It's not the perfect solution for every business, but its great value puts it at the top of our list.
What is WMS software?
WMS is short for warehouse management system (or warehouse management software, depending on who you talk to). WMS software provides inventory management for warehouse-based businesses. Depending on the solution you choose, that may mean more focus on supply chain management, order management, or item tracking.
How do I use WMS software?
No two warehouse management solutions are the same, so the specifics on how to use your WMS software will vary depending on the platform you're using. In general, though, you use warehouse management software to maximize efficiency within your supply chain, keep your warehouses organized, and speed up order fulfillment—all of which should lead to cost savings for your business and greater customer satisfaction.
What are the different types of warehouse management systems?
WMS systems can come in lots of different shapes. Some WMS solutions are standalone platforms that focus exclusively on warehousing. But WMS features may also come with your regular inventory management software or as part of the supply chain module on your ERP system. If you're using a 3PL warehouse manager, it may also include warehousing features. These all qualify as types of warehouse management systems.
The takeaway
Every warehouse management system offers different features and drawbacks. Fishbowl Warehouse gets our top pick due to its versatility and value, but if you're looking for more supply chain options, order fulfillment flexibility, or inventory tracking capabilities, Manhattan WMS, Oracle WMS, NetSuite WMS, or TradeGecko may be a better fit.
Ultimately, the best platform for your business is the one that meets your inventory control needs the best. Hopefully, we've illuminated some of the pros and cons of each option to help you choose a solution that works for your company.
Looking for more supply chain management features? You may find a better fit among more traditional inventory management software. Check out our guide to the best inventory management systems to learn more.
Disclaimer
At Business.org, our research is meant to offer general product and service recommendations. We don't guarantee that our suggestions will work best for each individual or business, so consider your unique needs when choosing products and services.