Why Is Inventory Management Important?
Tracking your inventory with a pen and paper could be seriously holding back your business.
Effective inventory management affects every aspect of your business—from your warehousing costs to your ability to fulfill orders accurately and on time. You want to be on top of everything from raw materials to finished goods. Unfortunately, inventory management is a difficult business process to do by hand. It takes time, and if you make a mistake, it could have ripple effects that negatively impact your business for months or years.
Good inventory management software is designed to help business owners by automating their inventory tracking, inventory planning, and manufacturing. So let's break down the benefits.
Why use inventory management software?
What is inventory management anyway?
Inventory management is an overarching term that refers to your tracking system for every phase in the product life cycle. It can include your sales forecasting, product ordering, supply chain management, warehouse management, and customer fulfillment solutions. To find out more, check out our article, "What Is Inventory Management?"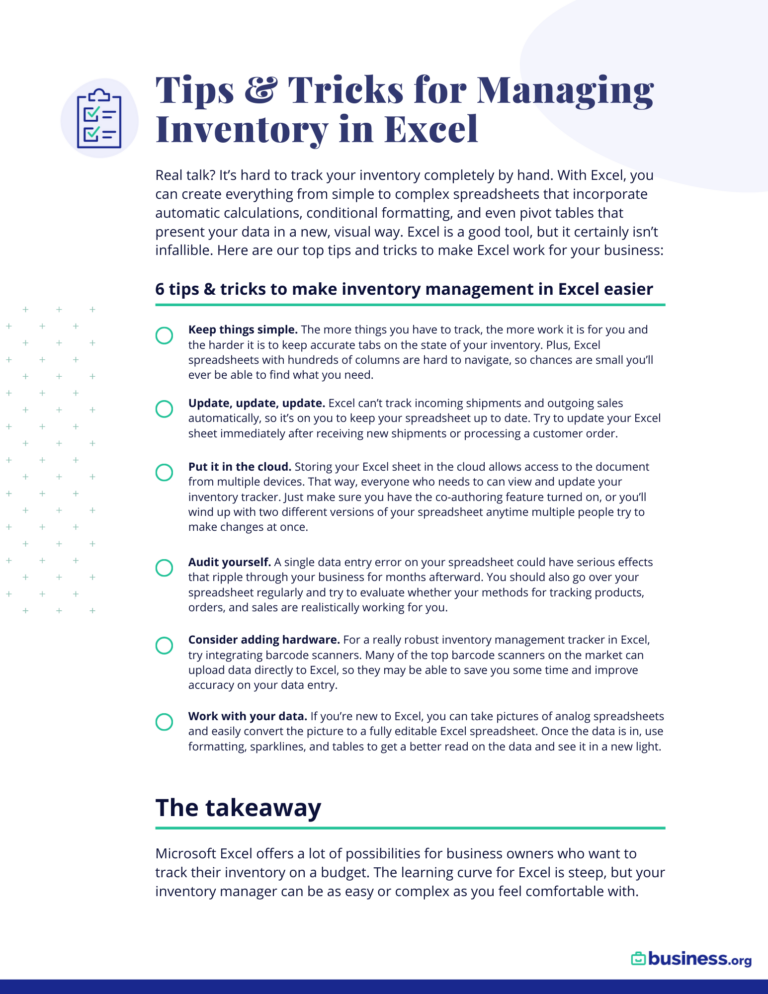 Get your free template
Keep your inventory organized, monitor shipments, and track vendor reliability with our customizable Excel inventory template and our included tips and tricks.
Inventory management software increases your profit
Inventory is a bit like the stock market—it's a risk. If you invest in risky ventures (like new product lines or niche items) and don't diversify your portfolio (e.g., pour all your working capital into manufacturing a single item), you run the risk of losing everything.
Fortunately, inventory management software can help you minimize risk and streamline your costs, which ultimately means a healthier bottom line for your business.
Any inventory management software worth its salt should include basic economic order quantity (EOQ) calculations. EOQ helps you identify the most cost-efficient method for ordering new products by weighing the costs of storing your products versus the cost of ordering your products—it compares product stock level with cash flow.
Inventory management software can do this for you automatically so you can minimize your warehousing fees and save money.
Inventory management software can integrate with your POS system to give you more accurate sales projects—lowering the risk of investing too heavily into products that won't sell.
Products that don't sell are essentially losses to your business—you've already spent the money to make the items, but you can't recoup that capital by selling the product. Inventory management software helps minimize this risk because many solutions include forecasting. This inventory management process checks your inventory level and ensures proper inventory management for your business.
Forecasting involves tracking the number of units you've sold and estimating the number of units you'll sell in the future—basically it conducts a process called inventory control. Even with an automated, computerized tool, forecasting isn't 100% accurate.
But using inventory management software to do the math for you is still a heck of a lot more accurate than trying to crunch the numbers yourself.
Inventory management software can also integrate with your point-of-sale (POS) system to update your stock numbers in real time. That gives you more accurate projections, which lowers your risk of investing too heavily into products that won't sell. Plus, your software can calculate the exact number of units you need to order and recommend the ideal time to place your order (so you don't overspend on warehouse storage for your items, but you still have enough stock on hand to meet customer demand).
Imagine, for a moment, that you're trying to buy a brown leather wallet as a birthday gift. You go to a store you expect will carry that item—only to find out they don't have any brown leather wallets in stock. Depending on the situation, you may stick around and simply choose another item at the store. But if you're really set on getting your friend a brown leather wallet, you're probably going to leave and shop around elsewhere until you find the product you're looking for.
Chances are, your customers are the same. If you don't have enough product in stock to meet demand, your customers probably won't just come back later—they're just going to shop somewhere else. And if that happens repeatedly, they may stop coming back to your store altogether. Even a single lost sale may represent thousands of dollars' worth of lost potential sales, so it's important to have enough stock to meet customer demand.
With inventory management software, you're more likely to have the right products on hand at the right time to meet customer demand. This helps you sell more in the here and now, but it also helps you secure customer loyalty so you can sell more items in the future.
Best Inventory Management Software
Inventory management software improves customer satisfaction
Have you ever tried to buy something only to find that the product you want is out of stock? Or waited for weeks for a product to arrive? Or opened a package only to discover that the item was damaged or the wrong item altogether?
None of these experiences paint your business in the best light, and they can all negatively impact customer loyalty (making your customers less likely to choose your product in the future).
But again, inventory management software can help minimize these mistakes and deliver the best possible experience for your customers.
Boost product availability
As we've mentioned already, many inventory management tools include forecasting and automated reorder protocols. This improves the likelihood that you'll have enough product on your shelf when your customers want it, which in turn improves the chances that your customers will find the exact items they need (in their size, color, or other preferences).
Inventory management software helps you maintain an organized warehouse—making it easier to pull the right items for customer orders.
Some inventory management solutions also integrate warehouse management. This feature helps you maintain an organized warehouse, which reduces the risk that you'll simply shove new inventory into a random spot, forget it's there, and lose track of your merchandise. It also helps warehouse employees pull items for customer orders with greater accuracy, so your customer actually gets what they ordered.
Inventory management software may also include logistics features that help you track order fulfillment time. That way, you can give your customers an accurate delivery estimate (and avoid falling short of those promises).
Balance multiple sales channels
If your business runs a brick-and-mortar location, an online store, a pop-up location, and an Etsy store, it can be difficult to make sure every customer order gets processed accurately while also ensuring your physical store locations have enough inventory on hand.
Inventory management software makes this process a lot easier. It can integrate with your POS system to track sales and stock across multiple channels—all in one place. That way, you can manage your business's inventory as a whole instead of on a case-by-case basis.
Reducing your order processing time helps you keep the products your customers want on the shelf. Combine that with improved order accuracy and product quality, and you get customer loyalty.
If your customers have a positive experience with your brand—where they're able to buy what they need and get it quickly without jumping through hoops—they're more likely to choose your business next time. They're also more likely to recommend your business to other potential customers.
Inventory management software makes it easier to run your business
Inventory management software may also include other tools to make your business run even more efficiently. Here are a few examples.
Improve warehouse management
We already mentioned that inventory management software often includes warehouse management features, which can help you improve order accuracy. But it may also help you streamline efficiency within your warehouse.
Inventory management software can help you map warehouse space, reduce storage costs, and integrate scanning systems for real-time stock updates.
Some inventory management tools help you map your warehouse space, factoring in pallet sizes and the cost per square foot of storage space to help you find the most cost-efficient, easy-to-use system. You may also be able to integrate radio frequency ID (RFID) or barcode scanning so your inventory management system gets real-time updates on stock levels and inventory movement.
All that helps you minimize guesswork and get a more accurate picture of your inventory situation when you need it.
Manage multiple locations
As we mentioned above, inventory management software can help you juggle your inventory when you're overseeing multiple sales channels. But some software can also help you manage inventory storage and stock levels between multiple warehouses or brick-and-mortar locations.
These solutions usually integrate supply chain logistics features, allowing you to order product for all your locations in bulk (thereby saving on manufacturing costs) while moving products between locations based on need—never losing track of where any item is at any given moment.
Integrate with other tools
Finally, inventory management software can integrate with any number of other business processes:
Point-of-sale (POS) systems: To track sales and stock levels in real time and assist with product forecasting
Bookkeeping systems: To analyze working capital your business has available and plan inventory orders
Accounting systems: To gain more accurate forecasting metrics and find the most economic order quantities for product stocking
Customer relationship management (CRM) systems: To link order fulfillment with service requests and customer interactions (so your customer service rep can accurately tell customers the status of their order, for example)
And if your solution doesn't include warehouse management, supply chain logistics, forecasting, RFID or barcode scanning, or any of the other features we've mentioned already, you should be able to find a third-party service that can integrate with your inventory management software.
There's a lot that goes into your inventory management, and it has a big impact on your business's bottom line. Using an inventory management software solution reduces errors in your inventory management, which makes your business more efficient, more profitable, and better equipped to serve your customers.
Want to ramp up your business's success? Check out our top picks for inventory management solutions to get started.
What are the benefits of good inventory management?
What is the importance of taking inventory?
If you don't take inventory using inventory management software, it is possible to become disorganized and make inaccurate projections when it comes to ordering new stock. Luckily, most inventory management software includes forecasting to help you estimate how many items will sell in the future.
Taking inventory helps to manage the supply chain properly, and automating processes with inventory management software helps to ensure order accuracy and improve your business operations.
Disclaimer
At Business.org, our research is meant to offer general product and service recommendations. We don't guarantee that our suggestions will work best for each individual or business, so consider your unique needs when choosing products and services.