Wix Review & How-To: A Versatile Site Builder for Most Needs
---
About 150 million people use Wix.1 Should you be one of them?
Best Overall
Price starting at $23/mo.
Extensive customization
Easy-to-use platform
Negative reviews
Last Updated: More than 6 months
We looked over this article to update Wix's pricing, which went up recently, though not by too much. Wix has also added 200 new apps to its marketplace.
When we asked business owners what they want in a website builder, they told us they wanted something that was easy to use, able to create beautiful websites, and fully customizable. Sounds like a tall order, right?
Well, we're pleased to tell you that Wix does all three. In fact, it does them so well that we've chosen it as our favorite website builder. It faced stiff competition: we tested nine popular site builders by creating a full website to predefined specifications. But in the end, Wix did it best.
In this review, we'll explain how we scored its ease of use, design, and customization; take a look at some other features; and walk you through our building experience with Wix. We'll also point out where Wix falls short compared to the other builders we tested so you can decide if Wix really is the best website builder for you personally and for your business.
You can watch our hands-on experience with Wix in the video below, and then let's dive in.
Wix is our pick for the best overall site builder
Chances are you should build your business website with Wix. It makes it easy to create basic pages, a blog, a store, or all three—and they look good. It has loads of customization options too, so you can create exactly the website you imagine when you close your eyes.
Whether you're creating a blog about your experiences as a dog trainer, crafting a portfolio for your infant photography business, building a store for your handmade rocking chairs, or just developing a simple website so your customers can find your septic pumping business, Wix can handle the task with ease.
Plus, the price is right: Wix offers business plans that start as low as $23 per month, making it competitive with similar website builders and cheaper than dedicated e-commerce builders.
Which isn't to say that Wix is perfect. WordPress has better SEO features, BigCommerce has more e-commerce capabilities, and GoDaddy is a little cheaper. But Wix offers a well-rounded solution that provides the most value to the most people.
What is Wix?
Wix launched its first website builder in 2008. Since then, over 150 million users have built websites with Wix.2
Why can we confidently say Wix is one of the best providers out there? Because of our thorough testing process, in which we scored Wix on its usability, design, and customization. These scores reflect our experience building a site with Wix and how that experience compared to other website builders we tested.
Easy drag-and-drop interface
Limitless customization options
Extensive app market
Negative customer reviews
No 24/7 customer support
Usability score: 5/5
We give Wix fulls marks on usability. It's fast, easy, and satisfying to use.
Building our website with Wix took 48 minutes. That's not the fastest builder we tested—with GoDaddy, we completed our website in 38 minutes—but it's close. (For reference, something like BigCommerce took over an hour and a half, and we weren't even satisfied with the finished product.) That means less time building and more time taking care of your business.
Much of Wix's speed comes from how intuitive it feels to use. Pretty much anyone who's used a computer has already mastered dragging and dropping, so there's virtually no learning curve. And since you can select multiple elements at once, you can easily rearrange an entire page in an instant.
Building our website with Wix took 48 minutes.
Adding new elements feels just as simple. The pre-built content chunks make it easy to create complex pages. And unlike some site builders, Wix lets you resize and crop images directly in the builder, so you'll never have to stop editing, crop a picture in another program, save it, upload it, and then realize you still didn't crop it properly. With Wix, your pictures fit seamlessly into your layout by default.
Now, the menus might appear intimidating when you first begin—there's a menu on the left, a toolbar on the right, and pop-up menus that show up when you edit any piece of your page—but that feeling disappears almost immediately. These menus have clear labels, like "My Blog" and "Background," making them easy to navigate. We never had problems finding what we were looking for.
In short, Wix feels very usable—so much so that you feel like a website building master in no time.
But that's not the only reason we like it.
Design score: 5/5
Wix doesn't just make it easy to build a website—it makes it easy to build a clean, beautiful, and professional website that your customers will enjoy using.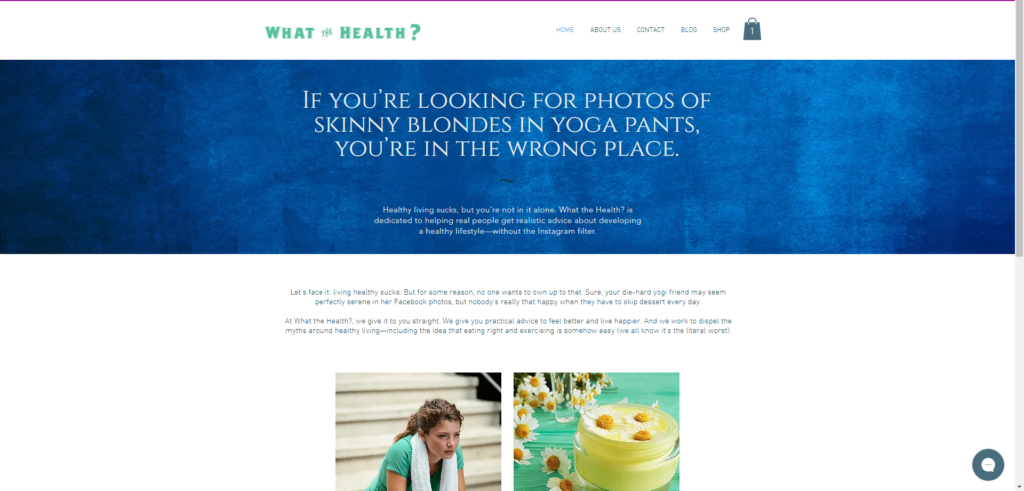 As we said earlier, Wix has hundreds of templates you can choose from. No matter why you're building a website, you're sure to find an attractive template that meets your needs. With some website builders, we struggled to find a template we really love; with Wix, we struggled to choose between the templates we loved.
But the templates are just a starting point. Again, Wix lets you add new content chunks. Other website builders, like WordPress and GoDaddy, have a similar feature, but we liked Wix's designs better. Its prebuilt grids of images and text look modern and stylish, like something you'd find on your favorite brands' websites.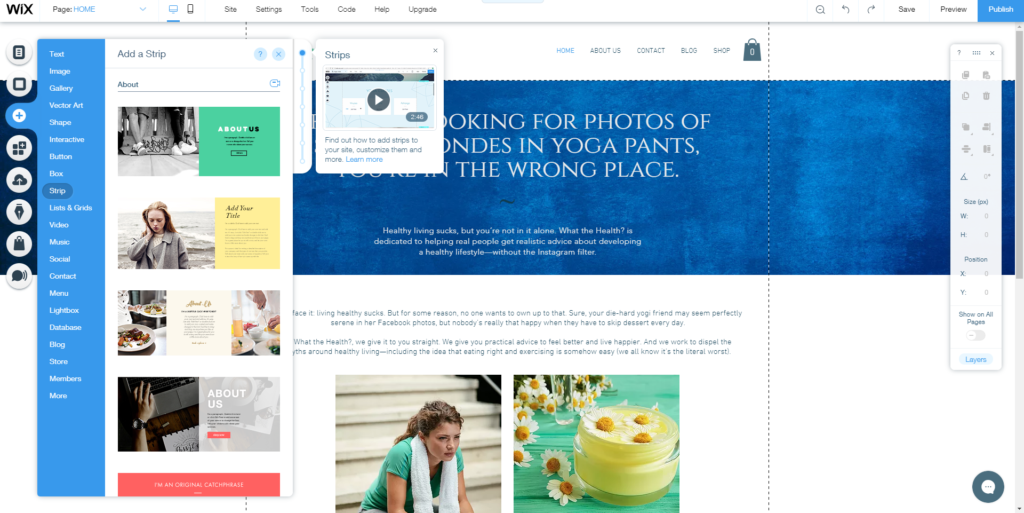 Of course, drag-and-drop builders can be dangerous: when you can move text and pictures wherever you want, you can end up putting them in busy, ugly layouts. (Remember how the internet looked in 2002? It wasn't pretty.)
Thankfully, Wix helps you avoid this with its guidelines that help you position everything perfectly. It's not quite foolproof—you can ignore the helpful lines and put stuff cattywampus on your page—but it's definitely fool-resistant.
Without any design expertise on your part, you can create a website that just might fool people into thinking you hired a designer.
Wix even makes it easy to get advanced web design features, like a sticky header (a header that stays visible at the top of the screen as users scroll), with just the click of your mouse.
So without any design expertise on your part, you can create a website that just might fool people into thinking you hired a designer. Wix's blog and store layouts look professional enough to instill confidence in your customers. Plus, its checkout system looks great too.
As it is, the store looks great and the blog looks great—you'd have plenty of credibility with a Wix site.
Customization score: 5/5
We gave Wix a perfect score for customization.
As we've already discussed, it has tons of templates to choose from, which gives you a good starting point for customization. The real customization, though, comes from its drag-and-drop functionality, which allows you to put any element anywhere on a page. With a little time, you can make your site look however you want.
Aside from moving everything, Wix also lets you edit sizes, colors, fonts, alignment—pretty much anything you can think of. You can even change the character spacing of your text.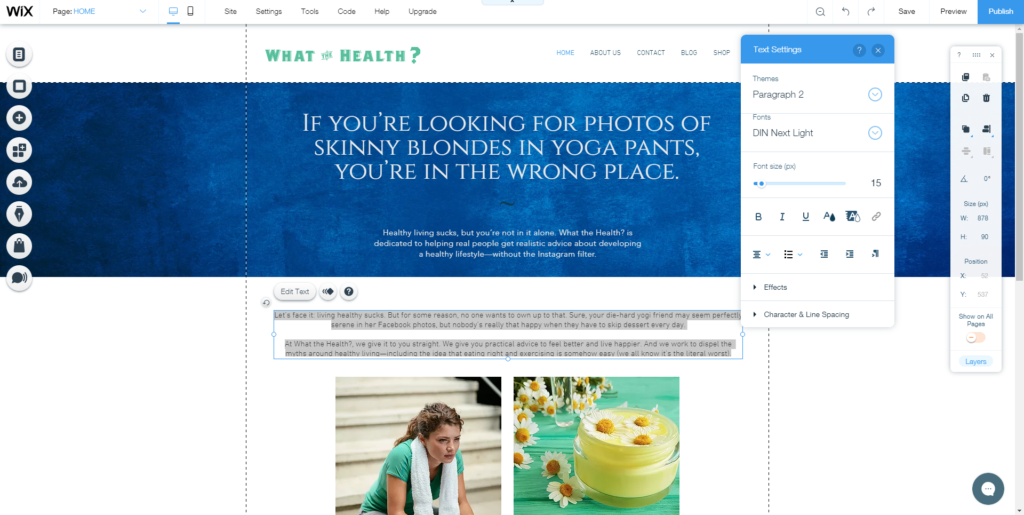 Plus, Wix has over 500 apps in its app market that can help you further customize your website. These range from form builders to social media plug-ins to customer chat interfaces to analytics. Many of these apps are free, but not all.
With hundreds of apps, tons of templates, and nearly infinite on-page customization, you can customize your Wix website to your heart's content.
Feature comparison
How does Wix compare to other popular website builders? We compiled a list of features to find out.
Wix feature list
| | | | |
| --- | --- | --- | --- |
| Feature | Wix | Squarespace | GoDaddy |
| Online store | ✔ | ✔ | With Online Store Plan |
| Blog | ✔ | ✔ | ✔ |
| Product limit | 50,000 | Unlimited | 5,000 |
| Credit card payments | ✔ | ✔ | With Online Store Plan |
| SSL security | ✔ | ✔ | ✔ |
| Mobile-friendly templates | ✔ | ✔ | ✔ |
| Discounts and coupons | ✔ | ✔ | With Online Store Plan |
| Gift cards | With app | ✔ | With Online Store Plan |
| Shipping quotes | ✔ | ✔ | With Online Store Plan |
| Transaction fees on third-party apps | ✘ | Select plans | ✘ |
| 24/7 customer support | ✘ | ✔ | ✔ |
| Themes | 500+ | 28 | 19 |
| Apps | About 500 | About 1,200 | N/A |
Data effective 11/06/2019. At publishing time, pricing and features are current but are subject to change. Offers may not be available in all areas.

Wix pricing by plan
Wix offers three business plans: Business Basic, Business Unlimited, and Business VIP. Each of these premium plans has unlimited bandwidth, lets you accept online payments, and gives you access to Google Analytics.
Each plan also gives you $300 worth of ad vouchers that you can use on Google, Bing, and local listings. So if your business plan includes any online advertising, that's a nice bonus.
Selling stuff?
Don't worry: you won't have to pay transaction fees on any of Wix's business plans.
The plans do have a couple key differences, mostly in terms of storage capacity. The Basic plan has just 20GB of storage, while Unlimited gets you 35GB and VIP comes with 50GB.
Not sure how much storage you need? Honestly, it depends. Even if you have dozens of pages filled with images, there's a good chance you'll never get close to needing 20GB. If you have a large online store filled with dozens of high-definition pictures of each product, you might get a little closer. If you have a 90-minute podcast that updates every week and you intend to host the audio yourself, you might need more storage.
Data effective 11/06/2019. At publishing time, pricing and features are current but are subject to change. Offers may not be available in all areas.

Along with storage, each plan offers a certain amount of high-definition video you can upload and embed. Basic comes with five hours, Unlimited comes with ten, and VIP offers unlimited video. So if you plan to host your own web series, you'll want the VIP.
Aside from that, the plans don't differ much. Unlimited and VIP get you a "free" professional logo, if you don't have one yet. And as the name suggests, the VIP plan gives you VIP status for customer support: your tickets and calls go to the front of the queue. Whether that's worth an extra $300 each year (compared to the Business Basic plan), you'll have to decide for yourself.
As with most website builders, Wix offers a discount for choosing yearly billing instead of monthly billing. But Wix goes a step further and offers even steeper discounts for choosing a two-year or three-year plan.
Wix multi-year plan pricing
| | | | |
| --- | --- | --- | --- |
| Plan | Two-year cost | Three-year cost | Learn more |
| Business Basic | $20/mo. | $18/mo. | Get Started |
| Business Unlimited | $23.50/mo. | $22/mo. | Get Started |
| Business VIP | $42/mo. | $38.50/mo. | Get Started |
Data effective 11/06/2019. At publishing time, pricing and features are current but are subject to change. Offers may not be available in all areas.

For example, three years of VIP would cost $2,016 with monthly billing. If you opt for a three-year plan, it's $1,386—a discount of $630. If you're confident you like Wix enough to stick with it for three years, that's not a bad deal.
By the way, you can get a 14-day free trial of any of Wix's paid plans. You don't even have to provide a credit card number, so there's absolutely no commitment.
Build your custom site today
Customize your website with an easy-to-use site builder that'll make your brand look professional and polished in no time. Start Building
Other important Wix features
SEO
Wix has relatively good search engine optimization features (SEO), which will make it easier for customers to find you on Google and other search engines.
In particular, Wix allows you to do the following:
Customize page titles
Modify most page URLs
Add meta descriptions (summaries of your page that search engines display)
Add alt text (text descriptions of images that make your pages accessible and SEO-friendly)
Include and optimize header tags
All these features let you include relevant keywords so you appear in related searches. For example, including "embroidery pet portraits" in your page title and headers can help your site appear when someone searches for that term.
Wix also allows for 301 redirects (which help you keep your search engine rankings when you change URLs) and XML sitemaps (which help search engines find all the pages on your website so they can be included in results).
Wix does have some SEO limitations, though. Those XML sitemaps can't be customized, and you can't completely customize product and blog page URLs (Wix automatically adds generated text strings to the end of the URL you choose). Also, Wix doesn't allow you to edit canonical tags, a piece of code in the header of a page's HTML that keeps search engines from getting confused by seemingly duplicate pages (like https://business.org and https://www.business.org).
Still, Wix's SEO capabilities should work well for most businesses. But if your business is solely online as a blog, like a mommy blog or recipe blog, you might want a WordPress site. WordPress has all the SEO features you could want—but its site builder is much harder to master than Wix.
Customer support
Unlike many of its competitors, Wix doesn't have 24/7 customer support. If you have an urgent late-night issue, you're on your own.
Of course, you can consult Wix's vast help center. It's full of articles and answers for common (and less common) problems. With just a brief search, we easily found answers to all the questions we had while building. Whether you have a question about cropping images or improving SEO, you can find an answer in the help center.
As an added bonus, you can access Wix's help center as you build your site without ever leaving the editor—it's a built-in feature.
If you do need to talk to a human, you'll have to call between 5 a.m. and 5 p.m. PST. But you won't have to stay on hold; Wix has a callback service, so you can keep working on important things and simply get a call when a representative is available.
As for how helpful that support call will be—well, let's look at some customer reviews.
What customers say about Wix
When we asked business owners about their experiences with website builders, Wix came up over and over, with plenty of glowing reviews.
"Everything on Wix is highly visual and easy to use. When there is something I'm not sure how to do, a quick search online finds the answer quickly since it is a commonly used builder.

"For small business owners, Wix is my top recommendation for price, value, and ease of use. They have a lot of great templates and make it easy to build a professional looking website. Also, they have a marketplace with loads of apps for more advanced needs such as email marketing or ecommerce."
Many business owners praised its ease of use. A couple respondents emphasized how quickly they were able to build a site with Wix, and many people praised how Wix makes it easy to both build and maintain their websites.
"Wix is very user friendly.

"I am very out of touch with technology and computers. However, Wix makes site development easy. In my opinion it should be called Site Builders for Dummies!"
Likewise, Wix got plenty of praise for its design and customization. Business owners liked its many templates, and they loved its drag-and-drop platform.
"I wanted to create a custom site instead of using a template, and Wix gave me the control I needed to do that without having to actually code the site."
We did have some respondents who had used Wix and later switched platforms because of its limitations. Most of these users wanted more advanced e-commerce features, though a few mentioned SEO. They usually switched to WordPress.
"Wix can provide a simple ecommerce platform for my wife's small business but it is lacking some significant features—namely printing shipping labels or connecting to a label printing third service. So, I have to use WordPress for my major sites."
But overall, these business owners loved Wix and would happily recommend it to anyone building a website.
You should know, though, that Wix doesn't get quite as glowing reviews elsewhere. On Trustpilot, Wix has a 1.8 out of 10—officially a Bad score.3 The negative reviews repeatedly mention billing issues and difficulty getting in touch with customer support—much less getting help.
That being said, the 1.8 score looks more dire than it really is. The actual split of the reviews tells a somewhat different story. There are more excellent reviews than bad reviews (38% versus 37%, respectively). All in all, 50% of reviews are positive, compared to 43% negative (the rest are average). So more users like Wix than dislike it.
In other words, we suggest you take those negative reviews with a grain of salt. Many business owners recommend Wix, and we loved it in testing. If you're really worried about customer support, you can always go with the VIP plan to get priority help.
FAQs about Wix
Before we get into the how-to portion, let's address a few final questions you might have.
Does Wix include a domain?
Wix's business plans include a free domain for one year. But if it's year two or you just want to buy a domain elsewhere, we have some great domain registrars we recommend.
Are Wix templates mobile friendly?
Yes, Wix templates have been optimized to look great on mobile. Whether your customers come to your site via a computer or a phone, your site will look beautiful.
How does Wix compare to WordPress?
If you have lots of time and energy to devote to website building, WordPress ultimately gives you more control than Wix. As we already mentioned, WordPress has more SEO capabilities. You'll also find more themes and apps for WordPress. And if you have any coding knowledge, you can customize WordPress to your heart's content.
But if you don't have that much time or if coding sounds intimidating (we hear you), then you'll prefer Wix. You probably won't even notice its few limitations, and you'll have a much easier time creating your site. We recommend Wix for most people.
Hands on with Wix
So how did we actually go about building our test website? We're glad you asked.
The basic website
We began by building a core website that consisted of a home page, an about page, and a contact page. It all came together quickly and painlessly, thanks to Wix's drag-and-drop building.
But before you flash back to ugly GeoCities websites circa 2004, let us assure you that Wix's drag-and-drop feature lets you create genuinely beautiful and professional-looking websites. In part, that's because you begin by choosing from around 600 templates. While we can't vouch for all of them, we were easily able to find an attractive layout to begin with.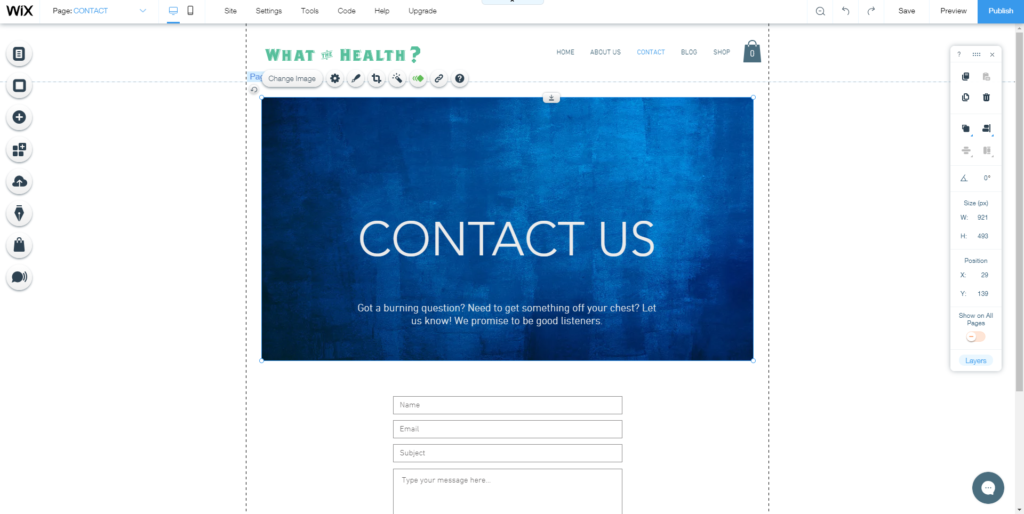 At that point, all we had to do was double-click on various items to edit them. Swapping out text and pictures was a breeze, and it was pretty intuitive to use the various menus that pop up to let you change sizes, colors, etc.
Of course, we wanted to change up our template's layout. That was a cinch too. As we dragged elements around our page, Wix helped us make sure that everything was properly aligned by providing guidelines, as you can see in the picture below. These lines make it easy to center items or put your pictures in an even row—however you want stuff aligned, Wix makes it easy.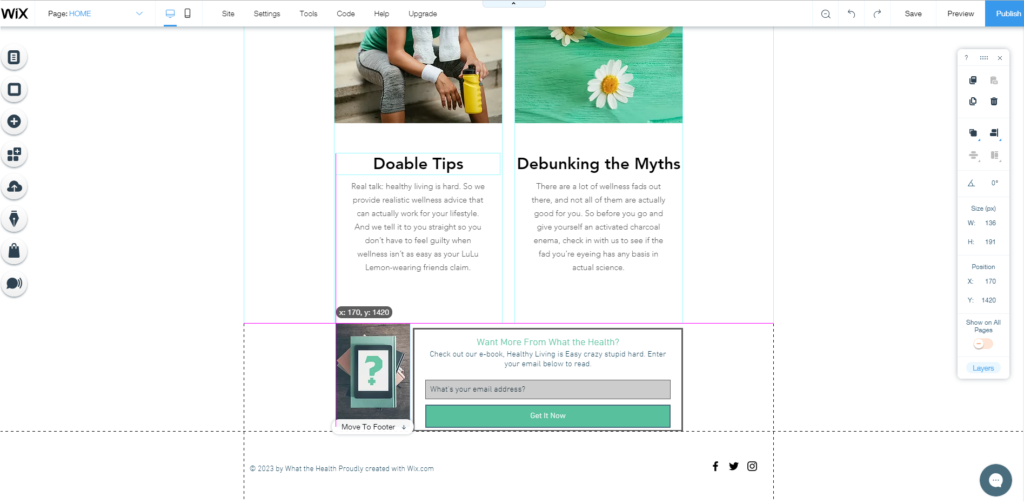 So you can drag and drop all you want without worrying that your site will look like a haphazard collection of text and images.
And like some other site builders we tested, Wix lets you add new elements in pre-built blocks. We easily built our about page by using a list block that contained images, headers, and body text, all neatly packaged for us.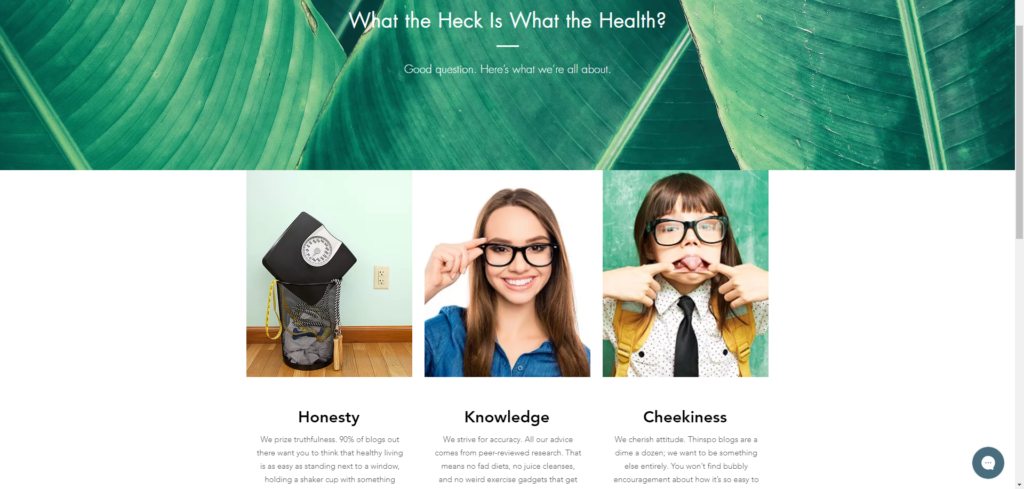 Those blocks made everything come together in no time. Then we moved on to the blog.
The blog
To create our blog, we just selected blog manager from the left menu, and Wix created a blog page for us, complete with a few sample posts. We deleted those and added our own posts.
Wix's blog editor looks clean and simple. We just pasted in text we'd written beforehand, and it kept all our formatting—including line breaks, headers, and links. Then we embedded a YouTube video and added an image. Again, Wix feels so intuitive that we immediately figured out how to add those, as well as how to change their size and alignment.
But Wix's blog doesn't just feel easy—it looks good. Our published posts looked as appealing as your average WordPress blog (the undisputed blogging champion). It even had similar features, like authors for posts, publish dates, and estimated read time.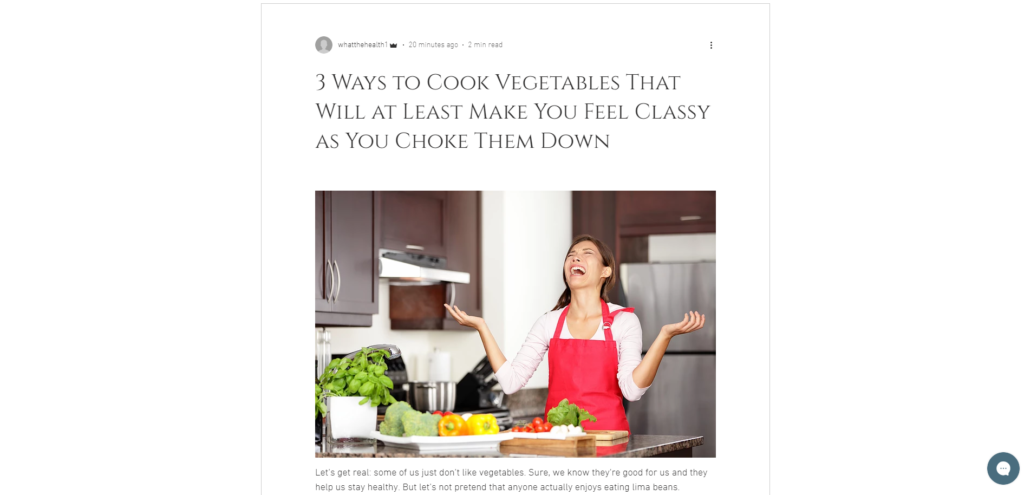 And if we didn't like our blog layout, we had the option to change it from one column of posts to several rows or a grid.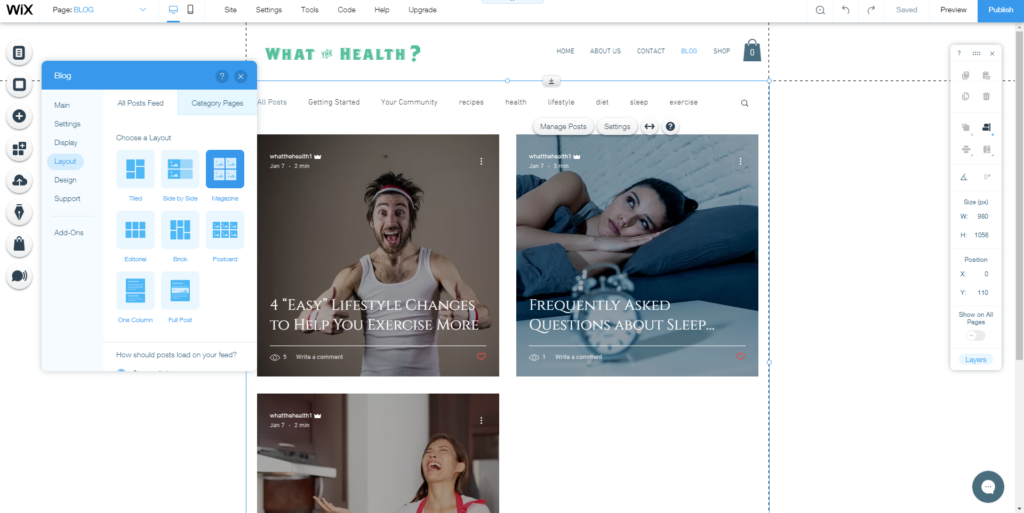 Within just a few minutes, we finished our blog, complete with three posts.
The online store
Our final step was creating an online store with five items. As with the blog, all we had to do was select the store manager from the left-hand menu and Wix created our store for us and invited us to add products.
For each product, we could add plenty of details: product descriptions, images, videos, color options, size options, categories, and even a custom ribbon (for callouts like "New!" or "Best Seller!").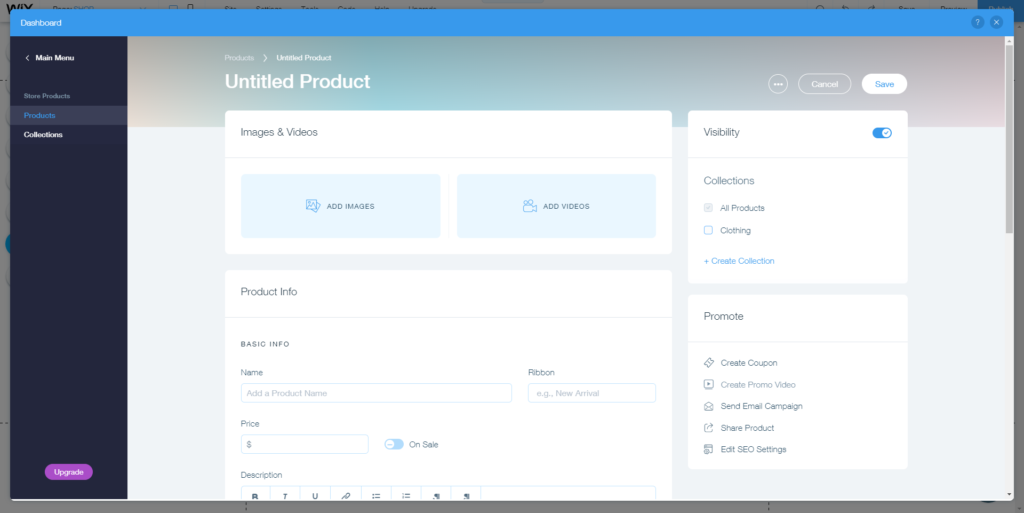 Our inventory and shipping options felt limited compared to the features you find with dedicated ecommerce site builders—we could track stock, input custom SKUs, and add a product weight, but Wix didn't let us add things like dimensions, bin picking numbers, or custom shipping costs.
But it had the essential details, and it let us accept online payments through various popular payment gateways like Square, Stripe, and PayPal.
If that still sounds too lightweight, keep in mind that Wix does let you use plug-ins—apps, as Wix calls them—to add more functionality to your ecommerce store. For example, you'll find apps for creating gift cards or selling digital items with instant downloads.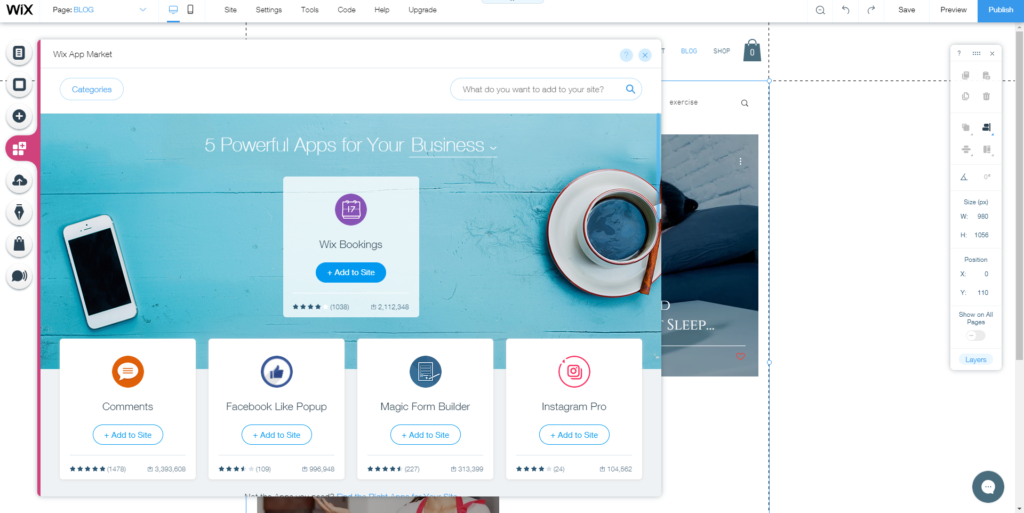 Even with those apps, you won't have quite the power of an e-commerce builder like BigCommerce. You won't get custom quotes from various shippers, for instance. So if you're all retail all the time and need more commerce features, Wix's store might not work for you. But for small or midsize ecommerce websites, Wix's slightly limited store features should be enough.
And this probably goes without saying, but our Wix store looked great. Without making any changes to the default store layout, our store looked just as good as the store you'd get from an e-commerce site builder.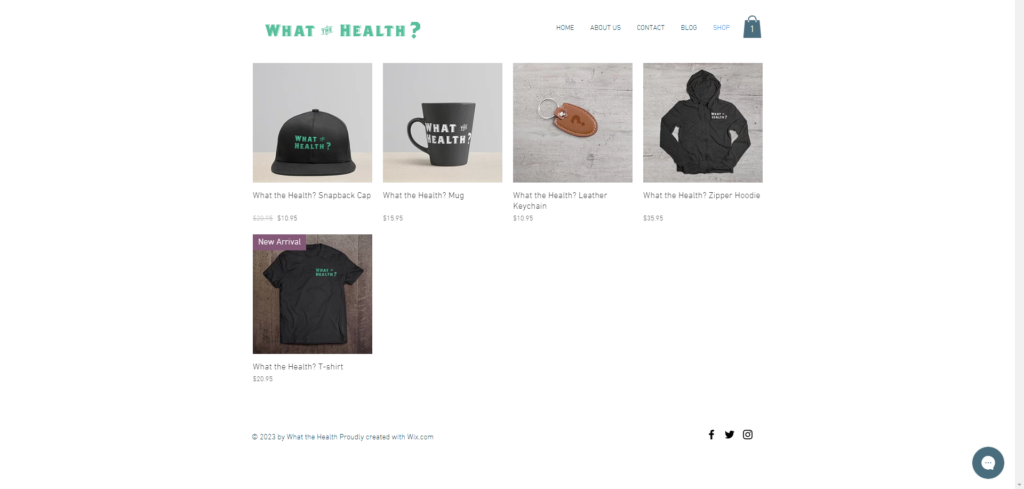 With a finished store, we'd completed our website, and we were more than satisfied by how easy each step was.
The takeaway
We doubt that a perfect website builder exists, but Wix comes pretty close. It excels at building beautiful websites, blogs, and e-commerce stores, and it makes the process pleasant. Between its hundreds of themes and its hundreds of plug-ins in the app market, Wix can be easily customized for your needs. It does have a few e-commerce and SEO limitations, but those shouldn't affect the average user.
Ultimately, we recommend Wix as the best website builder for most people.
Not sure if Wix is the best fit for you? Check out our list of the best website builders for more recommendations, including e-commerce specific options.
Disclaimer
At Business.org, our research is meant to offer general product and service recommendations. We don't guarantee that our suggestions will work best for each individual or business, so consider your unique needs when choosing products and services.
Sources
1. Wix, "About Us"
2. Wix, "About Us"
3. TrustPilot, "Wix.com"