When to Hire a Web Designer for Your Site
Whether your business is just getting started or growing fast, you might want to know when to hire a web designer.
Your business website is one of the most important parts of your business. A good business website serves a lot of roles: an online home base, a welcome sign for new customers, a marketing tool to help attract and retain customers, a product catalog and research library for customers, an ecommerce storefront to close sales, and a customer service hub to build ongoing customer relationships for repeat business.
With all of those high-value functions in mind, one of the big decisions that every business owner must navigate is when to hire a web designer for your site. Of course, if you want to take the time and effort to set up the website yourself, there are many great tools and platforms available to help, but depending on your business needs, you might require a higher level of professional support to get the seamless, sophisticated business website that your customers deserve.
Let's take a closer look at when to hire a web designer for your site–and how to find great web designers that can help your business grow.
Should you build your own site or hire a web designer?
Interested in starting your own business website? Many business owners use ecommerce website builders like Shopify, Wix, or Squarespace, or use easy templates or "themes" in Wordpress to create their own websites.
If this seems like a good fit for you, check out some of our favorite web builders, many of which have a free option.
However, there are a few things to consider before building your own site. You might be good to build your own business website if your business meets the following criteria:
You're on a tight budget.
If your business is just getting started and you can't afford to hire a designer, building your own site can help you save money on upfront costs–especially if you are tech-savvy and have a good comfort level with creating your own site.
You only need a simple website.
Today's website builders have an excellent range of choices for easy-to-use website themes, templates, colors, and more. You can choose a website layout based on other similar businesses and quickly create a site that suits your needs.
You want to get the website up ASAP.
If your priority is speed, you might want to use a website builder and get your business up and running.
On the other hand, you might want to go with a web designer in the following cases:
You're not savvy about possible tech issues.
If you don't know all the ins and outs of website design, you might encounter errors or other tech issues with creating your own website. A professional web designer can help you avoid these problems.
You need a more complex web design.
Do you want to make a strong statement about your company's image and brand? Do you need a sophisticated user experience (UX) design? If so, basic themes and templates might not be good enough. Web designers can help you make your site unique and memorable to your customers with the latest customer-friendly trends for an intuitive user interface (UI).
You need ongoing support: Creating a website is not a one-time project. You will need ongoing support and maintenance for your site, especially as your business grows. Building a long-term business relationship with a talented web designer can help you keep your site running smoothly, without having to go it alone.
Building your own site might be the right choice for tech-savvy entrepreneurs or for beginning business owners who have simple website needs. But as your business grows, your website traffic increases, and your sales and marketing efforts get more sophisticated, you might want to invest in professional web design.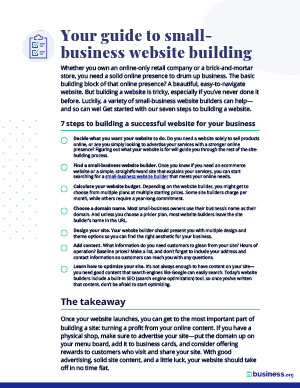 Grow Your Business's Online Presence
Build a beautiful website and start attracting more customers ASAP. Enter your email for a copy of our website building checklist.
When to hire a web designer
Okay, we've gone over a few big reasons why you might want to hire a web designer. Now we're going to tell you how to know when the time is right.
When your sales are growing fast
If your business is already bringing in revenue, your company is growing fast, and you can see strong future potential for this business–then it might be better to invest in professional web design services. Good web design is an investment in your business's future growth. If you already have a successful business concept, why not continue that momentum by upgrading your site?
Learn more with 5 Secrets To Prepare Your Small Business for Black Friday and Cyber Monday.
When you need a unique "on-brand" design
How important is your website to your overall business brand and customer experience? If your business is a simple solopreneur business, such as a freelance professional services business where you build client relationships with personal interactions outside of your website, it might be fine to just use a website builder with simple themes. But what if your business requires a more unique approach?
For example, if you have an ecommerce company that builds relationships with customers almost entirely via your website and online engagement, you might want a more sophisticated design. Hiring a web designer can help you showcase your company's unique brand messages, values, and character.
When you need a better user interface (UI) and user experience (UX)
If you design your own website, even with a helpful drag-and-drop website builder, you might not know how to create a user interface (UI) and cultivate a good user experience (UX). There are many complicated and subtle aspects of UI/UX design that a professional web designer can help you understand.
The experience of scrolling, clicking, tapping and navigating your site can make or break your customer relationships. A good web designer will help make your site's experience as pleasant and seamless as possible for users to navigate the site and buy from you.
When your site feels old and needs a refresh
Running a business can be hectic, and sometimes it's too easy to let your website start to feel a little stale. If it's been a few years since you've updated your site, if you're still using an outdated theme, if your ecommerce sales are stagnating–these could be signs that it's time to hire a web designer to upgrade your site.
Whether your site needs a fresh coat of paint or a total renovation, professional web design support can make it happen.
When you're too busy to do it yourself
In the early days of running your business, you might have more time than money and you might be happy to tinker with website themes and learn by trial and error. But if you have an established business, are already earning strong revenue, and have plenty of funds but not enough free time, you might want to hire a web designer. Outsourcing the website design can take pressure off of you and free up time and energy for you to do more of what you do best, and focus on managing your business.
Where to hire web designers
Ready to hire a web designer? Now you need to know where to find them. Here are a few great options to hire web designers:
Online freelance talent platforms
Sometimes the best way to quickly find a freelance web designer is by using online talent platforms like Upwork, Fiverr, Toptal, or 99Designs. These sites let you browse and search for freelance web designers. Many of the platforms show reviews from previous clients.
LinkedIn Services Marketplace
LinkedIn is not just a place to post your resume and look for a new job–you can use the LinkedIn Services Marketplace to hire freelance professionals to help with projects for your business.
Even though there are great online resources now to help you hire freelance professionals all over the country or around the world, don't underestimate the value of personal networking to hire a web designer.
Don't know where to start? Ask your friends, family and colleagues. Go to a networking event or lunch-and-learn at a local business group, startup incubator, or co-working space. There might be great web designers in your local area who are happy to help you accomplish your project. 
Before you hire freelance web designers, whether it's online or in-person, be sure to look at their portfolio of previous work samples, ask for references from previous clients, and make sure you understand their pricing and scope of work. If you want a simple five-page website, they might be able to offer you a fixed fee. If you need a more open-ended project, you might want to create a billable hours or monthly retainer payment model.
Before you begin work, ask the web designer to write a well-defined contract or Statement of Work (SOW) that lays out the expectations for you as a client and for the web designer as the contractor. Clarifying expectations, project milestones, payment obligations, and responsibilities upfront can help you have a successful result.
Every business owner needs to focus on doing what they do best. Barbers don't make their own hair clippers, brick-and-mortar retail store owners don't build their own stores, and restaurant owners (usually) don't cook every meal by themselves. For many business owners, hiring a web designer is another example of outsourcing to experts as an investment in your business growth. 
If you're happy with the website themes available to you from a website builder, or if you have a special knack for web design, or you want to be very hands-on with creating and maintaining your website, then you might not need to hire a web designer. But if your business is thriving and growing, if your traffic is increasing, if your customers are searching for a higher level of support and a more seamless user experience, then you should probably hire a web designer for your site.
Would you like to learn more about creating a website for your business? Check out our picks for best website builders for small businesses.
When to hire a web designer for your site FAQ
When should you design a website?
If you're still in the early stages of creating your business, if you have tech skills or are willing to learn, and if you have the patience to set up your own website without outsourcing, then designing your own website might be the right choice.
How much do web designers charge to maintain a site?
It depends on the designer and the scope of work for maintaining the site. Keep in mind that the "cheapest" web designers are not always the best, and the highest-priced web designers might not be the right fit for every project. Ask a web designer for a price quote based on your site's current condition and issues. Many web designers will put together a monthly or annual package of services for maintaining your site.
What do I need to know before hiring a web designer?
Ask to see the web designer's portfolio of work samples from previous projects. Make sure you like their design style and are confident that they can deliver the level of complexity that your business website requires. Also make sure you both understand the scope of work (how much time and effort will be required) and pricing (whether it's fixed-fee, billable hours, or monthly retainer). Ask for client testimonials and references–you want to work with a web designer who is trustworthy and will finish the project on time and within budget. 
Is it worth paying for a web designer?
Unless your business only requires a simple website that can be accomplished with website builder themes, or unless you have professional-quality web design skills and enjoy doing it yourself, it is probably worth investing in professional web design services. A good web designer can help enhance the image of your business, make your website easier to use, and ultimately boost sales and growth for your company.
Disclaimer
At Business.org, our research is meant to offer general product and service recommendations. We don't guarantee that our suggestions will work best for each individual or business, so consider your unique needs when choosing products and services.