Wix vs. Shopify: Finding the Better Builder for Businesses
---
Should you use Wix or Shopify for your online store? Our guide gives you the answer.

Choosing between Wix and Shopify is kind of like choosing between a Swiss Army knife and a chef's knife.
The Swiss Army knife can do all sorts of things well, from cutting to screwing to wire stripping to opening bottles. The chef's knife, on the other hand, cuts better than the Swiss Army knife, and you could probably strip a wire with it if you were really careful and determined, but you'd be trying to force the knife to do something it's not meant for.
Wix is the Swiss Army knife of website builders: it does lots of things really well. Shopify is more like a chef's knife: it does one thing (e-commerce) really well, but it's not great at other tasks.
In this article, we'll help you figure out whether you should use the versatile Wix or the specialized Shopify for your business site.
Wix vs. Shopify at a glance
We'll get pretty in-depth in our comparison of Wix and Shopify below. But if you only have a minute, here are the basics you need to know.
Weebly vs. Wix
| | |
| --- | --- |
| Wix | Shopify |
| Starts at $16.50/mo. | Starts at $29/mo. |
| Drag-and-drop platform | Menu-based platform |
| Versatile enough for most websites | Specifically for online stores |
| View Plans | View Plans |
Wix is best for most businesses
When we say that Wix is the best site builder for most businesses, we mean it. Wix has just about everything you need for a business site, whether you're selling hand-blown glass sculptures or just making a home page for your carpet cleaning services. It offers attractive themes, built-in content and e-commerce features, and plenty of plugins—all in one user-friendly interface.
In fact, when compared to Wix, pretty much every other builder came up at least a little short. Sure, some builders do better in certain areas (like build speed or SEO tools), but Wix is well rounded enough to give you a beautiful home page, complete with an online store and blog to complement it—all from one easy-to-use platform. So if you want to support your online store with a blog or a detailed website, Wix might be the way to go.
Easy drag-and-drop interface
Tons of customization options
Extensive app market
Negative customer reviews
No 24/7 customer support
Shopify is best for new e-commerce businesses
As we were reviewing Shopify, we were repeatedly surprised that it wasn't, well, better at e-commerce. Sure, it has lots of features for your online stores, but it didn't offer that much more than we'd seen from other builders. But it did stand out in one key way: all the resources it has for new e-commerce businesses.
For example, Shopify has logo makers, name generators, and stock photos, all of which can make it much easier to get a brand-new online store up and running (with a little effort from you). Plus, it has experts you can hire for help with your site, which we think many e-commerce business owners would appreciate. So if you're just getting started on your online bedding store, you'll like all the support Shopify provides to streamline the process.
Easy-to-use product management
Resources for new businesses
Good search engine optimization
Confusing dashboards
Limited options on free templates
Extra transaction fees on credit cards
Wix features vs. Shopify features
Before you start building a business website, let's see how Wix and Shopify compare when it comes to vital business features.
Wix compared to Weebly
| | | |
| --- | --- | --- |
| Feature | Wix | Shopify |
| Online store | ✔ | ✔ |
| Blog | ✔ | ✔ |
| Unlimited products | ✔ | ✔ |
| Credit card payments | ✔ | ✔ |
| SSL security | ✔ | ✔ |
| Mobile-friendly templates | ✔ | ✔ |
| Discounts and coupons | ✔ | ✔ |
| Gift cards | With app | Select plans |
| Shipping quotes | ✔ | Select plans |
| Transaction fees on third-party apps | ✘ | ✔ |
| 24/7 customer support | ✘ | ✔ |
| Themes | 500+ | 70 |
| Apps | About 300 | About 1,200 |
| | View Plans | View Plans |
Ecommerce features
Both Wix and Shopify have all the basics you need when making an online store. Both builders have built-in features that let you list products, manage your inventory, accept credit card payments, and handle shipping.
Shopify has a few more native features—it allows you to print shipping labels from your dashboard, for example—but there wasn't much we could do with Shopify that we couldn't find a way to do with Wix.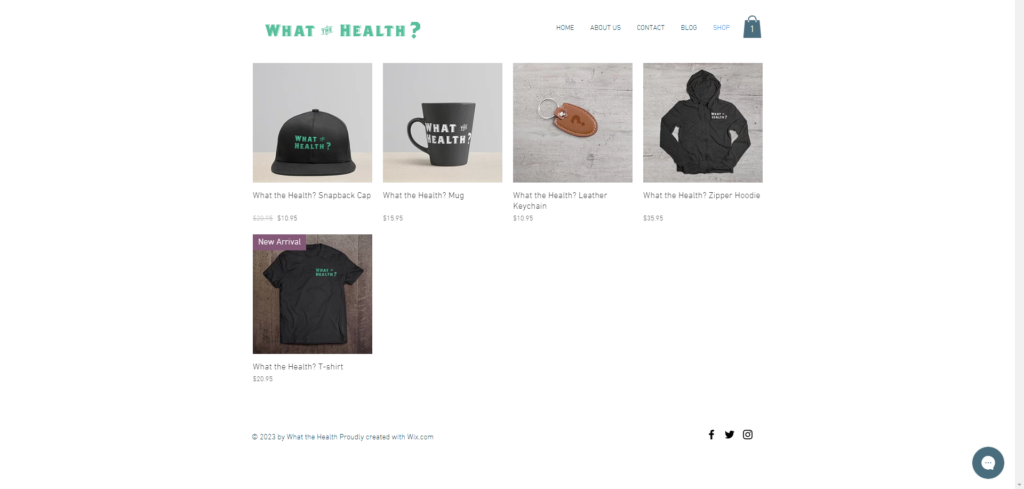 That's because both Wix and Shopify have plenty of plugins, or apps, that give you additional tools. So with Wix's ShipStation app, label printing was no problem.
The one exception we found? Dropshipping. Shopify has several apps that let you connect your e-commerce store with a dropshipping service, while Wix has none. So if you want to sell lots of nerdy t-shirts without keeping stock on hand, you'll definitely need to use Shopify instead of Wix.
But Wix does have two distinct advantages. First, Wix doesn't charge any transaction fees; Shopify does, and how high those fees are depends on your plan (more on this in the pricing section below).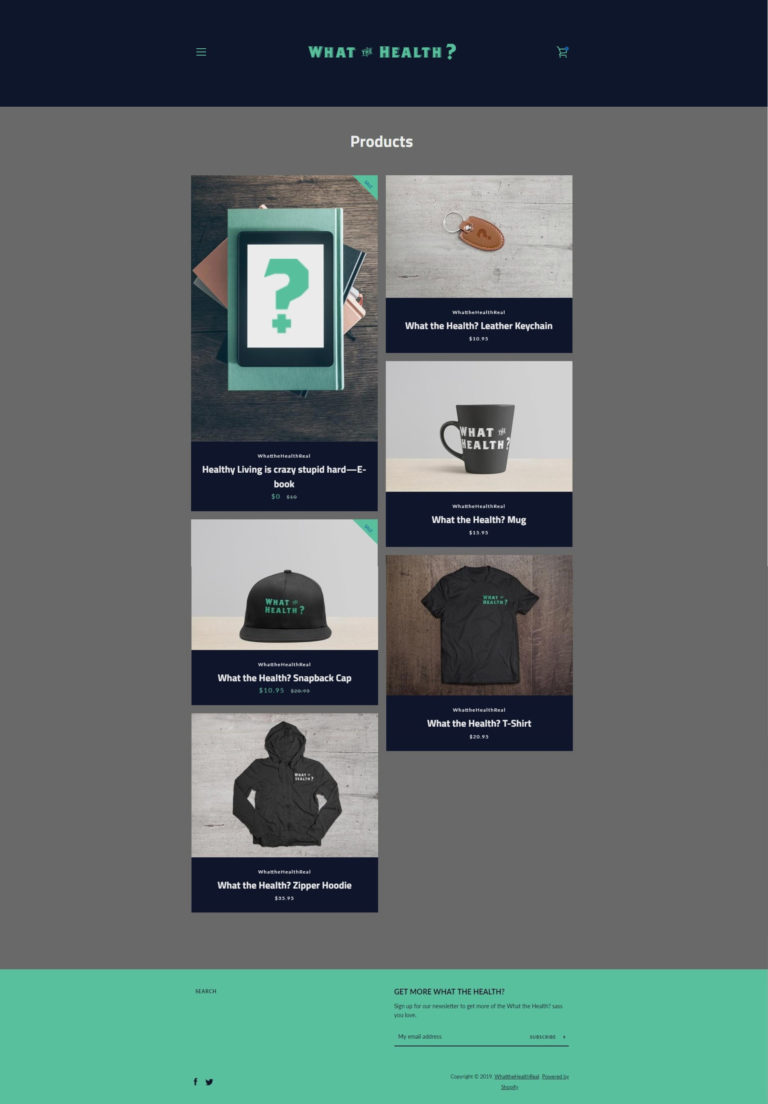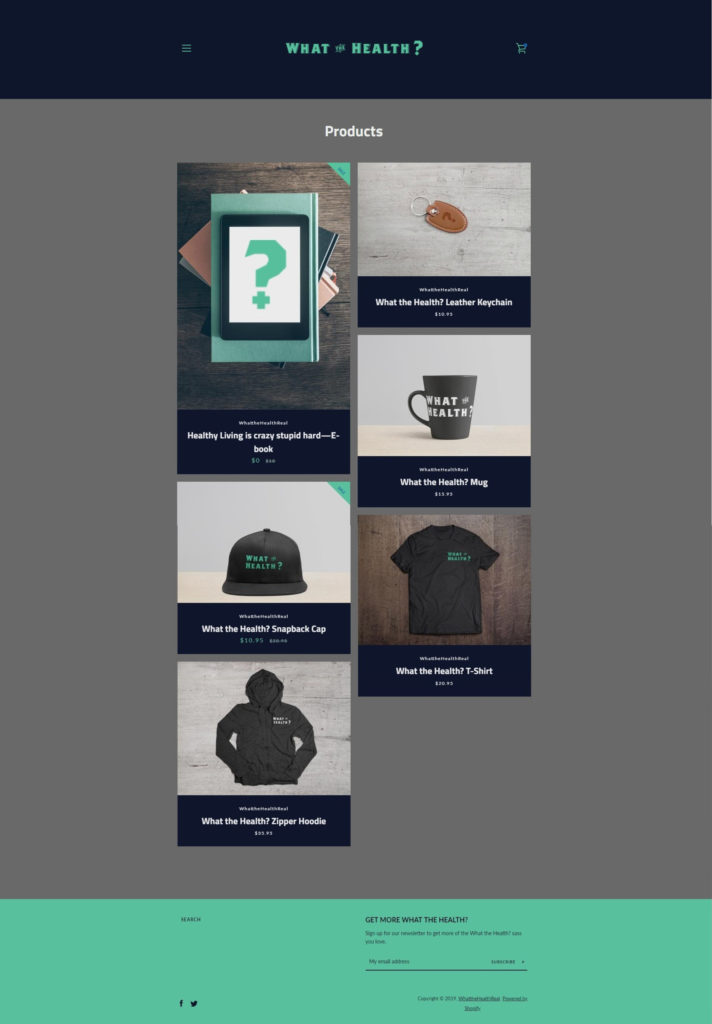 Second, our Wix store just looked a little better than our Shopify store. To be fair, both stores look good enough that we would have used them without much complaint. But the Wix store looked more polished, while the Shopify store looked kind of amateurish—surprising, for an e-commerce builder. A paid template might have improved the look of our Shopify store, but we didn't pay $150 to find out.
So remember how we compared Shopify to a chef's knife back at the beginning? Well, it turns out that Shopify is a kind of dull chef's knife. It's probably still a little bit better at slicing vegetables—er, creating an online store—than Swiss Army knife Wix, but it needs some fine-tuning to really excel.
Content features
Your online store will be the star of your e-commerce site, but that doesn't mean you don't need any content features to help you create and publish copy on your site. Maybe you want to support your online spice store with a blog so you can explain different spices and suggest recipes (and boost your search engine rankings with all that fresh content). So how do Wix and Shopify handle content?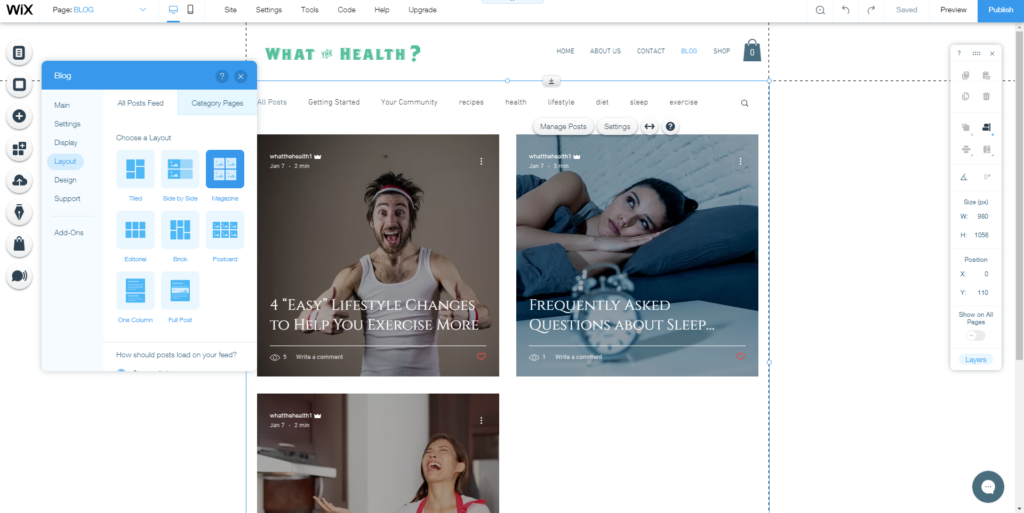 Pretty well, as it turns out. Both Wix and Shopify have easy-to-use blogging platforms that let you quickly add posts—they even keep your text formatting if you copy and paste your post from a different text editor.
So what's the difference? Just like with the online store, our Shopify blog looked mediocre in comparison to our Wix blog. And again, we know you can probably fix your blog's appearance with a paid Shopify template. We just wish we didn't have to.
So given that Wix creates a beautiful blog at no extra cost to you, we recommend Wix for your e-commerce website if you plan to do much blogging (assuming you don't need any of Shopify's resources or dropshipping tools).
Build your custom site today
Customize your website with an easy-to-use site builder that'll make your brand look professional and polished in no time. Start Building
Wix vs. Shopify costs
Now that you know what each site builder offers, let's take a look at how much they'll cost you.
Plan costs
We'll go ahead and tell you right now that Wix is much more affordable than Shopify. Wix's most expensive plan is about the same price as Shopify's cheapest plan.
Wix vs. Shopify plan pricing
| | | |
| --- | --- | --- |
| Builder | Basic plan (lowest price) | Premium plan (lowest price) |
| Wix | $16.50/mo. | $27.50/mo. |
| Shopify | $23.20/mo. | $239.20/mo. |
That won't matter much if you think you can use Shopify's e-commerce solutions to create a better online store that translates to more sales—we just wanted to warn you before you get sticker shock comparing the two builders.
So let's look at each builder's plans.
Wix premium plans
| | | | | |
| --- | --- | --- | --- | --- |
| Plan | Three-year cost | Yearly Cost | Month-to-month cost | Learn more |
| Wix Business Basic | $16.50/mo. | $20/mo. | $25/mo. | View Plans |
| Wix Business Unlimited | $20.50/mo. | $25/mo. | $30/mo. | View Plans |
| Wix Business VIP | $27.50/mo. | $35/mo. | $40/mo. | View Plans |
Wix offers three premium plans. Honestly, you can probably get by with Wix's cheapest plan unless you have some serious storage needs (like hosting your own web series); all three plans give you access to most Wix features. The Unlimited and VIP plans mostly just give you more storage and some marketing perks (like a free logo or ad credit).
You might also want the VIP plan if you think you'll need lots of help with your site. You know how you can get front-of-the-line passes at theme parks so you can skip the crowds and just ride the rides? Wix's VIP plan works like that, but for customer support. So if you see yourself calling support, it could be worth the extra money.
Shopify premium plans
| | | | |
| --- | --- | --- | --- |
| Plan | Two-year cost | Month-to-month cost | Learn more |
| Basic Shopify | $23.20/mo. | $29/mo. | View Plans |
| Shopify | $63.20/mo. | $79/mo. | View Plans |
| Advanced Shopify | $239.20/mo. | $299/mo. | View Plans |
Shopify also offers three plans, though the differences between them are significant—at least when it comes to pricing. The cost difference between Basic Shopify and Advanced Shopify is over $200 a month.
So why would someone pay $200 a month more for Advanced Shopify? Well, all Shopify plans charge transaction fees on credit card payments. Basic Shopify charges the largest fee, at 2.9% plus 30 cents, while Advanced Shopify has the lowest fee, at 2.4% plus 30 cents. Plus, Shopify charges another transaction fee on third-party payment gateways—again, Basic Shopify has the biggest fee, while Advanced Shopify has the lowest.
Shopify transaction fees
| | |
| --- | --- |
| Plan | Credit card transaction fee |
| Basic Shopify | 2.9% + 30¢ |
| Shopify | 2.6% + 30¢ |
| Advanced Shopify | 2.4% + 30¢ |
So you'll need to do the math. Do you have enough sales that it's better to pay more up front and get a lower transaction fee? Or would you save more with a cheaper monthly plan, even though you'll have a higher fee on each sale?
For example, let's assume you make 50 sales a month for $20, giving you a total of $1,000 in sales. Here's what your costs would look like:
Shopify fees for $1,000 in sales
| | | | |
| --- | --- | --- | --- |
| Plan | Plan cost (month-to-month) | $1,000 in monthly sales (50 sales) | Total monthly sales |
| Basic Shopify | $29/mo. | $29 + $15 | $73 |
| Shopify | $79/mo. | $26 +$15 | $120 |
| Advanced Shopify | $299/mo. | $24 + $15 | $338 |
Clearly, in that case, Basic Shopify is your cheapest option. But if you make 500 sales a month for $20 each, giving you $10,000 in revenue, your costs will look more like this:
Shopify fees for $10,000 in sales
| | | | |
| --- | --- | --- | --- |
| Plan | Plan cost (month-to-month) | $10,000 in monthly sales (50 sales) | Total monthly sales |
| Basic Shopify | $29/mo. | $290 + $150 | $440 |
| Shopify | $79/mo. | $260 +$150 | $410 |
| Advanced Shopify | $299/mo. | $240 + $150 | $390 |
And that makes Advanced Shopify your cheapest option.
There are some other differences between Shopify plans too. Shopify and Advanced Shopify give you shipping discounts, the ability to create gift cards, sales reports, and unlimited PINs for your staff. Advanced Shopify adds improved reports, the ability to get third-party shipping rates, and custom SSL security.
Other costs
Whether you choose Wix or Shopify, you'll probably need to budget for more than just that builder's plan.
First things first, you'll want to get your own domain name. A custom domain is just good business—it makes your website seem more legitimate and respectable than a subdomain like [yourbusinessname].wix.com ever could. Plus, it's good for SEO (search engine optimization), so your customers will have an easier time finding you.
All of Wix's premium plans come with a free domain for one year, though you'll have to pay after that. Shopify, on the other hand, doesn't include a free domain with any of its plans, so you'll have to pony up from the beginning. In either case, you can buy and renew your domain directly through your builder, or you can get it from a domain registrar. Domains often cost as little as $12, though some can cost hundreds of dollars.
If you're using Shopify, you'll want to consider a paid template next. All Wix's themes come included in its premium plans, but Shopify charges between $140 and $180 for its best templates. You get a few free choices, but they're not very good. Sorry, but you'll probably have to fork over some cash for a better template.
Pricey templates
Here's a fun fact for you: while Shopify's templates are pricey, they're not the most expensive of the builders we tested. BigCommerce themes cost up to $235. Ouch.
Finally, you should think about the plugins or apps you need. Wix and Shopify both offer some free plugins, but they offer just as many paid ones. The prices on those vary a lot.
For example, AfterShip, one of Shopify's popular e-commerce plugins, offers a free plan, then $9, $29, and $99 per month plans. So this shipment-tracking app could cost you nothing, or it could more than double the amount you spend on your site each month. And Wix pricing is less transparent; the Sell Downloads app is ominously listed as "from $9.99" a month, with no clear indication of how high the price could get.
So before you start building, do some research on domains, themes, and apps. After all, they could dramatically affect your budget.
Building with Wix vs. building with Shopify
Wondering how it feels to actually use each builder? So did we. That's why we tested both builders by building a full business website. Our test sites included
a home page,
an about page,
a contact page,
a blog with three posts,
and a store with five items.
Building these pages allowed us to test many of the builders' features. Afterwards, we ranked both Wix and Shopify for usability, design, and customization. Here's how they did.
Usability
We gave Wix a perfect score for usability. As a drag-and-drop builder, it's very easy to learn. After all, most of us have dragged and dropped plenty of files before. Plus, Wix features clear menus that we had no problem navigating. Needed to crop a picture? No problem, we figured it out in about 10 seconds. Want to add a new element? Easy as pie.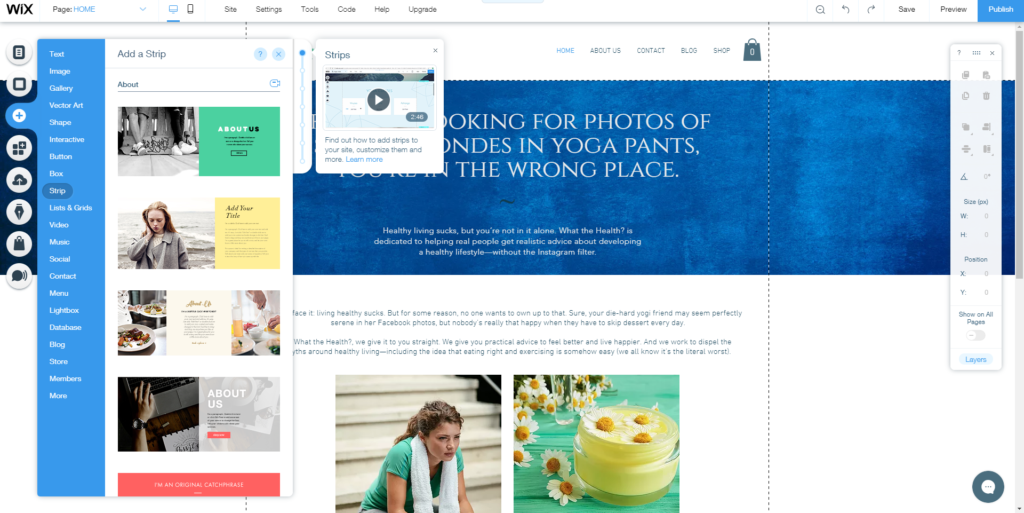 Shopify, on the other hand, got a three out of five. For some context, building the same website with Shopify took twice as long as building that site with Wix. That's largely because Shopify has unintuitive menus that change depending on what you're editing. So your home page menu is different than your about page menu is different than your store menu. Plus, we had to dive into the HTML code to fix some spacing issues. Ugh.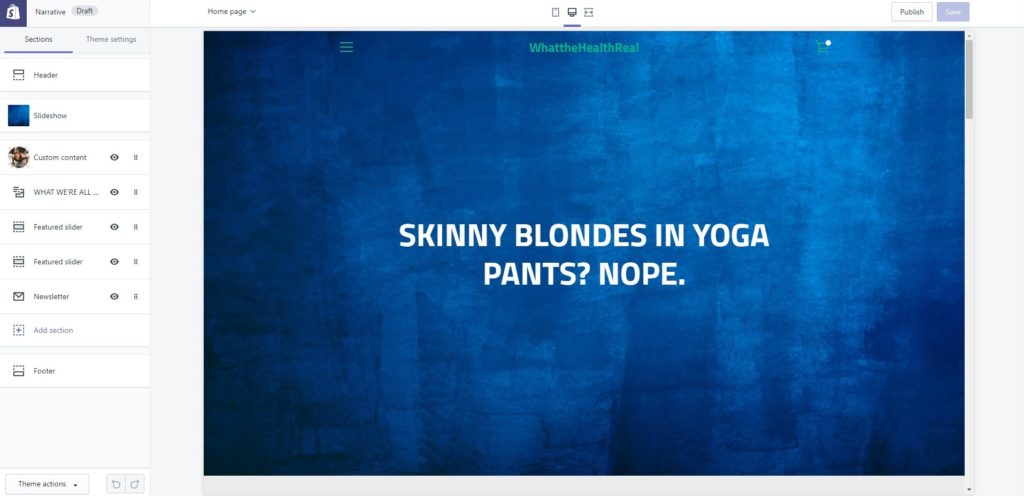 But it wasn't all bad; Shopify, like Wix, does have mobile-friendly templates, so at least you don't have to worry about designing for two different screen sizes as you build your site. And both builders make it super easy to add products to your store—a big plus for any e-commerce builder.
Design
Wix earned another perfect score for design, thanks in large part to its beautiful themes. It has hundreds of templates to choose from—and you will have to be choosey. We found so many themes we loved that deciding on just one was hard. Plus, Wix's drag-and-drop platform lets you completely change the design of any page, so you get just what you want. It also has pre-designed content blocks that make it easy to add new elements.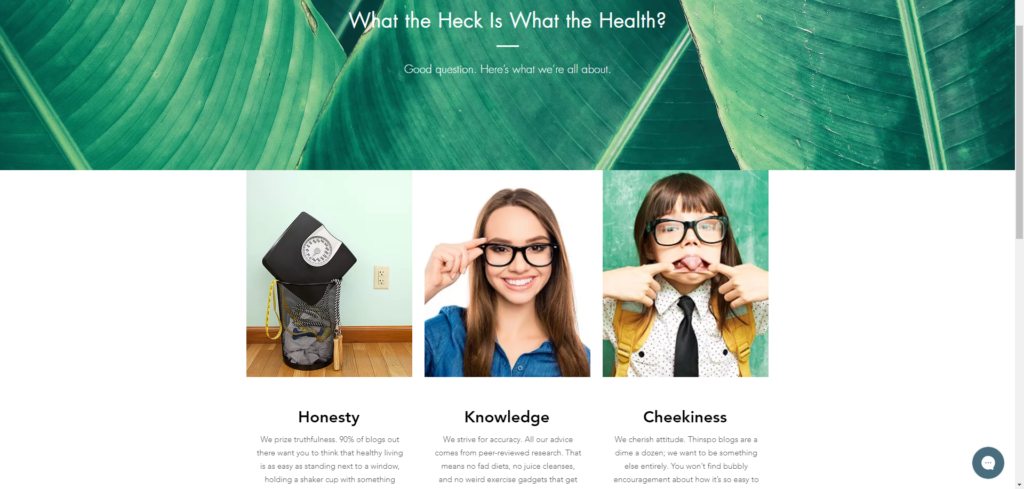 But once more, we gave Shopify a three out of five. It has far fewer themes than Wix and even fewer free themes. And with Shopify, your theme pretty much dictates your layout—you don't have many options for changing the arrangement of elements on a page. Plus, we found editing our pages to be a struggle; we never got our about page to look as good as we wanted.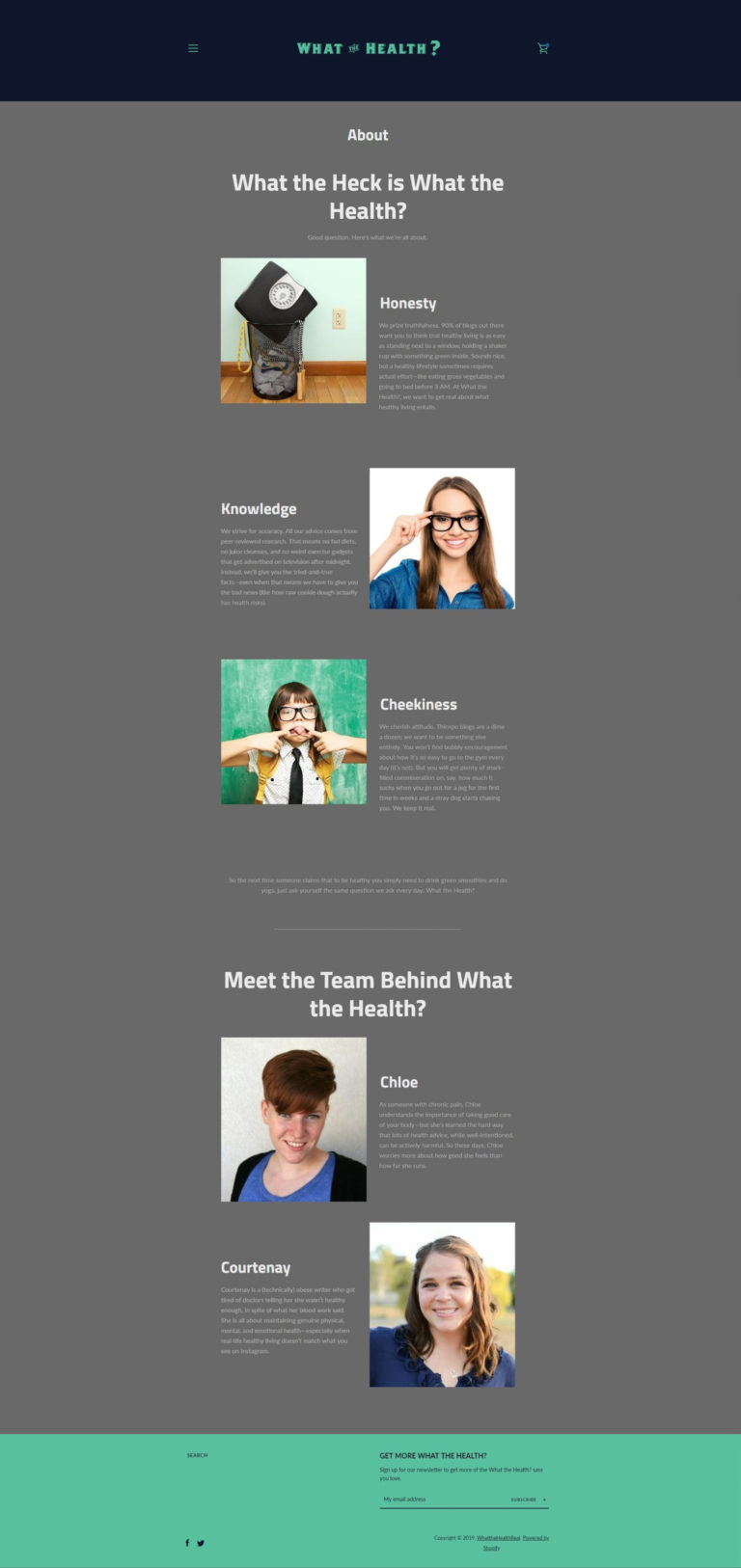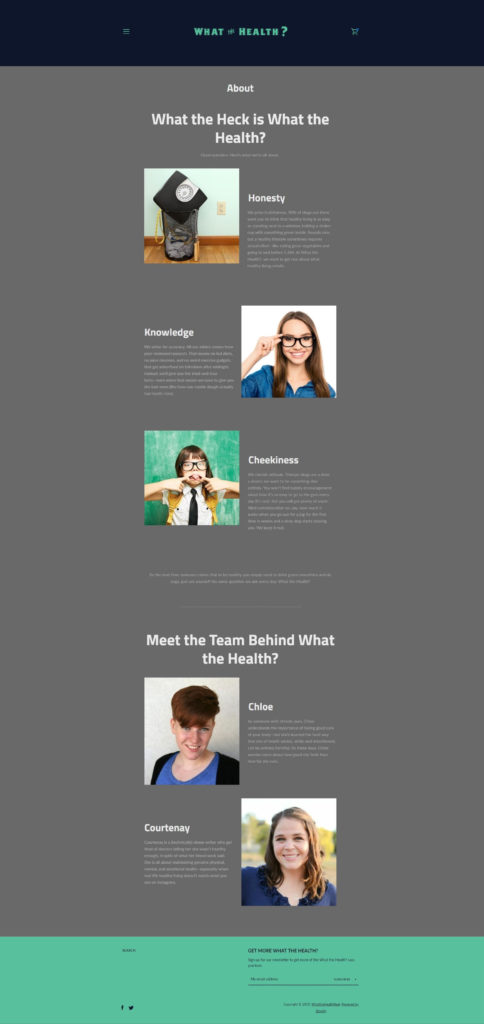 (Again, a paid theme might have helped, but we didn't pay $150 to find out.)
Still, if you mostly want to focus on your store, even Shopify's free themes are good enough. They might not blow anyone's socks off, but they won't scare your customers away either. But Wix has more and better themes, so it wins this round
Customization
You probably already guessed this, but Wix earned a final perfect score for customization. Part of that is the nature of a drag-and-drop platform—it allows you to move any element anywhere you want. But Wix gives you plenty of other customization options, so you can change anything from the color of your text to the shape of your images to the spacing between your letters.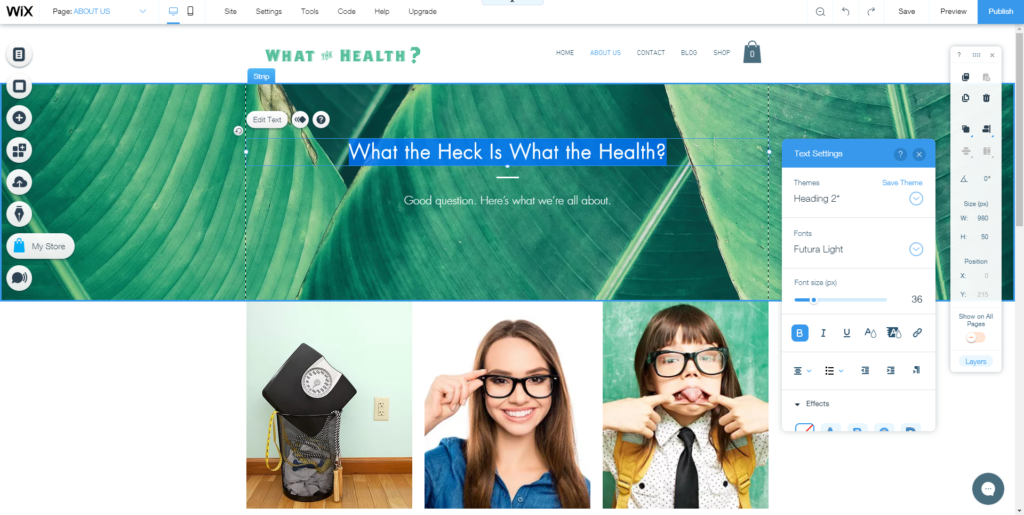 Shopify, however, got a below-average two out of five. The builder felt too restrictive, with its limited number of templates and confusing menus. And the customization options really are limited—you can swap out images and change the colors of your text, but you honestly can't change much more than that.
As we've noted above, both Wix and Shopify also offer customization through plugins. These apps allow you to add all sorts of new features and tools to your website.
Keep in mind, too, that you might not need tons of customization options. Sure, Shopify is limited—but if you just need to list lots of products, you probably don't need to worry about changing the spacing between your letters. So while Wix is the winner for customization, Shopify's low score doesn't have to be a dealbreaker.
What customers say about Wix and Weebly
While we thoroughly tested both Wix and Shopify, we wanted to hear what other small-business owners thought of these platforms. So we asked them.
As their answers came in, we found a pretty equal number of business owners used Wix and Shopify. And no matter which side business owners came down on, they loved their builder.
For example, Ashlee Collova had glowing words about Wix . . .
"I would definitely recommend Wix to anyone wanting to build a website on a budget. It is affordable and straightforward to use with their drag-and-drop model. They offer so many different options for your website, and their tutorials are very helpful."
. . . while Mason Ghrannie had nothing but praise for Shopify.
"Shopify is arguably the best eCommerce platform to use. When analyzing competitors' websites, I noticed the majority were using Shopify. Why is this? It is extremely easy to build a professional-looking eCommerce website on Shopify without any coding experience. In addition, Shopify has a great support team that can help answer most questions."
In other words, you can create a successful business website with either Wix or Shopify. Plenty of business owners have. So just choose the builder that works better for your business needs.
FAQs about Wix and Shopify
We're about to wrap things up. But first, let's address some lingering questions you might have.
Can Shopify be used in conjunction with Wix?
Lots of people want to know if you can use Shopify to take payments and fulfill orders on a Wix website. The answer is no. While Wix has a variety of e-commerce plugins, none of them give you access to Shopify.
You could always build your home page on Wix and then link to your Shopify store. But honestly, that sounds like an expensive solution. Better to just choose one builder or the other and stick with that.
Can I use a different web host with my Wix or Shopify site?
Another nope. As much as you might want to (perhaps for greater control over your website), neither Wix nor Shopify will let you build a site and then host it with other web hosting providers. Whether you choose Wix or Shopify, your builder will also be your host.
Sure, you might lose on some host-specific perks, but having your builder also be your host does make things awfully convenient.
Does Wix or Shopify have better SEO?
We asked our resident SEO (search engine optimization) expert. His opinion? They're pretty much tied. Both builders give you control over page titles, meta descriptions, and alt text. Both can also create XML sitemaps automatically, though that does mean you can't customize those sitemaps. Unfortunately, neither builder lets you edit canonical tags.
So while Wix and Shopify don't have quite the SEO tools that WordPress does, they have enough that you can definitely do well on search engines.
(Confused by those words? No worries, you can check out our website builder glossary for definitions.)
In the end, we think most people should use Wix for their small-business website. It has lots of e-commerce tools—and more available through apps—as well as great content features. Plus, it's easy to learn. So whether you want to sell fuzzy slippers or give people information about your food truck, Wix can do it right.
That said, some small-business owners will prefer Shopify, thanks to its many resources for new online stores. Plus, Shopify does have some specialized features—like dropshipping compatibility—that Wix doesn't. So if dropshipping sassy coffee mugs is part of your business plan, Shopify might be the better builder.
Ultimately, you can use either Wix or Shopify to build your online store. Each is a robust e-commerce platform in its own right. So go ahead, choose Swiss Army knife Wix or chef's knife Shopify—because now you know exactly what you're choosing.
Want to see other options for building your online store? Take a gander at our list of the best e-commerce site builders.
Disclaimer
At Business.org, our research is meant to offer general product and service recommendations. We don't guarantee that our suggestions will work best for each individual or business, so consider your unique needs when choosing products and services.