Wix vs. Weebly: Which Builds Better Business Sites?
---
We put both builders through their paces. Now we tell you which came out on top and why.
If you're trying to choose between Wix and Weebly, you came to the right place. We're pitting the two builders against one another to find which builds better small-business websites.
In one corner, we have Wix: a drag-and-drop platform that claims to make website building easy. In the other corner, there's Weebly: a drag-and-drop platform that claims to make website building easy.
No, you're not seeing double; Wix and Weebly just have a lot in common—or do they? It's a battle of two site builders. Two builders enter. One builder survives. Which will it be? And why?
Read on to find out.
Wix vs. Weebly at a glance
Okay, we have a confession: both builders survive. Sorry if that's a letdown. While there is a clear winner (you'll find out who in just a moment), these builders have different enough strengths and weaknesses that we recommend Wix for some businesses and Weebly for others.
After all, if you're building a business site, you could be doing anything from making a home page for your brick-and-mortar sewing machine shop to creating an ad-supported music review blog to crafting an e-commerce store for funky socks. Those different kinds of business sites require different tools and features.
Weebly vs. Wix
| | |
| --- | --- |
| Wix | Weebly |
| Starts at $16.50/mo. | Starts at $8/mo. |
| Drag-and-drop platform | Drag-and-drop platform |
| Easy to use | Best for simple websites |
| View Plans | View Plans |
So is Wix or Weebly better for your business? We'll give you the short answer right now. But keep reading for a detailed breakdown.
Wix is best for most businesses
As we were testing and reviewing Wix, we were repeatedly struck by how many things this drag-and-drop platform does well. Need to customize all sorts of details on your site? Done. Want to add more functionality with apps? Easy. Interested in a blog and online store? Simple.
Put succinctly, Wix is the bomb dot com. It creates beautiful, highly customizable websites, which leads us to recommend Wix as the best website builder for most businesses—from plumbers that need an online presence to web-based retro dress boutiques. That makes Wix the winner of our showdown—but don't count Weebly out just yet.
Easy drag-and-drop interface
Tons of customization options
Extensive app market
Negative customer reviews
No 24/7 customer support
Weebly is best for brick-and-mortar stores
Weebly is another drag-and-drop platform that's easy to use, has lovely design, and makes customization easy. But it doesn't do any of those things quite as well as Wix does. So why do we still recommend Weebly exclusively for brick-and-mortar stores? Easy: Weebly offers more affordable plans for basic websites.
If you just need a simple home page to direct people to your brick-and-mortar location, Weebly can make you a perfectly fine site at a great price. But if you want more advanced features, you're better off elsewhere; Weebly charges more for e-commerce plans, and its blogging platform is lackluster. So go ahead, use Weebly for your HVAC company's website—but take your online t-shirt store and mommy blog elsewhere.
Professional-looking templates
Easy-to-use Weebly dashboard
Low starting prices
Extra costs for most e-commerce options
Amateur-looking blogs (without extra apps)
Fewer customer service options
Wix features vs. Weebly features
Before you dive in with either builder, you need to make sure it does what you need it to—whether that's making an online store or creating a blog.
Check out both builders' essential features in the table below, and then see what each builder has to offer in the way of e-commerce and content tools.
Wix compared to Weebly
| | | |
| --- | --- | --- |
| Feature | Wix | Weebly |
| Online store | ✔ | Select plans |
| Blog | ✔ | ✔ |
| Product limit | Unlimited | Unlimited (select plans) |
| Credit card payments | ✔ | Select plans |
| SSL security | ✔ | ✔ |
| Mobile-friendly templates | ✔ | ✔ |
| Discounts and coupons | ✔ | Select plans |
| Gift cards | With app | Select plans |
| Shipping quotes | ✔ | Select plans |
| Transaction fees on third-party apps | ✘ | Select plans |
| 24/7 customer support | ✘ | ✘ |
| Themes | 500+ | 23 |
| Apps | About 300 | About 300 |
| | View Plans | View Plans |
Ecommerce features
Both Wix and Weebly let you create an online store. Pretty much all of Wix's plans have the same e-commerce features, while Weebly essentially limits e-commerce to its higher-tier plans. (We'll cover this in more detail in the cost section below.)
At base, Wix and Weebly both let you add products to your online store and accept payments for those products. If you want more functionality, you can turn to their app stores, which offer lots of e-commerce plug-ins that let you do things like create gift cards, get shipping quotes, and sell digital downloads.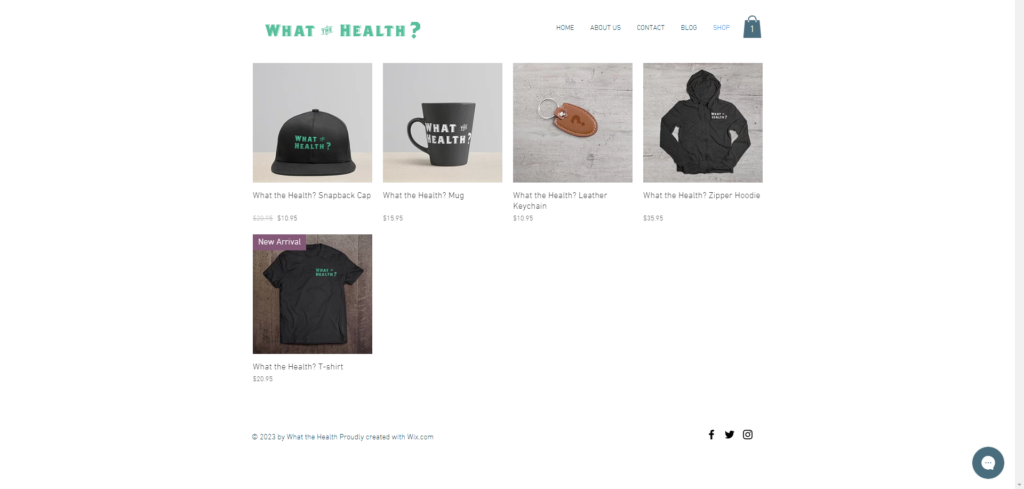 We really had no complaints about our Wix store. It was easy to build, and we liked the clean and simple appearance. Sure, the layout wasn't very customizable, but it looked so good that we didn't feel a need to customize it. We were fine leaving it as-is.
Weebly's store, on the other hand, allows you to customize it via dragging and dropping, just like you can anywhere else on your site. That means you can perfectly tweak your online store's appearance, if that's how you feel like spending your time.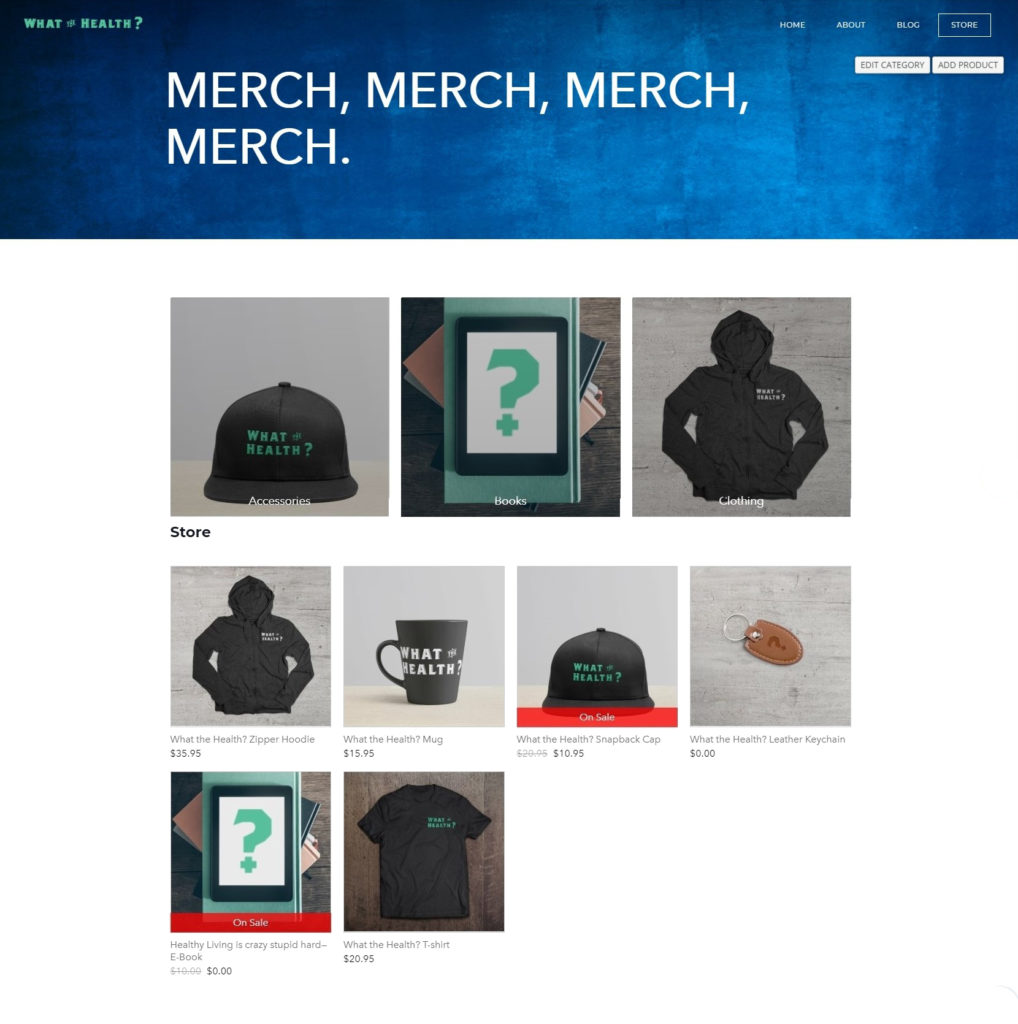 You could definitely use either builder to create your online store, though we think Wix provides the better value. But before we get to that, let's look at how the two handle content.
Need top-notch e-commerce?
If you want the best online store tools out there, take a look at our rankings of the best e-commerce builders.
Content features
Wix and Weebly both have built-in blogging platforms with many of the basic features you'd need for convenient blogging. For example, they both preserve text formatting if you copy and paste a post in from an external text editor, they both let you schedule posts in advance, and they both let you categorize your posts.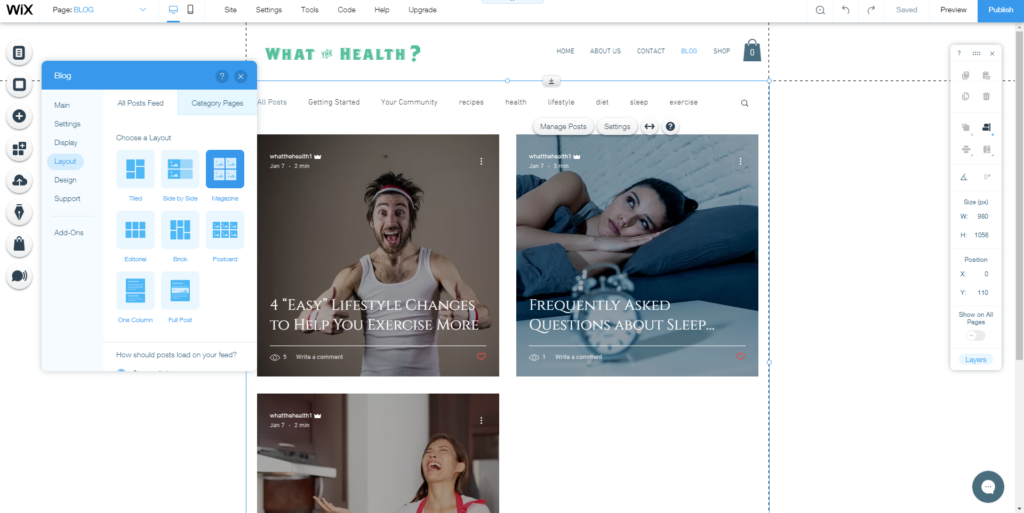 The biggest difference? When we tested each builder, our Weebly blog was hideous, while our Wix blog was gorgeous. This was a surprise since our Weebly website looked good elsewhere (more on this later). But the Weebly blog had weird alignment; our pictures looked too small in comparison to the text, and the full-width text of the post previews looked sparse. Plus our post titles looked confusingly like the post text.
In contrast, the Wix blog had several layouts to choose from, all of which emphasized the post title for readability. All of the Wix blog layouts also had the various elements aligned in much more symmetrical, easy-to-read ways too. Our blog looked inviting rather than confusing.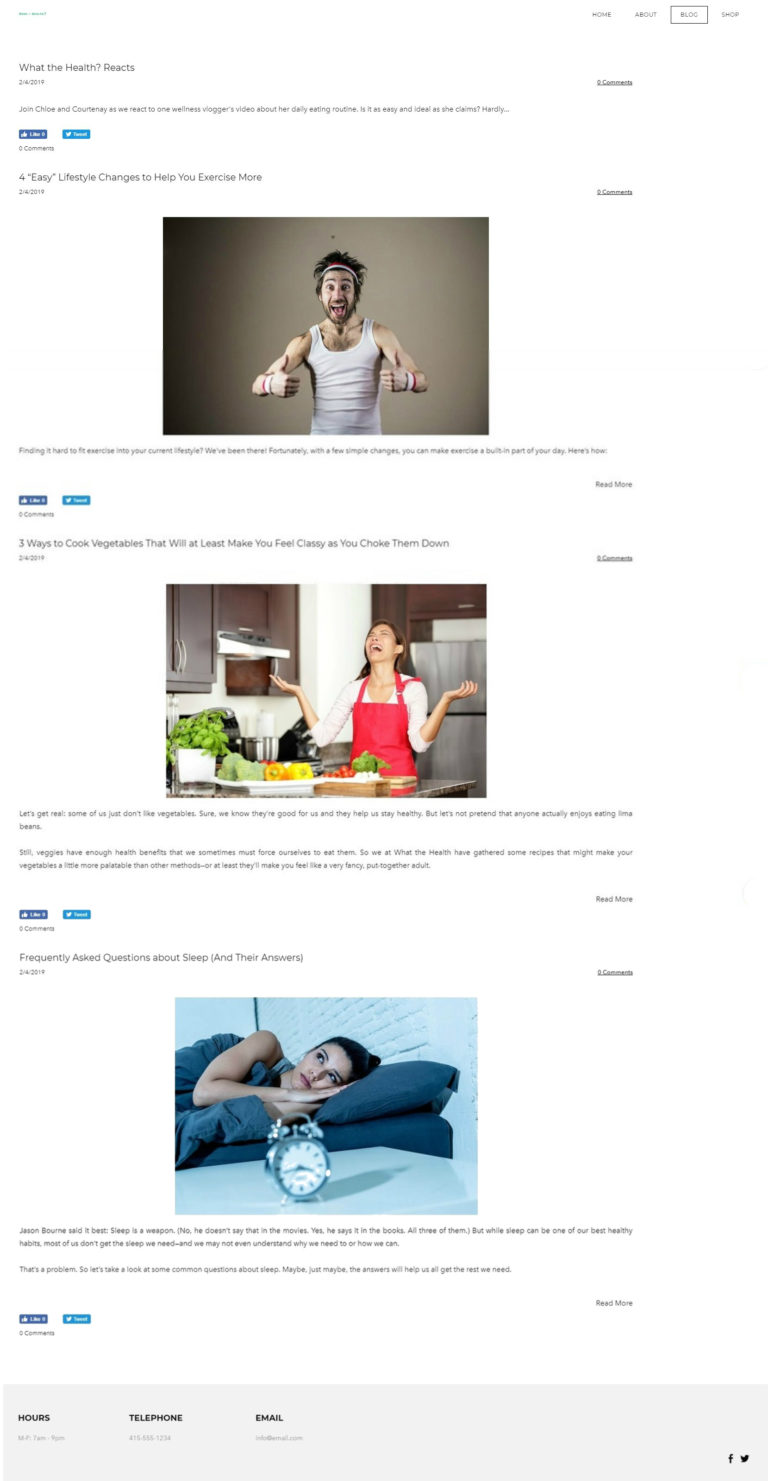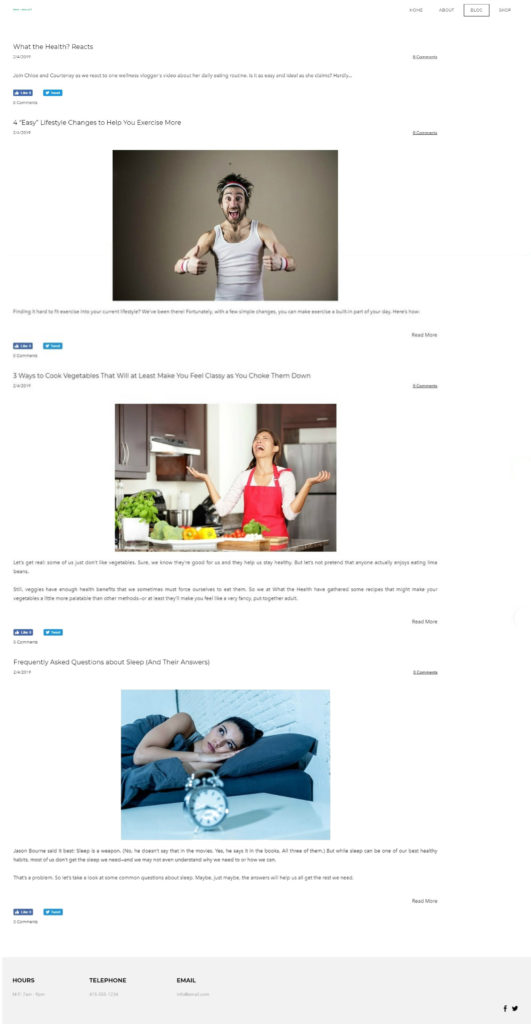 Now, we're willing to believe that our Weebly blog could have been improved through a paid theme or a plugin—we didn't test every theme and every plugin. But because so many builders, like Wix, have attractive blogs from the get-go, we were severely disappointed in Weebly's ugly blog.
And Weebly's blog felt less convenient. When we added a blog post, we had to choose to add text by dragging a text box into the post before we could start writing. Given that blogs are, by nature, mostly text, that seems like a weird extra step that slowed us down for no reason. Wix, on the other hand, just let us add text as soon as we created a post.
So sure, you can blog with either Wix or Weebly—but we definitely preferred Wix's blogging platform. It's one more reason why we recommend Weebly for super basic websites only.
Build your custom site today
Customize your website with an easy-to-use site builder that'll make your brand look professional and polished in no time. Start Building
Wix vs. Weebly cost
By now you probably have a good idea of whether you should use Wix or Weebly. But how will your budget feel about these website builders? Let's find out.
Plan costs
Both Wix and Weebly offer several plans for business owners. As you can probably guess, the more expensive plans get you more features and perks. Fortunately, both builders discount their plans if you pay for a year or more at a time.
Wix premium plans
| | | | | |
| --- | --- | --- | --- | --- |
| Plan | Three-year cost | Yearly Cost | Month-to-month cost | Learn more |
| Wix Business Basic | $16.50/mo. | $20/mo. | $25/mo. | View Plans |
| Wix Business Unlimited | $20.50/mo. | $25/mo. | $30/mo. | View Plans |
| Wix Business VIP | $27.50/mo. | $35/mo. | $40/mo. | View Plans |
Wix offers three premium plans, all of which give you everything you need to create your business site. Some builders restrict the features on lower-tier plans, but not Wix; the more expensive plans mostly get you more storage and some marketing perks like a free logo or ad credit.
Of course, you might not need that additional storage. It will come in handy if you're uploading lots of product demonstration videos or podcast audio, but most smaller businesses can get by without much storage space. If you're not sure, you can always start with a lower-tier plan and upgrade later if you outgrow your storage capacity.
In addition to extra storage, Wix's Business VIP plan also gets you priority access to customer support, which could be a worthwhile investment if you anticipate needing lots of help.
But VIP customer support aside, each Wix plan gives you access to pretty much all of Wix's website building features. If you want to save money and you don't need much storage or VIP help, then there's no reason you can't go with the cheapest plan.
Weebly offers four paid plans, but we suggest you stick to the Pro plan or above. The Connect plan doesn't come with a free domain name, which makes it a worse value; even worse, it includes Weebly branding on your website. Since you want your customers to focus on your business and not Weebly's, you'll want to fork over a little more to get a plan that doesn't have Weebly ads.
That limits you to the Pro, Business, or Business Plus plans. And if you plan to have an online store, you'll really want the Business or Business Plus plans. The cheaper Pro plan charges you a 3% transaction fee on credit card transactions, and it limits you to 25 products.
The Business and Business Plus plans give you unlimited products, no transaction fees, and access to other e-commerce features like inventory management and coupon creation. The Business Pro plan also has email marketing, gift cards, and abandoned cart emails.
So you'll definitely want the Business or Business Plus plan if you plan to sell things, but the Pro plan will do just fine for a simple site—which, again, is what we recommend Weebly for in the first place.
And you'll notice that Weebly's Pro plan is more affordable than any Wix plan. But when you move to higher-tier plans, Wix offers the better value.
Free plan
Wix and Weebly both have free plans, but consider those a no go. The free plans don't let you use a custom domain (like [yourbusinessname].com), which could seriously damage your credibility with customers.
Other costs
If your website building budget includes only the cost of your plan, you might be in for a surprise when you find out there are other costs to consider. So let's address those.
For starters, you'll want your own domain name. Luckily, both Weebly and Wix include a free domain for one year when you sign up for a premium plan. After that year, though, you'll have to pony up if you want to keep your domain. You can either renew through your builder (convenient) or transfer your domain to another registrar (sometimes cheaper).
You should also consider the cost of apps. Wix and Weebly's app stores include both free and paid apps. Many paid apps are actually subscription-based, so make sure you budget for a monthly cost rather than a one-time purchase.
And if you're building with Weebly, you might want to budget for a theme too. While Weebly does have some free themes, it charges up to $49 for its premium themes. (Wix's business plans include access to all its themes.)
So the costs do add up. But hey, it could be worse. You could be using BigCommerce, where themes start at $145 and the Pro plan costs $225 a month. Makes Wix and Weebly sound pretty reasonable, doesn't it?
Building with Wix vs. building with Weebly
We've given you a basic overview of how Wix and Weebly compare. But maybe you want more details—and honestly, good for you! We're all about thorough research here at Business.org.
In this section, we'll tell you how Wix and Weebly fared in our building tests. We created a full site (including a home page, about page, contact page, store with several items, and blog with several posts) with each builder and then rated them on usability, design, and customization.
Usability
When it comes to usability, Wix and Weebly have one important thing in common: dragging and dropping. Both of these website builders are drag-and-drop platforms, which makes them wonderfully simple to use. You don't need to understand any code and you don't need to figure out how to select elements through complicated side menus—you just select an element with your mouse and move it wherever you want.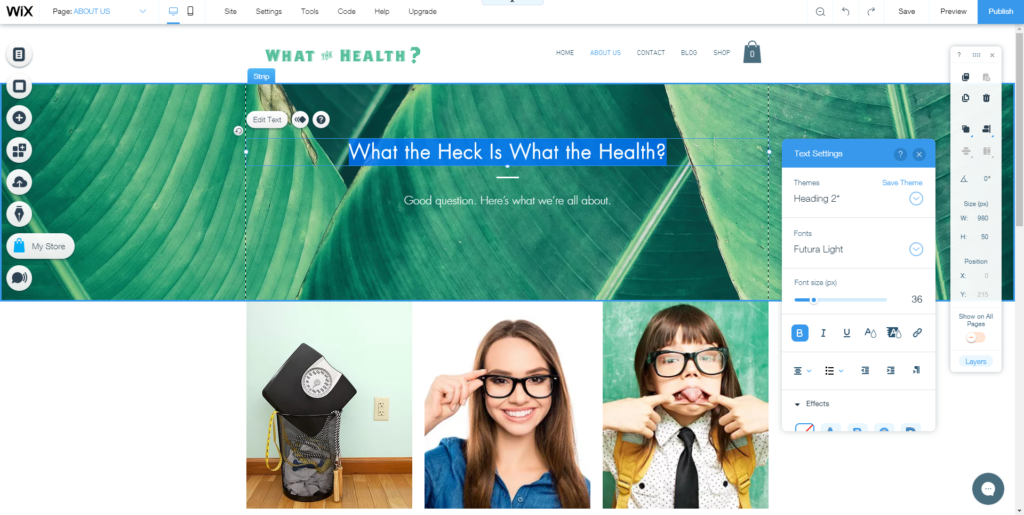 But speaking of menus, we liked the customization menus on both Wix and Weebly. These menus let you change various options on whatever element you select with your cursor. On both builders, the menus were well-organized and intuitive to navigate. We never had to click around looking for hidden options.
In the end, we happily gave Wix full points for usability. We had hoped to give Weebly the same, but we ended up awarding it four out of five. As we built our website, we sometimes encountered glitches where the builder wouldn't work like we expected (displaying two same-sized images differently, for example) or where it would undo our previous work (like shifting our elements after we'd just aligned them).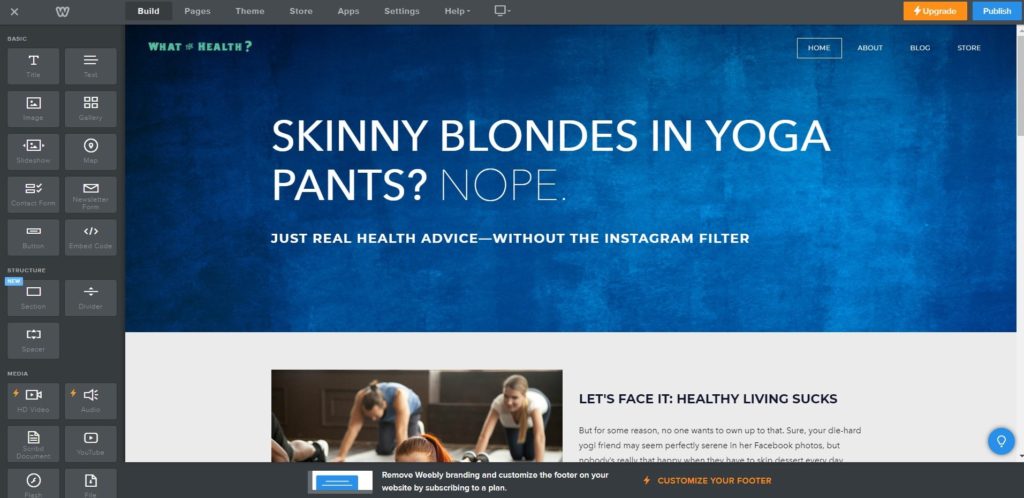 That glitchiness wasn't a dealbreaker, but it was frustrating enough that we knocked a point off of Weebly's usability score—making Wix the better builder for usability.
Trouble with your builder?
Neither Wix nor Weebly has 24/7 customer support. So if you're going to have a problem with your website, try to have it during business hours (or choose a builder that offers 24/7 support).
Design
Wix and Weebly both have the essentials for creating an attractive website, like attractive landing page templates (though Wix has more), mobile-responsive design, and plenty of ways to tweak your website's colors, fonts, and layouts.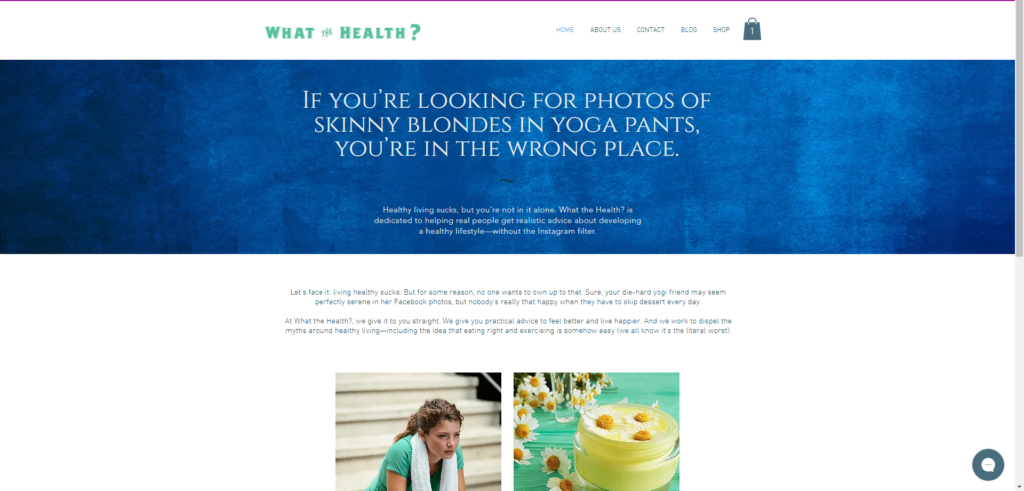 That being said, we gave Wix full marks on its design features, while Weebly got an average three out of five. The reason? Weebly's blog design was that disappointing. Given that we loved Weebly's templates and design elsewhere on our website, we expected to love our blog too. Instead, we got a blog that looked like something from 2002, back when we called them "weblogs" instead of "blogs."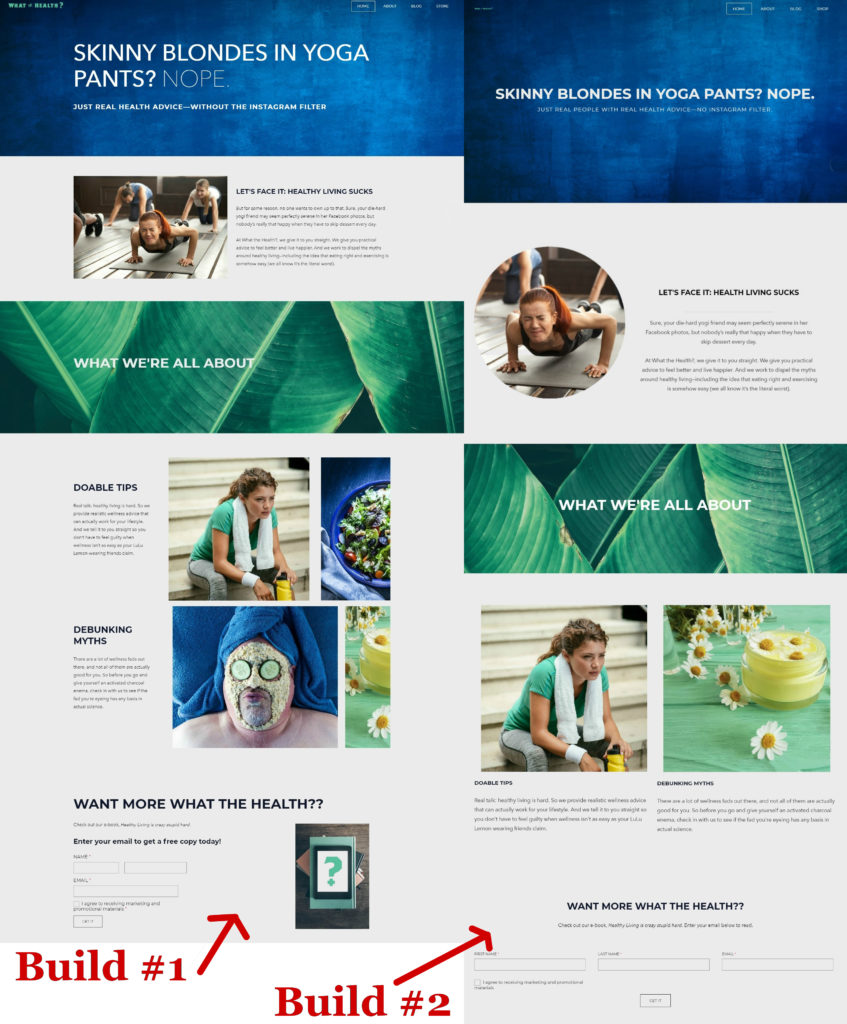 Now, we're willing to admit that you could probably fix the blog design with a paid template or maybe a plugin or two. But we didn't do that, and we don't think you should have to, given that other builders—like Wix—create beautiful blogs with minimal effort on your part. That's one more reason we recommend Weebly for businesses that only need a simple website.
So Wix wins this round. It has the same design features as Weebly, but it offers more templates and a blog you won't be embarrassed to show to your customers.
Customization
Thanks to the nature of drag-and-drop builders, both Wix and Weebly have a lot of innate customizability. After all, you can move any element anywhere you want, which makes it easy to completely change the look of a template or a page. Plus, they both have plenty of options for changing things like color, size, and positioning of various elements.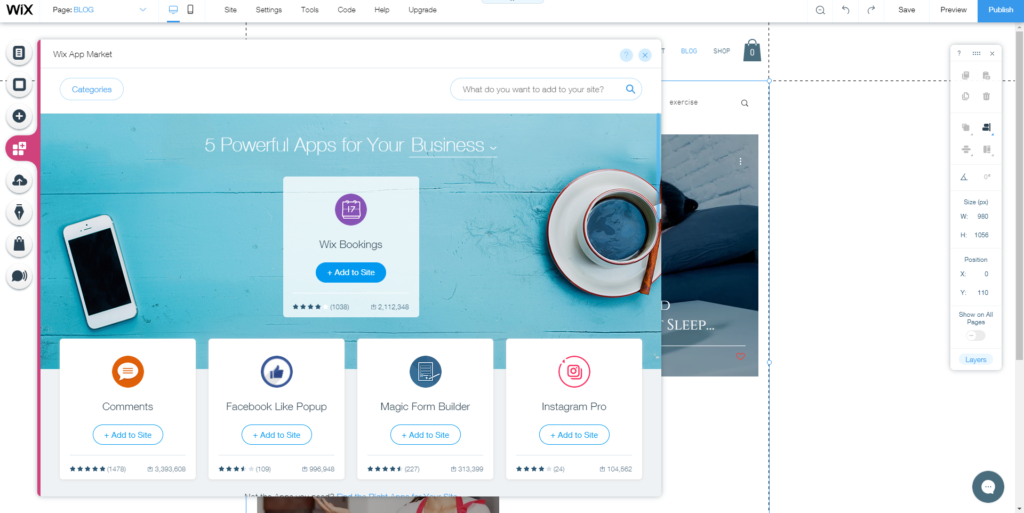 And if you want to add more functionality to your website, Weebly and Wix let you add plugins, or apps, that give you more features. There are apps for adding social media sharing, apps for getting shipping quotes, apps for chatting with your customers, and apps for plenty of other things.
So once more, Wix got full marks for customization. But we docked Weebly's score down to a four because of the glitchiness we mentioned earlier—we hated customizing the way something looked only to have Weebly mess it up and make us do it all over again. Still, that's a minor inconvenience for an otherwise highly customizable site builder.
What customers say about Wix and Weebly
We asked small-business owners about the website builders they used. Wix and Weebly both came up in their answers, though Wix definitely got more mentions: of the 77 business owners who responded, 10 said they used Wix for their business website, while only two had used Weebly.
Even so, these business owners had pretty glowing things to say about their builders of choice, whether that was Wix . . .
"[Wix] is user friendly and provides a lot of step-by-step instructions on how to build a website. There are pre-made website templates and themes, which makes it easy to start off with a base example and then add and change any other details with their drag-and-drop options."
"Once you get used to the way [Weebly] works, it becomes very easy. Why? If it is a good builder then it's intuitive. Also, as an aside, I love the ability to make changes as I need them and not have to wait for a busy web builder to get around to it."
In fact, they pretty much all said they would recommend the builder they used to other small-business owners. So whichever builder you choose, you're in good company.
FAQs about Wix and Weebly
How does Wix compare to WordPress?
If you want a detailed breakdown of Wix vs. WordPress, we have an article for that. But here's the short answer: Wix is way easier to use, and WordPress is way more customizable.
As a drag-and-drop builder, Wix feels dead simple to learn, and it makes really pretty sites without much expertise on your part. So if you don't need super-specialized e-commerce plugins or specialized themes, we really recommend Wix for most business websites.
WordPress, on the other hand (and this applies to both WordPress.com and WordPress.org), requires you to use plugins and CSS coding to get the most out of it. So yes, you can make your WordPress site do anything—but good luck with that learning curve. That's why we recommend WordPress only for businesses that need a lot of control, like blogs that rely on ad revenue or some online stores.
What about Weebly vs. WordPress?
Again, we've written at length about how WordPress compared to Weebly in our testing. But put briefly, WordPress has customizability that Weebly could only dream of, while Weebly's easy-to-use platform would make many a WordPress user jealous.
As you know, Weebly is a drag-and-drop website builder with a relatively intuitive interface. As you may not know, WordPress relies on menus to build your website—no dragging allowed—and is well known for being more than a little complicated.
But on the other hand, WordPress offers a super-easy blogging platform that looks good out of the box. Weebly, however, creates hideous blogs that definitely need an app to spruce them up. So if your business relies on blogging, WordPress might be worth the hassle. If you just need a simple home page, probably stick to Weebly.
Can I use Wix or Weebly with a different web host?
No, neither Wix nor Weebly can be used with third-party web hosting providers. Both companies bundle their building platform and web hosting, so you can host a Wix site only on Wix and a Weebly site only on Weebly. Sorry!
And the winner of our Wix vs. Weebly showdown is . . . Wix!—at least for most businesses.
Wix feels easy to use, creates beautiful websites, and has lots of customizability. That makes it a versatile builder that could work well for all sorts of business websites, from food truck home pages to photography portfolios to jewelry boutiques.
But Weebly proves a worthy opponent, particularly with its low-cost Pro plan. It's another easy-to-use, attractive, customizable builder. While we think other website builders do blogging and e-commerce better, Weebly could be the perfect builder for a brick-and-mortar business that wants an affordable site.
Still not sure about Wix or Weebly? Check out our rankings of other popular website builders to see even more options.
Disclaimer
At Business.org, our research is meant to offer general product and service recommendations. We don't guarantee that our suggestions will work best for each individual or business, so consider your unique needs when choosing products and services.