Wix vs. WordPress: Which Wins for Website Building?
---
Which of these two popular site builders is best for your business website?
Best for Complete Control
Wondering whether you should build your site with Wix or WordPress? We feel you. Both of these website builders are popular for good reason—they make it possible for anyone to create a site that will wow your customers, no coding experience required.
But as it turns out, while Wix and WordPress are both very good site builders, they're good in very different ways. If you sign up for Wix and try to use it like WordPress—or sign up for WordPress and try to use it like Wix—you'll be sorely disappointed.
Fortunately, we've done the dirty work and tested both builders for you. (You're welcome.) We know who each platform is best for, what sets each platform apart, and what limitations you need to know.
In this article, we'll share all that with you and help you figure out which of these builders is right for your website-building business needs.
Shall we?
Which WordPress?
We're talking about WordPress.com in this article, not WordPress.org. If you don't know the difference, we have a guide to WordPress.com vs. WordPress.org.
Wix vs. WordPress at a glance
When you're building a business website, you should choose your site builder based on your needs. So when it comes to choosing between Wix and WordPress, you need to ask yourself: Do I need an all-around great builder that does a lot of things well, even if it has some limitations? Or do I need complete control over my site, even if that comes with a steep learning curve?
Wix vs. WordPress
| | |
| --- | --- |
| Wix | WordPress |
| Starts at $16.50/mo. | Starts at $5/mo. |
| Drag-and-drop platform | Menu-based builder |
| Easy to use | Highly customizable |
| View Plans | View Plans |
If you can answer that, we can point you in the right direction.
Wix is best for most businesses
Wix is what you might call "the whole enchilada." Its website builder feels easy to learn, offers a lot of customizability, and creates gorgeous websites. Wix has enough base features and plugins that you can easily create a home page for your veterinary clinic (complete with appointment scheduling), build a blog for video game reviews, or make an e-commerce store for your woodworking business.
In other words, Wix works well for all kinds of businesses and business websites. While it's not a perfect platform (its customer support is particularly lacking), it does so many things so well that we recommend Wix for most businesses.
Easy drag-and-drop interface
Tons of customization options
Extensive app market
Negative customer reviews
No 24/7 customer support
WordPress is best for businesses that want complete control
WordPress, on the other hand, is better described as "an acquired taste" or a "trial by fire." Its platform feels far trickier to learn, and it doesn't have a ton of out-of-the-box versatility. But if you're willing to put in a little work to learn some CSS coding or find some plugins, WordPress offers unrivaled amounts of control and customizability for your business website. It has more plugins and themes than any other builder.
That's why we recommend WordPress to businesses that need that kind of control—whether you need powerful SEO features to make sure people can find your online harmonica lessons via search engines or you need top-tier e-commerce features to fuel your vinyl wrap shop. With some effort on your part, WordPress will do everything you want.
Near-infinite customization
Thousands of available plugins and themes
Great reputation and user reviews
Steep learning curve
Plugins and full SEO features limited to top-tier plan
Extensive customization required for best results
Wix features vs. WordPress features
Now you know the basic differences between Wix and WordPress. But if you're creating a content-rich blog or making an online store, you probably want to know about how Wix and WordPress handle those. So let's take a look at e-commerce and content features.
Wix compared to WordPress
| | | |
| --- | --- | --- |
| Feature | Wix | WordPress |
| Online store | ✔ | With Business plan |
| Blog | ✔ | ✔ |
| Product limit | Unlimited | Unlimited |
| Credit card payments | ✔ | With some plans |
| SSL security | ✔ | ✔ |
| Mobile-friendly templates | ✔ | ✔ |
| Discounts and coupons | ✔ | With plugin |
| Gift cards | With app | With plugin |
| Shipping quotes | ✔ | With plugin |
| Transaction fees on third-party apps | ✘ | ✘ |
| 24/7 customer support | ✘ | With Business plan |
| Themes | 500+ | Thousands |
| Apps | About 300 | Thousands |
| | View Plans | View Plans |
Ecommerce features
Both Wix and WordPress offer plenty of features for your online store. Wix has some built-in e-commerce functionality, and you can get more via apps; you won't find any built-in WordPress ecommerce features, so you'll have to use plugins to create a store instead.
While Wix's features aren't quite as powerful as some of the top e-commerce builders (like BigCommerce and Shopify), it has enough features for a small to mid-sized store. Wix lets you add unlimited products to your store, and you can include details like SKUs, sizes, and weights. With apps, you can also do things like sell digital items or generate gift cards. But there are some limits: for example, you won't find apps to get custom shipping quotes.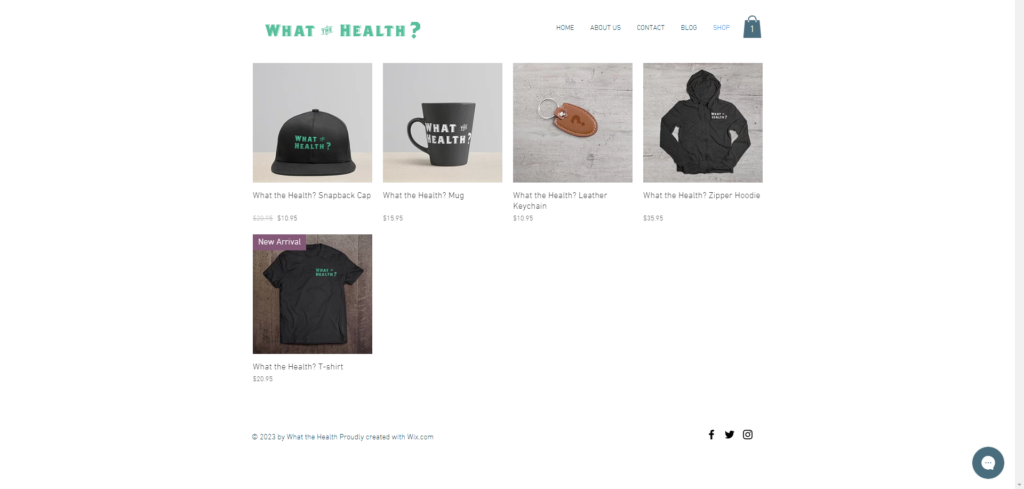 WordPress, on the other hand, has loads of ecommerce plugins that let you do anything you need to (including getting custom shipping quotes). WooCommerce is one popular e-commerce plugin for creating an online store with inventory management, payment gateways, and basic shipping options. WooCommerce even offers extensions to add more features, like shipment tracking or Google Analytics integration.
Keep in mind that some of these e-commerce plugins do cost money. WooCommerce, for example, is free but offers paid extensions. Likewise, Wix has free apps for creating a birthday club for customers, but an app that lets you sell downloads costs extra.
E-commerce websites
Both Wix and WordPress can build a solid online store. But if you want to know all your options for e-commerce platforms, you can check out our list of best ecommerce providers.
Content features
Wix and WordPress both make it ridiculously easy to create a functional, attractive blog that your readers will love. In fact, they offer pretty similar features.
For example, both Wix and WordPress will preserve the formatting of any text you paste into its blogging platform. So if you prefer to draft blog posts in Microsoft Word or Google Docs, you won't have any problems publishing those posts in your Wix or WordPress blog.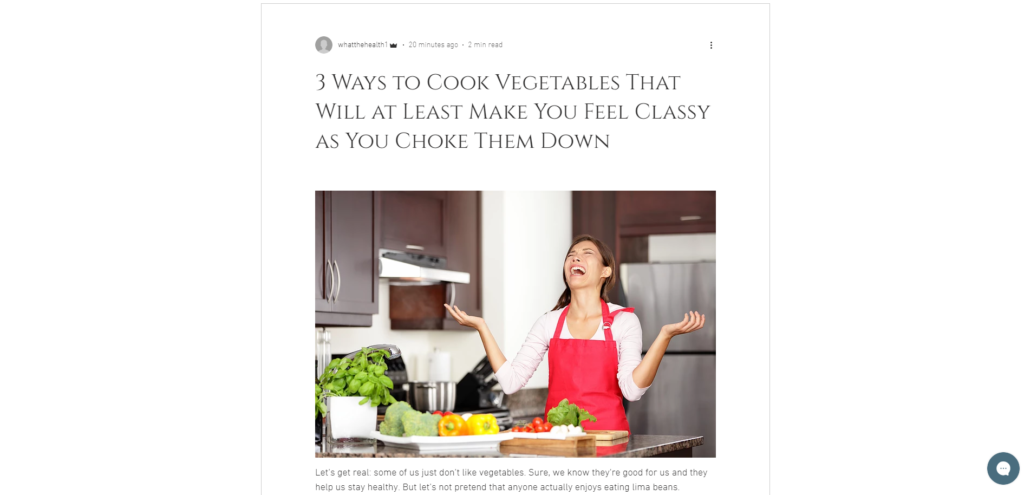 Likewise, Wix and WordPress let you give credit where credit is due by assigning authors to posts. They can also help you keep your blog organized with different categories and tags for your posts.
Perhaps most importantly, both platforms create blogs that look modern and appealing. Their blog design will definitely entice readers to keep reading your daily outfit posts (or whatever you happen to blog about).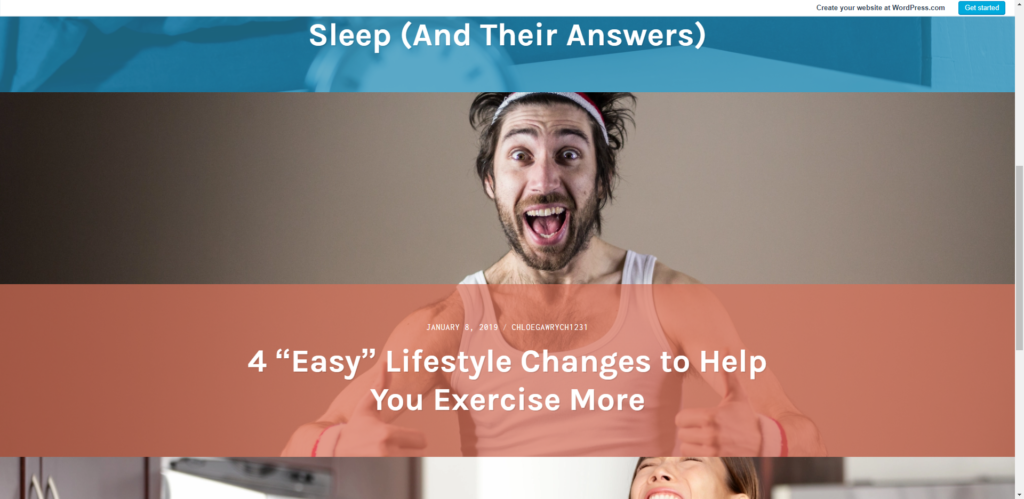 WordPress does do one thing better, though: its blogging platform allows you to schedule out posts in advance. So you can get your posts all ready to go whenever you have time and then sit back and watch as they publish themselves, right on cue. Wix's blogging platform used to have this feature, but a recent update removed it.
Building with Wix vs. building with WordPress
Need some more details before you commit to a builder? No problem. We thoroughly tested both Wix and WordPress so we could learn the ins-and-outs of each platform.
For our tests, we built a website that consisted of a home page, an about page, a contact page, a blog with three posts, and a store with five items. Afterward, we scored the builders on their usability, design, and customizability. Here's how Wix and WordPress fared.
Usability
To score our builders on usability, we looked at factors like how long it took to build a site and how intuitive the platform felt. Wix scored far better than WordPress—Wix got a five out of five compared to WordPress's two out of five.
So what makes Wix so usable? First of all, it's fast. We built our Wix website in about 50 minutes (less time than it takes to get a haircut), mostly because Wix's drag-and-drop platform feels easy to pick up. The menus are clearly labeled and intuitively arranged. We never had problems finding a feature or option we were looking for. Plus, it has well-designed, pre-built content blocks that make it easy to build a page from scratch.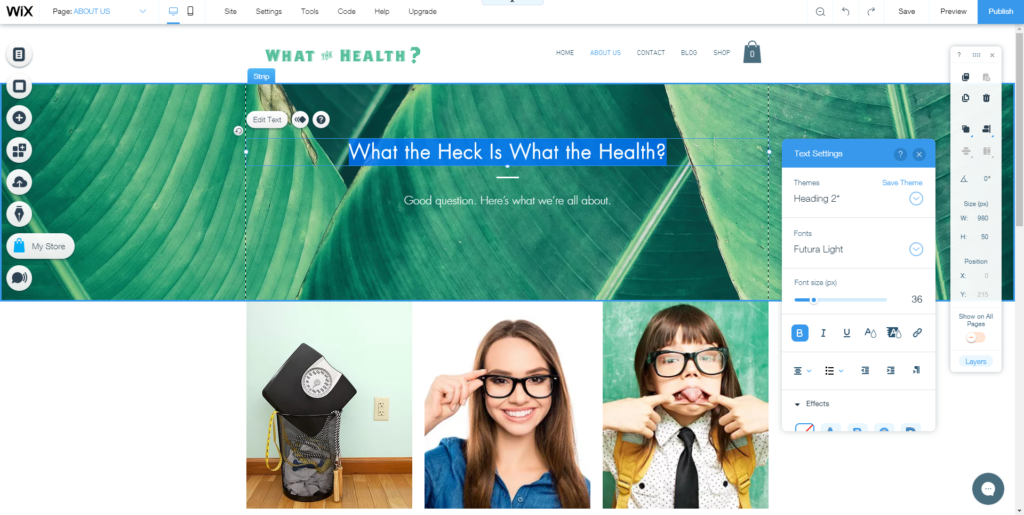 In comparison, WordPress feels entirely unintuitive. Its dashboard menu looks intimidating, and we often didn't know whether to go to the customization menu or a page menu to change an option. While WordPress also offers content blocks, its blocks don't come pre-designed, making them less useful than Wix's. And to get the most from WordPress, you need to know CSS (Cascading Style Sheet), a type of simple coding, and use plugins—two things that up the difficulty.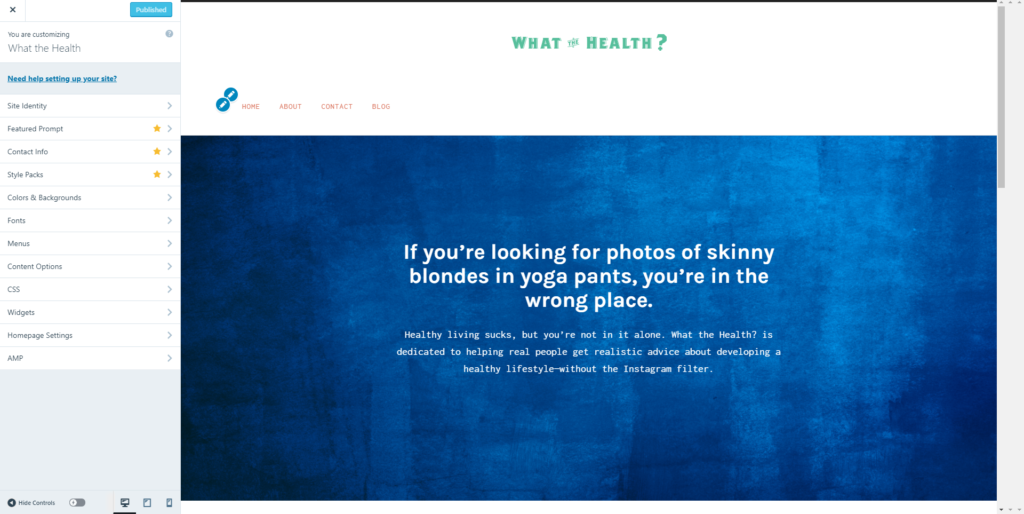 Need support?
WordPress support is available 24/7 on its Business plan and 24/5 (no weekends) on its other premium plans. Wix's customer support is available from 5 a.m. to 5 p.m. PST daily.
Design
We assigned design scores based on how good our finished website looked: Is it attractive? Would customers trust it? Wix earned another perfect five out of five while WordPress got an average three out of five.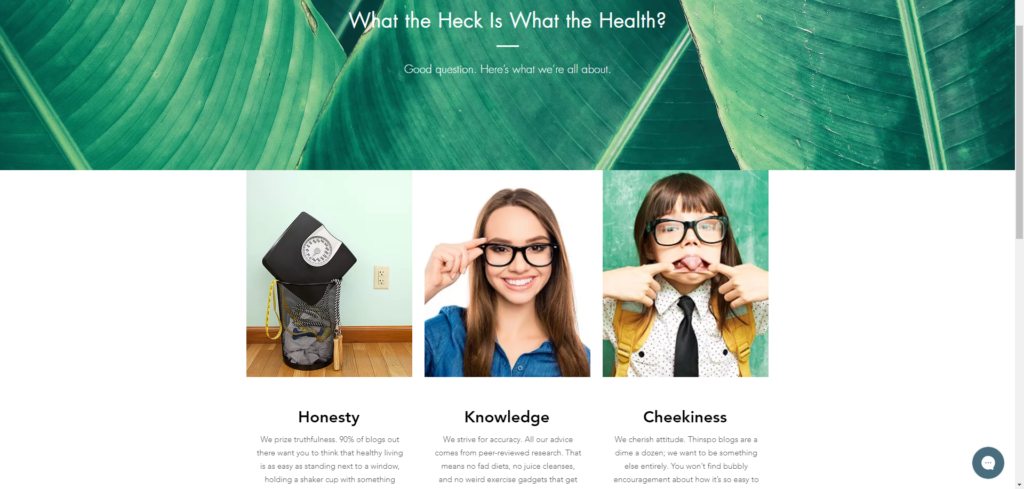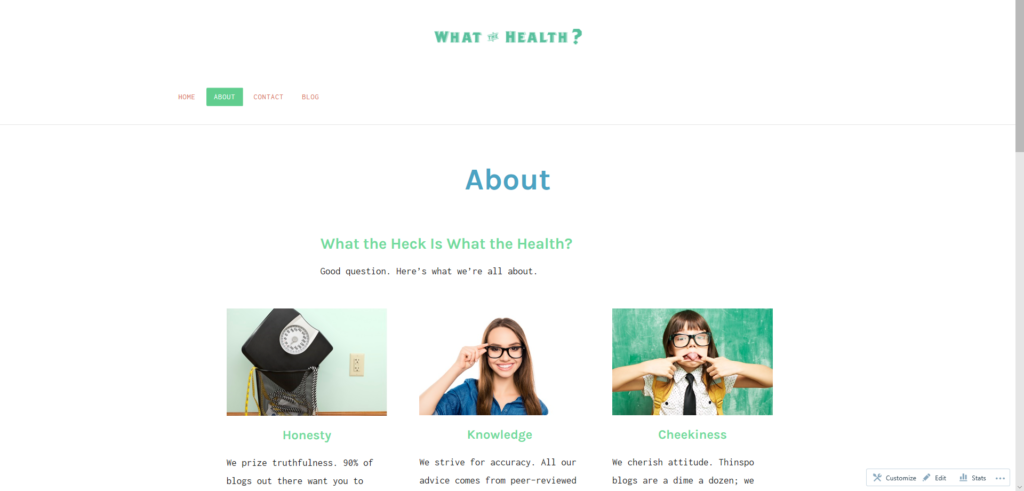 Remember how we said Wix is easy to learn? It also makes it easy to create gorgeous websites. Wix has hundreds of well-designed, pre-made templates to choose from, so you can start off with a great base before customizing. It has eye-catching content blocks perfect for highlighting important information on your page. Plus, Wix's platform features guide lines that help you position elements properly, even as you drag and drop them around.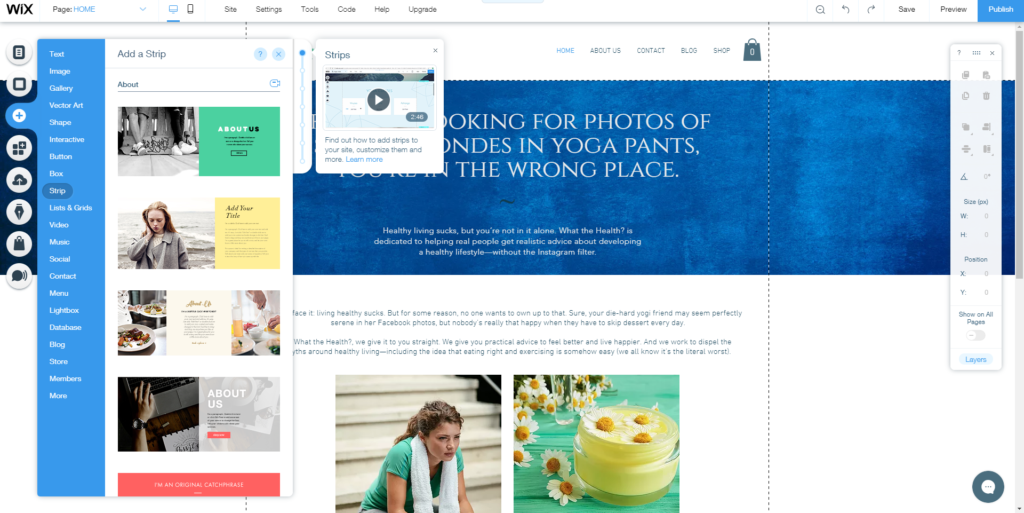 While WordPress has the potential to create stunning websites, we gave it a three because it takes way more time and energy to do so. Its default templates are adequate, but not impressive. Its undesigned content blocks require effort to make them beautiful. You can't drag and drop elements, which can make it harder to position things the way you want. So in our testing, our finished website looked good—not great.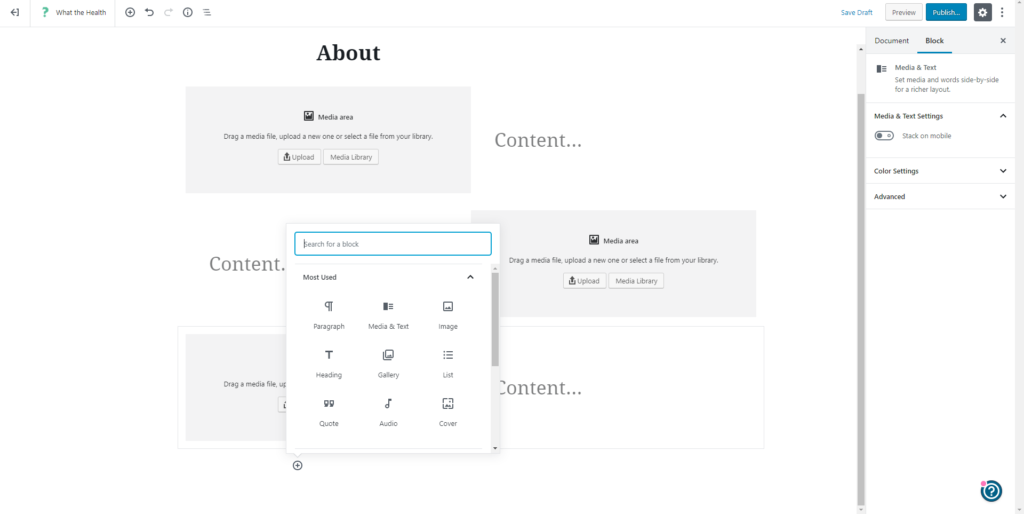 With enough time (and maybe a premium theme), you could create a show-stopping website with WordPress. But Wix creates stunning websites in far less time, which gives it the upper hand again.
Customization
Finally, we scored both platforms on customization. How much could we tweak our site's appearance? What additional functionality could we add? Once more, Wix got a perfect score—but this time, so did WordPress.
As a drag-and-drop website builder, much of Wix's customizability comes from your ability to put any element anywhere you want. But that's just the beginning. Wix lets you customize anything from the spacing between your letters to the cropping of your images to the colors of any text. Plus, it offers hundreds of apps that let you add features like inventory management, appointment scheduling, and social media sharing.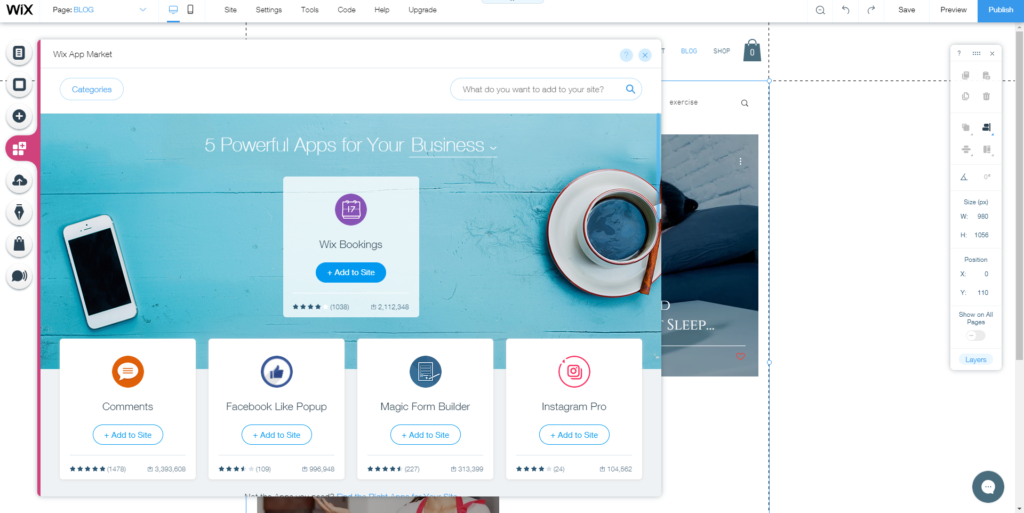 But honestly, WordPress might be even more impressive. It offers thousands of plugins for everything from SEO (search engine optimization) to shipment tracking to form creation. If there's a feature you want, chances are people have built WordPress plugins for it. Likewise, there are thousands of WordPress themes—and if you can't find the perfect one, you can use custom code (CSS) to tweak the appearance and position of anything on your site.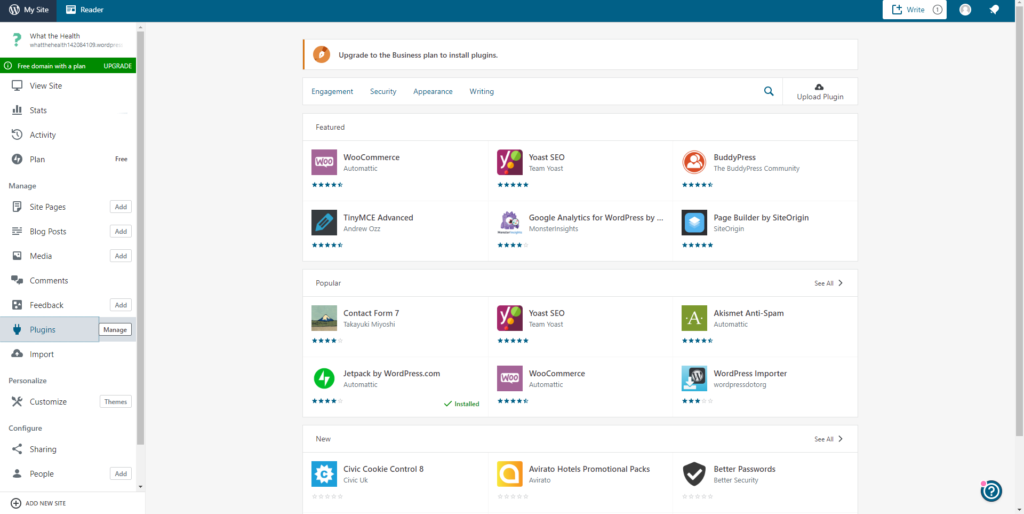 So both Wix and WordPress are ultra-customizable, though WordPress ultimately takes the cake thanks to its plugins and custom CSS abilities. Still, using those features takes time. So unless you need absolute control, Wix's customizability should be more than enough.
Picking the right WordPress plan
We exclusively recommend WordPress's Business plan. It's the only plan that lets you customize your CSS and add plugins. So when we talk about WordPress letting you do cool things, assume we mean WordPress with the Business plan.
FAQs
Let's answer some final questions before we wrap this thing up.
Does Wix or WordPress have better SEO (search engine optimization) tools?
That depends on your plan.
WordPress's Business plan has top-notch SEO tools to help you rank on search engines, like meta descriptions and custom page titles. Plus, with plugins like Yoast, you can get more SEO features, like XML sitemaps.
Unfortunately, WordPress's lower-tier plans limit your SEO features. In fact, Wix has better SEO tools than WordPress's lower-tier plans do. It lets you customize page titles and URLs, add meta descriptions and alt text, and optimize your header tags. It even has XML sitemaps as a built-in tool, though you can't customize them.
So if you really want to get found on search engines, WordPress's Business plan has the best SEO (search engine optimization) features, but Wix has better SEO features than WordPress's other plans.
(Not sure what any of this means? Check out our website builder glossary.)
Does Wix work with WordPress?
Nope, you can't build a WordPress site on Wix or vice versa. Both platforms are builders that exclusively host their own sites.
If you're interested in having a Wix website and a WordPress blog, you can manage that by simply linking to your externally hosted WordPress blog. But you cannot create a WordPress blog with Wix.
What's the difference between a site builder and a CMS?
You might have seen WordPress called a CMS, or content management system. A CMS is a software that prioritizes content creation, like blog posts. You can definitely build a website with a CMS, so they often get lumped in with website builders. But a CMS can usually be used with any web hosting service, unlike a website builder that includes the building platform and web hosting.
Someone who calls WordPress a CMS (content management system) is probably talking about WordPress.org, the open source software that WordPress.com is built on. We explain the difference in our WordPress comparison.
What customers say about Wix and WordPress
Wondering what users have to say about Wix and WordPress? Good news: we asked business owners about their experiences, and both platforms got rave reviews.
Business owners love how easy it is to create and maintain a site with Wix.
"Everything on Wix is highly visual and easy to use. When there is something I'm not sure how to do, a quick search online finds the answer quickly since it is a commonly used builder.
For small business owners, Wix is my top recommendation for price, value, and ease of use. They have a lot of great templates and make it easy to build a professional-looking website. Also, they have a marketplace with loads of apps for more advanced needs such as email marketing or ecommerce."
But they also love how much control they get with WordPress.
"Although there is a slightly steeper learning curve when compared to some of the other web builders, I can't recommend WordPress enough. Once you get up and running, there are no limits to what your site can do. You can add ecommerce, a forum, member areas, etc. There is a reason why more than a quarter of all the world's websites run on WordPress, and I'm glad I chose it from the get-go."
And if you're wondering how people who've used both platforms would compare them, Brittany Hardy has you covered.
"I would recommend WordPress to small business owners if they are comfortable with some cost being incurred as they try to customize things to their liking. I say this because while WordPress is flexible, it has a steeper learning curve than, say, Wix or Squarespace. . . . If someone was wanting ultimate flexibility, then choose WordPress. But if someone wants ease of use and something quick, then Wix would actually be my recommendation."
So business owners love both Wix and WordPress. Choose whichever one works better for your needs.
Look, both Wix and WordPress are great builders that create usable, trustworthy sites. With either platform, you can create a robust e-commerce store, an eye-catching blog, or a stunning home page for your business.
So if you're choosing between Wix vs. WordPress, we'll reiterate our earlier advice: look at what you need out of your website building platform.
If you need an all-around solid builder, you can't go wrong with Wix. But if you need even more control and customization options for your site, then WordPress is the way to go.
Either way, we think you'll build something great.
Want to see more site building options? We've got your back. Check out our list of the best website builders.
Disclaimer
At Business.org, our research is meant to offer general product and service recommendations. We don't guarantee that our suggestions will work best for each individual or business, so consider your unique needs when choosing products and services.