Best Barcode Scanners of 2020
---
We've reviewed the top brands to help you choose the right equipment for your inventory management needs.
Last Updated: Less than 6 months
We rewrote this article to give you more concrete recommendations for barcode scanning hardware.
One of the biggest advantages of inventory management software is its ability to track your inventory in real time as it enters and leaves your warehouses and retail stores. But in order to make the most of this perk, you'll need to invest in some inventory tracking hardware—like barcode scanners.
The good news is barcode scanners can be as cheap or expensive as you want them to be. While cheaper models may not have the range, versatility, or durability of higher-end models, they still get the job done. And with so many barcode scanners on the market, you have a lot of flexibility to choose the brands and models that make the most sense for your company.
The only downside to having so many options? It can be difficult to figure out which brands and models are best. But don't worry—we wouldn't leave you hanging. Here's our guide to the barcode scanners we think are best for small-business owners.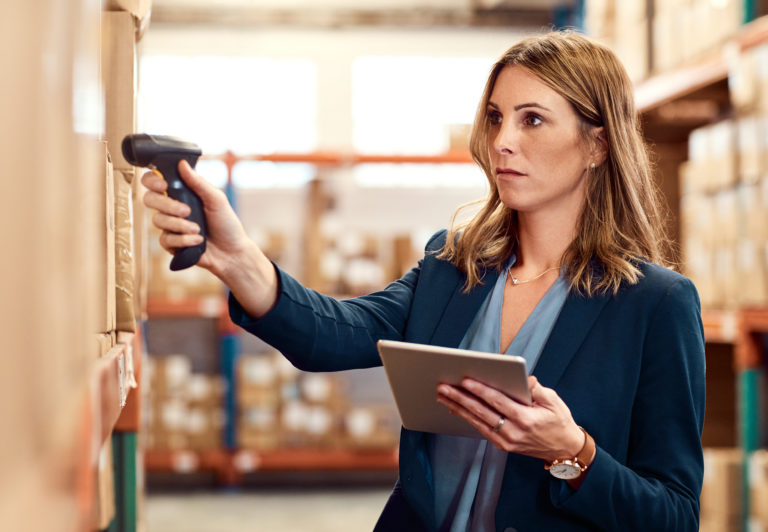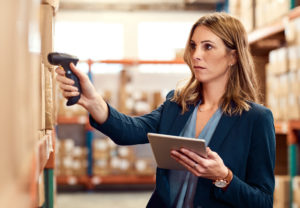 Zebra: Best overall barcode scanner

Zebra is one of the most highly rated brands for barcode scanners—and for good reason. The company features barcode scanners for virtually every industry. Need wireless scanners for your warehouse? Stationary scanners for your cash registers? How about scanners with antimicrobial protection for your pharmacy employees? Zebra's got it all.
Our favorite Zebra scanner is the DS2208 model. At $107 on Amazon, it isn't the cheapest barcode scanner on our list. But the DS2208 is lightweight, it comes ready to scan right out of the box, and it includes a 12-month warranty.
Most importantly, the DS2208 offers stellar features like a wide reading window, which makes it faster than other options. It also offers omnidirectional scanning so your employees can scan barcodes from any angle—no wasting time making sure each tag is right-side up. Plus, the DS2208 is capable of reading both traditional one-dimensional (1D) barcodes and two-dimensional (2D) barcodes like QR codes.
NADAMOO: Best for big warehouses

Like Zebra, NADAMOO offers a wide variety of barcode scanners, including stationary, wireless, Bluetooth, and even miniature models. But we think most business owners will be happy with the Bur3003 Wireless model—particularly if they have a large warehouse.
The Bur3003 connects wirelessly to your laptop or desktop computer, uploading scan data to your application of choice. And with a 328-foot transmission range (both indoors and outdoors), it can successfully connect with your central computer even from a distance. And on the off chance that it isn't able to connect, the device can store up to 100,000 codes to upload in bulk once it comes back online.
The Bur3003 can also work side by side with other scanners, meaning you don't need one computer for every scanner. Instead, the Bur3003 lets you connect up to 32 scanners to a single USB receiver—perfect for warehouses with multiple pick-n-packers working simultaneously.
Best of all, the Bur3003 is only $34.99 on Amazon, making it both practical and economical.
TaoTronics: Best for low connectivity

If you have a lot of warehouse employees but not a lot of computer or internet connectivity, TaoTronics' TT-BS030 model might be right for you.
This 2-in-1 barcode scanner can be wired directly into a computer for cash register or shipping station use, or you can use the Bluetooth mode to connect wirelessly to any Bluetooth-enabled device. That means the TT-BS030 can connect to phones and tablets—letting your employees use their smartphones and tables to connect to your inventory management system.
If the Wi-Fi in your warehouse isn't great, the TT-BS030 can also store up to 200,000 entries in its offline mode. Plus, it features an impressive 30-hour battery life, so your employees don't have to swap out their scanners every day when their batteries die.
Finally, the TT-BS030 can scan up to 200 times per second, making it two times faster than other leading models. That drives up its price a bit ($59.99 on Amazon), but it may be well worth the extra investment when you consider how much time it'll save your employees.
Honeywell: Best for scan accuracy

Honeywell has long been a brand associated with quality hardware, so it should come as no surprise that Honeywell's barcode scanners made our list. Specifically, we like the Honeywell MK9540-32A38—commonly called the Voyager CG.
At $87 on Amazon, the Voyager CG is a decent mid-range barcode scanner, so you know it won't break the first time you drop it. Unlike many of the other options on our list, it also comes with a stand. That makes it versatile for both handheld and stationary use, so you can use it with multiple types of scanning stations.
Where the Voyager CG really shines, though, is in its scan accuracy. The Voyager CG comes with a CodeGate feature, which allows you to view scan lines without transmitting the barcode data until you press a button. That way, you can check to make sure the scanner captured the right barcode data—no more inventory errors due to faulty barcode scans.
Keep in mind, though, that the Voyager CG is a wired barcode scanner, so you can't use it on the go from anywhere in your warehouse.
WoneNice: Best budget option

Outfitting your business with a complete system of barcode scanners can be a huge investment. But just because you have a budget doesn't mean you should have to settle for cheap hardware that falls apart or stops working at the drop of a hat.
Fortunately, WoneNice offers low-cost devices that don't skimp on quality.
Just take our favorite WoneNice model, the WN3300. Even though it sells for just $19.99 on Amazon, this scanner is extremely durable. In fact, its anti-shock construction allows it to survive drops from up to nine feet. Plus, it's capable of handling up to 200 scans per second, making it just as fast as the mid-range options on our list. Faster scanning equals greater efficiency, which saves you even more money.
Of course, because the WN3300 is a budget model, it does have some drawbacks. Specifically, it doesn't offer wireless connectivity, so you'll have to keep it attached to a laptop or desktop computer. That may be a dealbreaker for some businesses, but it should still be manageable if your warehouse or other inventory storage spaces are small.
There are tons of barcode scanners on the market, but in our opinion, five brands stand out when it comes to quality and functionality: Zebra, NADAMOO, TaoTronics, Honeywell, and WoneNice. Each brand offers a variety of models and features, so ultimately the best choice for your business depends on your company's warehousing and inventory needs.
Looking for an inventory management software that can keep up with real-time tracking? Check out our top picks for inventory management software to go with your barcode scanners.
Disclaimer
At Business.org, our research is meant to offer general product and service recommendations. We don't guarantee that our suggestions will work best for each individual or business, so consider your unique needs when choosing products and services.