We dug into the details of Toast's features, pricing, and customer reviews to determine whether or not this POS system can stand tall with the best POS systems in the restaurant industry today.
Data as of 12/9/22. Offers and availability may vary by location and are subject to change.
Toast POS was launched in 2013. It's a relative newcomer to the highly competitive restaurant point-of-sale (POS) space, but that doesn't stop Toast from being a top-tier service. Toast integrates smart hardware solutions with a well-built host of software options.
Toast's great software and hardware are the perfect sword-and-shield combo for managing a modern small restaurant business. While its customer service could use some work, we still think any serious restaurateur should give Toast a closer look.
Toast has two unique pricing divisions we'll look at. The first is the cost of its software packages.
Compare Toast POS Software plans and pricing
| | | | | |
| --- | --- | --- | --- | --- |
| Plans | Starter | Point of Sale | Essentials | Custom |
| Monthly price | From $0.00/mo. | From $69.00/mo. | From $165.00/mo. | Custom pricing |
| POS software | Yes | Yes | Yes | Yes |
| Payment processing | Yes | Yes | Yes | Yes |
| Support | Yes | Yes | Yes | Yes |
| Real-time fraud monitoring | Yes | Yes | Yes | Yes |
| Online ordering & delivery | No | | Yes | Yes |
| Toast takeout app | | | Yes | Yes |
| Gift cards | | | | Yes |
| Loyalty | | | | Yes |
| Marketing | | | | Yes |
| Hardware | Starting at $0.00 | Customized configuration | Customized Configuration | Customized Configuration |
| Payroll | No | Optional add-on | Optional add-on | Optional add-on |
| Learn more | See Plans | See Plans | See Plans | See Plans |
Data as of 12/9/22. Offers and availability may vary by location and are subject to change.
The starting price includes the first hardware terminal subscription. There is an additional charge for each subsequent device used. This is a typical pricing structure for almost all POS systems.
Toast is pretty par for the course at its price point. Its starter pricing scale goes from $0–$272 per month. Compare that to Upserve, which has a price range of $59–$359 per month, or to Revel that has a flat $99 monthly rate and a $674 implementation fee. In terms of what you're getting in features and hardware with Toast, it's a close competitor to Upserve.
That said, both Upserve and Toast have unique features that may tip the scales depending on what you need. Upserve requires you to buy hardware outright, for example, while Toast allows you to pay for hardware with your processing fees.
Speaking of hardware, let's look at how Toast allows you to pay for its hardware.
Compare Toast Starter Kit hardware plans and features
| | | |
| --- | --- | --- |
| Plans | Pay-as-you-go | Standard |
| Pay-as-you-go platform rate | 2.99% + $0.15 per transaction | No Fee |
| Card-present processing rate | Included in platform rate | 2.49% + $0.15 per transaction |
| Card-not-present processing rate | Included in platform rate | 3.50% + $0.15 per transaction |
| POS software subscription | Included in platform rate | $69.00/month |
| Real-time fraud monitoring | Included in platform rate | $799.00 up front |
| Learn more | See Plans | See Plans |
Data as of 12/9/22. Offers and availability may vary by location and are subject to change.
As you can see, by utilizing Toast's pay-as-you-go option, you can reduce upfront costs and even pay less on card-not-present transactions. Both of these plans include a basic hardware kit, but you are welcome to add hardware and software features to tailor your POS system to your exact needs.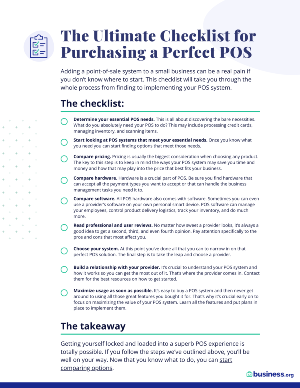 Follow these steps to purchase the perfect POS system
Read our free ultimate checklist for finding the right POS for your business. Don't get saddled with the wrong system. Enter your email and the checklist will arrive promptly.
The bottom line: Toast is an excellent restaurant POS system and a competitive Upserve alternative
Whether you're launching the next best fast-casual thing since Chipotle or on the hustle to earn some Michelin stars, Toast can help your restaurant business run smoothly.
Toast is designed to work with food service businesses of all shapes and sizes. It offers programs designed around common restaurant types:
Fine dining
Casual dining
Fast casual
Food truck
Bar
Nightclub
Cafe bakery
Enterprise
Toast works for these various restaurant types because of its flexibility. You can easily add and take away features as you need them, allowing you a lot of customization and growth flexibility.
Having the flexibility to grow is extremely important in the small restaurant business. When you choose a POS system designed around too specific a need, you may have serious growing pains if you ever need to expand. Toast takes away those growing pains by making its services so modular.
This modularity is something that Upserve doesn't quite have. With Upserve, you usually have to move up to the next plan tier. With Toast, you can either move up to the next plan tier or add the one feature you want. That's why Toast is a solid competitor with our other favorite restaurant POS, Upserve.
Handheld POS systems
Mobile order and pay
Good entry-level options
Some customer service complaints
Lacking menu intelligence reports
Toast can improve the efficiency of your restaurant flow with its handheld POS systems. Instead of servers inputting orders from a notepad into a stationary POS, they can take and immediately submit orders from the table with handheld POS systems. The handhelds can also process credit cards at the table.
If your customers demand even more flexibility than a mobile POS system can offer, you can roll out a mobile order and pay system. Customers can order and pay right at the table from their mobile phone without having to wait for service. This also allows your servers to take on more tables and make more tips.
The last big positive to note about Toast is its entry-level option. You can get a POS system set up with no upfront costs if you use the pay-as-you-go plan that shifts monthly and equipment costs to the processing fee.
We have found two main vulnerabilities in the Toast armor. The first is its customer service. While not every review online has bad things to say about the customer service team, there are enough for us to say that you may not get top-quality service every time you call.
Toast also lacks intelligent menu reports. This is a feature we really like in Upserve that we rarely see elsewhere. It's essentially a tool that analyzes the performance of your menu items, allowing you to make data-driven decisions about specials and new menu items. This is a feature we'd like to see in more restaurant POS systems, especially in a price point similar to Upserve.
We'll discuss some of the features that make Toast unique in this section.
Toast's mobile POS solution is great for speeding up turnover without giving your customers anxiety about needing to rush.
There are two big inefficiencies in server workflows that a mobile POS solves. Servers lose a lot of time when they have to take a written order from a table to a stationary POS system. With a mobile POS system, orders get sent directly from the table to the kitchen.
Servers also lose time when they drop off a bill, leave, come back for the card, leave to make a transaction, and then return with the bill to be signed. This whole process is eliminated when a customer can swipe their card on a mobile processor and take care of the check in one server visit.
Toast's mobile POS system addresses these inefficiencies, which means you will turn away fewer customers on busy nights.
You can also take curbside payments with a mobile POS system, preventing your workers from having to make more than one run to a car.
Toast's mobile POS system also helps servers make the most efficient decisions about serving tables because it will alert them when one of their table's food is ready.
So, if you want peak efficiency in your restaurant, it's hard to beat Toast's mobile POS.
Best POS Systems for Small Businesses
Toast Order and Pay: order at the table from your mobile phone
Buying a fleet of mobile POS systems isn't going to be financially viable for everybody, but that doesn't mean you can't reap the benefits of a more efficient ordering process. With Toast Order and Pay, your customers' phones become the mobile POS system.
Customers sit at the table, scan a QR code to access the menu, and order. This allows them to split checks, order as soon as they're ready, and pay whenever they want. Many customers will love this flexibility.
A potential weakness of having customers order on their phones is potential technological issues, especially with patrons who are less tech-savvy. Also, not all customers have digital payment methods on their phones.
To counteract these issues, if you do roll out a service that allows customers to order on their phones, it should be an option, not a requirement.
That said, in general having a mobile order and payment service as an option will allow many of your customers to get an order in and paid for with ease and with fewer server visits, saving time without increasing pressure on the diners.
The kitchen display system or KDS is not something unique to Toast, but it's still an important feature to point out. Having a KDS removes the hassle of paper tickets and instead uses a large screen showing orders in the order they were received.
Having orders displayed legibly and simply on a screen can help your kitchen lead manage tasks more efficiently and effectively, preventing confusion in the kitchen and promoting better communication.
The display also eliminates the step of hanging a printed ticket. Anyone who has worked in a kitchen knows that some printed tickets have a habit of disappearing into an unknown kitchen vortex. Nothing causes panic more than a server asking for a ticket that has mysteriously disappeared. It's best to just upgrade your service to a reliable technology-driven solution.
Toast has designed a delivery service add-on that allows you to offer delivery to customers without having to hire a specific driver for your restaurant.
Guests can order directly from you on a website you set up through Toast. Those orders will come to your kitchen, and Toast will dispatch a driver and process the order. Toast makes delivery easy and eliminates some of the fees and headaches associated with using a ton of different delivery services all at once.
Instead, just manage your whole delivery operation from one place. It's a crucial feature for modern restaurants to have these days as more and more people are requesting delivery.
Toast POS is a great restaurant POS system. It has a solid pricing model, great software, and a wide range of hardware that can handle food businesses of all sizes and types. Toast has some of the best mobile POS solutions on the market as well as an entry-level plan that lets people get started without any overhead costs. Toast is worth your consideration if you want a powerful POS solution for your restaurant.
If you want to see Toast's top competitor in the restaurant POS industry, please read our review of Upserve POS.
Is Toast a good POS for online ordering?
Toast is a great POS for online ordering. It has a delivery service that can help you bring food to your customers as well as curbside pickup integrations that allow you to swipe credit cards right from your customers' cars.
Who are Toast's competitors?
Upserve is the restaurant POS service most similar to Toast. That said, Square, Lightspeed, and Revel are all services that also have a lot to offer restaurants, but their offerings are meant to reach a broader bunch of industries. With Upserve and Toast, you're getting a POS system that will always be innovating and growing in the restaurant space.
Is Toast an iPad POS system?
No. Toast is not an iPad-based POS system. Its hardware is all proprietary and made specifically by Toast for its users.
We examined Toast in detail in a number of different fields. We looked at its price point in the market and whether that price point was competitive. We examined if its features lived up to that price point. We also read through hundreds of online reviews to see the experiences people were having with the service. Finally, we considered the types of businesses this service would appeal to so we could know exactly who could benefit from the product.
Disclaimer
At Business.org, our research is meant to offer general product and service recommendations. We don't guarantee that our suggestions will work best for each individual or business, so consider your unique needs when choosing products and services.