How to Design an Effective Employee Training Development Program
Employee training and development programs only grow more important as younger generations fill out the workforce.
Once you've hired an army of brilliant people, you'll want to invest in their professional training to help their careers and skills grow alongside your business. This educational process is known as employee development and training.
The road to more brilliant workers isn't an overnight process, though. A robust employee development program requires a calculated, formal strategy that's rooted in psychology. With this in mind, established businesses with at least a dozen employees are usually the target audience for such complex pursuits.
Let's dive deeper into what makes a successful employee development program.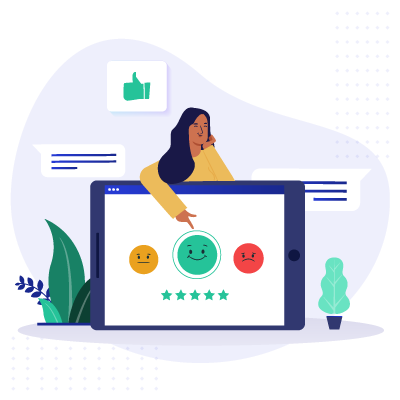 Expert Advice, Straight to Your Inbox
Gain confidence in your business future with our weekly simple solutions newsletter.
Why do businesses need employee development programs?
Employees are content just to get a sweet paycheck and a pat on the back, right? Not anymore.
An overwhelming body of research reveals that Gen Z (people born between 1997 to 2012) and millennials (born 1981 to 1996) view employee development opportunities as an essential part of employment. For example, LinkedIn's 2021 Workplace Learning Report found that upwards of 76% of workers born after 1980 view abundant professional education as crucial to their success.1
This yearning for learning reflects a more prevalent appetite for upward mobility than in previous generations. In an August 2019 study, Australian research firm McKindle found 63% of Gen Z workers regarded internal promotion opportunities as a top factor in how long they stay with an employer.2
And as for prior generations? Not so much. A 1977 survey of over 1,200 US workers reported that a whopping 87% of respondents felt at least "moderately" satisfied with their jobs. This wasn't because of promotional aspirations, though—only 16% perceived they had a "good" chance of scoring a promotion.3 Instead, those surveyed ranked interesting work, the chance to make friends, and job security as the top factors behind their professional happiness.
Beyond job satisfaction and employer loyalty, training programs also help close gaps in employee equity. For example, learning a new skill on the job can help a person overcome past systemic barriers to education. This also boosts morale while improving retention rates and helping solve societal inequalities—indeed, a winning proposition for all.
What are the steps to design an employee development program?
Thoroughly provide open communication
Employee development programs should heavily focus on the timeless practice of human interaction, whether in person or virtually. In fact, one-on-one meetings between a supervisor and an employee are a crucial underpinning behind any successful training program.
This is because staffers feel more supported when they have ample opportunities to receive feedback and express their concerns without fear of reprisal. This welcoming atmosphere is known as psychological safety, and it sets the foundation for intellectual growth.
Once you've cemented free-flowing communication, employees should clearly document their professional goals to craft a structured development plan. While their career dreams will likely vary from the company's broader aspirations, there is common ground hiding between the lines.
For example, if an employee wants a promotion, supervisors can spell out objective skills and achievements that would secure such an advancement. As the worker acquires these new abilities, their productivity should increase. This, in turn, helps the organization boost its profitability, making the process a win-win for both parties.
Budget for development opportunities
We often speak to business owners struggling to make payroll, let alone invest long-term in staffers. Yet, it's quite expensive to constantly lose employees that leave for greener pastures. In fact, corporate consulting firm Gallup estimates that replacing a staff member costs upwards of twice the worker's annual salary.4
As discussed above, there is a well-documented correlation between training and advancement opportunities and an employee's longevity. With this in mind, staff development should make up a substantial portion of your company's budget because it is an investment—not so much an expense—that produces far better returns than a revolving door of workers.
Allocate employee training resources
Once you have a generous budget and a workforce full of clearly defined goals, it's time to set things in motion.
For employees to acquire new skills, you'll need a solid array of educational resources. Historically, this has primarily involved more experienced workers providing "shadowing" opportunities to junior staff. However, times have changed, and organizations often rely on more objective training found externally.
If you have a generous budget, some higher-end employee development ideas include college tuition assistance, dedicated time for on-the-job training, and guest speakers to provide career coaching and lectures. Some more generous companies will even pay for an entire college degree if a worker contractually agrees to remain at the company for a certain amount of time.
But if your coffers are a little short on dough, you could opt for internet-based skill training platforms, like Udemy or Pluralsight. These relatively new ways of professional training teach both hard and soft skills, ranging from C++ programming to assertive communication techniques, usually for a flat monthly fee. And since many standardized certifications are offered through these services, your staff can obtain clearly defined, quantifiable achievements—a strategy far superior to traditional, highly subjective job shadowing.
Best Human Resource Software for Small Business
Remember how we encouraged open and abundant communication? That rings true throughout a worker's entire professional life. This means you'll want to continuously check in with staff members to understand any challenges or concerns that might pop up. You'll also want to use this time to recognize successes, although we strongly advise handing out kudos liberally to keep employee engagement and morale high.
So what's a good check-in schedule? Successful companies often prescribe weekly one-on-one meetings for at least 30 minutes at a time, but there is no clear consensus. The Harvard Business Review publication recommends focusing more on quality and consistency instead of forcing a minimum number of monthly meetings.5
We agree with this advice, and we recommend asking employees what their communication desires are, with a bias favoring more discussions—not less. We also suggest thinking of thoughtful questions to help propel meaningful conversations. This is especially crucial since many people feel hesitant to speak up unless afforded a clear opportunity, such as in response to a well-worded, encouraging question that promotes psychological safety (consider making that your phrase of the day, every day). 
What are some example employee development software titles?
Once you've established a training program, you'll need a digital means to store every worker's development plan. This could involve a simple solution, such as an Excel spreadsheet. However, we'd recommend purchasing specialty software that incorporates tried-and-true best practices for helping workers document and achieve their goals. Some example brands include Simplilearn, Degreed, and Skillsoft. However, TalentLMS sticks out in our minds as a particularly affordable option.
You could also look into your human resource software since these applications often support employee development plans to varying degrees. Some small-business HR solutions are BambooHR, Uzio, and Zenefits, to name a few.
Robust employee development and training programs are an essential part of the modern workplace. While it may be tempting to skip out on such efforts, research proves that workers will inevitably vote with their feet and leave your business in pursuit of advancement elsewhere. This causes ballooning turnover costs that will almost certainly cost you more long term than implementing a robust professional education program.
That's why we advise viewing staff skill-building as an investment that should command a sizable chunk of your overall budget. Even if you run a small, modest operation, there are still many creative and affordable ways to fulfill your workforce's collective desire to learn and achieve their goals.
Need software to document training plans? Check out our favorite employee training and development software for small businesses.
Disclaimer
At Business.org, our research is meant to offer general product and service recommendations. We don't guarantee that our suggestions will work best for each individual or business, so consider your unique needs when choosing products and services.
Sources:
Linkedin, "2 021 Workplace Learning Report." Accessed July 28, 2021.
McCrindle Research, "Understanding Generation Z: Recruiting, Training and Leading the Next Generation." August 2019. Accessed July 29, 2021.
US Bureau of Labor Statistics, "Did job satisfaction really drop during the 1970's?" November 1982. Accessed July 29, 2021.
Gallup, "This Fixable Problem Costs U.S. Businesses $1 Trillion." March 13, 2019. Accessed July 30, 2021.
Harvard Business Review, "How to Make Your One-on-Ones with Employees More Productive." August 8, 2016. Accessed July 30, 2021.