7 Best Workers Compensation Insurance Companies for Small Businesses 2023
Safeguard your business with our top seven picks for best workers compensation insurance companies.
Data as of 12/19/22. Offers and availability may vary by location and are subject to change.
Workers compensation insurance helps pay for injured workers' health care costs if they experience work-related injuries or illnesses. It also protects your company legally in the event of an workplace injury, which makes workers compensation insurance both a legal requirement in most states and a financially safe move for business owners.
Looking for the right workers comp coverage? Here are our picks for the best workers compensation providers for small businesses.
Workers compensation insurance and COVID-19
The federal government hasn't issued any nationwide legislation requiring workers compensation insurance companies to cover COVID-19 (at least, not yet). However, a handful of individual states do require workers compensation coverage for COVID-19. Learn more about what your state requires on the National Conference of State Legislatures' COVID-19 workers comp page. We also recommend reading OSHA's guidelines on minimizing COVID-19 risks in the workplace.
The Hartford: Best overall
Data as of 12/19/22. Offers and availability may vary by location and are subject to change.
Want to bundle your business insurance instead of juggling multiple insurance providers? The Hartford is a good pick. As a company focused on small businesses, the Hartford's packages include general liability insurance, business income insurance, and workers compensation insurance, and each package is easy to assemble and customize. The Hartford also provides the following perks:
Network of over 1 million US health care providers
Network of 65,000+ pharmacies across the US
Pay-as-you-go payment options
Hiscox: Best small-business focus
Data as of 9/21/22. Offers and availability may vary by location and are subject to change.
Hiscox was the first insurance company in the United States to offer online workers compensation insurance specifically for small businesses.1 The Atlanta-based insurance seller claims to service over 400,000 small-business clients. Plus, it also offers many other insurance types, such as cybersecurity and general liability insurance plans, that are tailored to small businesses.
Hiscox's main selling points for business owners include the following:
Small-business-only focus
Monthly payment options with no added fees
Customizable bundles with general liability and professional liability insurance
Find the right workers compensation insurance for your business
Suracy: Best customer service
Data as of 12/19/22. Offers and availability may vary by location and are subject to change.
If you value customer service, put Suracy (known as AmVenture until 2019) at the top of your list. The company has a nearly five-star rating on Consumer Affairs2—much higher than Hiscox, which averages just over three stars on the same site.3 While Suracy focuses on church insurance, it offers workers comp insurance for small businesses too. And no matter what type of business you own or organization you're a part of, Suracy offers the following benefits for you and your injured workers:
Focus on small to medium-sized businesses
Customizable policy bundles
24/7 online claims filing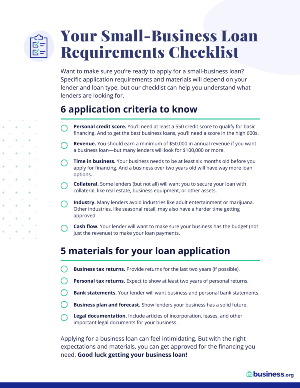 Applying for a small-business loan soon?
Our free checklist can help you understand what lenders are looking for.
Data as of 12/19/22. Offers and availability may vary by location and are subject to change.
Travelers is the biggest underwriter of workers compensation in the United States.4 With more than 2,000 workers compensation claim professionals who can walk you through the entire claims process, Travelers also has a solid focus on customer experience and customized insurance solutions. Other Travelers advantages include the following:
500-plus in-house nurses and medical professionals
Pay-as-you-go options and payroll integration
Data as of 12/19/22. Offers and availability may vary by location and are subject to change.
This Swiss-based international carrier has more than a century of insurance experience. Zurich business insurance includes access to risk-management services that help you keep your workers safe and your premiums low. Features include the following:
Global coverage
Risk Engineering team to evaluate and reduce workplace danger
Civil suit assistance
If none of our five favorite workers compensation companies meet your business's needs, one of these providers could offer the insurance coverage you're looking for.
biBERK: Nationally available
Data as of 12/19/22. Offers and availability may vary by location and are subject to change.
Berkshire Hathaway, one of the best-known names in the insurance world, is biBERK'S parent company. However, biBERK focuses specifically on small businesses. The company doesn't rely on outside insurance agents to find you the right workers compensation benefits. Instead, biBERK is a direct insurance carrier, which usually means you can get a faster quote (potentially at a better rate). Along with being a direct insurer, biBERK also offers these key benefits:
Availability in all states where private insurers compete
Loss control, safety training, and fraud identification
Chubb: Best program benefits
Data as of 12/19/22. Offers and availability may vary by location and are subject to change.
Chubb workers comp insurance includes two impressive programs to help your business and your employees. The return-to-work program helps injured employees get back on the job quickly and safely, while the pharmacy benefit management program helps keep drug costs low. Other Chubb benefits include the following:
Special investigations unit for fraud detection
Medical and pharmacy benefit management program
Return-to-work program for quick employee recovery
The Most Dangerous States to Work in
It's not uncommon to hear people sometimes grumble about their boss, a busy workday, or how stressed they are, but how many of us can really complain about how physically dangerous it is to go to work? You might be surprised.
According to the U.S. Bureau of Labor Statistics, more than 5,000 people suffer fatal work injuries every year.5 There were even more workplace injuries that weren't fatal, but still serious enough to land someone in the hospital.
This means that in addition to all the other choices business owners need to make, they also need to decide how much workers compensation insurance coverage they need—all while creating a safe work environment. What's more, the stress of working in a dangerous environment can have long-term negative effects on employees who might not want to commit life and limb to the job.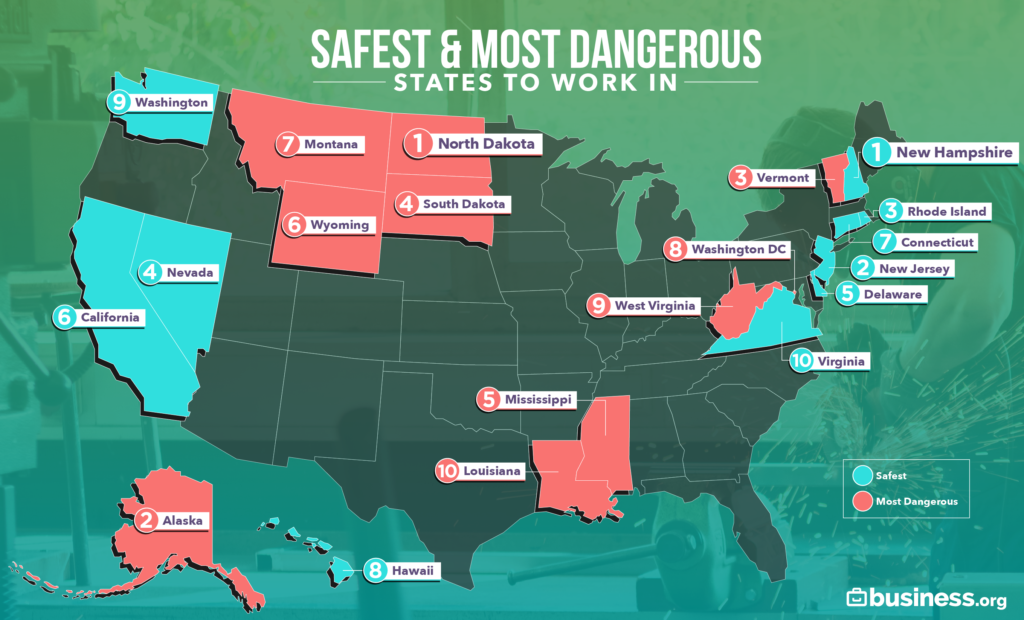 The most dangerous state to work: Is it yours?
It should be no surprise that some states are more dangerous than others. But if you're thinking this applies only to highly populated states like California or New York, you might be surprised by what Business.org considers the 10 most dangerous states to work.
| | | | | | |
| --- | --- | --- | --- | --- | --- |
| Rank | State | # of fatal work accidents (2016) | # of fatal work accidents (2017) | % change 2016–2017 | Score |
| 1 | North Dakota | 28 | 38 | 35.70% | 14.7 |
| 2 | Alaska | 35 | 33 | -5.70% | 28 |
| 3 | Vermont | 10 | 22 | 120.00% | 34.1 |
| 4 | South Dakota | 31 | 30 | -3.20% | 45.9 |
| 5 | Mississippi | 71 | 90 | 26.80% | 50.4 |
| 6 | Wyoming | 34 | 20 | -41.20% | 51.9 |
| 7 | Montana | 28 | 32 | 14.30% | 52 |
| 8 | District of Columbia | 5 | 13 | 160.00% | 56.5 |
| 9 | West Virginia | 47 | 51 | 8.50% | 59 |
| 10 | Louisiana | 95 | 117 | 23.20% | 60 |
The safest state to work: Do you work there?
We also discovered the 10 safest states to work. The big surprise for us was that Connecticut, nicknamed "The Insurance Capital of the World," ironically ranks only seventh on our list of safest states to work. And at number one? The Granite State. Way to go, New Hampshire.
| | | | | | |
| --- | --- | --- | --- | --- | --- |
| Rank | State | # of fatal work accidents (2016) | # of fatal work accidents (2017) | % change 2016–2017 | Score |
| 1 | New Hampshire | 22 | 11 | -50.00% | 98.9 |
| 2 | New Jersey | 101 | 69 | -31.70% | 97.2 |
| 3 | Rhode Island | 9 | 8 | -11.10% | 95.3 |
| 4 | Nevada | 54 | 32 | -40.70% | 92.4 |
| 5 | Delaware | 12 | 10 | -16.70% | 90.7 |
| 6 | California | 376 | 376 | 0.00% | 89.9 |
| 7 | Connecticut | 28 | 35 | 25.00% | 87.1 |
| 8 | Hawaii | 29 | 20 | -31.00% | 86.5 |
| 9 | Washington | 78 | 84 | 7.70% | 85.6 |
| 10 | Virginia | 153 | 118 | -22.90% | 85.2 |
Our data is from the U.S. Bureau of Labor Statistics—and we pulled their most recent data. We looked at the number of fatal workplace injuries per 100,000 residents who are 18 and older with a lower value positively impacting the score. We also factored in the percent of change from 2016 to 2017 with a lower value positively impacting the score.
Each measurement was normalized on a scale from 0 to 1, with 1 indicating a positive score and 0 negatively impacting the final score.
What does this mean for your business?
Business owners face a lot of challenges when building a successful and thriving business. Creating a safe workplace is one of those considerations that just can't be ignored. Fortunately, as a business owner, you can impact the safety of the workplace, even if you do business in one of the dangerous states on our list.
The right workers compensation insurance policy will give you—and your employees—peace of mind, ensuring business operations go smoothly and you and your employees get help when you need it.
Looking for more than just workers compensation insurance? Look at our picks for the best general liability insurance companies. You may be able to save money by bundling both types of insurance into one comprehensive package.
Workers compensation insurance FAQs
What is workers compensation insurance?
Workers compensation insurance (sometimes known as workers comp or workman's insurance) is a type of business insurance that helps pay for health care for employees' work-related injuries or illnesses. It also covers legal fees for your business if an injured worker sues your company for damages. Most states require small businesses to have workers comp insurance.
Does my small business need workers compensation insurance?
If you have one or more employees, then yes, your small business needs workers compensation insurance. In fact, most states require employers to have workers compensation insurance. Why? Around 2.8 million nonfatal injuries or illnesses occur in American workplaces each year.5 Workers compensation insurance helps offset both health care and legal costs when employees are injured on the job.
Workers compensation insurance can also help pay for employee benefits like training for new jobs if an injury renders them unable to resume work at your company. It can also cover long-term physical therapy and help with short-term or long-term disability.
How much does workers compensation insurance cost?
The amount you'll pay in workers compensation insurance premiums varies depending on how many employees you have and what industry you work in. For instance, businesses in the construction industry can expect to pay more in workers compensation premiums than call centers or coffee shops.
We looked at 30 of the biggest and most promising small-business insurance carriers and spent over 60 hours researching the details of their workers comp policies. The companies that made it to the top of our list had the best combination of coverage options, competitive rates, and full-service features.
Disclaimer
At Business.org, our research is meant to offer general product and service recommendations. We don't guarantee that our suggestions will work best for each individual or business, so consider your unique needs when choosing products and services.