What Is Just-In-Time (JIT) Inventory Management?
If you're looking to maintain a steady supply of products while keeping inventory costs low, a JIT system may be right for your business. Here's what you need to know to get started.
Just-in-time (or JIT) is an inventory management method in which you keep as little inventory on hand as possible. That means you don't stockpile products and raw materials just in case you need them—you simply reorder products to replace those you've already sold.
The goal of a JIT system is to receive new products just as they're needed—any sooner and you'll have excess inventory levels, and you'll encounter stockouts if shipments come too late. When implemented correctly, a JIT inventory system can help retailers and lean manufacturing businesses reduce their storage costs and keep their inventory fresh.
Of course, JIT inventory systems fall apart without prompt, reliable item production and shipping. But once you get it down, JIT systems can enhance the efficiency and profitability of your business.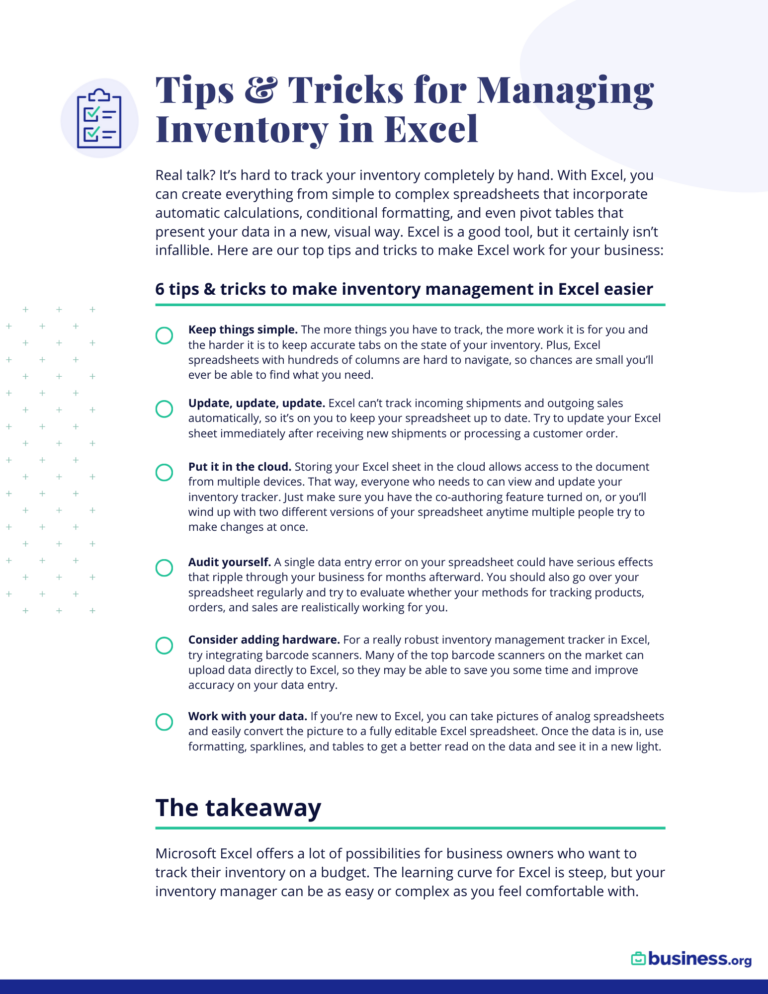 Get your free template
Keep your inventory organized, monitor shipments, and track vendor reliability with our customizable Excel inventory template and our included tips and tricks.
JIT inventory management in use
Let's say you're running a manufacturing business, and you've currently got so much raw material on hand that it's taking up space on your shop floor and slowing down the production process. To solve this problem, you might opt to use a JIT inventory management technique, like the Kanban system.
In a Kanban system, you'd attach a card (either physically or digitally) to every component or raw unit. Once the component is used to complete a finished product, the card is removed and sent back up the production line. These cards are collected, then used to trigger a replenishment order—just for the number of components or amount of raw material you've used.
The goal would then be to time your production rates and forecast demand so you receive your replenishment order just in time to avoid a stockout. Following this pattern on an ongoing basis ensures you don't have to store more components than you actually need.
Inventory management systems help you avoid overbuying products that don't sell. Inventory management can also help you keep inventory costs low—which is important since high storage fees, shipping fees, and manufacturing fees can all eat into your profit margins.
Believe it or not, good management solutions can also enhance your customer service, since they help you keep product in stock, improve your customer order fulfillment, and track sales across multiple channels.
Most importantly, though, inventory management makes your life easier in general. It can help you organize your warehouse, track inventory movement across multiple locations, and even integrate with your other business solutions (like your point-of-sale or accounting software).
Overall, inventory management is an excellent strategy for any business that sells physical goods.
Advantages and disadvantages of JIT inventory management
Reduce storage costs
Ties up less working capital
Lowers loss risk
Increases risk of stockouts
Leaves no room for error
Offers less pricing flexibility
The JIT inventory method helps businesses keep enough inventory on hand to fulfill customer orders, while also keeping inventory levels as low as possible. This allows you to enjoy significant cost savings on inventory storage (since you have fewer items to store), but it has a couple of other financial benefits.
For starters, keeping less inventory on hand gives you more freedom when it comes to your cash flow. Instead of spending all your revenue from the past month on a massive replenishment order, you can allocate a small portion of your earnings for inventory. That leaves you free to use that money on other business costs.
JIT systems also help you mitigate risk in your inventory. Large product orders are a bit of a gamble, since you have no guarantee that you'll actually sell every item on your shelves. But if you order smaller numbers of items at a time, you enjoy greater agility to abandon products that are no longer selling well.
The problem with keeping low stock on hand? You run the risk that you won't have enough product to meet demand. Stockouts can have a drastic impact on customer satisfaction, so businesses using the JIT strategy will need to streamline their production processes and supply chain management. In a JIT system, there's little to no room for errors like missed shipping windows and slower-than-usual production.
JIT systems also have the potential to lower your profit margins. Since you have to replenish stock as soon as you sell it, you don't have the luxury of waiting around for the best price. So if your supplier charges extra for your order due to a recent natural disaster or national holiday, it'll eat into your bottom line.
Who should use a JIT system?
JIT systems tend to work best when your business has all of the following:
Short turnaround times on inventory production
Reliable suppliers that follow the same production schedules consistently (while still producing high-quality products)
Smooth supply chain management (with dependable third-party logistics providers)
A solid forecast of customer demand
An efficient customer order fulfillment system
An inventory control or inventory management software that can process replenishment orders quickly (or automatically)
Based on these criteria, we believe JIT systems are best for established businesses. Older businesses tend to have trusted vendors, which better allows them to form the type of close, mutually beneficial partnerships with their vendors that are necessary to make a JIT system work. Plus, established businesses are more likely to have the kinks worked out of their production and supply chain processes, and they have a better idea of what to expect in terms of seasonality and demand fluctuation.
All this makes it easier to actually get your replenishment orders when they're needed and reduce your inventory costs. But if your business is working off a limited budget (so you can't afford to place large replenishment orders) or limited storage space, you may have no choice but to implement a just-in-time system and iron out the wrinkles as you go.
Best Inventory Management Software
How to make a JIT system work for you
If you're not sure whether a JIT system is right for your business (or you don't think you're properly set up for it yet), there are a couple of things you can do to prep your company for the JIT method.
Start tracking sales data. This will help you determine demand fluctuations and seasonal trends—all of which will help you order the right amounts of product at the right times when you move to a JIT strategy.
Build relationships with reliable vendors. Identify manufacturing vendors with slow or inconsistent production times and third-party logistics companies with unreliable delivery times. Replace them with more reliable partners to smooth out your supply chain so you can get your JIT shipments faster.
Look into local production. If your supplier is local, you'll be able to get your purchase orders fulfilled faster since your supplier doesn't have to ship your items halfway around the world. That means you can get away with keeping even less inventory on hand, which means more cost savings.
Sign up for an inventory management software. Cloud-based inventory management systems often provide real-time inventory tracking, meaning you can see down-to-the-minute details on your stock levels. This allows you to better time your replenishment orders so you can renew your supply as soon as it's needed.
Just-in-time inventory systems are a great way to reduce costs and improve efficiency. A JIT strategy can not only lower your inventory storage expenses but also allow you to spend less at a time on your inventory—freeing up valuable capital to spend on other business expenses. Plus, with fewer items on hand, you lower the risk of overinvesting in product you can't sell.
Of course, with a JIT system, you risk running into stockouts if you miscalculate customer demand or run into any disruptions to your supply chain operations. That's why we recommend JIT solutions primarily to established businesses with strong supply chain relationships and a solid understanding of production times and customer demand.
However, a JIT system could also work for a new, low-budget business with limited space for product storage. Just keep in mind that such a system would probably benefit from continuous improvement as you develop your supply chain and manufacturing processes.
Visit our guide to inventory management terms and acronyms to brush up your knowledge on production processes, customer demand, and inventory management efficiency.
Disclaimer
At Business.org, our research is meant to offer general product and service recommendations. We don't guarantee that our suggestions will work best for each individual or business, so consider your unique needs when choosing products and services.