QuickBooks Credit Card Processing Review 2023
QuickBooks Payment's processing fees are a little pricey, but if you already love Intuit, it's worth taking a look at its services.
Data effective 12/19/22. At publishing time, pricing is current but subject to change. Offers may not be available in all areas.
QuickBooks has put together a decent set of features for business owners who need to process credit cards. While there are some significant weaknesses in its offerings, one positive is that QuickBooks Payments is available free to any existing QuickBooks user.
That said, we're going to recommend right out of the gate that if you aren't using one of QuickBooks' other services already, then QuickBooks Payments probably isn't the best option for you.
QuickBooks Payments is best for infrequent and low-volume processing
If you have a QuickBooks account and need to take a credit card or ACH payment every now and again, it's totally worth using Payments. An account is free so you can download its app or access its desktop terminal and start taking payments immediately—but only if you have a QuickBooks Online account.
Unfortunately, you can't start using QuickBooks Payments unless you already have a QuickBooks Online account. These accounts start at $30 per month and make sense to have only if you plan on using QuickBooks to track expenses.
If you plan on using QuickBooks only to accept payments, the $30 per month minimum price tag and QuickBooks' high credit card processing fees make the service a lot less viable.
Processing fees breakdown
Data effective 12/19/22. At publishing time, pricing and features are current but are subject to change. Offers may not be available in all areas.
QuickBooks Payments uses a flat-rate processing model for assessing fees. And while these fees are a bit high compared to some of the other brands we've reviewed, the difference is marginal if you aren't processing a lot of credit card volume.
Compare Quickbooks to top competitors
Data as of 12/19/22. Offers and availability may vary by location and are subject to change. 
Ways you can (and can't) get paid with QuickBooks Payments
This is where Payments begins to feel a bit more like a QuickBooks add-on and less like a fully-featured processing solution.
Essential processing features
| | |
| --- | --- |
| Essential feature | Included? |
| In-store terminal | |
| Mobile terminal | |
| Digital terminal | |
| Online API | |
| Rewards program | |
| Inventory management | |
| Restaurant tools | |
| Team management | |
Payments offers a number of ways to get paid:
Online via invoices or ACH transfers
By phone using a mobile app that allows you to take keyed payments
On the go with its free mobile card reader
With recurring payments
On your website via an ecommerce platform
Each of these payment methods is great, but there's one glaring omission: an in-store terminal.
There's nothing on the site about purchasing a terminal through QuickBooks or about reprogramming existing equipment. This means if you already have an infrastructure of simple terminals or terminals with point-of-sale features, QuickBooks Payments won't be able to integrate well into your existing infrastructure.
Here's where things get a little confusing. While you may not be able to use QuickBooks as your processor, QuickBooks actually does integrate with a number of point-of-sale solutions—for bookkeeping.
If you have an account with, say, Square, your processing system can integrate with QuickBooks for bookkeeping. Actually, over 50 of the most popular POS systems integrate with QuickBooks bookkeeping.
Bookkeeping is, of course, different from payments. But if you have a QuickBooks account, you could integrate that account with a different payment processing solution that offers a more complete set of processing features.
Robust ecommerce integrations
While you can't process credit cards through QuickBooks on a point-of-sale system, you can for ecommerce. If you open an online store through BigCommerce, Shopify, UltraCart, or WooCommerce, you can use QuickBooks as your payment processor.
QuickBooks Payments offers two different pricing structures for accepting online payments through ecommerce stores:
Online processing fees breakdown
| | | | |
| --- | --- | --- | --- |
| Fees | Pay as you go | Pay monthly | Sign up |
| Monthly fee | None | $20.00 | Get Started |
| Swiped rate | 2.4% + $0.30 | 1.6 + $0.30% | Get Started |
| Keyed rate | 3.5% + $0.30 | 3.3% + $0.30 | Get Started |
Data effective 8/4/22. At publishing time, pricing and features are current but are subject to change. Offers may not be available in all areas.
The pricing with the monthly fee is a little better and could be worthwhile if you plan on doing a lot of ecommerce processing.
In addition to lacking terminals, QuickBooks Payments lacks a few fairly important processing features:
Analytics and processing reports
Online customizable processing API
Rewards programs
These features are a crucial part of many of our top payment processing providers. Analytics, for example, offer businesses a way of tracking their processing progress and making data-driven decisions on how to grow their businesses. These kinds of reports are a staple among most processors but are not offered as part of QuickBooks Payments.
That said, QuickBooks Payments integrates seamlessly with other QuickBooks services, which can be useful if you're familiar with the platform already.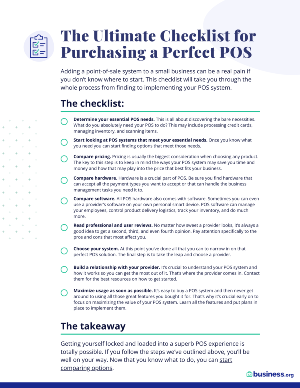 Follow these steps to purchase the perfect POS system
Read our free ultimate checklist for finding the right POS for your business. Don't get saddled with the wrong system. Enter your email and the checklist will arrive promptly.
Is QuickBooks Payments right for you?
QuickBooks Payments is a great way to accept a credit card once in a while if you're already paying for bookkeeping services. Unfortunately, its high prices and missing features make it a poor fit for most businesses.
The only exception is if you use QuickBooks Payments for an ecommerce store and pay the monthly fee: you may save some money on processing costs if you have decent sales volume. But even the better ecommerce rates with monthly payments still come with a relatively high 30¢ per-transaction fee.
QuickBooks Payments is not for everyone—certainly not if you don't already have a QuickBooks account. If you're looking into or already using QuickBooks for bookkeeping, QuickBooks Payments might be an easy solution for you.
That said, QuickBooks' rates are pretty high and its suite of features is pretty sparse, so if you need to do a lot of processing, you're better off looking elsewhere.
And where better to look than our picks for the best processing providers or the largest credit card processors? We'll help you find a processing provider that integrates perfectly with your small business.
We took a detailed look at Quickbooks, analyzing its features, pricing structure, and reliability. We compared it to other top brands in the processing sphere looking for specific features that set it apart from its competitors. We also consulted hundreds of user reviews and expert opinions. 
Disclaimer
At Business.org, our research is meant to offer general product and service recommendations. We don't guarantee that our suggestions will work best for each individual or business, so consider your unique needs when choosing products and services.