Largest Credit Card Processors
Credit card processing began around 1950.1 That was 70 years ago, and since then, the popularity of paying with plastic has risen consistently. With that rise has come the growth of processing companies across the US.
These days, new processing startups pop up every year. Competition for processing clients is fierce, but there are a few older companies still holding on to the bulk of processing clients.
What is credit card processing?
Credit card processing is the end of the line for securing payment from customers. After they have made a credit card payment in your store, there are a lot behind the scenes processes to ensure you get your money.
It starts when a customer applies—and is approved—for a credit or debit card from an issuing bank. With those funds, they make a purchase at your business. Sometimes you will need a payment gateway to link the transaction to the payment process, other times the two are already linked.
The payment processor is the final step. They handle the transactions and move them through processing, allowing you to receive money from the customer. The processor does a lot of important work, which is why you want to make sure you're working with one that values your business.
Largest payment processors in the US
Largest credit card processors
| | | |
| --- | --- | --- |
| Processing company | Year founded | Total transactions processed (in billions)2 |
| J.P. Morgan Chase Bank | 1799 | 31.8 |
| FIS | 1968 | 31.0 |
| Fiserv | 1971 | 27.2 |
| Global Payments | 2000 | 10.7 |
| Wells Fargo | 1852 | 9.3 |
| Bank of America | 1969 | 8.5 |
| Elavon | 1991 | 3.1 |
It's interesting to note that every company on that list is 20+ years old. Even Global, the youngest of the bunch, was founded by a much older parent company—The National Data Corporation, which was founded in 1967.
Time definitely has a profound impact on the success of a processing company. But with so many old-school players filling the roster, what does the future of more modern competitors look like? We'll get into that later.
First, we found another interesting data set. Traditionally, Visa and Mastercard have been the two most influential providers of credit cards. But many competitors like American Express have made a splash. This next set of data focuses on these secondary card providers—American Express, Discover, Diners Club, UnionPay, and JCB credit card purchases. These are the companies with the highest combined transaction volume from these secondary card providers.
Purchase volume of secondary credit card transactions in 2020
| | |
| --- | --- |
| Processing company | Transaction volume (in billions of dollars)3 |
| J.P. Morgan Chase | $168.41 |
| FIS | $123.93 |
| Bank of America | $90.55 |
| Elavon | $51.13 |
| Global Payments | $12.44 |
| Wells Fargo | $43.47 |
| First Data | $43.23 |
| PNC | $12.44 |
| Intuit | $9.85 |
| Priority Payment Systems | $7.96 |
| Paysafe | $7.65 |
| EVO Payments | $6.47 |
As you can see, many of the same names from the previous table pop up on this list. It seems the older processors have something of a dynasty in the processing space. But that dynasty could be disrupted.
Growth of modern processing solutions
Square is a titan of modern credit card processing. It was founded in 2009 and has seen year-over-year growth ever since. In our reviews, we often praise Square for its ease of use and low entry barrier for small businesses.
Companies like First Data are struggling to keep up with the processing innovations of companies like Square. That said, the merger between First Data and Fiserv may prove to be what First Data needs to modernize its processing offering.
So the question then becomes, Are companies like Square the future of payment processing, or are they merely motivating larger companies to update their services? Only time will tell. For now, however, we've found that generally newer, more focused processing companies are a better fit for small businesses.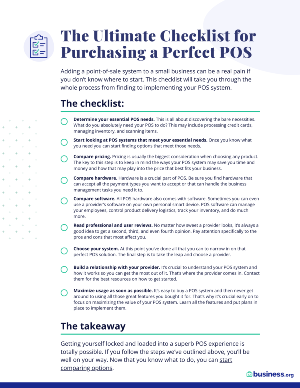 Follow these steps to purchase the perfect POS system
Read our free ultimate checklist for finding the right POS for your business. Don't get saddled with the wrong system. Enter your email and the checklist will arrive promptly.
Which credit card processing company is best for small businesses?
In our research and reviews, we've found that the best processing companies for small businesses are those actually built for small businesses. You want a credit card processor that fits your business needs as a merchant.
Larger payment processing companies tend to focus their services on enterprise-level processing. Also, corporate clients are much more valuable to large processing companies than small-business clients.
That's why we tend to recommend companies like Payment Depot or Stax for small businesses. These brands get great customer service ratings from small businesses, and their pricing and fee structures are much more accommodating for smaller businesses. They are payment processors that focus on merchant services so you don't have to.
Top 5 processing companies for small businesses
While we're talking about payment processor companies that are great for small businesses, here's a little roundup of some of our favorite processors on the market today. (Click on the brand name to see a more detailed review.)
Best credit card processing companies
| | | | | |
| --- | --- | --- | --- | --- |
| Brand | Processing fee per transaction (swiped) | Processing fee per transaction (keyed) | Basic monthly fee | Learn more |
| | Interchange + $0.10 | Interchange + $0.10 | $59.00 | See Plans |
| | 2.6% + $0.10 | 3.5% + $0.15 | $0.00 | See Plans |
| | Interchange only | Interchange only | $99.00 | See Plans |
| | Interchange + 0.20% + $0.11 | Interchange + 0.20% + $0.11 | $25.00 | See Plans |
| | 2.9% + $0.30 | 2.9% + $0.30 | $0.00 | See Plans |
Data as of 08/02/22. Offers and availability may vary by location and are subject to change.
The largest payment processors in the United States tend to be older companies that have been processing cards for decades. But disruption in the financial technology sector has led to the rise of companies like Square and Stax: companies whose services are designed around the needs of small businesses rather than larger corporate clients.
Overall, we tend to recommend smaller, more modern processing solutions for small businesses. This is subject to change, though, as many of these larger companies are taking note of the disruption and trying to adjust their services to be more small-business-friendly.
If you're looking for a good place to start comparing processing companies, look no further than our recommendations of the best processing companies.
Disclaimer
At Business.org, our research is meant to offer general product and service recommendations. We don't guarantee that our suggestions will work best for each individual or business, so consider your unique needs when choosing products and services.
Sources
1. Jason Steele, Experian, "The History of Credit Cards," March 2018. Accessed August 2, 2022.
2. Nilson Report, "Top Acquirers in the US," March 2022. Accessed August 2, 2022.
3. Nilson Report, "Top U.S. Merchant Acquirers," March 2020. Accessed August 2, 2022.