3 Tips to Find the Best Merchant Service Provider
Finding a merchant service provider (MSP) can be a complicated and overwhelming process. Whether your small business is new to credit card processing or looking for a more comprehensive MSP solution, finding the right provider can create a seamless transaction experience between your business and customers. And improving your customer's experience adds up to more transactions and more money to your bottom line.
But with so many MSP options available, how can you determine which provider is right for your small business? Below we offer our top three tips to help you find the best MSP.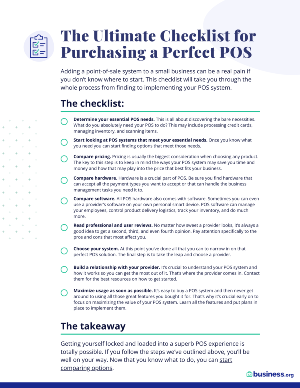 Follow these steps to purchase the perfect POS system
Read our free ultimate checklist for finding the right POS for your business. Don't get saddled with the wrong system. Enter your email and the checklist will arrive promptly.
1. Know if the MSP offers a designated account
Not every payment provider offers its merchants a designated merchant account. For example, with some providers, like Square, business owners don't have an individual merchant ID (MID). Instead, business owners share one master merchant account that belongs to their payment processor. Generally speaking, merchant accounts are for established businesses that require a more comprehensive solution.
Whether you want to sign up with an MSP that offers a designated merchant account for your business or with one that doesn't, simply depends on your business needs and personal preferences. There are pros and cons to each option.
Selecting an MSP that doesn't offer a full-service merchant account is usually faster to sign up with at the beginning, since they don't generally do any underwriting or credit checks upfront. But not having your own merchant account comes with some drawbacks that you should consider.
One of these drawbacks is the potential for holds to be placed on your funds. If a provider doesn't adequately scope out your business during the application process, the provider is more likely to freeze your account as soon as it sees something out of the ordinary. You can be at the mercy of your payment provider when this happens, and it may take weeks to receive funds. 
If you have a merchant account, an incident like this can usually be solved with a simple phone call. The MSP might even proactively reach out to you to confirm transaction details and resolve concerns before they become an issue for your business.
Payment providers that offer merchants their own merchant accounts are typically more directly involved with their merchants, and offer dedicated customer support services whenever their merchants need it. Unfortunately when it comes to payment providers that don't offer merchant accounts, the opposite is usually true, and merchants can have a hard time getting in touch with an actual person.
In short, it may require slightly more information upfront or costs overall to have your own dedicated merchant account, but your business will benefit from its verified status.
Best Credit Card Processing for Small Businesses
2. Ask the right questions
If you're new to accepting credit cards, it's important to know what you should be looking for when choosing a merchant service provider.
Alternatively, if you already have a merchant account, you may wonder if you're getting the most out of your relationship with your MSP. If you think you might be paying too much in fees or you don't understand your contract, you may want to consider switching.
To find the best MSP for your business, start by asking these five key questions:
What are the contract terms and conditions?
Many merchant service providers have lengthy contracts that are difficult or impossible to escape (watch out for these!). Ask your current or prospective provider how long your contract is, what happens if you want to end the contract early, and what you need to do to cancel the contract when the term is up.
What is the real processing fee?
Sometimes, payment processors will advertise a certain processing fee, only to put in the contract's fine print that the fee can be increased after a designated time frame. If the rate sounds too good to be true, it probably is.
Are there any additional fees or charges that I should be aware of?
Many MSPs will charge merchants fees for signing up, cancelling, monthly minimums, and payment card industry (PCI) compliance. These are unnecessary fees that just add to your monthly cost.
If I have a problem, how can I get help?
Some MSPs have dedicated in-house customer service teams to address your concerns on the spot. Others have no customer service at all. Make sure you know whether your MSP offers customer service support.
What software or integrations do you offer?
Software integrations (like Quickbooks, for example) can make running your business easier. While they might not be a deal breaker, software integrations are certainly a nice bonus.
3. Make sure it has the tools you need
Luckily with today's technology, businesses of all sizes are now able to access powerful tools that once were only available to large enterprises with sizable budgets.
Perhaps while initially starting out, you may have just needed to accept card payments, but as your business grows there are a whole host of options available to you. Signing up with an MSP that offers a merchant account can save you time and provide your customers with a simple and expedient payment experience. Some tools you may want to look out for are:
Virtual terminal. This feature lets you accept payments over the phone or via a mobile app.
Online payment pages or an online store. Some payment processors offer web hosting to help your business accept payments online.
Online invoicing. Invoicing via email and text that gives your customers the ability to pay in a single click is an ultra-convenient payment tool offered by some MSPs.
Credit card vault. Secure credit card information storage for recurring billing is vitally important for businesses. Some MSPs will securely store this information for you, so you can stay compliant and not have to worry about security issues.
At the end of the day, be aware of what you're getting from your merchant service provider in return for paying for its service. And remember, every business has different needs—make sure you ask the right questions, understand the contracts and fee structures, and have all the tools you need to service your customers effectively.
Disclaimer
At Business.org, our research is meant to offer general product and service recommendations. We don't guarantee that our suggestions will work best for each individual or business, so consider your unique needs when choosing products and services.