How Does Credit Card Processing Work?
Credit and debit cards are a popular payment method for in-store purchases and a necessity for online purchases. Because of this, it's crucial for most, if not all, business owners to accept cards.
Luckily, it's pretty easy to start accepting cards these days. You can order a free card reader from Square, plug it into your phone, download the app, and swipe away. But when your money is deposited into your account, you may notice a couple of bucks have been skimmed off the top.
That money is the cost of accepting credit cards. In this article, we'll break down where that cost comes from and why it's an essential part of accepting credit cards. In addition, we'll dive into the important facts and concepts you need to know to make an educated decision about which credit card processing solution is right for you.
What processing companies do
Accepting credit card payments would be really complicated if you had to do it all by yourself. You'd have to develop a legally compliant network that authorizes payments through a number of different credit card providers.
That's why credit card processing companies exist.Their job is to make it easy for you to accept cards and get paid. Processing companies build relationships and digital networks with credit card companies to simplify card processing for their clients.
Each credit card company charges a different flat fee for processing transactions. This fee is called an interchange fee. It's your credit card processor's job to cover the various interchange costs from all the credit card providers.
In addition, processing companies ensure that payments are secure and compliant with government regulations, updating their networks and processes as new regulations are passed. It's too much for any small business to handle, and most businesses, even large companies, enlist the help of a processing company.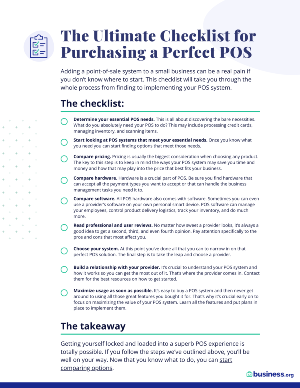 Follow these steps to purchase the perfect POS system
Read our free ultimate checklist for finding the right POS for your business. Don't get saddled with the wrong system. Enter your email and the checklist will arrive promptly.
Credit card processing fees
There are a number of costs associated with processing credit cards. Let's take a look at what they are and how they can help you choose a credit card processing brand.
Interchange fees vs. processing fees
As mentioned before, interchange fees are fees charged by the credit card companies for processing transactions. These fees are usually paid to the credit card companies by a credit card processing company.
The average interchange rate for a credit card is about 1.8%. Debit cards are lower at around 0.3%. That said, the interchange fees vary from card to card. And each processing company has its own way of factoring interchange rates into its total processing fee.
Square, for example, charges a flat rate of 2.6% + 10¢ per transaction. That flat rate is the total processing fee for any transaction, and it covers both the interchange fees and the cut for Square for providing the platform and service. Despite the fact that interchange fees are different depending on the card provider, Square charges the same flat rate for every transaction. Flat-rate fees are more predictable, which makes it easy to plan financially, though they often cost more.
But some credit card companies factor interchange rates into their cut for every transaction. This pricing model is called interchange-plus pricing. Take National Processing. It charges interchange cost + 0.15% + 7¢ per transaction, so the processing fee for each transaction will vary, unlike Square's flat-rate fee. Interchange-plus pricing can often save businesses money but makes monthly statements a bit more complicated because each individual interchange rate is spelled out.
Some credit card processors who don't skim a lot of money from transactions will shift their cost liability into a monthly fee. Because interchange-plus pricing is usually cheaper than flat-rate pricing, companies who use the interchange-plus pricing model are more likely to charge a monthly fee.
There are a couple of extra fees you should be aware of. Some processing companies will be up front about extra fees, but others may not. So be sure to seek service recommendations from a reputable source or directly ask the processor about these fees:
Cancellation fees. To lock you into a long contract, processing companies may charge you for canceling a plan early. But not all cancellation fees are a bad thing as long as the sum is reasonable.
Chargeback fees. Some processing companies charge a chargeback fee whenever a charge is disputed.
Hidden fees. Occasionally, credit card processors will have fees hidden in the fine print of their contracts. So be sure to carefully review any and all paperwork before you sign.
Compliance fees. Some processing companies charge for keeping your payments API compliant. Processors like Square bake this cost into their flat-rate transaction fee, but others will charge a separate fee.
Not all fees are bad, but make sure you know everything a service will charge so you can accurately calculate your sales projections to really see if a certain processing company is going to save you money.
Key credit card processing features
When you're deciding between credit card processing companies, it can be hard to parse what features you might need for your business. Here's everything you need to know.
Businesses that get a lot of chargebacks can take a serious financial hit, especially if your processing company charges you extra every time you get a chargeback. Chargebacks happen when a buyer disputes a charge and claims that they were fraudulently billed. Unfortunately, the burden of proof falls squarely on the shoulders of the business owner.
Be sure you know your processing company's chargeback policies and practices. Stripe, for example, offers chargeback protection and a number of security measures that help protect against the possibility of fraudulent chargebacks. With Stripe, you don't even have to file evidence when subscribed to their chargeback protection program—they'll handle the dispute for you.
Other companies may notify you of chargebacks and give you a portal to submit evidence that the chargeback is fraudulent. Some may only alert you of chargebacks, leaving all the handling in your hands.
Also note that many processing companies won't charge extra if you get hit with a chargeback, but some will. Chargebacks happen most often with online purchases, so processing companies that specialize in online sales, like Square and Stripe, usually have a better chargeback policy than companies that offer mostly in-store or mobile processing solutions.
Multi-platform processing
Where and how do you need to accept cards? Someone offering video coaching online is going to process cards differently than a food truck owner. And there are many ways to accept credit card payments:
Swipes, dips, and taps on a store terminal
Mobile card acceptance through phone or tablet hardware
Keyed-in payments over the phone
Single or repeating invoices
Online store charges
Online subscription charges
Your business may have very specific payment acceptance needs. For example, maybe you own a pizza shop that offers delivery, table service, and online pickup orders. You'll probably need an in-store terminal, a mobile phone terminal, and an online processing portal. So you'll need to find a processing company that best fits those needs.
Certain companies specialize in one platform. Stripe, for example, specializes in online payments. But Stripe also offers an in-person processing option that, while not as fully featured as Square's suite of point-of-sale tools, can make it possible for you to accept a low volume of in-person payments.
There's surprisingly a lot you can do at the point of sale:
Track inventory
Offer rewards programs
Manage employees
Collect and aggregate shopping data
If any of these features appeal to you, you may want to look for a processing company that either offers the point-of-sale (POS) features you want or integrates with the POS system you're currently using.
Stax's processing platform, for example, is designed to integrate with 90% of today's POS systems. Square, on the other hand, offers both processing and POS features.
For in-store and mobile purchases, you'll need a terminal of some kind. Each processing company has its own terminal for sale, and it's usually a good idea to buy terminals from the processing company because they'll come preprogrammed to work with their software.
If you have your own fleet of terminals already, it may be best to find a processing company that will integrate your technology into a new payment processing system. But be aware that some processing companies require you to use only their terminals and offer no third-party compatibility, so be sure you talk about terminal compatibility with your prospective processing provider if you plan to integrate your own hardware.
Sales flow customizability
When it comes to the actual payment process, many processing companies offer a sort of plug-and-play solution: you have to use their online interface or their generic processing screen during the transaction. Other companies let you customize and brand the sales experience a little more.
Stripe, for example, offers a fully customizable online processing flow. You can collect information, offer rewards sign-ups, and adjust the overall structure and design of your payment portal using their fully programmable API.
So if you want a more branded and focused payment experience, keep an eye out for customized processing as you research different brands.
What is an API?
API stands for application programming interface. APIs are what programmers use to connect apps to websites. Payment processing APIs allow your programmer to connect a payment processor to your website. Using an API to add a payment processor to your website will require programming experience.
Credit card processing FAQs
How long does it take for a credit card transaction to go through?
Transactions are pretty instantaneous. Consider how long it takes for transactions at places you shop to go through. The only things that can get in the way of a transaction going through are declined cards and technical or connection errors.
How long do I have to wait to get my money from transactions?
Some credit card processing companies will set you up with a merchant account. If you own the merchant account, you'll usually get your money as transactions are processed. But the main drawback of owning a merchant account yourself is that you'll have to worry about PCI compliance.
The processing company setting up your merchant account can tell you how to manage your account and stay compliant—they may even take care of it for you—but generally, it's a little more of a headache for you.
Other companies, like Square, consolidate all the transactions into their own large merchant account and then send payments to you in a given period of time—usually one to three days at most. Some less reliable credit card processing companies may hold on to your money for a long time, so be sure you know the company policy before you sign up.
Not every holdup is bad, however, as sometimes the processing company needs to investigate certain charges to help avoid fraud.
Credit card processing is complicated. That's why most small businesses hire another company to take care of it for them. These processing companies move money where it needs to go whenever a transaction occurs.
If you plan on accepting credit cards, the trickiest part of the whole deal is figuring out the best processing features for your small business. These features range from protecting you from chargebacks and allowing you to make a customizable payment processor online.
When you have an idea of the kinds of features you want to look for, the final step is just to find a company with the right features at a decent price.
If you're ready to start the hunt for the best processing company, we recently reviewed the top credit card processing brands on the market.