First Data provides a full suite of credit card processing functionality, offering point-of-sale and mobile payment features in a simple package. So what's the problem? It doesn't share its prices.
Data effective 11/30/21. At publishing time, pricing is current but subject to change. Offers may not be available in all areas.
Last Updated: several months ago
We revised and updated our First Data review with the latest pricing and plan information for 2022. First Data is now fully converted to Fiserv, so we are planning a larger overhaul of this review later next year.
Updated: several months ago
We revised and updated our First Data review with the latest pricing and plan information for 2021.
Heads up: First Data is now Fiserv
Fiserv acquired First Data in January of 2020 and there is no longer an official branded First Data website.
Founded in 1971, First Data is one of the most seasoned processing companies in the business. First Data has been refining its services over the years and has added many modern innovations. But there are a few quirks in First Data's processing practices that may or may not be a good fit for every business. The first is how their pricing works.
Where is the pricing information?
First Data gives custom rates to every business it works with. The only way to find out exact pricing and terms for its services is to call a First Data sales representative and get a quote for your business. It's a smart plan to go into the sales call with a good idea about what other rates are available to you so you can negotiate for the best possible rates.
We scoured every inch of First Data's website looking for more specific information regarding the cost of its processing services and could find only a single statement that says, "pay the same low rates for all cards, including AMEX and rewards cards."
We couldn't find any info about transaction costs, equipment costs, or monthly fees. The only way to find out exact pricing and terms for its services is to call a First Data sales representative and get a quote for your business.
What exactly does First Data offer?
Unfortunately, this is also a tricky question to answer. First Data's website doesn't really give a whole lot of information about what it offers as a payment processor. Its website mostly focuses on Clover terminals. First Data owns Clover, which is why its payment processing utilizes Clover features so heavily.
First Data also offers simpler processing machines like the FD35 PIN Pad. Its site doesn't say anything about integrating existing hardware terminals with their processing software, so we can't say if First Data will be willing to integrate your current hardware with their processing.
All we know for sure is that if you sign up with First Data, you'll get a custom rate and a sales pitch for a Clover terminal. We don't know if you have to pay for the terminal outright or in payments or if you get a free terminal when you sign up.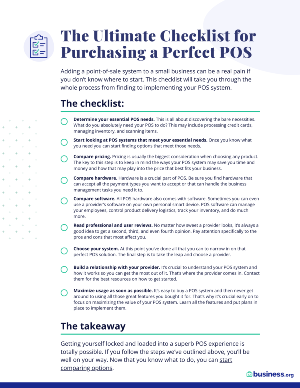 Follow these steps to purchase the perfect POS system
Read our free ultimate checklist for finding the right POS for your business. Don't get saddled with the wrong system. Enter your email and the checklist will arrive promptly.
First Data has completely built its services to integrate with the Clover line of terminals. These terminals are well-liked by businesses due to their full suite of point-of-sale features:
Swipe, dip, and tap capabilities for credit, EBT, EMV, PIN debit cards, gift cards, and many NFC payment types
Solid security features including fingerprint login and built-in encryption
Customer-facing display with email sign-up prompts
Sales monitoring and inventory management
Customer insight and tracking data
Rewards programs
Third-party integrations with apps like Yelp, Mailchimp, and QuickBooks
Clover terminals can do almost anything you may need for your storefront or mobile business. With Clover Go, for example, you can take payments anywhere using a portable reader that fits in your pocket. There are also more premium Clover machines with a wider array of features.
Full Data offers the full line of Clover's point-of-sale terminals:
Clover Station Pro
Clover Station
Clover Mini
Clover Flex
Clover Go
Clover products have a reputation for being sleek and easy to use. They're a perfect hassle-free terminal for small businesses that need to accept most payment types and want extra point-of-sale features.
Best Credit Card Processing for Small Businesses
Because First Data relies heavily on Clover for its services, most of the features available to your business come straight from your terminal or from a Clover-based service.
Clover Security encrypts and tokenizes cardholder data to make your transactions significantly more secure. Clover's security features also reduce your liabilities in the case of a data breach with a liability waiver.
Security is also a huge part of PCI compliance. Clover security takes some of the burdens of PCI compliance off your shoulders, making it easier for you to take legal payments.
Clover Rewards is a customer loyalty program that lets you build point- or punch-based systems to reward your customers for purchases and visits. With Clover Rewards, you can save customers in your system, making it easy to build customer relationships and loyalty.
This software also provides a powerful way to track your customers. You can see which rewards are the most popular and how your rewards affect visit frequency and purchase volume.
Main Street Insights, formerly Clover Insights, is an analytics platform that gives you access to a ton of data about your business and customers, making it easier for you to optimize your small business.
You can see the spending patterns of individual customers and seasonal patterns. You can also segment your customers to break your data down even further into actionable insights.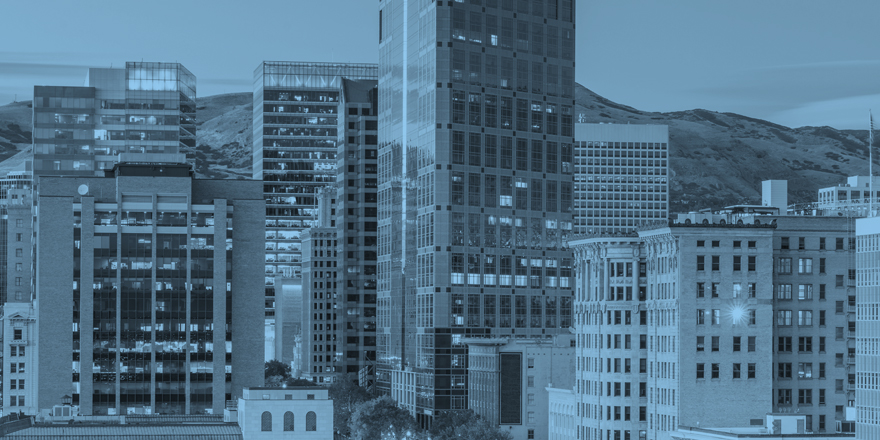 Ready to start accepting credit cards?
Square lets you get started for free. The account is free, the app is free, and your first mobile card reader is free. You simply pay as you process.
First Data offers online payment integration through Payeezy. But to set up an online payment processor using Payeezy, you'll either have to have some programming experience or access to a programmer.
And according to user reviews, businesses who use Payeezy to take online payments have to pay an extra fee every month. If you need payment processing for your online store but you don't want all the hassle of programming or don't necessarily like being tied to a monthly payment, there are other options available.
Square, for example, let's users set up their own online shop for free—only paying processing fees whenever they make a sale.
We scoured user reviews to see what other business owners are saying about First Data. On most review sites First Data scores reasonably well:
Trustpilot: 3.9/5 from 544 user reviews
Better Business Bureau: 3.2/5 from 289 user reviews
But a number of reviewers complain about salespeople making them false promises, especially when it comes to contract terms.
Also, some reviewers said they were told their contract lasted a certain period of time and it ended up being much longer than anticipated. Their advice: make sure you read the contract before signing up. One reviewer had a contract issue where he claimed that First Data required him to either pay a hefty termination sum or continue paying a monthly fee for two years longer than he'd thought his contract lasted.
Despite the negative reviews, however, a number of people had a lot of good to say about First Data's business practices. In all our searching, we didn't find anything negative about its processing costs, which leads us to believe its pricing terms may be fair. In fact, a number of reviewers said they saved a lot of money by switching to First Data.
Other positive reviews raved about the simplicity of the system and the solid customer service. So despite a few concerning reviews, First Data seems to have a lot of happy clients. And that probably has to do with the great hardware they provide.
Is First Data right for your business?
With so little information available about how its contracts and pricing work, we're unable to make a recommendation for whether you should or shouldn't give First Data a go. Instead, we can only recommend that you give them a call, get your personalized rates, read their contract carefully, and then decide if First Data is right for you.
There are enough positive user reviews recommending First Data for its low rates and solid customer service that making a call to get your custom rate is probably worth your time.
First Data offers a lot of really great features on paper. They offer top-of-the-line Clover terminals that come bundled with a huge suite of features and third-party integrations. There's also the possibility that you might get lower rates.
You will have to go through a salesperson to get specific information on rates, but they'll be tailored to your business. Where most processing companies require a certain amount of monthly processing volume in order to create a custom rate, First Data offers one to all clients who simply pick up the phone and make a call.
Disclaimer
At Business.org, our research is meant to offer general product and service recommendations. We don't guarantee that our suggestions will work best for each individual or business, so consider your unique needs when choosing products and services.