Cheapest Credit Card Processing for Small Business
Are you on the lookout for the cheapest processing solution around? Then you've come to the right place. But finding the cheapest solution isn't quite as easy as going with a brand that has the lowest processing rates.
Data effective 8/18/21. At publishing time, pricing and features are current but are subject to change. Offers may not be available in all areas.
Last Updated: several months ago
We updated all plan and pricing information. Additionally, we expanded our frequently asked questions section. 
There are two main things small businesses look for in processing providers: functionality and savings. We'll walk you through the top brands to help you find the cheapest credit card processing solution with the functionalities you need to run your business efficiently.
Cheapest credit card processors
:

Best overall

:

Best for starting out

:

Best point-of-sale integration

:

Most flexible contract

:

Best for global sales
The cheapest credit card processing for small business
| | | | | |
| --- | --- | --- | --- | --- |
| Brand | Processing fee per transaction (swiped) | Processing fee per transaction (keyed) | Basic Monthly fee | Learn more |
| | Interchange + 15¢ | Interchange + 15¢ | $79.00 | See Plans |
| | 2.6% + 10¢ | 3.5% + 15¢ | $0.00 | See Plans |
| | Interchange + 8¢ | Interchange + 15¢ | $99.0 | See Plans |
| | Interchange + 0.15% + 7¢ | Interchange + 0.30% + $0.10 | $20.00 | See Plans |
| | 2.7% + 5¢ | 2.9% + 30¢ | $0.00 | See Plans |
Data effective 8/18/21. At publishing time, pricing and features are current but are subject to change. Offers may not be available in all areas.
Interchange
Interchange refers to the fees assessed by the credit card company every time a transaction is made. Processing providers pay these fees to credit card companies on your behalf and you pay the processing company for its services.
Payment Depot: Best overall
It's no secret that we love Payment Depot here at Business.org. Its transparent processing fees and intuitive plan structure make it easy for your business to save money. To see how its service works, let's look at its pricing model in greater detail.
| | | | |
| --- | --- | --- | --- |
| Plans | Starter | Most Popular | Enterprise |
| Monthly fee | $79.00 | $99.00 | $199.00 |
| Monthly processing limit | $50,000.00 | $150,000.00 | $300,000.00+ |
| Transaction fees | Interchange + 15¢ | Interchange + 10¢ | Interchange + 7¢ |
Data effective 8/18/21. At publishing time, pricing is current but is subject to change. Offers may not be available in all areas.
This pricing structure is the secret to how Payment Depot can save you money. Not only are Payment Depot's rates the lowest of any provider we've ever reviewed, but they also decrease as your sales volume increases. So as your company grows, your rates improve and your savings pile up.
Payment Depot also offers every essential feature we look for in a top-notch processing provider. You can use a full suite of point-of-sale (POS) features with its Clover terminal integration—if you choose the Most Popular plan or higher, you'll get a free mobile card reader and a free standard terminal.
Plus, you can take keyed payments and online payments with Payment Depot, making it easy for you to get paid no matter where you sell your products and services.
On top of all that, you can request a free two-month trial to see if its services work for you. If they don't, you can cancel for free and only pay to ship back any free terminals that came with your plan.
Really, it's a no-brainer to give this company a try if you have consistent processing needs.
Square: Best for starting out
Data effective 8/18/21. At publishing time, pricing and features are current but are subject to change. Offers may not be available in all areas.
Square is a force to be reckoned with in the small-business processing sphere. It'll send you a free card reader, help you set up a free account, and give you access to top-quality point-of-sale features without you having to spend a single cent.
This is because Square uses a flat-rate pricing structure for their credit card processing. Their fee is 2.6% + 10¢ per transaction. This is a more expensive fee per swipe than Payment Depot, but that's because Square bakes all its costs into the credit card processing fee instead of charging a monthly fee.
This is great for businesses with erratic or infrequent processing needs because you never have to pay a monthly fee during the months you don't make any sales. You only pay when you sell.
But no matter when you make a sale, you'll have constant access to a suite of solid features:
Customer relationship management
Reporting and analytics
Inventory management
Hardware for secure payments
You can't really beat what Square offers you at no up-front cost. That's why we recommend Square as a starting place. If you're unsure about whether you'll be processing at good volume in three months or you just want to try credit card processing in your business for the first time, Square is the place to start.
You can stop using Square's services at any time without a cancellation fee or any hassle. There are no contracts and no monthly fees, so you have the freedom to switch providers whenever you want.
Stax: Best for POS integration
Data effective 8/18/21. At publishing time, pricing and features are current but are subject to change. Offers may not be available in all areas.
Stax (formerly Fattmerchant) uses a similar pricing model to Payment Depot. It's transparent, cheap, and only a little more expensive than what Payment Depot offers. But what Payment Depot doesn't offer that makes Stax so special is easy point-of-sale (POS) integration.
Stax integrates with 90% of third-party POS systems, including a number of very popular brands:
If your business is currently using a point-of-sale system and you're looking for a way to save on processing costs, Stax is a fantastic option.
Additionally, Stax offers a number of tools for web developers to integrate processing features into your website. If you need a custom processing portal on your site, Stax API can help you get there.
What is an API?
API stands for application programming interface. In credit card processing, these interfaces make it easy for programmers to connect a payment processor to your website. That said, it takes programming or web development skills to use an API.
So if you need a custom online payment portal or a way to keep your current POS system, Stax will not only make that possible but also save you money in processing costs.
Dharma Merchant Services: Most flexible contract
Data effective 8/18/21. At publishing time, pricing and features are current but are subject to change. Offers may not be available in all areas.
Do you want the benefits of low rates without having to pay a monthly fee during the months you're not processing any credit cards? Dharma Merchant Services may be a good bet for you because it offers free account freezing to its clients.
Account freezing is essential when you own a seasonal business. Maybe you operate a haunted house that runs in only September, October, and the beginning of November. Or perhaps you own a ski resort that needs to accept payments only during the winter months. It doesn't make sense for businesses like these to pay a fee on the months they aren't accepting cards.
That's why Dharma allows businesses to freeze their merchant account for the months when their business isn't operational, saving seasonal businesses money on monthly fees during the off-season.
Bundle that freezing capability with Dharma's cheap interchange-plus pricing and its solid suite of processing features, and it's easy to see why Dharma is one of the cheapest credit card processing options for businesses looking to save on off-season costs.
Stripe: Best for global sales
Data effective 8/18/21. At publishing time, pricing and features are current but are subject to change. Offers may not be available in all areas.
Stripe is the one recommendation on this list that saves you money in only a very specific processing scenario: processing needs that span the globe. So if you advertise and sell your products online in foreign markets, Stripe's payment gateway is worth a look.
However, you'll need access to web development skills or a programmer to make Stripe work for you because it has to be programmed into your website or application. But once you've got Stripe programmed into your digital space, you'll have access to a world-class international network of processing channels that allow you to securely accept payments from anywhere in the world.
Fraud and chargebacks are much more common in foreign countries, so Stripe has built a number of anti-fraud tools into its online API (application programming interface). This is why we recommend processing international online payments using Stripe's payment gateway: it'll protect you from fraudulent charges and chargebacks.
Best of all, you can access all of Stripe's programming tools for free. You could tell your web developer to integrate Stripe into your website today and it wouldn't cost you a dime. Stripe only charges a flat fee when a transaction occurs.
So yeah, Stripe can save you money after all. It's bar-none the best for international online sales processing. If that's what you need, Stripe is the only way to go in our opinion.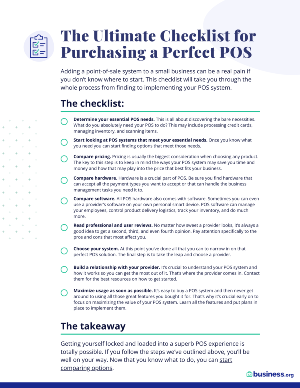 Follow these steps to purchase the perfect POS system
Read our free ultimate checklist for finding the right POS for your business. Don't get saddled with the wrong system. Enter your email and the checklist will arrive promptly.
The key to saving money on processing is finding a competitively priced service that fits your specific business needs. For seasonal businesses, the answer is probably Dharma with their seasonal account freezing. For businesses new to processing or who don't want any up-front costs, the answer is probably Square with their lack of up-front costs and free mobile processor.
Each of our recommended providers offers something unique and useful at a competitive price. Each can potentially save your business money on processing costs. And that's a crucial consideration in today's uncertain business climate.
If you want to dive deeper into the point-of-sale features of some of our providers, you should check out our recommendations for the top point-of-sale providers of 2020.
Cheapest credit card processing FAQ
Shouldn't I just choose the processing solution with the cheapest credit card processing fees?
You could, but honestly, processing fees are just one part of the puzzle—pricing structure is also important to consider. Let us explain with a couple examples.
Maybe you process $150,000 a month in credit card transactions pretty consistently. In that instance, Payment Depot's Best Value plan at $99 per month with interchange + 7¢ will probably be your cheapest option.
But for a business with very little monthly processing volume—maybe they're just getting started—a solution like Square, with its no-cost implementation and pay-as-you-sell flat rate pricing model, will be a cheaper option.
Do I need a programmer to process credit cards online?
No, you don't. Many processing companies offer online processing solutions that require little-to-no programming experience. Square, for example, offers a free online store builder that requires no programming knowledge.
If you need an online store or a processing portal for your customers, be sure to ask your processing provider about any tools they have for integrating online payments into your processing ecosystem.
Yes. Square's website URL reads "squareup.com." This can be confusing for people who are looking for Square and are worried they're on the wrong website. Don't worry, if the url says "squareup," you're in the right place.
What are the lowest payment processing fees?
Depends. Unfortunately, there's not a credit card processing solution that is cheapest for every business. Some credit card processing fees get more cost effective with more processing volume. Others are more cost effective at low processing volumes.
There's also the consideration of what you need from your processing provider. If you need hardware, certain companies will be able to get you that hardware for cheaper. Processors that make their own hardware, for example, like Square, may offer similar features to other hardware at a cheaper price than buying third-party hardware with another processing provider.
What is the lowest cost credit card processing agreement?
Again, it depends. Some processing providers don't even require a long-term contract or agreement. These providers usually charge more in processing fees. Square and Stripe are examples of processors with no monthly fee but a relatively high processing fee.
Companies with a contractual agreement, on the other hand, will often have monthly fees but a lower processing fee. Payment Depot, Stax, and Dharma are examples of this pricing structure.
The agreement that's cheapest for you, therefore, comes down to you factoring your projected transaction volume against the various options available to you. Generally speaking, processors with a low transaction cost and high monthly fees are better for high-volume processing while processors with no monthly fee and a high transaction cost are better at lower volumes.
We reviewed 17 of the top credit card processors and narrowed the field down to five processors that can save small businesses money in useful and unique ways. The processors were chosen and ranked based on their potential to save businesses money and the ubiquity of their unique modes of savings.
Disclaimer
At Business.org, our research is meant to offer general product and service recommendations. We don't guarantee that our suggestions will work best for each individual or business, so consider your unique needs when choosing products and services.