Worldpay is yet another example of a large and old processing company with dated practices. It has made some attempts to modernize by adding more ways to pay and point-of-sale tools, leaving the user wondering: Are the features worth the potential headache?
Last Updated: several months ago
We revised and updated our Worldpay review with the latest pricing and plan information for 2022.
Updated: several months ago
We revised and updated our Worldpay review with the latest pricing and plan information for 2021.
FIS is currently the most successful processing company in the world. Despite its size and the fact that it's been around since 1968, FIS still hasn't gotten small-business processing quite dialed in yet.
FIS's product Worldpay is a usable processing system. It gets the job done and has many features that contemporary businesses have come to expect. What Worldpay lacks, however, is a transparent pricing model, flexible contracts, and decent customer service.
Worldpay is best for big clients
There's really no reason to recommend this brand to small businesses. Worldpay is raking in money every year because it has lots of big clients. Those clients are much more valuable to Worldpay than smaller companies.
There's review after review of small-business clients struggling to get help from Worldpay's customer service team. Some small-business reviewers have been with Worldpay for over a decade and are now sick and tired of dealing with them.
This, to us, is an indication that Worldpay is not well-suited to small-business needs—and that large clients are a priority to them.
Worldpay does not list its pricing information online. The Worldpay website simply has an application for interested business owners. After putting in your information, Worldpay promises to call you within 24 hours.
This call will likely lead to some kind of sales negotiation, which can be good if you're a seasoned negotiator. But it can easily end with an expensive proposed rate for your business—or worse, a good rate with a deceptive contract that comes bundled with unnecessary fees.
And just in case you were wondering, many online reviewers complain about hidden fees. In addition to fee complaints, there are stories of failed attempts to cancel the service. Some say the cancellation fee can be as high as $295.
Unnecessary processing cancellation fees in 2023
In the past, it was common to sign businesses into long contracts and charge sizable cancellation fees to penalize early termination. This practice has since become very dated. Modern processing companies have completely done away with cancellation fees, giving their customers more freedom to cancel should business ever take a turn for the worse.
Compare Worldpay to top competitors
| | | | | |
| --- | --- | --- | --- | --- |
| | Worldpay | Square | Payment Depot | National Processing |
| Processing fees | Pricing not disclosed | 2.6% + $0.10 | Interchange + $0.07 | Interchange + 0.15% + $0.07 |
| Monthly fees | Pricing not disclosed | $0.00 | $99.00 | $10.00 |
| Free mobile reader | No | Yes | No | Yes |
| Inventory management | No | Yes | Yes | Yes |
| Accounting integrations | No | Yes | Yes | Yes |
| Employee management | No | Yes | Yes | Yes |
| Get started | See Plans | See Plans | See Plans | See Plans |
Data as of 11/15/21. Offers and availability may vary by location and are subject to change.
Great security features
Solid overall feature set
Poor service for small businesses
Dated plan and pricing practices
Customer service complaints
Worldpay has just about everything you'd expect from a modern processing company:
POS integrations
Terminal, mobile, and online payment solutions
Performance reports
Dispute manager
Security bundle
Gift card services
We'll go into detail on these features later. One simple observation, though, is that those features make a pretty interesting offering. If Worldpay wasn't so problematic for small businesses, it might actually have a chance for a recommendation from its feature set alone.
Online, small-business owners detest Worldpay's customer service. There are accounts of people being bounced from rep to rep for days without any agent being able to solve the problem. This is especially true when businesses try to cancel. Apparently, Worldpay hasn't made it easy for businesses to stop paying for its services.
As was mentioned in detail above, the plans and pricing of this company are dated and murky. If you can negotiate a good deal for yourself and get the cancellation fees waived (and frankly any other fees that might get tacked onto your contract), you could have a decent processor here.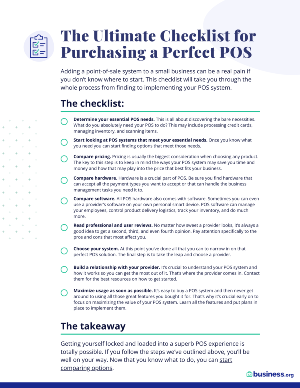 Follow these steps to purchase the perfect POS system
Read our free ultimate checklist for finding the right POS for your business. Don't get saddled with the wrong system. Enter your email and the checklist will arrive promptly.
Now that we've had a nice stroll through Worldpay's features, its service almost seems desirable. Unfortunately, we just can't recommend Worldpay for small businesses. Despite its strong feature offerings, its plans and pricing are dated and will cost you dearly if you ever need to cancel.
Also, the consistent complaints about Worldpay's customer service inspire the opposite of confidence. If Worldpay ever modernizes its plans and customer service practices, we'll be sure to update this review.
Chances are if you made it this far, you're looking for a taste of modern and transparent payment processing. Luckily, we've put together a stupendous list of the best small-business processing companies in the business.
Well, we made it past all the depressing stuff. It's time to get into why Worldpay would be a great service for small business if it just changed its pricing structure and contract policy. Let's talk about some of the cool features on offer here.
Point-of-sale integrations
Worldpay integrates with most POS systems, giving you the freedom to find a POS provider you like and add it to your processing services.
POS systems can bring a lot of great functionalities to your business, like inventory management, rewards programs, and customer tracking. If you don't have a POS system and don't know where to begin, take a look at some of our favorite POS solutions.
Terminal, mobile, and online payment solutions
Taking payments anywhere is a no-brainer. The more places you take payments, the more places you can get paid. Worldpay has options for terminals, smart terminals, mobile terminals, and online payment portals.
Worldpay's IQ program generates sales performance figures for each sales vertical of your business, making it easy for you to track your progress.
Chargebacks are a nightmare if you're not protected and if you don't have an easy way to get them resolved. With Worldpay's dispute manager, you can take photos of key documentation so you can get your cases resolved faster.
Worldpay's security bundle includes EMV assurance, PCI compliance, breach assistance, and point-to-point encryption. Each of these features helps to keep your payments safe and secure, decreasing the risk of fraudulent chargebacks and data breaches.
Gift cards are a great way to build your brand and increase your cash flow. Worldpay's gift card service is customizable to your brand and can be distributed physically or through gift card apps.
We took a detailed look at FIS, analyzing its features, pricing structure, and reliability. We compared it to other top brands in the processing sphere looking for specific features that set it apart from its competitors. We also consulted hundreds of user reviews and expert opinions. 
Disclaimer
At Business.org, our research is meant to offer general product and service recommendations. We don't guarantee that our suggestions will work best for each individual or business, so consider your unique needs when choosing products and services.