Huntington Bank Business Account Review: A Versatile Bank (for Certain States)
---
With everything from bank accounts to liability insurance, Huntington is a solid choice for many businesses.
Best One-Stop Shop
Availability of loans, credit cards, and more
Extensive resources for business owners
Availability in only 7 states
Limited information on website
Since you're reading this, you've probably already heard of Huntington, and now you're considering using it for your business banking. But maybe you're wondering if that's the best idea. Is Huntington Bank actually a good deal for your business? Or is there a competitor that can do more for you?
Well, we have the answers to those questions—and more—in this review. We'll explain who we think will get the most out of Huntington, we'll walk you through all its business products and services, and we'll let you in on some of the most notable pros and cons.
Let's figure out if Huntington is the right bank for you.
Huntington Bank is a one-stop shop for businesses—as long as you're in a few select states
Before we start talking about what we like and don't like about Huntington, we want to make sure you can actually use Huntington. Right now, Huntington is available in just seven states. If you're not in one of those, we don't want to waste your time (and we suggest you find the best bank for business in your state instead).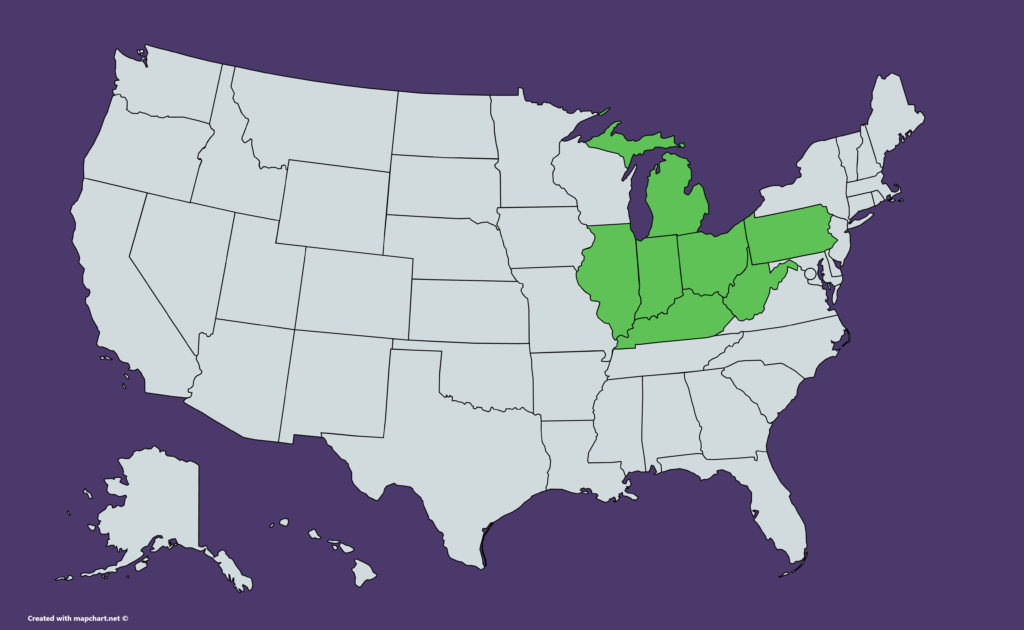 If you're still reading, we assume you're in one of those seven states. And in that case, we think there's a good chance you'll like Huntington.
Now, Huntington Bank doesn't have the best selection of checking accounts or savings accounts we've seen, nor does it have the most impressive business loans. But while it might not be a standout in any one area, Huntington's accounts are competitive.
Huntington Bank fast facts
| | |
| --- | --- |
| Feature | Huntington Bank |
| Online banking | ✔ |
| Mobile banking | ✔ |
| In-person banking | ✔ |
| Branch locations | 800 |
| ATMs | 1,400 |
| 24/7 support | ✘ |
| Customer service options | Phone, online support |
More importantly, Huntington has a lot to offer small businesses. Like, a lot. Yeah, it has the standards like bank accounts, credit cards, and financing. It also has extras like payroll services and merchant services. Oh, and then it goes a step further to offer things like liability insurance, checking archiving services, and a number of other products for small businesses.
You can take care of most of your business needs with Huntington Bank, making it a good one-stop shop. Yes, there's a chance you can find a better deal on individual products by shopping around—but you'll likely save time and energy by sticking with Huntington. And we know how precious your time is.
Plus, Huntington has a few deals when you use multiple products—like free savings accounts with certain checking accounts or higher APY (annual percentage yield) on your money market account if you have a qualifying checking account.
Put simply, Huntington is a solid bank with an incredible variety of products and services. So let's dig deeper into those to find out if it's right for you.
Huntington Bank checking and savings accounts
While Huntington doesn't have the biggest selection of bank accounts we've seen, it does give you a number of choices. Let's begin with its checking accounts.
Checking accounts
Huntington Bank gives you a few choices for checking. And with your options ranging from a free business checking account to a specialized checking account for health care businesses, there's a good chance you'll find one that works for you.
Huntington Bank small-business checking accounts
| | | | | |
| --- | --- | --- | --- | --- |
| Feature | Business Checking 100 | Unlimited Business Checking | Unlimited Plus Business Checking | Healthcare Business Checking |
| Min. opening deposit | $100 | $100 | $100 | $100 |
| Monthly fee | $0 | $20 | $40 | $30 |
| Monthly fee waivable? | ✔ | ✔ | ✔ | ✔ |
| Earns interest? | ✘ | ✘ | ✔ | ✔ |
| Free transactions | 100 | Unlimited | Unlimited | 600 |
| Free cash deposits | Up to $5,000 | Up to $10,000 | Up to $25,000 | Up to $25,000 |
| In-network ATM fees | $0.30 per $100 | $0.30 per $100 | $0.30 per $100 | $0.30 per $100 |
| Open an account | Apply Now | Apply Now | Apply Now | Apply Now |
Data effective 01/13/20. At publishing time, rates, fees, and requirements are current but are subject to change. Offers may not be available in all areas.
If you don't plan on making too many transactions, you might like the free Business Checking 100 account. There's no monthly maintenance fee on this basic checking account. You may still have to pay other fees, like transaction fees and deposits fees, depending on how you use the account. But if you just need a simple account for your freelance photography business, this account gives you an affordable option.
But what if you want more transactions and cash deposits? In that case, you'll probably want to check out Unlimited Business Checking. It gives you unlimited transactions and doubles the amount of cash transactions you get. This checking account has a monthly fee, but you can waive it if you keep an average daily balance of at least $10,000 across your Huntington business deposit accounts.
Debit card
Each Huntington checking account comes with a MasterCard business debit card. You can also get an additional card (or several) for employees.
If you'd prefer an interest-bearing checking account, you can go with Unlimited Plus Business Checking. It has the highest monthly fee, but it gives you the most free transactions and deposits. And, of course, it earns interest on your cash (though Huntington doesn't publish its rates). You can waive the service fee on these accounts by keeping an average balance of $50,000 in your business deposit accounts.
For health care practices, Huntington offers Healthcare Business Checking. It's another interest-bearing account (still no word on the APY, though). While you don't get unlimited free transactions (just 600), you do get plenty of free cash deposits. To waive the monthly service fee, keep a balance of at least $25,000 in your Healthcare Business Checking account, or maintain a balance of $100,000 across your deposit accounts.
Minimum opening deposits
Most banks have low opening deposits for their basic checking accounts, but they require much higher deposits on their premium accounts. Not Huntington. You can open any account with just $100—and the rep we spoke with said they're willing to be "flexible" with that amount.
Finally, Huntington has Business Analyzed Checking. This account has a $20 monthly fee. As you'd expect from an analyzed checking account, you'll pay fees for all transactions and deposits. But you can offset those fees, plus your monthly fee, by getting earnings credit based on your checking account balance. So if you keep very high balances, this account might be best for you. Otherwise, we suggest one of the others.
Savings accounts
Some banks have a wide variety of savings accounts, but not Huntington. It offers just one traditional savings account and one money market account, as well as certificates of deposit.
Huntington Bank small-business savings accounts
| | | |
| --- | --- | --- |
| Feature | Business Premier Savings | Business Premier Plus Money Market Account |
| Min. opening deposit | $100 | $100 |
| Monthly maintenance fee | $4 | $10 |
| Monthly fee waivable? | ✔ | ✔ |
| APY | Unlisted | Unlisted |
| Open an account | Apply Now | Apply Now |
Data effective 01/13/20. At publishing time, rates, fees, and requirements are current but are subject to change. Offers may not be available in all areas.
Business Premier Savings provides a basic savings account to businesses that want an affordable option and aren't worried about maximizing their interest earnings. You can waive the (already low) monthly fee if you keep a $300 minimum balance in your account.
You'll earn more with the Business Premier Plus Money Market Account. To waive the maintenance fee, you'll need an average account balance of at least $10,000.
Note that Huntington Bank doesn't actually publish the interest rates or APY on these accounts; you'll have to talk to your banker to get information for your area. Huntington's site suggests Premier Plus Money Market earns more interest than Premier Savings, which is typical of those types of accounts. (For more information on how savings, money market accounts, and CDs compare, you can read our guide to business savings accounts.)
Likewise, while Huntington does offer certificates of deposit (CDs), it offers absolutely no information about those. Again, you'll have to speak with your banker.
An alternative savings option
For great rates on savings, we recommend Small Business Bank. It has the highest APY we've seen on a business money market account.
Huntington Bank's business calculators
We probably don't have to tell you that business involves a lot of decision-making—and in many cases, those decisions can have a big impact on your money. Should you get a loan? Should you buy commercial real estate? Is that equipment purchase worth it? It can be nerve-wracking trying to figure out what the best choice is.
Enter Huntington Bank. In addition to all its bank accounts and other products, it has resources to help small-business owners—like a bunch of small-business calculators.
These handy calculators can help you do the math as you make your decisions. If, for example, you're trying to choose between buying and leasing some new equipment, you can use its equipment calculator. Just plug in all the information you have, from purchase price to tax rate to how long the equipment will last, and Huntington will give clear numbers that can help you make your decision.
Huntington has calculators for businesses at every stage. There's a calculator to help you figure out how much cash you need to start a business, and there's a calculator to help you figure out how much your established business is worth.
There's not always a clear-cut answer for all your business questions—but sometimes there is. And in those cases, Huntington's business calculators are well worth your time.
Other small-business products and services from Huntington Bank
Now you know all about Huntington's business bank accounts and business calculators. But that's just scratching the surface. We said before that Huntington is a one-stop shop, so let's explore everything else Huntington can offer you. (It's a lot.)
Small-business financing
Huntington offers a variety of business funding options:
Term loans
Commercial real estate loans
Business lines of credit
Dental and veterinary practice loans
SBA loans, including 7(a), Express, and 504 loans
Unfortunately, we can't tell you much more about them, since Huntington doesn't publish any details about its financing.
Because Huntington is a traditional bank, we expect that its rates and terms are competitive, especially when compared to the rates from online lenders. Of course, we also expect that you'll need to meet higher criteria to qualify for financing, like a credit score in the 700s and over $100,000 in annual revenue.
Small-business credit cards
Huntington has one business credit card: Voice Business. This Visa gives you cash back on your spending. Huntington even lets you choose a category that you get extra points in, like home improvement, office supplies, or travel. You can change categories every quarter if you want.
Fortunately, the Voice Business card has no annual fee, even after your first year.
And if you want to give your employees access to your business credit, Huntington lets you get as many employee cards as you want. And don't worry about someone going rogue with one of your cards—you can use Huntington's website to put spending controls on your employee cards.
Insurance
Huntington can also help you with your business insurance needs. Its offerings range from liability coverage to employee health care insurance. Here's the full list:
Property insurance
Professional liability coverage
Title insurance
Casualty insurance
Employee insurance and benefits
Contract bonds and fidelity bonds
Life insurance and business succession planning
So whether you own a law firm, an IT business, or a retail store, Huntington probably has you covered.
Miscellaneous
We're not done yet. Huntington has loads of other products and services to help your small business:
Merchant services
Billing services
Payroll and HR services (through Paychex)
SmartTax tax payments
Digital check archiving
Check verification and restrictions
ACH transactions and wire transfers
Foreign exchange
Like we said, you've got a lot of choices. See why we called Huntington Bank a one-stop shop?
What customers say about Huntington Bank
It's hard to get a good idea of what customers think about Huntington. On Trustpilot, it has a 2.5 (out of 5) with just five reviews; on Bank Branch Locator, it has a 3.5 (out of 5) from 11 reviews.1,2
It makes sense that Huntington doesn't have a ton of reviews, since it's a regional bank, but that's not a lot to go on. And frankly, the reviews themselves aren't the most helpful. A number of the reviews are from confused people trying to ask Huntington Bank questions, for example. Other reviews simply aren't helpful.
Our experience with Huntington Bank
For what it's worth, we had very positive interactions with Huntington's customer service. We called to verify some information and ask some questions, and the reps we spoke with were very friendly and gave us the answers we needed.
One negative review claims that Huntington Bank mocks people with disabilities (obviously not good), but the review is so vague that it's hard to tell what happened. A couple of the negative reviews scold Huntington for racism, a reference to the time a Huntington teller called the cops on a black man who was trying to cash his check. Clearly that was bad, but we wish we had more reviews from actual customers.
What we're left with are a handful of mostly positive reviews from people who like Huntington's low fees and praise employees at specific branches.
The takeaway
So is Huntington Bank the right financial institution for your business banking needs? It might be—especially if you want to get a checking account, savings account, and plenty more all from one place.
Sure, we wish it was more forthcoming with interest rates and financing information, and Huntington's geographic restrictions are a real drag. Even so, we think it's a decent bank that many businesses could be happy with.
Not convinced Huntington is the right bank for you and your money? Find an alternative on our rankings of the best banks for small business.
Disclaimer
At Business.org, our research is meant to offer general product and service recommendations. We don't guarantee that our suggestions will work best for each individual or business, so consider your unique needs when choosing products and services.
Sources
Trustpilot, "Huntington"
Bank Branch Locator, "Huntington Bank"