Novo Banking Review: Great Integrations and Discounts
Novo plays nicely with other business apps and services—though it only has one account option.
Novo, powered by Middlesex Federal Savings F.A., is one of quite a few new financial technology ("fintech") platforms that offer fee-free business checking accounts. But when compared to traditional banks and other online banks for business, how does Novo stack up?
Well, as it turns out, Novo does some things really well (like working with other apps you use), and it does some things less well (like customer service).
In this review, we'll explain all that in more detail and help you decide if Novo's business services will work for you.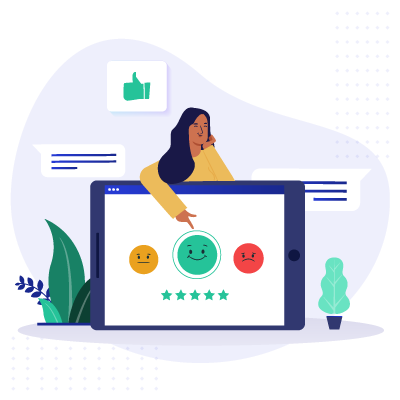 Expert Advice, Straight to Your Inbox
Gain confidence in your business future with our weekly simple solutions newsletter.
Novo has great integrations
No-fee online checking
Integrations with other apps
Discounts for other products
Average customer reviews
Checking account only
No cash deposits or outgoing wires
Novo has a lot going for it. It offers no-fee checking, like many other fintechs and online banking platforms. It's available in all 50 states, unlike any traditional bank or credit union.
But with more online banks for business popping up all the time, it takes more than that to stand out. Novo doesn't offer interest-bearing checking (like Bluevine does) or a choice of savings account (like Small Business Bank does), but it does have one standout feature.
Novo integrates—for free—with some of the most popular business services (like eCommerce and accounting software), plus it offers discounts on other business products. (We'll dive deeper into these later.) That means Novo could save your business time and money on non-banking products. Not bad.
| | |
| --- | --- |
| Online Banking | Yes |
| Mobile banking | Yes |
| In-person banking | No |
| Virtual card | Yes |
| Branch locations | None |
| ATMs | Refunds for any ATM |
| 24/7 support | No |
| Customer service options | Email, phone |
| Open an Account | Get Started |
Novo is still in the process of ironing out a few problems though–mainly in regards to customer service. (More on these Novo reviews later too.) 
For now, we'd suggest to use Novo if you're really sold on those integrations and discounts. But if customer service is a main priority for you, there are plenty of other great online banks for business.
So, let's chat about how a Novo bank account works.
Novo offers just one business bank account: a simple checking account. So if you want business savings accounts, merchant services, or business loans, Novo won't be the best fit for you. However, Novo does offer a free feature called Novo Reserves that allows you to set up to 10 separate business expenses, like taxes or payroll, aside.
So if you can get by with a basic bank account for your freelancing business, creative agency, or online store, a Novo business checking account (and their expense allocation feature) might do just fine.
Novo doesn't charge most typical bank fees. You won't pay a monthly maintenance fee, no matter your account balance, and you won't have to deal with transaction fees or ATM fees either. In fact, Novo will reimburse you for any ATM fees other banks charge you.
Novo small-business checking account
| | |
| --- | --- |
| Account type | Business Fundamentals Checking |
| Min. opening deposit | $0 |
| Monthly fee | $0 |
| Monthly fee wavivable? | N/A |
| APY | N/A |
| ATM fee | N/A |
| Transaction fee | $0 |
| Transfer fee | $0 |
| Insufficient funds fee | $27 |
| Open an account | Apply Now |
Data effective 8/25/22. At publishing time, rates, fees, and requirements are current but are subject to change. Offers may not be available in all areas.
That said, Novo does have some costs that other free business checking accounts don't. Novo requires at least $50 to unlock all account features, but it is not a requirement to open a business checking account. That's not bad, but it's more than most other online banks require. (You don't have to keep a specific minimum balance after you open your Novo account.)
Likewise, Novo has an insufficient, or non-sufficient funds fee (commonly called an NSF fee), which not all banks charge. Yes, you'll only get hit with that fee if you try to pay for something without having the money to do so in your Novo account―but it's still a fee that many other online banks don't have. 
Fees aside, the Novo business checking account also has some limitations you should know about. You can't make an outgoing wire transfer from your account―unusual for a bank—unless you integrate with their partner app, Wise. You will be able to receive incoming wire transfers without this app. 
You also can't deposit cash into your account (typical for an online bank, but something to be aware of).
Debit card
Your business bank account will come with a Novo MasterCard debit card that you can use pretty much everywhere.
If none of that bothers you, great. Let's talk about another reason why you might like Novo.
Novo's discounts and integrations
Novo understands that your bank account is just one of the many products your business needs to operate smoothly. So Novo works with other business-oriented companies to offer both discounts and integrations for your business.
When you sign up for a business checking account with Novo, you get access to quite a few discounted products and services in return. 
For example, you can get these deals:
$20,000 of free credit card processing from Stripe
Six free months of Zendesk Suite
First month free on any Gusto package
500 in credits when you spend $500 on Google Ads
Plus you can get deals on Google Cloud, HubSpot, Quickbooks Online, and more.
The estimated value of these deals ranges from $50 to $100,000, so you could end up saving quite a bit. 
But even if you don't decide to take advantage of any of these discounts, you might like Novo's integrations.
Novo supports several kinds of integrations that can help you keep track of your business finances.
Say you don't want to manually balance your checking account (we don't blame you). Novo syncs with some of the most popular small-business accounting software―including QuickBooks and Xero.  
If you don't like carrying around a physical wallet full of cards, you can add your Novo debit card to your Google Pay or Apple Pay wallet.
Novo also syncs with your Stripe processing account, and you can integrate it with Slack to get automated updates on your bank account.
So if you already use (or plan to use) some of those products, Novo's integrations could make your life much more convenient. Plus, Novo plans to add even more integrations in the future.
At this point, you know all about what Novo can do for your business―the good and the not-as-good. But before you decide to go with Novo, let's talk about what Novo customers think of it.
Novo ranks average on Trustpilot1—at a rating of 3.3 out of 5—which is pretty common for most banks, but it does have some pretty negative reviews. On over 1,000 reviews, 27% gave 1 star, and 61% of people gave 5 stars. 
Common complaints are about customer service, saying it's almost impossible to get ahold of someone and you won't get much help when you do get in touch. At least one business owner said that they had trouble ever getting their debit card, and multiple people claim that Novo's mobile check deposit doesn't work properly.
On the positive side, new customers tend to like how easy Novo's app is to use. They also enjoy the helpful and relevant business integrations.  They mentioned that customer service is easy to access through their email as well.
Although Novo's overall rating isn't amazing, we encourage you to weigh both the positive and negative reviews before coming to a final decision on whether to sign up for a business checking account with them.
Novo's online business checking accounts offer a low-cost way to take care of your business banking. And although Novo doesn't offer all the features or account types that other banks do, it's integrations and discounts may be worth if you can get past their middling reviews. We hope you find the best small business banking option for you, nevertheless.
Want to explore some alternatives to Novo? Find the right bank for you on our list of the best banks for small business.
Novo FAQ
Will Novo check my credit score when I apply for an account?
Nope, Novo doesn't care about your credit score.
Novo is actually a financial technology platform and not a bank. Your business account will technically be through Novo's parent bank holding company, Middlesex Federal Savings―but you'll apply and manage your account through Novo.
Does Novo have a minimum balance requirement?
No, Novo doesn't require you to maintain a certain account balance. You'll need $50 to unlock all of the business account features, but you don't have to worry about a minimum balance after that.
Can I use checks with my Novo account?
Yes, you can use checks with your Novo business bank account. If you need to deposit checks from other people, Novo's app has a mobile deposit feature. And if you need to pay someone with a check, you can have Novo send it directly or you can order third-party checks.
Sources
Trustpilot, "Bank Novo." Accessed August 25, 2022.
Disclaimer
At Business.org, our research is meant to offer general product and service recommendations. We don't guarantee that our suggestions will work best for each individual or business, so consider your unique needs when choosing products and services.