5 Best Virtual and Outsourced Accounting Services for Small Businesses
---
Stop wasting time agonizing over your books—choose outsourced or virtual bookkeeping services and get back to running your business.
Business owners know: there's never enough time. You're handling strategic planning, marketing and sales, managing employees—all while trying to maintain a personal life.
So unless you're a CPA, managing day-to-day accounting and bookkeeping tasks can seem like a total time and energy destroyer. Fortunately, you don't have to worry about hiring an expensive full-time bookkeeper to handle these tasks for you: you can outsource it.
With the technology and expertise to save you time and money, using online bookkeeping services is a smart choice. These are the best online accounting services we could find.
Compare the best outsourced and virtual accounting services
Better Accounting: Best for small-business accounting consulting
From full-service accounting consultation to tax strategy and preparation, Better Accounting gives you in-depth and actionable insights into your business financials.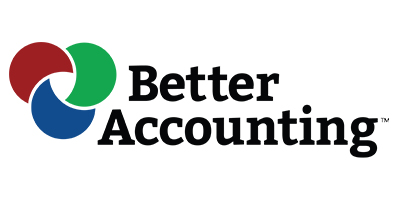 Better Accounting
With Better Accounting, you have more visibility in how your small business is doing financially, allowing you to make better business decisions for growth.
More than just a bookkeeping or virtual accounting service, Better Accounting is like having a full-time CPA at a fraction of the cost. In fact, if you're in a pinch, you can even bring a Better Accounting CPA in-house as an interim CFO.
Better Accounting can handle just about any financial task like reconciling bank transactions, monitoring cash flow, reporting finances, and filing taxes. Also, the team is US-based with offices throughout the nation.
You'll need to request a quote to get pricing information, but because Better Accounting is a trusted Business.org partner, we know you'll be in good hands.
Access to in-house CPA, controller, or CFO services
Advanced insights into financial data
Dedicated, results-oriented team of experts
Pricing by quote only
Lack of service information online
Maxim Liberty: Most affordable rates
Maxim Liberty claims to have the lowest bookkeeping rates for small businesses, and our research confirmed it. At $50 per month, Maxim's starting rates are the lowest of any company we compared.
Accounting and bookkeeping fees with Maxim are based on the number of hours you use. For example, the $50 per month plan gets you up to 60 hours you can use within a 12-month period. You can cancel anytime, and you can get a refund for any unused hours—as long you cancel within the first five hours of service.
At $50, that starting plan is indeed affordable. However, understand that you get only essential bookkeeping services with the plan. For additional services—like payroll and taxes—you'll pay more.
| | | |
| --- | --- | --- |
| Plan | Included services | Learn more |
| $50/mo. | 5 to 60 hours to use in 12 months, monthly updates, email support | See Plans |
| $100/mo. | 10 to 60 hours to use in 6 months, weekly updates, email support | See Plans |
| $200/mo. | 20 to 60 hours to use in 3 months, daily updates, email and phone support, payroll, sales/use taxes, AP/AR management | See Plans |
| $1,000/mo. | 200 hours, 1 full-time bookkeeper, constant supervision, more hours at $10/hr. | See Plans |
Every plan gets you bookkeeping services provided by an "assigned bookkeeper and supervisor." With cheaper plans, you can contact your bookkeepers by email only. If you need faster support, you'll need to pay for the $200 or $1,000 plan.
Maxim also has a $500 per month plan built especially for CPAs. It gives you 50 hours of services you can use within three months for an unlimited number of clients.
As a note, Maxim does have operations in India. If offshoring your information to a country outside North America makes you nervous, take comfort in knowing that Maxim has been headquartered in Virginia for more than 13 years and has an A+ rating from the Better Business Bureau.1
Monthly rates starting at $50
Dedicated bookkeeper and supervisor
No contracts and a free trial
Payroll and tax services available only with more expensive plans
Email support only, except on higher plans
Find Your Money—and Keep More of It
If you've ever thought, "I know I made money. . .but I can't find it," you should be working with Better Accounting.
No contracts or commitments
Full-picture visibility into your business's finances
Results-oriented approach to support growth
Get Started
Ignite Spot: Best for new startups
Ignite Spot is a virtual small-business accounting provider based entirely in Kaysville, UT. If you're looking to completely hand over your bookkeeping and accounting tasks to a renowned team of dedicated specialists, Ignite Spot offers an impressive suite of services.
Ignite Spot prices its plans by their level of service. Or you can customize a plan to get the right system of bookkeeping, accounting, payroll, inventory, and CFO services for your company.
Every plan includes a certified bookkeeper and access to Ignite Spot's online software. The software lets you see your accounts, reports, and other data, and you can chat with your online bookkeeper for support and task assignment.
Calling itself "ideal" for businesses with revenues between $500,000 and $10 million, Ignite Spot probably isn't best suited for very small firms. It's certainly not the cheapest accounting solution on the market either, with pricing that starts at $500 per month.
All plans also include bank reconciliations, credit card management, accounts receivable and accounts payable management, sales tax filing, and payroll.
Dedicated team of certified CPAs
Library of small-business financial articles and guides
CFO coaching and consulting services
Expensive monthly plans
Pricing hidden behind online quote
If you want to avoid a headache next tax season, you can pay an additional $950 per year for in-house CPAs to file your tax returns. As an added bonus, Ignite Spot will even do your personal taxes. Tax services include IRS audit support, e-filing, and three hours a year of tax planning.
For CFOs looking for opportunities to realize even greater revenue, Ignite Spot offers premium CFO coaching services starting at $1,500 per month.
inDinero: Best for established startups
Defining itself as a "software + service" solution for small-business bookkeeping and accounting, inDinero offers a unique customer experience and data-driven mission that makes it a great option for maturing startups that have complex accounting needs.
It's expensive to get started with inDinero, with plans that start at $310 per month (billed annually). But if you're a startup founder, you know how time-consuming and distracting it can be to try to manage some parts of your business, like bookkeeping and accounting.
The built-for-founders software helps you with tedious tasks like managing accounts, invoicing, and employee reimbursements. It also lets you file federal and state taxes, pay bills, and generate financial statements.
The basic inDinero plan gives you access to all these software features, but the higher plans integrate a dedicated accounting team to take on complicated tasks like month-end reconciliations, charts of accounts, and electronic tax filing.
Advanced plans also give you access to features like payroll reconciliation, inventory accounting, and revenue recognition to help you identify opportunities for growth and forecast for better success.
There is one tough drawback: because inDinero uses its proprietary accounting software, moving data to and from QuickBooks could be challenging. But if you have any trouble, inDinero is US-based and includes phone support during regular business hours.
After reviewing your business's needs, you can choose from one of the three standard plans or get a customized quote to fit your business needs. The bottom line is that inDinero is expensive, but for companies earning high revenues, it's worth the consideration.
Software platform built for startup founders
Tax filing included on all plans
Customized quotes available
Expensive starting price
Maximum of 4 connected accounts
No QuickBooks integration
Merritt Bookkeeping: Best for bookkeeping only
If you want to outsource your bookkeeping services but aren't ready to pay for an expensive, fully featured accounting plan, Merritt Bookkeeping is an excellent place to start. With plans starting at $150 per month, you can automate some of the most tedious tasks and focus more on running your business.
Once you're signed up, you'll log into Merritt's simple, easy-to-use interface. Connect your accounts, and Merritt will keep your books updated monthly and your transactions categorized.
The dashboard shows your balance sheet, monthly and yearly profit and loss statements, and income and expense graphs. And everything is based on QuickBooks, so you can easily save and move your financial data to another service if you need to.
Unfortunately, Merritt doesn't offer many of the services that other providers we compared do, like payroll management, invoicing, or tax filing, but it provides enough bookkeeping services to free up valuable time.
Fixed pricing starting at $150/mo.
Easy-to-use interface
Full QuickBooks functionality
No payroll, invoice, or tax services
Beyond the features and benefits, Merritt Bookkeeping is based in San Diego and has an A+ rating from the Better Business Bureau,2 along with markedly glowing online customer reviews.
Advanced plans also give you access to features like payroll reconciliation, inventory accounting, and revenue recognition to help you identify opportunities for growth and forecast for better success.
5 more small-business accounting solutions
There are hundreds of accounting providers to choose from. We picked our favorites above, but here are five other popular providers of online accounting services worth looking at.
The benefits of virtual and outsourced accounting
Starting and running a business takes hard work, determination, and a keen understanding of business processes. Yet some small-business owners can get bogged down in daily, tedious tasks like managing financial books, sending invoices, and filing taxes.
Sure, you can educate yourself on small-business bookkeeping basics. But without the expertise to properly manage more advanced accounting details, you could accidentally expose your company to errors, non-compliance, and poor financial planning.
This is why, for decades, business owners have hired bookkeepers or CPAs to do the dirty work for them. However, it can cost more than $39,000 a year to pay a full-time bookkeeper,3 putting dedicated accounting help out of reach for many small-business owners.
But it's not the only solution. Bookkeeping software and online technology enable businesses to outsource their financial tasks to remote teams made up of specialized experts. The best part: online accounting provides business owners with the help they need at a fraction of the traditional bookkeeper model.
We spoke to Ally Compeau, founder and CEO of Woof Signs, about why she outsourced her business accounting: "As a small business owner, I outsource my accounting because I do not have expertise in the area. And while I believe I could learn enough to do a passable job, my time needs to be spent on growing the business as opposed to learning a new skill that is unlikely to be one of my key focuses as the business grows."
It's cheaper than hiring in-house bookkeepers or CPAs.
You can access automated technology that speeds up accounting processes.
You spend less time and energy on small details.
You can spend more time growing your business.
You may prefer to have complete control and oversight of your financial data.
You may feel uneasy about working with a virtual, non-local team.
There may be some hidden costs.
What to look for in any bookkeeping provider
Whether you're looking to hire a local accounting firm or outsource your bookkeeping to a virtual team, there are some questions to ask to determine which is best for your business.
Price: Many outsourced bookkeeping providers list pricing online. But even if they don't, that doesn't mean you'll get a bad deal. In fact, fixed pricing could mean you end up paying more for features you don't want or need, like software or setup fees.
Credentials of workers: Not all virtual bookkeepers are CPAs. But they should be highly trained, and you should be able to learn about their certifications and specializations.
Location: If sending your financial data overseas makes you queasy, choose an accounting service that's based in your country. Also, find out how quickly you can reach someone if you need support.
"It's important to look for companies that use US-based employees who are well supervised and have a track record of delivering the service," says Dr. Steven J. Weil, PhD, president and tax manager of RMS Accounting, a Fort Lauderdale firm with 30 years' experience helping small businesses. "Do their employees work remotely, or from an office where they are supervised? Do they use a team approach, or will you still be relying on one person who might not be available when you need them?"
The takeaway
Outsourced accounting and virtual bookkeeping has changed a lot over the years—what once was a complicated and expensive process is now a cost-effective solution to handling your small-business financial tasks. With one of these reliable and reputable providers, you can stop wasting time in the weeds of managing your books—and start spending time reaching your business goals.
Disclaimers
At Business.org, our research is meant to offer general product and service recommendations. We don't guarantee that our suggestions will work best for each individual or business, so consider your unique needs when choosing products and services.
Sources
Better Business Bureau, "Maxim Liberty, Inc"
Better Business Bureau, "Merritt Bookkeeping Services Inc"
Bureau of Labor Statistics, "Bookkeeping, Accounting, and Auditing Clerks"