---
Everyone enjoys nailing that first dollar earned to the wall, but keeping track of your small-business finances after that point is never quite as fun (or easy). Even with advice from an accountant friend or help from a business app, accounting is often time-consuming and stressful. And honestly, being a business owner doesn't mean you have to be a finance management whiz. By outsourcing your small-business bookkeeping needs, you can focus on what you do best—running a business you love—and save yourself time, fear, and frustration.
Here are seven ways that outsourcing your accounting will help you breathe a bit easier and further enjoy running your business, especially when it's tax time.
1. Avoid the end-of-quarter crunch
Best Outsourced Accounting
Take back the last few days of each business quarter for yourself. With outsourced accounting, you won't have to scramble to update your bookkeeping at the last possible moment. Instead of looking over financial records to make sure everything is square, you'll have time to assess what's in store for your business next quarter. Plus, long hours often mean more mistakes, so cramming affects more than just your time with your family or Netflix account.
2. Stress less about the timing of vacations
Maybe you let someone else in the office take care of the bookkeeping. What happens when they decide it's time to finally knock off the next item on their bucket list: the cherry blossom festivals in Japan? The blossoms only bloom for a few weeks in the spring, and you don't want your employee to delay their vacation for a whole year because it happens to line up with prime bookkeeping time.
3. Stop worrying over inaccuracies
Even though you might be capable of tracking your company's finances, it's natural to feel overwhelmed when it's not your area of expertise. Don't let the constant fear of a massive accounting error live inside your head rent-free. Evict that fear by paying an experienced, professional company to handle your financial recordkeeping.
4. Save money instead of using an in-house solution
A great employee is valuable, but as you certainly know, employees are expensive. When you pay for an in-house accounting team, you also pay for their benefits, equipment, and office space. But an outsourced company covers those costs for you, saving money. Companies such as Better Accounting even charge by the hour, so you don't have to worry about being stuck in a lengthy contract that delays hiring on a full-time employee of your own.
5. Save time instead of settling for a software solution
You can also save money with the right accounting software, but someone still has to manage that software. Additionally, no matter how much you love your smart phone, it's hard to build a relationship with a computer program. Developing trust and a friendship with a business can pay off in the future when you need additional help, sage advice, or a personal favor.
Best Accounting Solution for Small Business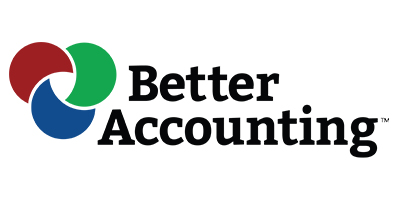 Better Accounting
With Better Accounting, you have more visibility in how your small business is doing financially, allowing you to make better business decisions for growth.
6. Take advantage of a plan already in place
New and growing companies develop many of their processes on the fly. When it comes to deciding how to celebrate employee birthdays, that level of freedom holds a lot of charm.
But when you need to figure out how to organize and track your finances efficiently, you might prefer to lean on established practices and processes. An accounting firm will already have those processes sorted out—think of how much more relaxed your employees will be knowing they will get paid on time, all because you hired an outsourced company to cover everything, including payroll.
7. Lower possible security risks
It's essential to delegate tasks to your staff, but the back-and-forth necessary to handle accounting and bookkeeping can lead to security issues. A professional accounting firm will take your financial safety seriously, and you won't have to hand over vital tasks to an inexperienced intern. Instead, your interns will have plenty of time to bring everyone a cup of coffee—with just the right amount of cream and sugar.
There you have it! If you're already breathing easier at the thought of outsourcing, we recommend Better Accounting as our best outsourced accounting company. They can cover your bookkeeping, payroll, and invoicing needs, along with full accounting services. We like their commitment to transparency and visibility as well as the flexibility to skip out on lengthy contracts if the services don't work for you.
Not sure which accounting service or software is best? Let us help you make the right decision.
If your business runs more smoothly thanks to outsourced bookkeeping, we'd love to hear about your experience in the comments below.