America's Most Beloved Office Romances
---
Move over Jim and Pam—there's a new favorite couple on The Office.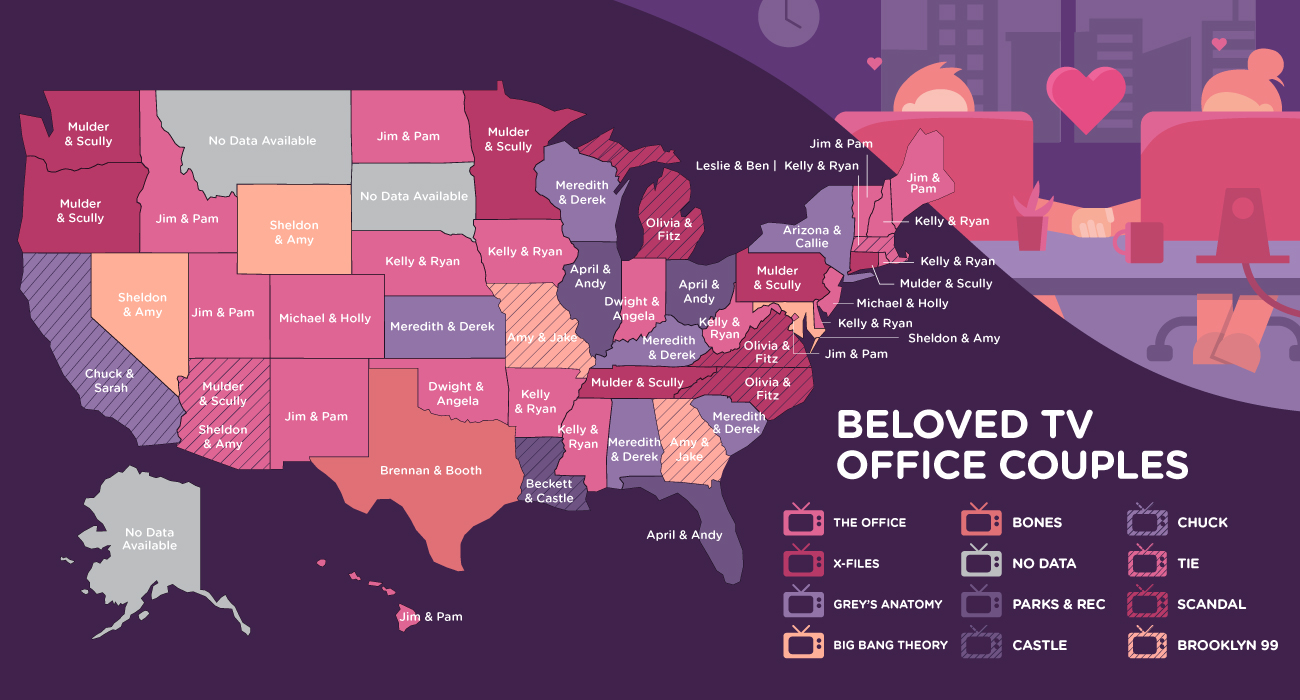 Which is more romantic: Paris in the spring or the conference room at 3:00 in the afternoon? Surprisingly, your drab little cubicle may be a more likely place to find love than you think.
According to a recent study by Monster,1 roughly 46% of respondents said they would be open to dating a colleague, with 19% saying they would date a colleague even if it put their career at risk.
Maybe there's something to be said about the aphrodisiac effect of fluorescent lights and the smell of copy toner. Or maybe it's the fact that office romances are still considered a bit taboo. Whatever the reason, we can't seem to get enough of our office love affairs, especially on TV.
We decided to figure out which TV workplace couples have captured the fascination of American viewers (and which ones we just couldn't care less about), and we were pretty surprised by the results.
But first . . . our methodology
To get our results, we started with a list of popular workplace couples from TV. Then we analyzed Google Trends data from each state over the past 10 years to see which couples people were searching for.
Note: While most of our data was based on searches between 2009 and 2019, we adjusted our data for Kelly and Ryan to exclude searches from the past two years. Why? Because LIVE with Kelly and Ryan came out in 2017. And while we get it if you ship Kelly Ripa and Ryan Seacrest, we definitely wouldn't classify them as an "office romance"—at least not right now.
Most beloved TV workplace romances
Kelly and Ryan (The Office)
Jim and Pam (The Office)
Mulder and Scully (X-Files)
Meredith and Derek (Grey's Anatomy)
Sheldon and Amy (Big Bang Theory)
Least beloved TV workplace romances
Angela and Andy (The Office)
Danny and Lindsay (CSI:NY)
Felicity and Ray (Arrow)
Van Pelt and Rigsby (The Mentalist)
Charlie and Amita (Numb3rs)
To our astonishment, Jim and Pam, the ultimate workplace couple, just barely missed out on the number one spot. But even more incredibly, they lost to none other than Ryan and Kelly (also from The Office).
Ryan and Kelly.
This Ryan and Kelly:
The closest we can figure is people in Arkansas, Delaware, Iowa, Massachusetts, Mississippi, Nebraska, New Hampshire, Rhode Island, and West Virginia just really love all the comedic elements of Kelly and Ryan's relationship.
Also surprisingly, Mulder and Scully from FOX's X-Files came in third on our list. We get the will-they-won't-they appeal of the couple. But we also think it's possible people are just confused about the status of Sculder. Whose baby did Scully have? Wait, why are they estranged now? Did they even wind up together at the end? It's enough to get us Googling too.
What we weren't shocked about, though, were the least beloved office relationships. Everything about Angela and Andy's "romance" was cringeworthy, so we completely understand why no one would search for them.
As for the rest . . . to be honest, we barely remembered the other relationships on our "least beloved" list. With the exception of Charlie and Amita from Numb3rs, none of the other couples on the list involve main characters from their respective shows.
Most of them also have up-and-down relationships with at least one breakup. Now, if Kelly and Ryan's number-one spot tells us anything, America's not opposed to stories about couples with rocky roads to love. But we seriously doubt that Danny and Lindsay or Felicity and Ray are bringing the comedic value we get from Kelly and Ryan.
One last thing
We were shocked—shocked!—that Leslie and Ben from Parks and Rec didn't get more love. Props to Massachusetts for being the only state to show a little taste, though even there our precious Beslie still tied with Kelly and Ryan.
Consider this a formal reprimand, America. #BenandLeslieForever
Your state's favorite TV office romance
Check out our complete list of beloved office relationships by state:
| | |
| --- | --- |
| State | Most-searched TV workplace relationship |
| Alabama | Meredith and Derek (Grey's Anatomy) |
| Alaska | No data available |
| Arizona | Tie: Mulder and Scully (X-Files) / Sheldon and Amy (Big Bang Theory) |
| Arkansas | Kelly and Ryan (The Office) |
| California | Chuck and Sarah (Chuck) |
| Colorado | Michael and Holly (The Office) |
| Connecticut | Mulder and Scully (X-Files) |
| Delaware | Kelly and Ryan (The Office) |
| District of Columbia | Jim and Pam (The Office) |
| Florida | April and Andy (Parks and Rec) |
| Georgia | Amy and Jake (Brooklyn Nine-Nine) |
| Hawaii | Jim and Pam (The Office) |
| Idaho | Jim and Pam (The Office) |
| Illinois | April and Andy (Parks and Rec) |
| Indiana | Dwight and Angela (The Office) |
| Iowa | Kelly and Ryan (The Office) |
| Kansas | Meredith and Derek (Grey's Anatomy) |
| Kentucky | Meredith and Derek (Grey's Anatomy) |
| Louisiana | Beckett and Castle (Castle) |
| Maine | Jim and Pam (The Office) |
| Maryland | Sheldon and Amy (Big Bang Theory) |
| Massachusetts | Tie: Leslie and Ben (Parks and Rec) / Kelly and Ryan (The Office) |
| Michigan | Olivia and Fritz (Scandal) |
| Minnesota | Mulder and Scully (X-Files) |
| Mississippi | Kelly and Ryan (The Office) |
| Missouri | Amy and Jake (Brooklyn Nine-Nine) |
| Montana | No data available |
| Nebraska | Kelly and Ryan (The Office) |
| Nevada | Sheldon and Amy (Big Bang Theory) |
| New Hampshire | Kelly and Ryan (The Office) |
| New Jersey | Michael and Holly (The Office) |
| New Mexico | Jim and Pam (The Office) |
| New York | Arizona and Callie (Grey's Anatomy) |
| North Carolina | Olivia and Fritz (Scandal) |
| North Dakota | Jim and Pam (The Office) |
| Ohio | April and Andy (Parks and Rec) |
| Oklahoma | Dwight and Angela (The Office) |
| Oregon | Mulder and Scully (X-Files) |
| Pennsylvania | Mulder and Scully (X-Files) |
| Rhode Island | Kelly and Ryan (The Office) |
| South Carolina | Meredith and Derek (Grey's Anatomy) |
| South Dakota | No data available |
| Tennessee | Mulder and Scully (X-Files) |
| Texas | Brennan and Booth (Bones) |
| Utah | Jim and Pam (The Office) |
| Vermont | Jim and Pam (The Office) |
| Virginia | Olivia and Fritz (Scandal) |
| Washington | Mulder and Scully (X-Files) |
| West Virginia | Kelly and Ryan (The Office) |
| Wisconsin | Meredith and Derek (Grey's Anatomy) |
| Wyoming | Sheldon and Amy (Big Bang Theory) |