5 Steps to Improve Your Marketing Strategy
No matter how great your product or service is, your success will be limited without an effective marketing strategy.
Reaching your target audience through proper channels and by delivering the right message is paramount for making sales. If you're not getting the results you want from your marketing efforts, it's time to fix your strategy. Here's what you can do.
To fix your nonproductive marketing efforts, you must first identify the problem areas. Utilize an analytical tool to determine the aspects of your strategy that aren't working. Google Analytics is a terrific resource for showing which marketing channels are bringing in the bulk of your traffic and which aren't carrying their weight. You may also implement surveys to see how customers are finding your business. Once you have this information, you can use it to your advantage.
For your fruitful marketing efforts, you can rinse and repeat. But you will need to switch up your game plan to fix ineffective marketing techniques. If you are running a social media campaign and a particular site is bringing in minimal traffic, you might want to experiment with an alternate strategy. This could mean working harder to establish a presence, posting more frequently, or increasing interaction. The specific adjustments will vary from business to business, and a considerable level of experimentation is necessary. If the results of a particular marketing technique don't justify your time, it's usually best to scrap it and move on.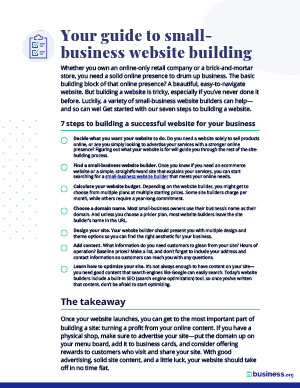 Grow Your Business's Online Presence
Build a beautiful website and start attracting more customers ASAP. Enter your email for a copy of our website building checklist.
3. Focus on Top Customers
The Pareto's principle relies on the 80/20 rule. In business, it means that roughly 80 percent of customers bring in 20 percent of sales, and the remaining 20 percent bring in 80 percent of sales. Therefore, focusing on the most lucrative 20 percent should maximize your sales volume. Rather than spending an abundance of time trying to please everyone, strive to build lasting relationships with your top customers. You might send out periodic newsletters to keep these customers updated on your latest products and services. You may also periodically email or send direct mail to thank them for their business. This doesn't mean you should neglect the other 80 percent; concentrate on keeping repeat customers happy.
4. Stay Abreast of New Possibilities
Many business owners get stuck in an outdated mode of thinking, but old techniques that have shown minimal results can hurt your overall marketing strategy. Online Marketing Institute's number one piece of advice for marketers is to utilize recent digital technologies. Staying in the loop by researching different options can expose you to new ideas and keep your campaign from turning stale. Some helpful resources to check out include HubSpot, Social Media Examiner, and Seth Godin's Blog. These can point you in the right direction and keep you on the cutting edge of marketing.
5. Be Consistent and Persistent
Put a solid and sustained effort into your techniques. Don't give up because you don't see an immediate response from customers. It takes time to see tangible results, so keep trudging forward. If you're trying to establish a presence on a social media site, maintain a consistent posting schedule, post quality content, and interact with your audience on a regular basis. If you're trying to build a list of email subscribers, send out newsletters at certain intervals so readers won't forget about you.
While it would be great if every marketing technique you tried worked flawlessly, that's not usually the case. A big part of success is trial and error, so you can't expect miracles overnight. Taking the proper steps to correct inefficiencies should prevent you from repeating the same mistakes. By getting your message to the right demographic through the right marketing channels, you'll likely see good results.
Looking for more marketing material? Check out these topics: Marketing 101 4P Matrix, Improving SEO Strategy, 4C's Marketing Model, Google Analytics vs Adobe Site Catalyst, How to Monetize a Blog, Best Inbound Marketing Software, Why CRM is Important, Developing a Preferred Vendor List, How Instagram Can Help Your Business, Successful Project Management Sales Plans, or Memorial Day Marketing Ideas. 
Disclaimer
At Business.org, our research is meant to offer general product and service recommendations. We don't guarantee that our suggestions will work best for each individual or business, so consider your unique needs when choosing products and services.