3 Free Tools for Monitoring Website Traffic
Your company's website statistics give you valuable insight into customer behavior and how people find your business online. The most important data includes your web traffic sources, popular pages on your site, and the keywords search engines use to bring visitors to your site. You can use this information to better focus your marketing, advertising, and content development efforts.
There are a number of programs that let you access this data and track it over time. Here are three of the top tools available, and the best part is, they're all free.
Use Google Analytics to get an in-depth analysis of your website's statistics, including top keywords, largest traffic sources, most popular pages, and visitor locations. Google Analytics helps you set goals and can also help you measure progress over time.
Google Analytics integrates with Google's other web tools, including Google Apps, and can be accessed through a single console. The program is easy to install on your site and has a short learning curve and you should be up and running with basic functionality within minutes. As a comprehensive solution, GA is hard to beat.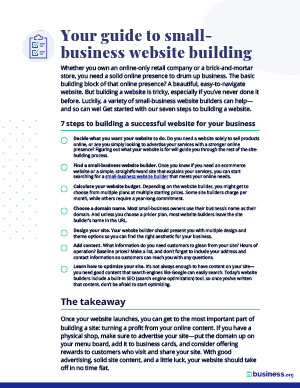 Grow Your Business's Online Presence
Build a beautiful website and start attracting more customers ASAP. Enter your email for a copy of our website building checklist.
No, this isn't Amazon Alexa. This Alexa is completely different, yet only slightly differs from Google Analytics; instead of detailing what's happening on your site, Alexa helps you compare your site's performance against its competitors. Alexa is a tool that measures your site's reach and how many people look at the site, which keywords generate the most visitors for similar sites, and how many backlinks you have from other websites.
Alexa compares your traffic to other sites and gives it a ranking between one and several million. The lower the number your site receives, the more popular it is. You can use this number to help you set benchmarks for growth over time. By analyzing the links and keyword patterns of competitor sites, you can also develop a strategy to improve your site's performance through link building, content generation, advertising, and other marketing efforts.
GoingUp! is a tool geared toward eCommerce and online retailers. If your business is one of these, and relies on large volumes of traffic for sales and leads, this is a valuable tool. It monitors your sales and tracks conversion rates, showing you the percentage of site visitors that purchase from your site. This tool also provides details on where visitors are coming from, as well as geographical data about viewers, which is information you can use to help target your advertising and on-site copy.
GoingUp! shows the trends on your site, so you can track site growth, as well as how many visitors come to your site each day. Daily visitor tracking can help you see short term growth of your site, which you can use to help establish ideas for advertising, inventory, and seasonal promotions.
Knowing where visitors to your site are coming from and how customers use your site is crucial to the success of your business. These free tracking tools will help you determine how your site is performing and help you set effective short and long term goals for your business growth.
Disclaimer
At Business.org, our research is meant to offer general product and service recommendations. We don't guarantee that our suggestions will work best for each individual or business, so consider your unique needs when choosing products and services.