Best QuickBooks POS Integrations 2023
Discover the POS system that makes it easy to automate your accounting with Quickbooks.
QuickBooks is an extremely popular accounting software for small businesses. That's why most POS providers today offer QuickBooks integration. You can automate your accounting process and have an industry-leading POS system. That's exactly what we want to help you do.
Square is our top accounting integration pick because it's one of the best POS options for small businesses that also integrates with QuickBooks. It's a Swiss Army knife of features that's hard to pass up, complete with credit card processing, inventory tracking, and automatic accounting services.
But, Square may not be for everyone. That's why we've also rounded up other top POS systems with unique offerings. There's enough variety in our picks to suit most small business needs and types. We've been more thorough than Sherlock Holmes examining a crime scene.
Best QuickBooks POS Integrations
:

Best overall

:

Best for ecommerce

:

Best for restaurants

:

Best accounting tools

:

Best processing integrations
QuickBooks POS integrations pricing and plans
| | | | | |
| --- | --- | --- | --- | --- |
| Brand | Basic in-person processing fee | Basic monthly fee | Basic one-time purchase price | Get started |
| | 2.6% + 10¢ | $0.00 | Not offered | See Plans |
| | 2.7% | $29.00 | Not offered | See Plans |
| | 2.6% + $0.10 | $69.00 | Not offered | See Plans |
| | 2.4% + $0.25 | No monthly fee | $600.00 | See Plans |
| | 2.6% + $0.10 | $0.00 | Not offered | See Plans |
There's one more piece of pricing that should always be considered when investing in a POS system: equipment costs. Each provider will offer certain equipment. That equipment is either sold at a flat price, leased, or paid off in monthly installments. All brands mentioned above sell equipment at a flat price. Some of them offer monthly payment plans.
Speaking of monthly payments, you may have noticed that we listed QuickBooks' POS system as having "no monthly fee." This is because QuickBooks uses its own unique pricing model. You pay a flat fee once and then you can use their POS services forever. This shifts your costs upfront but can save you money in the long run.
Square also has a $0.00 per month starting fee but is different from QuickBooks. That's because Square also offers special plans with additional features that add monthly costs. Square retail, for example, is $60.00 a month per location and adds additional inventory management and reporting tools.
Data effective 2/20/23. At publishing time, pricing and features are current but are subject to change. Offers may not be available in all areas.
Square is a POS system that's as flexible as an Olympic gymnast. Its flexibility is catered to small business needs. If your business is extra small and your processing needs are fairly low, you can order a free mobile reader from Square online and start processing transactions with zero upfront costs.
If your business is a little more complicated, however, you can use more of Square's features and hardware. You can get a wider range of inventory tools by investing in one of Square's retail plans. You can buy more substantial hardware like the Square Register.
Square's ability to expand and contract its features and hardware based on your needs is the key to its flexibility. And a crucial part of that flexibility is its QuickBooks integration. You can integrate QuickBooks with Square through the QuickBooks website. Once you finish the setup process, your sales data will automatically be synced.
It's hard to beat the turn-key solutions offered by Square. That's why it's our top pick.
Shopify: Best for ecommerce
Data effective 2/20/23. At publishing time, pricing and features are current but are subject to change. Offers may not be available in all areas.
Shopify is a giant in the modern ecommerce world. It has some of the best tools for building an online store. While most POS providers we've picked for this list have online store builders, Shopify is the reigning champ. It rises above the competition with features that enable omni-channel selling.
For example, Shopify makes it easy to sync inventory from multiple locations. Stores and warehouses can all share one centralized inventory count. This gives your customers ultimate flexibility in where and how they buy your products:
Buy in store
Buy online
Buy in store, ship to customer
Buy online, pick up in store
With so many ways to buy, customers always have a way to get the products they want.
Shopify also offers inventory management tools, staff management, and reporting. These features are pretty standard among top-tier POS providers, but it's nice to know you'll have them.
Shopify is one of our top picks because its ecommerce tools are top-notch. Being able to synchronize online and in-person sales is important for businesses that want to bring efficient and modern solutions to their customers.
Lightspeed: Best for restaurants, retail, and golf courses
Data effective 2/20/23. At publishing time, pricing and features are current but are subject to change. Offers may not be available in all areas.
Lightspeed is a three-trick pony—and that's a good thing. It offers retail, restaurant, and golf course POS solutions. The secret to these solutions is how they work together.
If you own or want to own a large theme restaurant like the Hard Rock Cafe, for example, Lightspeed can manage both your restaurant and the gift shop at the front of your establishment. This is what makes Lightspeed so good for golf courses.
Most golf courses have a pro shop and a restaurant in addition to their golfing services. With Lightspeed you can manage tee times, run a restaurant, and manage your pro shop from the same system. That's a unique value proposition.
Even a top competitor like Square that offers restaurant and retail options isn't quite equipped to manage a golf course. With Lightspeed, managing your multi-industry business is easy. Add accounting automation to the deal and Lightspeed starts to look pretty unstoppable.
While Lightspeed is equipped to handle multi-industry businesses, it's also very capable in businesses that focus on just restaurant or retail operations.
So, if you're looking for a powerful POS system to manage your modern restaurant or retail business, look no further than Lightspeed.
QuickBooks: Best accounting tools
Data effective 2/20/23. At publishing time, pricing and features are current but are subject to change. Offers may not be available in all areas.
Saying that QuickBooks POS has good QuickBooks accounting integration is like saying Michael Phelps is a good swimmer. When your accounting software is also your POS provider, keeping track of the numbers couldn't be easier.
But the obvious integration ease isn't the only reason QuickBooks' POS system is on this list. The POS system itself is actually quite good—and it's the only system out there that doesn't charge a monthly fee for POS services. You just pay a flat fee to use the POS system forever.
That said, you do have to be a QuickBooks subscriber to use the POS system. But, if you're reading this article, chances are you're a QuickBooks subscriber already. If not, QuickBooks Online plans start at $15 per month.
So what makes QuickBooks a good POS system? It has many of the same features you'd expect to see from other top providers. You can accept all payment forms, track inventory, generate reports, manage a customer loyalty program, and more.
While none of these things make QuickBooks stand out on its own, the real benefit of the system is that you don't have to worry about accounting integration ever being a problem.
If automating your accounting process is your biggest concern, QuickBooks POS system is a fantastic option.
Clover: Best processing integrations
Data effective 2/20/23. At publishing time, pricing and features are current but are subject to change. Offers may not be available in all areas.
Clover is basically a POS superhero with two cool superpowers. It's known for powerful POS hardware, but we think Clover's greatest strength is processing integrations.
Clover is sold as hardware by tons of solid processing vendors.
You can purchase Clover hardware from any of the processors mentioned above if you want to get cheaper processing costs or to examine a wider variety of plan options.
Clover is the only POS provider with so much flexibility in processing fee costs. That's what makes it so unique. You can also choose to process with Clover using its own services.
Finally, the Clover hardware is top tier. It's one of the only POS hardware tools with an app marketplace. This gives you a ton of flexibility in what your POS system can do, letting you build the perfect service for your business. That flexibility includes the ability to sync your sales with QuickBooks.
Clover is a unique product with unique superpowers. It's worth a look if you want more flexibility in how your POS functions and want to pay cheaper processing fees.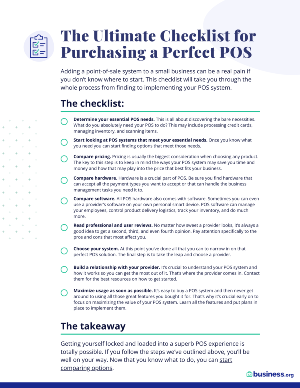 Follow these steps to purchase the perfect POS system
Read our free ultimate checklist for finding the right POS for your business. Don't get saddled with the wrong system. Enter your email and the checklist will arrive promptly.
We've seen some incredible POS systems that integrate with QuickBooks. These systems cover a wide range of business needs.
Square: Allows businesses to start managing their POS with no upfront costs. It also easily expands its features and uses for businesses that need additional services.
Shopify: Leads the ecommerce game with great tools for turning your separate online and in-store hustle into a singular selling machine.
Lightspeed: Offers fantastic POS solutions for restaurants, retail shops, golf courses, and any combination of the three. Manage your multi-industry business with ease.
QuickBooks: Makes your accounting automation completely seamless without forcing you to sacrifice key POS features.
Clover: Creates unique flexibility in processing costs and POS features with powerful hardware that can be sold by third-party vendors.
Any of these options will be a huge benefit to your business. All you have to decide is which POS system is the best fit.
If you'd like to look into the best processing providers on the market today, check out our picks for the top processing services.
Let us help you find the perfect POS system
Answer the questions below to get your personalized POS recommendations. 
QuickBooks POS Integrations FAQ
How do I connect my POS system to QuickBooks?
Most of the time there will be an app on your POS system that takes you through a setup process. If you're having trouble finding instructions on what to do, search the name of your POS provider and QuickBooks on Google. The names of both companies will usually bring you to the right page.
Do POS systems work with other accounting services?
Yes, POS systems sometimes integrate with multiple accounting services. Lightspeed, for example, integrates with QuickBooks in addition to Xero and Sage. That said, many POS systems only integrate with QuickBooks because it's the most popular accounting service.
We examined 20 of the top POS systems on the market. We first determined which of these services integrated with QuickBooks. Then we looked at the remaining contenders and determined which of them offered a POS service that was both up to modern standards and that fit a specific business use case—like restaurant management. We also examined user reviews and other professional reviews to determine the validity of our own findings and to discover possible pain points in the services. We then narrowed the field down to five top products.
Disclaimer
At Business.org, our research is meant to offer general product and service recommendations. We don't guarantee that our suggestions will work best for each individual or business, so consider your unique needs when choosing products and services.