Lightspeed vs Square: Battle of the POS Titans
Lightspeed and Square are two of the most popular POS systems, but the right one for you depends on your business's needs.
Data as of 2/16/23. Offers and availability may vary by location and are subject to change.
The bottom line: Lightspeed POS offers more comprehensive inventory management and reporting tools than Square POS. However, Square POS is more affordable for small businesses and offers built-in features for accepting payments and managing customers.
If you're in the market for a new POS system, you've probably come across Lightspeed POS and Square POS. Both offer a variety of features and plan options, but they have some key differences.
For example, Lightspeed POS is designed specifically for businesses in the retail, restaurant, and golf spaces. Square POS, on the other hand, is designed to be used by businesses of all types.
Ultimately, the best POS system for your business will depend on your specific needs and budget. Let's dig into the details of what these two services provide.
Compare Lightspeed and Square's pricing and features
| | | |
| --- | --- | --- |
| Feature | | |
| Processing fee | 2.6%+ 10c | 2.6% + 10¢ |
| Monthly fee | $69–$399 | $0–60 |
| Inventory management | Yes | Yes |
| Reporting and analytics | Yes | Yes |
| Ecommerce tools | Yes | Yes |
| Advanced restaurant tools | Yes | No |
| Get started | See Plans | See Plans |
Data as of 2/16/23. Offers and availability may vary by location and are subject to change.
You may have noticed that Square shares a lot of features with Lightspeed, but that Lightspeed seems to be a lot more expensive. While this observation is true, it's not the whole story.
Square is a POS system designed for a much wider range of small businesses than Lightspeed. Because of this, it has lots of features, but the depth of those features is sometimes lacking. Its inventory management tools, for example, are simpler than Lightspeed's inventory management tools.
But what makes Square a great choice for small businesses is its pricing and its ability to accommodate a lot of different businesses. For a first time POS user, it's a great starting point.
Lightspeed, on the other hand, has put together a deep set of features for businesses specifically in the retail, restaurant, and golf industries.
For restaurants, Lightspeed provides an integrated point of sale system that makes it easy to keep track of orders, customers, and inventory. In addition, Lightspeed's reporting features can help restaurants identify trends and optimize their operations.
And for golf courses, Lightspeed offers a number of features that can improve the customer experience. For example, the tee time management system can help golf courses better manage their bookings, and the GPS-enabled yardage guide can help golfers navigate course more easily.
To put it bluntly, Lightspeed justifies its price with its depth of features while Square stays cheap by offering a little bit of something for everybody.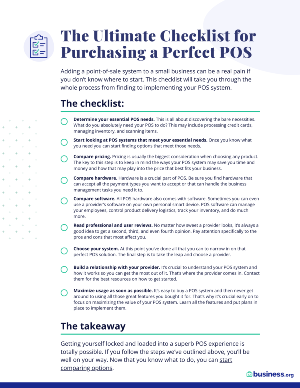 Follow these steps to purchase the perfect POS system
Read our free ultimate checklist for finding the right POS for your business. Don't get saddled with the wrong system. Enter your email and the checklist will arrive promptly.
Lightspeed: Best inventory management tools
When it comes to inventory management, both Square and Lightspeed offer a number of powerful tools. However, Lightspeed comes out ahead in several key areas.
For starters, Lightspeed offers the ability to track item locations, set reorder points, and generate reports. Lightspeed's more comprehensive tracking capabilities allow businesses to track not only how much inventory they have on hand, but also where inventory is located and how fast it is selling. This can be immensely helpful in ensuring that businesses always have the right products in stock.
Additionally, Lightspeed provides built-in purchase order and vendor management tools, which streamline the process of restocking inventory.
Finally, Lightspeed offers a free mobile app that makes it easy to manage inventory on the go.
Square, on the other hand, doesn't quite compare to Lightspeed's inventory features. While you can use Square to see your current inventory levels and manage stock, it doesn't have vendor management tools or the thorough tracking that Lightspeed offers.
Overall, Lightspeed's superior features make it the clear choice for businesses that need to effectively manage their inventory.
Lightspeed is the winner because of its superior, in-depth inventory features.
Square: Best ecommerce tools
If you're looking for a powerful and user-friendly ecommerce platform, Square POS is the clear winner. Square offers a simple-to-use online store creator that allows businesses to design an ecommerce site with ease.
By contrast, Lightspeed is designed to integrate with any ecommerce site you've already created, but it doesn't offer tools to help you create that site.
Additionally, Square's virtual terminal is a little more versatile than Lightspeed's. It allows businesses to take payments over the phone or by email in addition to the standard online checkout process. This wider range of options allows customers to pay their way—which is sometimes a key factor in deciding to make an online purchase.
And both Square and Lightspeed can manage ecommerce inventory, but as we stated in the above section, Lightspeed has more comprehensive inventory management tools.
Despite this slight edge over Square in the inventory category, however, Square's ecommerce tools are more beginner-friendly than Lightspeed's, which is why we give it a slight edge over Lightspeed in this category.
Square's ecommerce tools can take you from zero to hero without all the headaches of designing a website from scratch.
Lightspeed: Best restaurant tools
Square POS is a very popular choice for restaurants, mainly because it is extremely user-friendly and easy to set up. However, it doesn't offer all of the restaurant-specific features that Lightspeed does.
For example, Lightspeed offers advanced table management features that make it easy to keep track of customer orders, as well as real-time reporting that can help you track your sales and optimize your menu.
Lightspeed also has a kitchen display system that dispenses with paper order tickets in favor of a clean, organized touchscreen display in the kitchen. Servers can send orders directly to this screen and the system will prioritize those orders based on when they came in. This helps eliminate mistakes and miscommunications between the front of house and back of house.
In contrast, Square's restaurant tools are much simpler. Square offers businesses ways to track orders, but it lacks Lightspeed's table management features and detailed reporting.
Overall, while Square POS is a suitable system for restaurants, it simply lacks the specificity of Lightspeed. As a result, we have to declare Lightspeed the winner in this matchup.
Lightspeed wins this round thanks to its advanced table management system, detailed reporting, and kitchen display integration.
Lightspeed and Square are both great POS systems. The battle between the two comes out to a tie in our opinion for the following reasons:
Square is a perfect entry-level POS system for businesses that need to cut costs.
Lightspeed is a deep and detailed system perfect for businesses in the retail, restaurant, and golf industries.
Put simply, if you want to save some money and don't mind fewer features, go with Square. If you need a powerful POS system to run your restaurant, retail, or golf business, go with Lightspeed.
If neither Lightspeed nor Square seems to fit your business, take a look at our other top point-of-sale system picks.
Lightspeed vs. Square FAQ
Square differs from Lightspeed in that Square has a wider range of features than Lightspeed. Square's tools are also much simpler. This comes at a cost though in that Square's features are sometimes lacking compared to LightSpeed. 
Whether Lightspeed is better than Square depends on your specific needs. Lightspeed is definitely more expensive than Square but its features are more flexible and customizable if that is what you need. 
We compared Lightspeed and Square by looking for essential POS features needed in all modern systems. We looked for specific use cases that made each system standout. Finally, we examined third-party user and professional reviews to confirm and validate our research.
Disclaimer
At Business.org, our research is meant to offer general product and service recommendations. We don't guarantee that our suggestions will work best for each individual or business, so consider your unique needs when choosing products and services.