How to Fund Your Business Without a Traditional Loan
Wondering how you can fund your small business without taking out a traditional term loan? Maybe you can't qualify for a business loan (yet). Maybe you just don't want to borrow money from a bank.
Whatever your reasoning, don't worry―you have quite a few funding options. You just have to know where to look.
So in this guide we'll walk you through all the ways you can find funding for your business (and the pros and cons of each) without ever applying for a bank loan. From using your own resources to applying for other kinds of financing, we've got you covered.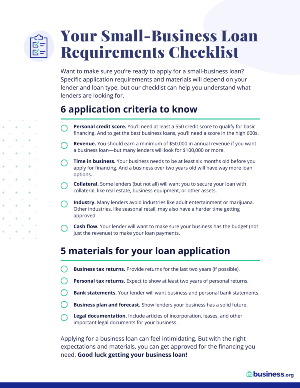 Applying for a small-business loan soon?
Our free checklist can help you understand what lenders are looking for.
1. Explore self-financing options
Most business owners should start by trying to finance their businesses themselves.
You can self-finance your business by using your own resources and assets as funding. And no, you don't necessarily need money just sitting in a bank account to self-finance. Self-financing can come from all kinds of sources:
Personal savings
Home equity loan
Life insurance
Retirement accounts
Investments and securities
Of course, self-financing does require you to have a good chunk of change yourself―even if it's in an IRA (individual retirement account) rather than just your checking account. So self-financing won't work for everyone. And of course, self-financing means you have to put your own assets on the line. If your business fails (not that we think it will), you simply lose the money you invested in it.
Why do we recommend self-financing then? Well, if you do have the resources, self-financing is much easier than other kinds of funding. You don't have to meet anyone's requirements, you don't have to wait around for someone to approve your funding request, and you don't lose any control over the direction of your business.
Plus, self-financing encourages you to budget and spend carefully.
So if you have the means to self-finance, we definitely recommend doing so. But if self-financing won't work for you, maybe our next idea will.
Self-financing pros and cons
Has no qualifications or requirements to meet
Gives you total control over your business and assets
Offers fast access to funding
Requires you to have resources
Puts personal assets at risk
2. Ask family and friends for help
Lots of business owners find funding by turning to family and friends.
The exact way this works can vary quite a bit. Your family and friends might loan you money at a low interest rate, for example. Or they may not expect interest but will expect to get paid back. Other people may prefer to invest in your business and get equity instead of loaning you money. And if you're really lucky, you may even find family and friends willing to simply give you money for your small business.
No matter the arrangement, you'll usually get better borrowing terms from family and friends than from a lender or angel investor. And getting family and friends to invest financially in your business can also help them invest in your business in other ways―like offering emotional support, advice, or patronage.
The downside? Things can get awkward. Even asking for money can lead to uncomfortable social situations. It could become even more awkward if you can't repay your loan quickly or if your network disagrees with the way you run your business.
To help with these situations, we suggest making a formal arrangement. Kiva business loans, for example, lets you get family and friends to pitch in on a no-interest term loan. Kiva will set a specific repayment schedule, and you'll make payments to Kiva―which could make your family and friends feel more comfortable than simply handing you money.
Family and friends pros and cons
Can give you favorable borrowing terms
Encourages your network to care about your business
Can make awkward social situations
Requires your family and friends to have resources
3. Look for small-business grants
You can also try applying for business grants.
Business grants give your business free money―you don't have to repay it. And unlike business loans that come with strict credit score and revenue requirements, grant requirements usually have more to do with things like the industry you work in, your minority status, and your company's mission and values. For example, you might find grants like these:
Grants for nonprofits led by Asian-American women
Grants for businesses trying to improve their energy efficiency
Grants for organizations that work with underprivileged youth
And of course, you can find general grants for all kinds of small businesses.
While finding grants isn't too hard (especially if you look at our lists of startup business grants, small-business grants for minorities, and small-business grants for women), getting them can be. Unsurprisingly, lots of small-business owners want a piece of that free-money pie. You'll have plenty of competition.
Note also that while grants do give you free money, they sometimes put lots of rules on how you can use that money. Don't expect to use just any grant for general working capital purposes.
Remember too that grants can take a long time. Grant-giving organizations usually accept applications for a long period, then review those applications, and finally announce winners and fund them―a process that can take weeks or even months.
Still, free money is free money. And while we don't recommend relying just on grants, you can always apply for grants while also looking into the other funding options on this list.
Business grants pros and cons
Have no credit and revenue requirements
Don't require repayment
Attract lots of competition
May have very specific uses
Have long application processes
4. Try a crowdfunding campaign
You've probably heard about sites like Kickstarter―but did you know you can crowdfund your business?
To be fair, crowdfunding only works for some types of businesses. Service-based businesses and retailers won't do nearly as well as businesses that design and produce their own products.
But for those product-based businesses, crowdfunding can offer a great way to get funding. It depends on the platform you use and the type of campaign you run, but usually you don't have to repay funds raised through crowdfunding.
Plus, your crowdfunding campaign can attract lots of new customers. And if you crowdfund a new product, you can make sure there's plenty of interest before you start production―reducing the risk for your business.
Just keep in mind that, as a whole, crowdfunding has a pretty low success rate. It's definitely possible to run a successful campaign, but don't put all your eggs in the crowdfunding basket. And remember that crowdfunding takes time, so it's not a good funding solution for urgent needs.
If crowdfunding sounds like a good fit, though, we recommend choosing a platform from our list of the best crowdfunding sites for startups.
Crowdfunding pros and cons
Usually don't have to be repaid
Can attract new customers
Reduces risk of product launches
Has a low success rate
Works only for some kinds of businesses
Takes weeks or more
5. Make a pitch to angel investors
If you've ever watched an episode of Shark Tank, you know a thing or two about angel investors.
Angel investors give your business money, but they require equity (partial ownership) in return. So while you don't have to worry about repaying your angel investor's initial investment, you do need to feel okay about giving up some level of control over your business.
Angel investors offer more than just money, though. They can also offer business expertise and access to their networks―two things that may help take your business to the next level.
But angel investors don't invest in just any business. They don't necessarily care about your credit score and annual revenue, but angel investors are pretty picky about their investments. They mostly invest in fast-growing startups with the potential to rake in millions. And even if your business meets those criteria, expect to spend lots of time finding and pitching to investors to find one willing to invest in you.
Put simply, angel investors won't work for many―if not most―of the small businesses out there. But if you can snag one, you'll get a great source of funding and advice. 
Angel investors pros and cons
No need to repay investments
Don't have strict business requirements
Provide mentorship and networking
Require some equity in your business
Tend to invest in explosive startups
Take a lot of finding and pitching to get
6. Get a small-business credit card
If none of the options above work, you can fund your small business with a business credit card.
You probably know all about how credit cards work from having a personal one. You borrow money, pay it back, and get to borrow again. That makes business credit cards great for everyday funding needs. You can use them over and over again for all kinds of smaller purchases.
Most businesses can benefit from a business credit card. See, business credit cards can build your business credit, making you more likely to get approved for business loans in the future. Plus, the best small-business credit cards earn rewards on your spending, like these:
Cashback
Points (redeemable for gift cards, merchandise, and more)
Travel miles
With that in mind, you may want to use a credit card for your everyday spending. (Just make sure you stay on top of that credit card balance.) Luckily, you can get approved for credit cards very quickly.
But credit cards have their limits―literally. In most cases, you'll get a fairly low credit limit that keeps you from spending too much. You probably can't renovate an office building with just a credit card, for example.
And credit cards cost a lot if you carry a balance. That's why we recommend paying your business credit card bill in full each month―but that can make it hard to use credit cards for any big expenses.
Don't forget, either, that you will have to meet credit requirements to get approved in the first place (although you can find a few credit cards for bad credit).
So go ahead and get a business credit card if you can. But be careful about using it for big business expenses.
Business credit card pros and cons
Have fast approval times
Offer revolving credit
May earn cashback or other rewards
Come with high APR
Often require good credit
Limit how much you borrow
7. Apply for non-traditional funding
Finally, you can apply for non-traditional loans and other kinds of business financing.
These can include anything from SBA loans (term loans that work a lot like traditional loans) to personal loans. So let's break things down further.
Non-traditional funding pros and cons
Accept lower credit scores
Work with young and low-revenue businesses
Get you funding quickly
Tend to have higher interest and fees
Require you to meet borrower criteria
May not build credit
If you can't quite get approved for a traditional bank loan, an SBA loan offers a close alternative. In fact, SBA business loans were designed just for businesses that get turned down by banks.
SBA loans come backed by the SBA (the U.S. Small Business Administration). That gives them their name, yes, but more importantly it means that they come with rules that keep interest rates low and repayment terms long.
In other words, an SBA loan will look a whole lot like a term loan from a bank. But SBA loans are a little easier to get than traditional loans, making them more accessible to more business owners.
Maybe you can't qualify for an SBA loan yet either. No problem. You can still get term loans and many other kinds of financing from alternative lenders, also known as online lenders.
Alternative business loans have lots of advantages. Online lenders accept much lower credit scores and work with much younger businesses than banks do, for example. And alternative lenders can often give you funding just a day or two after you apply.
Plus, online lenders offer all kinds of financing options:
Term loans (including short-term and long-term loans)
Lines of credit
Equipment financing
Invoice factoring
Merchant cash advances
Microloans
The catch? Alternative loans cost more―often a lot more―than their traditional counterparts. And while traditional term loans can improve your credit score as you pay them back, many online loans can't build credit (so they won't help you get loans in the future). Besides, even alternative lenders with flexible borrower requirements still require you to meet certain conditions to borrow.
So alternative lenders shouldn't be your first choice for business funding. But if you can't get funding elsewhere, an alternative loan (or line of credit or microloan) may be a good option. 
If your business is too new to get even an alternative business loan, you can use personal loans for your small business.
Personal lenders care about your credit score, but they don't care how long you've been in business or how much revenue you make (as long as you have enough personal income). That makes them easier to qualify for than many business loans.
But personal loans come in pretty small loan amounts, making them too small for many business expenses. They also tend to have very short repayment terms, and they often cost quite a bit.
That's why we recommend all the steps above―using your personal assets, asking family and friends, and so on―before you use a personal loan on your business. Plenty of business owners have used personal loans as an alternative to business loans, though, so they can work.
Want more options? Fund your business with a personal loan.
While traditional term loans are one of the most popular ways to fund your business, you don't have to get one.
Instead of using a traditional business loan, draw from your personal assets (like savings and retirement accounts) to fund your business. If your family and friends have the means, ask them to invest in your business. Keep an eye out for small-business grants you can qualify for. Launch a crowdfunding campaign (if it fits your business model). Look for angel investors who will fund you in exchange for equity. Use a business credit card for smaller business expenses. Or simply apply for non-traditional loans and other kinds of business financing.
With all those options, we're sure you'll find the funding your business needs.
Think you might want a business loan in the future? Work on your creditworthiness with one of the best credit monitoring services for business owners.
Small-business funding FAQ
How can I fund my business without a loan? How do you raise capital without borrowing?
If you want to fund your business without a loan and raise capital without borrowing, you can self-finance your business, ask family and friends for money, apply for business grants, try crowdfunding, or look for business investors.
What are the three types of financing in small business?
The three types of small-business financing are debt financing (borrowing a loan you have to repay), equity financing (giving up business equity to get money), and personal financing (using your own assets).
What is non-traditional financing?
Non-traditional financing can refer to pretty much any kind of funding that isn't a traditional term loan from a bank. So non-traditional financing can include things like term loans from online lenders, other kinds of borrowing (like lines of credit), investments from family and friends, and more.
Disclaimer
At Business.org, our research is meant to offer general product and service recommendations. We don't guarantee that our suggestions will work best for each individual or business, so consider your unique needs when choosing products and services.