Kiva Review: No-Interest, No-Fee Microloans for US Businesses
Want a no-interest business loan? That's what you get from Kiva's microloans. Business.org explains why we like Kiva and what you should know before applying.
If you've spent any time researching business loans, you're probably all too aware of the many downsides―like high interest rates or high borrower requirements.
Kiva tries to fix those problems with its unique crowdfunding model. It offers business microloans with no interest, and you don't have to meet a bunch of strict requirements to qualify for one.
In this review, we'll walk you through everything you should know about Kiva―the good and the bad. By the end, we think you'll have a good idea of whether or not Kiva will work for your business financing.
Kiva vs. Kiva
Kiva works differently in the United States than it does elsewhere. (Our FAQ below touches on this.) This review will focus on Kiva's US business loans―not its international business loans.
Kiva is best for microloans (if you can wait a while)
Zero-interest loans
Few borrower qualifications
High funding success rate
Small maximum loan size
Slow funding process
Kiva only offers one type of financing: microloans. Its loans only go up to $15,000, which is on the low side even for microloans.
If that number worries you, then a small loan from Kiva (the only kind it offers) is probably not for you. Because remember, that's the maximum loan size. In other words, your microloan could be even smaller.
But maybe you just need a small amount of working capital to renovate your bakery's kitchen, add more inventory, or pay for a training program.
In that case, Kiva is our favorite lender for microloans, thanks mostly to its zero-interest loans. That's right―Kiva doesn't charge any interest on its small-business loans. And, well, you can't find a better deal than no interest.
Kiva Zip
Kiva's US-based operations used to go by Kiva Zip. It's dropped the Zip, so now it's just Kiva.
Now for the good news. There's a really good chance that you qualify for a Kiva loan. Kiva doesn't look for a specific credit score or revenue amount. Instead, it sticks to a few simple borrower requirements:
Must live in the US (but not Nevada, New Mexico, North Dakota, Rhode Island, or Vermont)
Must be at least 18 years old
Must use loan for business reasons, not personal ones
Can't have any active bankruptcies, foreclosures, or liens
And that's pretty much it. Sure, Kiva will still look at how long you've been in business, your revenue, and other factors to decide what size loan you get. But you won't be disqualified because of any of those factors.
If all that weren't enough, Kiva claims that more than 90% of would-be borrowers get funded. That's a delightfully high rate.
That doesn't mean that a Kiva microloan will work for all businesses, though. So before you start that Kiva loan application, let's talk about the funding process.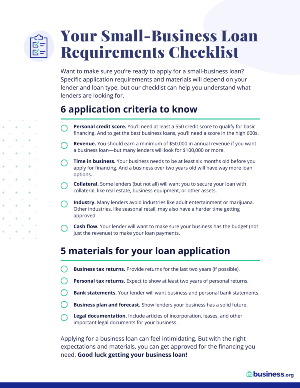 Applying for a small-business loan soon?
Our free checklist can help you understand what lenders are looking for.
Kiva's (long) funding process
Kiva doesn't lend money itself. (In fact, it's a nonprofit organization, not a lender.) Instead, Kiva sits somewhere between crowdfunding and peer-to-peer lending​. You create a campaign, people pledge money to your campaign, and then you repay the money you get.
This process is what lets Kiva make such affordable loans―but it also makes the funding process take a really long time.
It all starts with your application.
You'll start out by submitting an application on Kiva's website.
Keep in mind, this application isn't at all like the ones you'll find from most online lenders. While other lenders try to keep things as quick and simple as possible, Kiva really wants to dig into you and your business.
So after you answer some basic questions, you'll have to write some detailed paragraphs about yourself, your business, and why you need a microloan. You'll submit that, plus a photo of yourself with your business. (Take your time with this part, as it will all be in your loan profile later.)
And then you wait.
A Kiva representative will get back to you about your application, but this can take between 10 and 15 days. They may ask you some more questions, and they'll help you set an appropriate fundraising goal. Once your rep is satisfied that everything looks good, they'll approve your application.
That doesn't mean you get money right away, though. Instead, it means you get to start fundraising.
To prove your creditworthiness, you have to start your fundraising period by getting family and friends to contribute. They can offer as little as $25, but you have to invite between 5 and 35 people to contribute. (The exact number of people will depend on a few different factors, including your loan size.) You'll have 15 days to meet this goal.
Once you've gotten those people to contribute, you can take the campaign public. Your profile will get listed on Kiva's crowdfunding platform, and anyone can offer money. This part will last up to 30 days or until you meet your funding goal―whichever comes first.
With any luck (and some marketing work on your end), you'll meet your loan goal and be able to get funding.
Getting and repaying your loan
About a week after your campaign ends, Kiva will use PayPal to get you your loan funds. (Note that you will need a business bank account for this bit.)
One month after that, you'll start making payments. Again, these payments will go through PayPal. And Kiva doesn't automatically take payments like other lenders do. You'll have to manually make your payments, so make sure you set a reminder for yourself.
When all is said and done, it can take more than two months to get a Kiva microloan. That's, well, a really long time―especially when you can get fast and easy business loans that offer same-day or next-day funding.
But is it worth it? Let's look closer at Kiva's microloans to find out.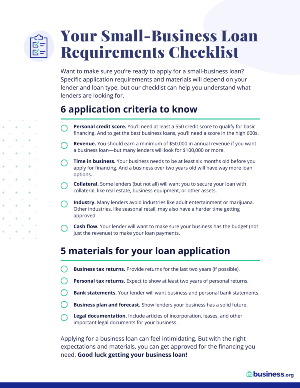 Applying for a small-business loan soon?
Our free checklist can help you understand what lenders are looking for.
As we mentioned earlier, Kiva offers only one type of financing. Its microloan comes in different amounts with different repayment terms, but they're all the same product.
| | | | | |
| --- | --- | --- | --- | --- |
| Product | Min./max. loan size | Interest rate | Repayment terms | Learn more |
| Kiva microloan | $1,000/$15,000 | 0% | 12–36 mos. | See Loan Offers |
Your exact microloan amount will depend on factors like how much debt you have and how much revenue you earn. For reference, the average Kiva microloan size is $5,000.1 (That may change, though, since Kiva recently raised its maximum loan size from $10,000 to $15,000.)
Smaller loans will come with a shorter repayment term. Only loans over $6,500 qualify for a full three-year term. While terms of one to three years aren't super long, they're pretty standard for microloans. In other words, Kiva offers competitive repayment terms.
But as we've already said, the real selling point of Kiva's microloan is the 0% interest rate. You simply can't beat that.
Kiva doesn't charge any fees either. So when you get a $5,000 loan, you actually get the full five grand―not $5,000 minus an origination fee, like you'd get from many lenders.
According to Kiva, more than 90% of business owners manage to get their microloan funded through Kiva.1 That's a higher rate than we've seen on any other crowdfunding platform.
But it's worth taking a minute to break down that success rate further.
As you've probably already realized, it's Kiva's mission to get loans into underserved communities. This is a big problem in business lending. Some groups, like women and minority business owners, don't have the same kind of financial access that other business owners do. In fact, they get turned down for loans at a much higher rate than business owners as a whole do.
Not so with Kiva. Of all Kiva borrowers, almost 70% are women business owners, and just over 70% are minority business owners.1 More than half of Kiva borrowers got rejected for business loans elsewhere.1
In other words, Kiva is successful not only at funding microloans, but at fulfilling its mission. So while it may be slow and cumbersome, we're glad it's providing loans to business owners who otherwise wouldn't get them.
We think Kiva offers the best deal on microloans, as long as you can wait a while. But what do Kiva users have to say?
Surprisingly, there aren't that many Kiva reviews around. Kiva has only a 2.5 out of 5 on Trustpilot, but that score comes from just 13 reviews.2 And frankly, they're not all very helpful.
All the reviews are from people who lent money rather than people who borrowed. So the negative reviews complain that they never got repaid, while the positive reviews say it's easy to give. Reviews elsewhere on the web sound pretty similar.
\We haven't, unfortunately, been able to find anything from small-business owners who borrowed with Kiva. (So if you do decide to get a Kiva microloan, we'd love to hear about your experience.)
Not quite an online lender, and not quite a charity crowdfunding site, Kiva's unique funding process provides accessible financing for all sorts of underserved communities and businesses.
Thankfully, Kiva microloans stand on their own merits. They've got no interest or fees, and they come with lengthy repayment terms. So while you can only get a small loan from Kiva, it's still one of the best deals in financing.
Just don't expect to fund your business overnight. Kiva requires a long application and funding process. But if you've got the time, we think it's worth it.
Like Kiva's low borrower requirements but think it will take too long? Find a different (but still good!) online lender on our rankings of the best business loans for bad credit.
Yep, Kiva is legit. It's been around for 15 years, and over 2.5 million people have borrowed through Kiva.1
No, you won't make money by giving to Kiva campaigns. While other peer-to-peer lenders (like Funding Circle) let you make money off your investment, Kiva's no-interest model doesn't do that.
With Kiva lending, you're giving because you want to give―not because you want to make some cash.
As we mentioned up top, Kiva in the US works quite differently than Kiva elsewhere in the world. The biggest difference? Outside of the US, Kiva loans through field partners, and borrowers have to pay interest to those partners.
If you want details, Kiva's website explains more.
Disclaimer
At Business.org, our research is meant to offer general product and service recommendations. We don't guarantee that our suggestions will work best for each individual or business, so consider your unique needs when choosing products and services.
Sources
Kiva, "About Kiva US." Accessed December 8, 2022.
Trustpilot, "Kiva." Accessed December 8, 2022.