Kickstarter Review: Using Kickstarter for Business Funding
Kickstarter is the biggest name in crowdfunding, but is it right for your business? See why a Kickstarter campaign may (or may not) be ideal for your startup.
When someone says "crowdfunding," most people think of Kickstarter. Hundreds of thousands of projects have found funding on the platform, with millions of backers pledging money over the last 10 years.
Clearly, Kickstarter has been a great platform for a lot of people―but is this popular crowdfunding platform best for you and your business?
In this review, we'll help you find the answer. You'll learn about what Kickstarter has to offer you as an entrepreneur, where it might fall short, and how you can start a Kickstarter campaign.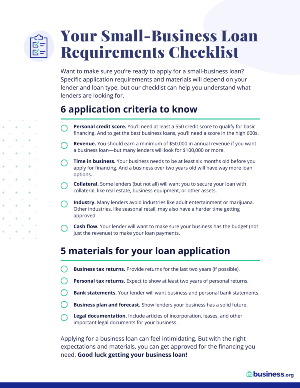 Applying for a small-business loan soon?
Our free checklist can help you understand what lenders are looking for.
Kickstarter is the best crowdfunding platform for business
Large base of project backers
Success rate over 33%
Extensive resources for creators
All-or-nothing funding model
Poor reviews from backers
Delay for getting your funds
Let's be upfront here: Kickstarter is the king of crowdfunding for a reason. It's got a huge user base, a high success rate, and plenty of tools to help you create a successful crowdfunding campaign.
We'll dive more into all that as we go on, but for now we'll just say that those factors make Kickstarter our favorite crowdfunding platform for business owners. So in most cases, if you're considering crowdfunding your startup, we think Kickstarter is your best bet.
That's not always true though. So let's get more specific about why Kickstarter will or won't work for you.
Kickstarter is pretty tailored toward creative projects and products. It's great for funding projects like these:
A new board game
A smarter light switch
An experimental album
But if you're trying to raise money for a nonprofit, buy equipment for your office, or pay your employee's salaries, Kickstarter won't be right for you.
And even if you do have a cool product, Kickstarter might not be the platform you need. For example, Kickstarter doesn't allow for the following:
Medical devices
Energy food
Energy drinks
Weapons
You can browse through current projects on Kickstarter's website to get a better idea of what kinds of businesses can get funded. But as a rule, Kickstarter works best for interesting product-based businesses.
Part of the reason that Kickstarter skews toward products and projects is that it's rewards crowdfunding. In other words, your donors get something in return for their money.
In some cases, this could be as small as getting their name on your website somewhere. But if you want to rake in the big bucks, you'll need impressive rewards. Usually, this means your backer gets a certain number of copies of your product, or a copy of your product plus some cool swag.
That means that you have to follow up with backers after your campaign ends and deliver promised goods. So make sure you're ready for that commitment before you begin.
Let's say a Kickstarter campaign would work nicely for your business. That doesn't mean you'll like Kickstarter's funding model.
See, Kickstarter uses an all-or-nothing funding model. You have to set a funding goal when you create your campaign. If you meet it, great! You get all your money. If you fall even a little short, though, you don't get anything.
The downside, of course, is that you could walk away from your campaign with nothing. In fact, more campaigns fail than succeed.
But the all-or-nothing model might actually help you. Because, in theory, this model encourages more people to contribute to your campaign. It lowers the risk for backers, since they don't have to worry that you won't make enough money to fulfill promised rewards. So you may very well end up with more backers (and therefore more funding) than you'd get from a keep-what-you-raise platform.
Put simply, if you've got a creative project that would make for a good reward―and you can deal with an all-or-nothing funding model―then Kickstarter is a great option. (Otherwise, you might want to find another platform on our rankings of the best crowdfunding sites for startups.)
Don't qualify for a business loan? Get a personal loan instead.
Kickstarter crowdfunding pricing
Everything sound good so far? Then let's look at what it will cost you to use Kickstarter.
Some crowdfunding platforms have several pricing tiers or plans. Not Kickstarter. It keeps things simple, offering the same pricing for everyone.
Kickstarter charges a platform fee and payment processing fees for successful campaigns. The platform fee applies to the total amount your campaign raises, while the payment processing fee applies to each individual pledge.
Between these two fees, Kickstarter takes somewhere between 8% to 10% of the money you raise. (This is pretty standard for crowdfunding.) You'll want to account for that percentage when you set your funding goal.
Kickstarter campaign details
| | | | |
| --- | --- | --- | --- |
| Campaign type | Platform fee | Payment processing fee | Get started |
| Reward | 5% of funds (for successful campaigns) | 3% + $0.20 for pledges of $10 or more; 5% + $0.05 for pledges under $10 | Start a Campaign |
Data effective 7/20/20. At publishing time, pricing is current but subject to change. Offers may not be available in all areas.
Keep in mind, though, that both the platform fee and the payment processing fee will only apply to you if you achieve a successful Kickstarter campaign. If your project doesn't get fully funded, Kickstarter won't take any money. (But neither will you.)
That means that the only real risk to creating a Kickstarter campaign is the time and money you put into creating your Kickstarter project page and marketing campaign.
And to be fair, if you want to be competitive and lure in potential backers, you'll probably need to spend a fair amount of both. But at least Kickstarter doesn't require a listing fee or subscription fee to create a campaign.
Kickstarter's success rate
So is it worth investing that time and money into a Kickstarter campaign?
You'll have to decide that for yourself―but we've got some numbers that may help you decide. See, Kickstarter is very open about its statistics (a practice we love), including its campaign success rate.
Overall, a little more than one-third of projects ever on Kickstarter have been successfully funded.1 (For comparison, GoFundMe has a success rate around 10%). That's actually quite high for a crowdfunding platform―especially one that allows anyone to start a campaign.
But let's go a little deeper. Because it turns out that the success rate varies quite a lot depending on the category your campaign falls under.
For example, more than half of dance, theater, and comics projects get funded, while only one-quarter or so of technology, food, and crafts projects meet their campaign goals.2 Other categories, like games and art, fall somewhere in between, with more than 40% getting full funding.
How much do people pledge?
While you'll definitely find donors who pledge (much!) more or less, the average Kickstarter donation is $25.3
Of course, success doesn't look the same for all campaigns. You can find a campaign asking for just $1,000 right next to a campaign asking for $1 million, after all. But more than half of successful projects ask for (and raise) somewhere between $1,000 and $10,000.4
Sure, you'll find campaigns that raised more or less, but $1,000 to $10,000 is the sweet spot for most successful projects.
Your Kickstarter campaign
Think Kickstarter funding might be right for you? Then let's talk about what it takes to create a successful Kickstarter campaign.
Before we dig in, we want to point out that Kickstarter has a comprehensive Creator Handbook that offers plenty of advice on creating a Kickstarter campaign and meeting your funding goal. It's full of best practices, often backed up with hard numbers. So before you create your campaign, you should definitely read through it.
For now, though, we'll point out a few things you should be aware of.
Creating your Kickstarter campaign
To start building your campaign, you just need to sign up for a (free) Kickstarter account. Once you've got one, you'll have the option to create a campaign for your creative project.
You can (and should!) use text, video, and photos to convince potential backers to donate. These materials can make a big difference in your project's success. After all, you and your campaign are competing against thousands of other projects on any given day. Without compelling visuals and an interesting story, even the coolest project will get lost in the shuffle.
You'll also have to come up with rewards for your Kickstarter backers. If you're anything like most Kickstarter creators, you'll want to create a large spectrum of rewards. You'll want something small and easy (like public recognition) for small donations and something much more impressive (like an invite to your launch party) for larger donations.
As you create your campaign, you'll have to set a funding goal (remember that most successful Kickstarter campaigns raise between $1,000 and $10,000). You'll also decide how long your campaign will last. Your funding period can last up to 60 days (but Kickstarter says that campaigns of 30 days or less do better).5
Once you've got your campaign all squared away and ready to go, you have to submit it to Kickstarter for approval.
In some cases, Kickstarter will automatically approve your project, making the process pretty much instant. But other times, you'll have to get manual approval for your campaign, which can take several days. (Unfortunately, we haven't found a reliable way to tell if you'll get automatic approval or need manual approval.)
Either way, Kickstarter is just making sure that your campaign meets all its platform rules and that it has the required goals. They're not really vetting you or your project otherwise.
So in most cases, your project should go through without too much issue. Then it's time for you to start marketing and sharing it everywhere (social media, like Facebook, is a good starting point).
With any luck, you'll get plenty of donors to fund your project.
At the close of your successful crowdfunding campaign, Kickstarter will collect payments from all your donors. Expect this to take two weeks or so.
After that, Kickstarter will deposit your money into your bank account. You'll have to be patient though, because this can take another two weeks (but hopefully it will go faster).
Then you can use your newfound funding to finish your project. (Yay!)
Just make sure you keep your Kickstarter backers updated, and don't forget to send out rewards. If you go silent or don't keep your reward commitments, you'll have a much, much harder time finding donors next time.
Kickstarter customer reviews
At this point, you should have a pretty good sense of whether or not you want to create a Kickstarter campaign. But in case you're still on the fence, let's see what Kickstarter users have to say.
Kickstarter has a 1.3 out of 5 on Trustpilot.6 That sounds bad, we know. It's not great. But frankly, it's not that bad for a crowdfunding platform (in fact, GoFundMe is the only platform we've seen that has good reviews).
Plus, you need to keep in mind that almost all those bad reviews come from Kickstarter backers―not Kickstarter creators.
Those backers are really mad though. Just about all the negative reviews say pretty the same thing: A project backer donated to a campaign, waited a long time for their promised reward, and never got anything. Then when they tried to complain to Kickstarter about it, they got no help (or sometimes no reply at all).
We'd love to tell you that you shouldn't worry about these reviews, because you'll be a project creator instead of a backer. But these reviews do show that a lot of Kickstarter backers feel cheated, which makes them less likely to donate to future campaigns. So you may find that you're dealing with a smaller pool of donors than previous campaigns had.
Now, we did see a couple reviews from project creators worth mentioning. The first was from a business owner who submitted their campaign for approval and got rejected, supposedly with no justification. We admit that's frustrating, but it doesn't seem to be a common experience.
The other review was positive, with glowing things to say about how Kickstarter funding helped a startup get off the ground. Obviously not everyone will have that experience (remember that one-third success rate), but it's good to see that some business owners have found Kickstarter so helpful.
Kickstarter offers pretty much everything you could want from a crowdfunding site: tons of potential backers, a higher-than-average success rate, and loads of tools for project creators. All that makes it our favorite crowdfunding site for business owners (at least if you've got a product-based business).
That doesn't mean it's perfect. You will have to prepare for a long, involved campaign. And if you don't meet your funding goal, you won't get any money.
Even with those potential downsides, though, using Kickstarter for business is a great idea.
Think a Kickstarter campaign sounds a little too involved? Consider getting a business loan through peer-to-peer lending instead.
No, Kickstarter backers don't make money, because it's rewards-based crowdfunding. That means backers get rewards (such as products) for donating instead of cash.
Other crowdfunding types do let backers make money, though. For example, some venture capital companies use equity crowdfunding (which gets you partial ownership of a company) to find their next investments.
Likewise, accredited investors sometimes use debt crowdfunding (which can earn your interest on your investment) to get a monetary return.
GoFundMe and Kickstarter cater to different needs. If you've got a nonprofit, GoFundMe is probably the better choice. If you've got a product-based startup, Kickstarter will work better for you.
Kickstarter can potentially help you start your business, but that will depend on what kind of business you have and what your needs are.
As we note above, Kickstarter only works for products and other creative projects. If you've got a service-based business, Kickstarter can't help you.
Plus, Kickstarter funding may not be enough for your startup. Most successful campaigns get $10,000 or less in funding as we mentioned before. That's still a good chunk of change, but some businesses need more working capital to get off the ground.
So yes, Kickstarter may be able to help you get your startup going. But if you need more money or have a service-based business, you might want to look at the best small-business loans for startups instead.
Disclaimer
At Business.org, our research is meant to offer general product and service recommendations. We don't guarantee that our suggestions will work best for each individual or business, so consider your unique needs when choosing products and services.
Sources
1. Kickstarter, "Stats." Accessed July 8, 2022.
2. Kickstarter, "Stats." Accessed July 8, 2022.
3. Kickstarter, "Building Rewards." Accessed July 8, 2022.
4. Kickstarter, "Stats." Accessed July 8, 2022.
5. Kickstarter, "Shortening the Maximum Project Length." Accessed July 8, 2022.
6. Trustpilot, "Kickstarter." Accessed July 8, 2022.