GoFundMe Review: Crowdfunding for Nonprofits and Other Businesses
If you've got a nonprofit―or a dedicated group of customers―GoFundMe can help meet your fundraising needs.
For better or worse, GoFundMe is everywhere. You've probably seen countless people use this online fundraising platform to get money for medical bills, weddings, and more.
But what if you don't want to use GoFundMe for a personal cause? What if you want to use it as a business owner instead?
Well, if you have a nonprofit or a niche local business, GoFundMe could be a great fundraising, or crowdfunding, platform for you. And in this review, we'll help you decide. We'll explain who should use GoFundMe, what costs to expect, and how you get money.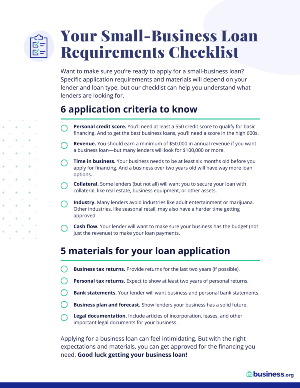 Applying for a small-business loan soon?
Our free checklist can help you understand what lenders are looking for.
GoFundMe is best for nonprofits (and some business charity needs)
Low-to-no platform fees
Keep-what-you-raise model
Extra tools for nonprofits
No options for traditional startup needs
Low campaign success rate
We like a lot about GoFundMe, but that doesn't mean it's a good fit for most businesses.
GoFundMe doesn't work like many of the popular crowdfunding platforms out there. For example, it's not reward-based crowdfunding (in which you promise backers something in return for their money), and it's not equity-based crowdfunding (in which backers get company equity in return for their money).
Instead, GoFundMe campaigns are strictly donation-based. A backer gives you a donation out of the goodness of their hearts―not because they expect something in return. (This is why GoFundMe is known for charity needs, like paying medical bills).
On the one hand, that's great for you because it means you don't have to worry about coming up with rewards or negotiating equity contracts. Instead, you just create a campaign, and you get your money. (Well, hopefully.)
On the other hand, GoFundMe won't work for most businesses because very few people will have any interest in funding your business when they get nothing in return.
There are, of course, some exceptions.
GoFundMe might be exactly the crowdfunding platform you want, if you have a nonprofit organization. As we'll show you later, GoFundMe has created tools just for nonprofit fundraising.
Plus, GoFundMe's unique campaigns make it ideal for nonprofits. You keep whatever funds you manage to raise (even if you don't meet your fundraising goal), and your campaign doesn't have a defined end date. So you can keep your fundraising campaign up indefinitely, meaning more donations with less work on your part.
And let's be honest: most people are more likely to donate to a nonprofit than a for-profit business, at least when they're not expecting anything in return.
So while you shouldn't expect a GoFundMe campaign to singlehandedly fund your dog rescue or your after-school program, it can be a helpful tool in your fundraising plan.
While nonprofits will likely do the best on GoFundMe, that doesn't mean other businesses can't try a GoFundMe campaign. You just need to have a super-dedicated customer base.
For example, we all know that COVID-19 has wreaked havoc on many small businesses. So many of them have created a crowdfunding campaign on GoFundMe in an attempt to stay open.
GoFundMe's coronavirus response
GoFundMe itself has started a Small Business Relief Fund campaign. It's raised well over $2 million, which is being used to offer microgrants to affected businesses.
For example, you'll see lots of restaurants asking for donations to pay their staff as well as small stores asking for money to pay their rent.
What these have in common is that they're niche local businesses that have avid fanbases—people like what they bring to the community, so they're willing to offer money.
And even if you do have that kind of customer base, you'll probably have a hard time if you create a campaign for an office renovation or a marketing campaign. (In cases like that, you may want to try peer-to-peer lending instead.)
GoFundMe crowdfunding options
So let's assume that you think your business can do well on the GoFundMe platform. What are your campaign options?
GoFundMe has two types of campaigns. First, there's plain ol' GoFundMe, which is for fundraising by individuals (that can include you, as an individual, raising money for your business). Then there's GoFundMe Charity, designed especially for nonprofit businesses.
| | | | | |
| --- | --- | --- | --- | --- |
| Product | Campaign type | Platform Fee | Payment processing fees | Get started |
| GoFundMe | Donation | 0% | 2.9% + $0.30 | Start a Campaign |
| GoFundMe Charity | Donation | 3% | 2.2% + $0.30 | Start a Campaign |
Data effective 5/10/22. At publishing time, pricing is current but subject to change. Offers may not be available in all areas.
GoFundMe for individuals has no platform fee whatsoever (yay!), but it does have a processing fee for payments. Those payment fees are pretty standard for a crowdfunding platform.
With this version of GoFundMe, you can create your crowdfunding campaign and get your money. So why upgrade to GoFundMe Charity?
How does GoFundMe make money?
GoFundMe makes most of its money from donations directly to its platform―tips, as it likes to call them. We assume it also makes money from the GoFundMe Charity platform fee.
Well, GoFundMe Charity does have a platform fee, but it's on the low side for a crowdfunding platform (Kickstarter and IndieGoGo charge 5%). And as you can see, the payment processing fees are lower for nonprofits than for individuals.
Plus, GoFundMe Charity offers your donors the chance to cover your fees entirely. (An individual GoFundMe account can't do this.) That means you can get 100% of your money, if your donors feel so inclined.
And that's just one of the features GoFundMe Charity offers. Your Charity GoFundMe account also gives you extras like these:
Dashboard with donor and financial data
Ability to add custom branding to your campaign
Integrations for things like your website and email
Even more tools
If you're the kind of nonprofit that does a lot of fundraising, those tools can make your life as a campaign organizer much easier.
Regardless of which campaign type you choose, there are few things you should know before you begin fundraising.
First, as we mentioned above, GoFundMe operates on a keep-what-you-raise model. So while you may have to set a fundraising goal for your campaign, you don't have to meet it to get money.
In fact, you can withdraw money from your campaign donations at anytime you like. It may take a few days for the funds to reach your bank account, but you don't have to wait for a specified goal to start using your money.
And speaking of timelines, remember that GoFundMe doesn't have time-sensitive campaigns. So your campaign will stay open forever unless you actively choose to close it or to delete it.
Creating a successful crowdfunding campaign
Remember too that crowdfunding can be hard work. You'll want to promote your campaign on your website and social media.
You may want to take pictures or videos to supplement your GoFundMe campaign. You can use these to beef up your campaign page (and get attention on Facebook, Instagram, and Twitter).
And once your campaign is off the ground, you might want to offer updates to your donors. For example, you can share how you used donations. It could inspire people to donate more money or to share the campaign with their friends.
Keeping your expectations realistic
At the same time, we want to provide a reality check here. Crowdfunding as a whole isn't known for its stellar success rate. And GoFundMe is no exception. One study suggests that under 10% of GoFundMe campaigns meet their fundraising goal.1
Now, that might not be quite as bad as it sounds. Because as you recall, you still get money even if you don't meet your goal. So a fundraiser that got 99% of the way there would be considered unsuccessful, but it would still mean the campaign organizer got most of their money.
Still, you should try to keep realistic expectations for your fundraiser. For example, while it would be nice if GoFundMe could entirely fund your nonprofit or business, you really shouldn't count on it.
GoFundMe customer reviews
As you've seen, we think GoFundMe does a lot right. But do GoFundMe users agree? We looked at GoFundMe reviews to find out.
For the most part, they do. GoFundMe has a 4.6 out of 5 on Trustpilot―easily the best score we've seen for a crowdfunding platform.2
The positive reviews praise GoFundMe's customer service, saying it quickly handled mistaken payments and money withdrawal problems, among other issues. And of course, users like how easy it is to set up a GoFundMe campaign and start getting donations.
On the flip side, we saw a fair number of negative reviews from people who didn't realize GoFundMe charges a payment processing fee. We also saw complaints that GoFundMe made it too difficult to get funds. Finally, we saw negative reviews from people who didn't get the funding they wanted. (So again, keep your expectations in check.)
That being said, GoFundMe is, overall, a positively reviewed crowdfunding platform.
Want more options? Fund your business with a personal loan.
GoFundMe has a lot going for it, like low (or no!) platform fees, robust tools for campaign organizers, and a keep-what-you-raise model.
But it's also got a low success rate, and it doesn't work well for all types of businesses.
So while we think GoFundMe can be a great resource for nonprofit organizations and other niche businesses, make sure to have realistic expectations for your campaign.
Not sure if crowdfunding will work for your business? Check out the best small-business funding options.
Is GoFundMe legit? Is it safe to use?
Yes, GoFundMe is legitimate and safe. Plenty of people have used it. And as we note above, it's got great customer reviews.
What crowdfunding platforms are better than GoFundMe?
The best crowdfunding platform for you will depend on your specific needs. For example, GoFundMe works well for nonprofits, while Kickstarter would work better for product-based businesses.
To see some alternative crowdfunding options, check out our guide to the best crowdfunding sites for startups.
Can I use GoFundMe for anything?
Pretty much, yeah. You'll see fundraisers for medical bills, weddings, funerals, vacations, competition fees, and more. Individuals, businesses, churches, and more have campaigns on the site too.
That doesn't mean all those campaigns get successfully funded, of course. But yes, you can create a fundraiser for just about anything on GoFundMe.
Disclaimer
At Business.org, our research is meant to offer general product and service recommendations. We don't guarantee that our suggestions will work best for each individual or business, so consider your unique needs when choosing products and services.