Wefunder Review: Equity Crowdfunding for VC-Track Startups
If you've got some people ready to invest in your startup, Wefunder can connect you with plenty more.
If venture capital and crowdfunding had a baby, it might be Wefunder. Wefunder lets you crowdfund money from investors―both accredited investors and non-accredited investors―for your startup.
That means it can get you more money than other crowdfunding platforms, but you don't directly have to pitch investors like you would with venture capital.
Interested? In this review, we'll explain more about what Wefunder is, how it works, and how to tell if it's a good fit for your business capital needs.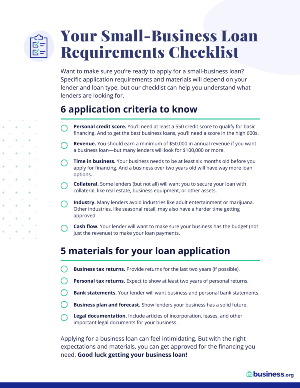 Applying for a small-business loan soon?
Our free checklist can help you understand what lenders are looking for.
Wefunder is best for startups with an existing fanbase
High success rate for campaigns
Lack of exclusivity
Resources for startups
Lots of legal rules and requirements
Required financial disclosures
Wefunder doesn't cater to brand-new businesses or explosive startups on their third round of venture capital (VC) funding. Instead, it aims at the sweet spot somewhere in between startups that have some fans and the potential for large growth.
That's because Wefunder mostly does equity crowdfunding, which means that backers get some ownership in your business. (It also, less commonly, does debt crowdfunding, in which backers give you a loan that you repay with interest.)
And to succeed with equity crowdfunding, you need to be established enough that people are willing to invest, but with plenty of room to grow so they can get a good return on their investments.
If fall in that sweet spot, you'll likely find a suitable a good partner at Wefunder. It has a delightfully high success rate of 75%, and the average successful campaign raises $320,0001―a larger amount than on other crowdfunding platforms like Kickstarter or GoFundMe. Plus, Wefunder offers help with everything from mentorship to legal documents to investor relations.
All that sound good? Then let's dig a little deeper to see if Wefunder is right for your startup. (And if Wefunder doesn't sound like your cup of tea, you can find alternative crowdfunding platforms on our list of the best crowdfunding sites for startups.)
As we said, Wefunder mainly works with equity crowdfunding. So investors give you money, and then they get a little piece of your business in return. That small piece of ownership means they can expect future returns on their investment, usually in dividends or money from a company acquisition.
All this means is that some businesses will do better on Wefunder than others. Technically, Wefunder allows businesses in all industries to use its platform (with a few exceptions like gambling and marijuana).
Product vs. business
Some crowdfunding platforms, like Kickstarter, raise money for a product rather than a company. Wefunder (and other equity crowdfunding platforms) strictly raise capital for businesses.
But realistically speaking, most investors won't crowdfund an attorney's office or a marketing agency. Instead, they're looking for more exciting, newsworthy ideas―the next Warby Parker, Snapchat, or Netflix. Because again, they're hoping your business moves on to bigger and better things so they can see a nice return.
That doesn't mean that all businesses on Wefunder are tech startups or focused on selling an innovative product. For example, breweries, racehorse stables, and interactive art installations have all raised capital with Wefunder.
You'll also want to consider whether you've got any potential investors lined up. Again, these don't have to be formal accredited investors (investors with a certain net worth)―your family, friends, and current customers are totally fine.
Regardless of where they come from, you need people willing to invest in your small business if you want to succeed on Wefunder.
In fact, Wefunder estimates that the average successful Wefunder campaign only gets half of its investors from Wefunder's platform.2 The other half? Investors the company already knew and invited to invest.
Think of it this way: someone who finds your equity crowdfunding campaign on the internet has no idea whether you have what it takes to succeed. But when they see that other people believe in you (especially people who know you and your company), they're more likely to make an investment.
Your startup also needs to be in a good financial position.
As we keep saying, investors want a company that can grow. So when they're considering investing in your small business, they're going to want to see that your startup has a good track record and that it's financially stable.
Because remember, they're investing in the company itself―not the product it offers.
Also, you'll have to disclose your finances to potential investors. It's not enough to say that things are "good." As part of the rules for equity crowdfunding, you'll have to provide full financial disclosures to investors.
Finally, if you want to get funding on Wefunder, you should have a working knowledge of how startup investing works.
That doesn't mean you need to have successfully raised money for a Silicon Valley startup. Still, you should understand what the SEC requires from businesses seeking investment funding, how angel investors and venture capitalists work, and know the risks of giving up company equity.
See, as an equity crowdfunding site, Wefunder (and your startup, by extension) has to comply with many legal rules and regulations. Big ones. Important ones.
Wefunder will do some basic due diligence to ensure your business follows all its rules. That still means, though, that most of the responsibility falls on you to make sure your contracts are in order and that you're fulfilling your legal duties as a company.
So just be sure to have enough legal knowledge—like what regulation D, valuation cap, and accredited investors are—before deciding to crowdfund with Wefunder.
Wefunder costs and pricing
Since you're still here, we assume you think your startup might do well on Wefunder. But what will this crowdfunding platform cost you?
Well, nothing at all if you don't meet your funding goal. There's absolutely no upfront fee to create an account or start a campaign.
Instead, Wefunder charges a platform fee for successful campaigns. So if you do end up meeting that funding goal, it will take 7.5% of the money you've earned. (Be sure to bake that percentage into your goal.)
| | | | |
| --- | --- | --- | --- |
| Min./max. funding goal | Platform fee | Campaign length | Learn more |
| $20,000/$5 million | 7.5% | 1–6 mos. | Start a campaign |
Data effective 5/12/22. At publishing time, pricing is current but subject to change. Offers may not be available in all areas.
This fee is all-inclusive. There are no separate charges for payment processing or anything. So while 7.5% might seem steep, it's on par with the total charges from other crowdfunding platforms.
And to be clear, the platform fee applies to the money you raise―Wefunder doesn't get any equity in your company.
Included in your campaign
Wondering what that platform fee gets you? A lot more than you'd get from some crowdfunding platforms.
Wefunder offers a surprising amount of support for business owners. When you create your campaign, Wefunder will look it over and give you advice. Then, once you begin your campaign, Wefunder will help you market it (if you get enough investors).
After you've been funded, Wefunder will let you use software to easily take care of annual reports for investors. It will also take care of basic investor relations, disbursing dividends or repayments to your backers.
And throughout the process, Wefunder will give you access to a nice legal library full of forms and documents you'll need to keep your campaign and your business on the SEC's good side.
Your Wefunder crowdfunding campaign
With all that said, let's talk about how your Wefunder campaign will actually work.
As we said earlier, anyone can create a campaign with Wefunder. But that doesn't mean just anyone can be successful. Because again, investors are looking for specific types of projects that they think can succeed.
That's why Wefunder suggests you do a test run of sorts. You can create a private campaign and share the link around. Then, if you raise $10,000, you can decide to take the campaign public and raise more funds. And if you don't, you can close the campaign without investing any more time or energy into it.
To increase your chances of creating a successful campaign, you'll want to make a compelling pitch for you and your business. Talk about your credentials, the successes your startup has seen so far, and your goals for the future.
But remember―investors aren't stupid. Don't try to overhype or over inflate things. Likewise, you should be transparent about the risks that come with investing in your business.
Oh, and keep in mind that the campaign creation and approval process can take a few weeks. (Remember, equity crowdfunding has a lot more rules than other types of crowdfunding.) So be sure to plan for that delay.
After you launch and run your campaign, you'll obviously want to get your money. But again, this will require some patience on your part.
Wefunder will collect all the funds from your investors, and it will go into an escrow account. You'll have to take care of some (more) legal stuff to make your investors into shareholders, after which you can get your money.
And speaking of shareholders, we should mention that with Wefunder, all your investors get grouped together―so they function as just one shareholder, with a lead investor who takes care of voting, signing, and other responsibilities.
You can choose who your lead investor is, but Wefunder will have to approve it. After all, this person will continue to have responsibilities well after your campaign has ended.
Once your campaign is over, you'll still have some responsibilities to investors. For example, you'll be expected to provide an annual report (but as we mentioned, Wefunder has software that can help with this). In addition, if your company has dividends or gets acquired, you'll have to pay those out.
In other words, don't forget about your Wefunder investors.
With any luck, the money you get from your Wefunder crowdfunding campaign will help you strengthen and build up your business. And then, if your campaign turns out to be successful, it will give you the momentum to find more diverse and better funding opportunities―often from venture capitalists.
Wefunder customer reviews
But enough from us. What do Wefunder users think of the platform?
Frankly, there aren't that many Wefunder reviews out there yet, and the few we found were from the investor side.
In fact, the closest we got to a review from a business owner was a comment made by the friend of a business owner, who said his friend's business raised $300,000 on Wefunder. Nice, but not super informative.
It's worth looking at what investors have to say though. Unfortunately, we mostly saw negative comments from investors. Some were (understandably) frustrated that they'd made an investment and then never heard from the startup again. Likewise, we saw a few people comment that they were disappointed in the (lack of) returns on their investments.
None of those reviews should keep you from using Wefunder (especially since you'll find similar comments about most crowdfunding platforms)―but you might want to keep them in mind as you run your campaign and communicate with investors. After all, you don't want to be the next startup Wefunder investors complain about.
While Wefunder may be open to all types of startups, its regulation-heavy platform will work best for businesses that are on a track towards venture capital funding.
With a high success rate and plenty of resources for business owners, Wefunder offers a great way for those types of businesses to get funding. Just remember that you'll need to bring plenty of investors yourself if you want to run a successful Wefunder campaign.
If a Wefunder equity crowdfunding campaign sounds a little too complicated for you, you might want to consider something more straightforward―like peer-to-peer lending.
According to Wefunder, it has more than 550,000 investors using its platform.1
No, Wefunder doesn't charge anything until you've run a successful campaign.
The best alternatives to Wefunder will depend on your needs.
If you want a simpler crowdfunding site, Kickstarter works well for many product-based businesses.
But if you're committed to equity funding, you might want to look at platforms like CircleUp, Fundable, or SeedInvest instead.
Disclaimer
At Business.org, our research is meant to offer general product and service recommendations. We don't guarantee that our suggestions will work best for each individual or business, so consider your unique needs when choosing products and services.