How to Get a Commercial Real Estate Loan
Ready to take out a commercial real estate loan? No worries—we'll walk you through the process.
1. Figure out how you'll use your loan
Before you do anything else, you need to decide what you need a loan for and how you plan to use it.
For example, do you intend to buy an office building to work out of? Then you should figure out what property you want and put it under contract. Are you building new multifamily properties? Then you need to create a plan for doing that, from finding the land to finding a contractor. Just remodeling your current office space? You should have a clear vision for what the end product looks like.
Choosing a property
Just because you love a property doesn't mean your lender will. The more research and due diligence you do on the property and its area, the more likely you are to convince your lender it's a good investment. Still, you should be prepared for the possibility that a lender will refuse to fund a particular property.
You'll need this information both to decide what kind of commercial real estate loan you need (which we'll do in step two) and to get a lender to approve your loan (down in step four). Plus, anytime you're taking on thousands or even millions of dollars in debt, you should have a plan for how you'll use that cash. (And you should have a plan to repay the loan.)
Once you have a clear understanding of where your loan money will go (such as land, labor, materials, etc.) and what size loan you'll need to finish your project, you can move on to step two.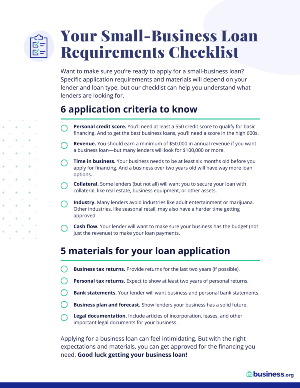 Applying for a small-business loan soon?
Our free checklist can help you understand what lenders are looking for.
2. Choose your real estate loan type
If you know what you'll be doing with your loan, you should be able to easily figure out what kind of commercial real estate loan you need.
After all, you wouldn't use a commercial construction loan to buy a brand-new practice building, and you won't want a purchase loan to build a multifamily unit. But since you already know why you need a loan and how you'll use it (thanks, step one), choosing the right loan type should be a piece of cake.
Commercial real estate financing options
In most cases, you'll choose from a few common types of commercial loans.
A purchase loan, as the name suggests, is designed for purchasing property. This type of financing comes in large loan amounts with long repayment terms (up to 20 years). You may also hear it called a mortgage loan.
A construction loan, on the other hand, usually has a shorter loan repayment term (think one to three years). Most people get a construction loan to build their property, then refinance after completing construction.
Then you have refinance loans. You probably already know how refinancing works with personal loans, and it's pretty similar for commercial real estate. By refinancing, you can often lock in lower rates and lower your monthly payments.
Hard money loans work best for real estate investors who want to flip properties. These loans come with a higher interest rate and shorter terms than other types of loans, and you can only get them from private lenders. But if you intend to flip and sell, these are ideal.
You can also get a couple types of SBA real estate loans: SBA 7(a) loans and SBA 504 loans. Because these are backed by the U.S. Small Business Administration's SBA loan program, these have low rates that make them a great deal for real estate.
The type of loan you choose will limit your choices for commercial lenders, since most lenders offer only specific types of commercial real estate loans. So if you know what kind of real estate loan you want, step three should feel a lot easier.
3. Find the right commercial lender
Now you're ready to find a lender to actually extend you a commercial property loan. And because we want to make your life easier, we rounded up and ranked the best commercial real estate loans out there. You're welcome.
(For the record, our favorite commercial lender is Lendio.)
Of course, finding a lender isn't always as easy as just picking the one that looks best to you. Banks and credit unions often have strict lending policies, which means you'll need to meet certain qualifications to get the money you want.
Expect commercial lenders to look at factors like these when evaluating your creditworthiness:
Personal credit history
Annual revenue
Coverage ratio
Debt-to-income ratio
But with commercial lending, banks won't just look at you. They may also look at the following for your property:
Property type
Purchase price
Operating statements
Rental income (if applicable)
So as you evaluate potential commercial lenders, pay attention to how they'll evaluate you. Why waste time applying to a financial institution that will never approve you (especially if that wasted time and money could mean losing out on your real estate)?
Once you've figured out where you want to apply, it's time to get your application together.
4. Get your loan application ready
Different lenders will have different application processes. Generally speaking, though, you'll have to fill out a bunch of forms about yourself, your business, and the property.
After that, you'll submit supporting documentation, like the following:
Business tax returns
Personal tax returns
Business plan
Legal documentation
Any of the research and due diligence you did back in step one will also come in handy now.
Do note that your lender may ask for more documents during the application and approval process. In fact, the back and forth of you submitting documents and them asking you for more can often be one of the longest parts of the commercial funding process.
So prepare to be patient. And remember, the faster you get the lender everything it asks for, the faster you can (with any luck) get approved.
Once you've heard back and gotten approved, you can close on the loan and get started on your commercial real estate project.
Depending on what kind of loan you're getting, this part could take a while. Long-term financing, like SBA real estate loans, can take weeks or even months. Short-term financing, like hard money loans, usually goes quite a bit faster.
But as soon as things get squared away, congratulations! You've got yourself a real estate loan (and the real estate to go with it).
Look, buying commercial real estate will probably never be stress-free, but knowing what to expect can make it a whole lot easier. With our steps, you can be prepared for every stage of the process, from finding to signing.
And before you know it, that property can be yours.
Now that you're ready to get a commercial real estate loan, calculate how much your business mortgage will cost with our commercial loan calculator.
FAQs about commercial financing
While that will depend on your lender and other individual circumstances, the average time for closing on real estate loans is 44 days—though anywhere between 14 to 57 days (or more) is common.1
The exact fees and charges on a real estate loan will depend on your loan type and lender, but you'll commonly see origination fees, appraisal fees, application fees, survey fees, and miscellaneous legal fees.
Plus, of course, there's interest. Real estate loans can have a fixed or variable rate, so make sure you discuss your rates and fees with your lender.
Again, loan requirements vary by lender. But in most cases, a borrower will need the following the get a commercial real estate loan:
A personal credit score of at least 600
At least two years in business
Annual revenue of at least $50,000
And remember, those are minimums. Many lenders will have higher loan application requirements.
Disclaimer
At Business.org, our research is meant to offer general product and service recommendations. We don't guarantee that our suggestions will work best for each individual or business, so consider your unique needs when choosing products and services.