Best Zoho Inventory Alternatives 2023
We dug into inventory management systems to find which ones are good alternatives for Zoho Inventory. Looking at features, pricing, integrations, and specialities, we found five brands that are a step above the rest.
Data as of 12/12/22. Offers and availability may vary by location and are subject to change.
* With annual plan
º For the first three months
There are so many inventory management systems out there that it's hard to know which one to pick for your business. Zoho Inventory has consistently ranked as one of our top choices, but what if you want something a little different?
There are five other inventory management brands we recommend as top alternatives to Zoho because they offer similar inventory features but have something different that sets them each apart:
Let's get right to it and take a deeper look at alternatives to Zoho Inventory.
Zoho alternatives table of contents
:

Best for ecommerce

:

Best for growing businesses

:

Best for wholesale

:

Best for small businesses

:

Best for large businesses
Top Zoho alternatives at a glance
We wanted to see how each of these systems stacks up—against each other and Zoho. The primary things we're looking at in each brand are their price points and the features they bring to the table. All of them have inventory management, but what about barcoding, integrations, or warehouse management? That's where we can really see what separates them.
Data as of 12/12/22. Offers and availability may vary by location and are subject to change.
* With annual plan
º For the first three months
1 Plan dependent
2 The inFlow Smart Scanner costs extra
Price is the biggest point of contention. Zoho is still one of the most affordable inventory management systems on the market, primarily because of its free plan. If you're looking to find an alternative to Zoho, you need to figure out what gap you're looking to fill. Every other inventory management system will be more expensive, but what does it offer that Zoho doesn't?
That's the big question here. Each option is going to be different and work for different businesses, so you need to see which one clicks with your business. Inventory management forms the backbone of your company, and you want it to be strong.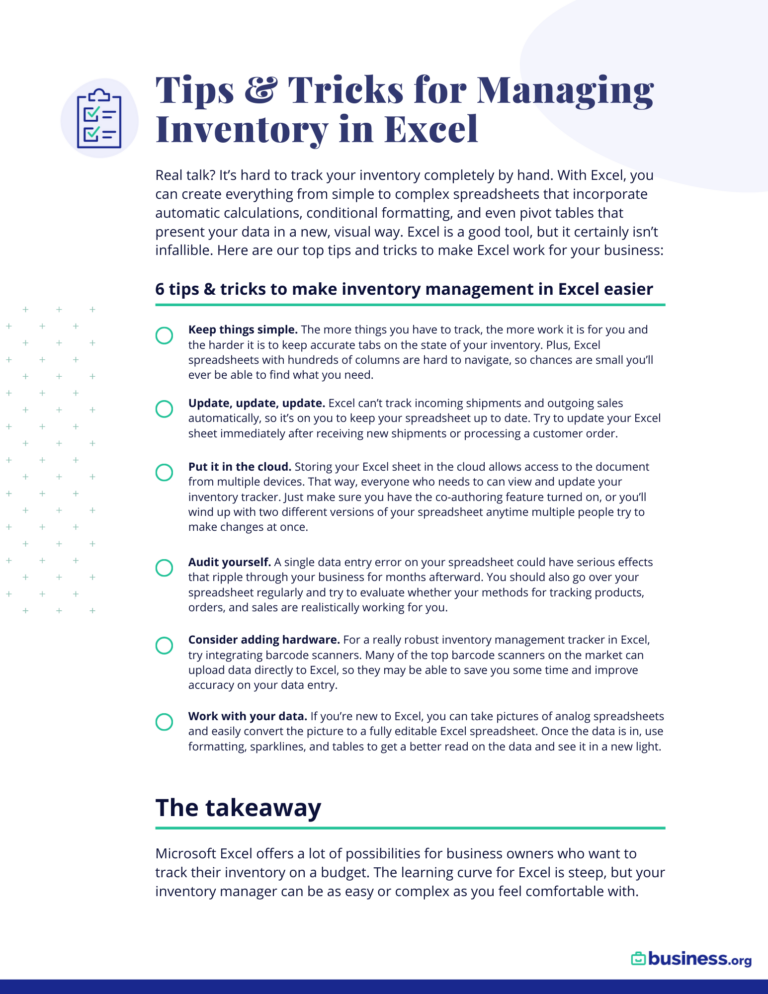 Get your free template
Keep your inventory organized, monitor shipments, and track vendor reliability with our customizable Excel inventory template and our included tips and tricks.
Ordoro: Best for ecommerce
Data as of 12/12/22. Offers and availability may vary by location and are subject to change.
Ordoro is the ecommerce inventory management system. It's one of the better services out there, and we've continually been impressed by its features and what's available. However, the difficulty is that most of those inventory management features are only available for a steep fee: $499 per month. That's a lot to ask small businesses to pay for, but Ordoro can be your one-stop inventory management and dropshipping platform—and for some businesses, that's too good to pass up.
Analytics are also a huge part of the system, with built-in systems tracking everything from cash tied up in inventory to best- and worst-selling products. It helps you understand overall performance to better manage your business and stock. With the ability to unify your inventory across all sales channels, you can be sure that your stock levels are updated whether you sold to a person online or in your store.
Cin7: Best for growing businesses
Data as of 12/12/22. Offers and availability may vary by location and are subject to change.
Cin7 is one of the more expensive inventory management systems on the market, but that doesn't mean it's not worth it. All of Cin7's plans include the core inventory modules along with automation workflows and a connection to accounting, ecommerce, shipping, or marketplaces. More expensive plans include B2B stores and warehouse management plus third-party logistics. All of this adds up to a great inventory management system for businesses on the rise that will scale with Cin7.
The pricing is the biggest deterrent. Honestly, $399 per month for a starting inventory management software is a lot, and it doesn't offer enough to entice business owners away from Zoho or inFlow. But what it does offer is features without the need for integrations. Built-in POS, Cin7 Pick and Pack, and the B2B portal set Cin7 apart from its competition—and that's what we like about it. It's taken inventory management to a new level and is focused on growing your business.
QuickBooks Commerce: Best for wholesale
Data as of 12/12/22. Offers and availability may vary by location and are subject to change.
º For first three months, then $105/mo. Requires QuickBooks Online Essentials, included in price.
QuickBooks Commerce is part of the QuickBooks family of brands—primarily known for their accounting software—and this inventory solution is good but not great. It's best for wholesale because it's designed to be used with ecommerce. But we've found that QuickBooks Commerce does have limitations, specifically on monthly sales order volume and SKU lists. Right now, the limit is 30,000 orders and 20,000 SKUs, which most businesses are not reaching anyway.
The other downside is that you are required to have QuickBooks Online to work with QuickBooks Commerce. So if you use different accounting software for your business already, you'll have to switch to QuickBooks and bring all your data over too. Despite that, with the ability to manage inventory across multiple sales channels and track products from inventory to fulfillment, QuickBooks Commerce is great for ecommerce. It lets you run the entire operation from one place.
QuickBooks Commerce is on sale
There is a special currently going on where QuickBooks Commerce and QuickBooks Online Essentials are $50/mo. for the first three months. After, each is $50/mo. for a total of $100/mo. You need QuickBooks Online Essentials to run QuickBooks Commerce.
inFlow Inventory: Best for small businesses
Data as of 12/12/22. Offers and availability may vary by location and are subject to change.
* With annual plan
inFlow Inventory is a great inventory management system but can be costly for many businesses—especially since it does not provide everything up front. While it provides almost every feature you could want for your business, the additional costs for add-ons and integrations can make it prohibitive for small businesses.
So who is inFlow good for? Well, if your business is growing, then the cost is justified. You can start with 100 orders per month across one inventory location and two team members and build your way up to 5,000 monthly orders, unlimited inventory locations, unlimited integrations, and 10 team members. The scalability is good, but when compared with Zoho, the plans are expensive. If you have the orders to make inFlow worthwhile, then it's worth considering.
Brightpearl: Best for large businesses
Data as of 12/12/22. Offers and availability may vary by location and are subject to change.
Brightpearl is the only enterprise resource planning (ERP) system on this list, and it brings to the table everything you could want from inventory management plus more—shipping, sales orders, retail, purchasing, payments, and customer relationship management. As an ERP, Brightpearl is meant to be your all-in-one business solution, helping your business run on a day-to-day basis. The difference from other ERPs? Brightpearl is one of the few inventory management ones, and that immediately sets it apart. But its price is only available upon request, which means it's probably not affordable for most business owners.
Plus, Brightpearl is designed for businesses that already have more than $1 million in sales, and that takes most other small businesses out of the running. Its focus on order volume reduces businesses to their current size instead of allowing them to grow. That's why we say Brightpearl is best for large businesses because there is no ability to scale up. Add to that optional features, like warehouse management and automations, and you've got a system that is really good but is only meant for certain businesses. If it's right for you, then you can't go wrong with an ERP in your corner.
When searching for an alternative to Zoho Inventory, you want to look for the gaps in your business. Zoho is a great all-around inventory management system for small businesses, while the five options above are designed for specific kinds of businesses. Determining what you need is the first step toward finding the right system.
Inventory management is a crucial part of running a company. We don't know what your business needs, but we're confident that these alternatives will help fill any gaps and make your business a success.
​​Still looking for the right inventory management option? Check out our top choices for inventory management software this year.
Zoho Inventory alternatives FAQ
Yes. Zoho Inventory is one of the best inventory management systems out there, particularly for small-business owners. With its free plan, you can start managing a small inventory at no cost before upgrading to a paid plan that goes up to unlimited monthly orders. With ecommerce integrations, barcoding, tracking, and up to 15 warehouses and users, Zoho is a really good option for small-business owners looking for a simple—but effective—inventory management solution.
Yes. Zoho Inventory offers a free plan that is really, truly free. It's not a free trial either: you can start selling and tracking products immediately—and for as long as you want—with this plan. The free Zoho Inventory plan offers 50 orders per month with 50 shipping labels, one warehouse, ecommerce integrations, and access for two users. It's great if you're just starting out and looking to branch into inventory management software.
What is the best program to keep track of inventory?
The best inventory management software depends on your business and its needs. We have 14 top picks for the year that look at the best inventory management software for ecommerce (Odoro), enterprise resource planning (Cin7), and restaurants (Upserve). Or you may want a smaller program that can grow with your business (like Sortly) or a manufacturing solution (like Fishbowl).
What is better than Zoho?
There are different kinds of inventory management systems for different businesses. Some may require an enterprise resource planning (ERP) solution, like Brightpearl, for their large business while others want to integrate easily with QuickBooks, through QuickBooks Commerce, to make accounting easier for their small online business. It really depends on what you need. However, Zoho is still tied with Ordoro as our top inventory management choice, so you can't go wrong there.
We compared top inventory management brands based on pricing, features, integrations, and ease of use to see how they compare with Zoho Inventory. We found five brands in particular that worked well as inventory management systems and as solutions for specific business problems and ranked them accordingly.
Disclaimer
At Business.org, our research is meant to offer general product and service recommendations. We don't guarantee that our suggestions will work best for each individual or business, so consider your unique needs when choosing products and services.