Lightspeed Inventory Management Review 2023
We spent 20 hours digging into Lightspeed HQ's inventory management software to bring you our review.
Data as of 12/14/22. Offers and availability may vary by location and are subject to change.
Tracking retail inventory is key for any small business, and having the right inventory management system makes that process a breeze. But what if your inventory system were connected to your point-of-sale (POS) platform? That would be even easier.
With Lightspeed HQ, you get both for the price of one. Unlike other inventory management add-ons, like QuickBooks Commerce, Lightspeed has inventory management built-in so all you need to do is make an account and you're good to go. But because it's all-in-one, the system itself can feel a bit overwhelming. It's not easy to follow, so you have to decide what makes the most sense for your business: organization or cost-saving.
While we really like Lightspeed POS, the inventory management system here feels cluttered even though it adds significant features. Still, Lightspeed is the only POS system on the market with inventory management capabilities, making it a worthwhile investment for retail stores that need both.
Lightspeed Inventory Management Table of Contents
Lightspeed is best for retail
Lightspeed's inventory management software is one part of the Lightspeed HQ retail plan. This platform is designed for retail small businesses to sell products directly to customers—typically in a brick and mortar store with the opportunity to expand to ecommerce as well. Lightspeed is unique from other inventory management platforms because it's designed around POS, and POS is integral to all retail businesses.
As an added bonus, Lightspeed POS has been called "Best for Retail" by our resident POS expert and is one of the top-ranked POS systems on the market.
Of course, having POS built-in can be bad for business owners,  especially those who don't need a POS system or who require a comprehensive inventory management system instead. With Lightspeed, the inventory management section is relegated to one tab in the POS platform, which makes for a confusing user experience.
At the same time, since inventory management is combined with POS in Lightspeed, it's easy for retail businesses to process orders. Lightspeed's inventory management system also connects to POS so your stock counts are always up to date and you can order new products directly from the POS system.
Built-in POS system
Inventory tracking across multiple locations
Over 60 integrations
Confusing user experience and design
No warehouse management functionality
Analytics available with advanced plan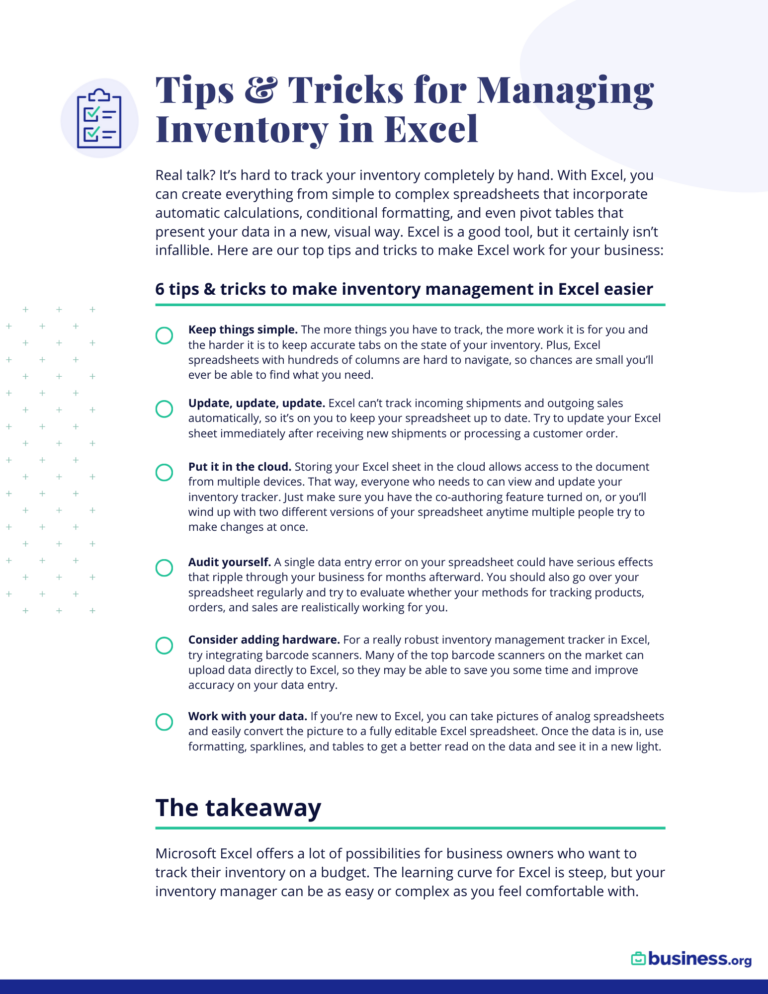 Get your free template
Keep your inventory organized, monitor shipments, and track vendor reliability with our customizable Excel inventory template and our included tips and tricks.
Lightspeed Inventory Management plans and pricing
Lightspeed does not have plans specifically for inventory management, so each plan includes POS as a base. In fact, inventory management functions as a separate tab of the software, so it's there regardless of whether you want it or not.
The pricing for Lightspeed is on par with the industry average for inventory management, and it provides POS too. So if you're looking for an affordable retail option, Lightspeed fits the bill.
Lightspeed Retail Pricing & Plans
Data as of 12/14/22. Offers and availability may vary by location and are subject to change.
*With annual plan through Lightspeed Payments. Lightspeed Payments allows you to integrate payment processing across your retail business.
Since Lightspeed Inventory Management is built out of the Retail POS system, you also get one register (additional registers cost $29 a month), integrated payments in the system, and Lightspeed Payment rates of 2.6% + $0.10—one of the better POS rates on the market.
Lightspeed Inventory Management: Major features
Lightspeed's inventory management platform is built as a basic extension of its POS software. So that means it's not as comprehensive as Ordoro, doesn't track across multiple sales channels like Cin7, and isn't designed for growing multichannel retailers like Zoho.
So what can Lightspeed do? We think there are four areas where the software excels:
Point-of-sale system
Inventory tracking
Seamless service integrations
Cross channel compatibility
Of course, Lightspeed has basic tools like purchase orders along with inventory control and pricing that are tied to the POS platform. Some of the analytics, accounting, and ecommerce options are only available in more expensive plans, so we're only going to talk about the basic features you can expect.
This one is a no-brainer: No other inventory management platform on the market has a built-in POS like Lightspeed's. (Sure, Square has inventory management, but it's nothing to write home about.) In fact, Lightspeed POS is our top pick for inventory and we are in awe of the 25 business types it has features for. (The main features cover retail, restaurant, and golf businesses.)
Having built-in POS makes it easier for you to run your business out of the box. As the owner of a retail small business, you need to track inventory and process payments, and with Lightspeed you can do both in the same app.
Lightspeed's inventory tracking is superb. You can track inventory across multiple locations using SKUs and unique serial numbers to see which products are where. Plus, inventory reports help you identify what's selling and needs to be replenished sooner rather than later. (One of the benefits of having a built-in POS system is that every transaction goes through Lightspeed.) Lightspeed even lets you create unlimited barcodes for free.
So what's the downside? There is no option to track inventory through warehouses or other channels. But you can manage purchase orders and automatically input them when new products arrive in your store. Just remember, Lightspeed is built for retail businesses and can't handle complex inventory tasks.
You're looking to grow your business and we're looking at how you can get the most out of your inventory management system. With over 60 integrations available, there's a lot of room to grow with Lightspeed. The integrations cover over 25 categories including accounting, analytics, customer service, marketing, payment providers, payroll, and warehouse management.
However, that doesn't mean all the integrations are perfect. Lightspeed has its own POS system, which limits integrations like Square and Shopify POS. However, the lack of other ecommerce and shipping integrations is surprising.
Compatible with ecommerce and brick-and-mortar stores
Lightspeed HQ is built for retail stores. With so many brick-and-mortar retail businesses going online, you want to ensure that your inventory management and POS system can come with you. Well, the Standard and Advanced plans offer an advanced integrated ecommerce platform so you can sell online and in store.
Now, ecommerce integration may seem like a basic feature at this point, but you have no idea how many inventory management systems require pricey integrations to connect ecommerce functions. Lightspeed offers a fully built-in "eCom store" so you never have to leave the platform to sell. And honestly, why would you? At $119/mo. for the Standard plan, you're getting three platforms for the price of one.
Compare Lightspeed Inventory Management vs. competitors
Data as of 12/14/22. Offers and availability may vary by location and are subject to change.
* With annual billing
º With annual plan through Lightspeed Payments.
Lightspeed is a great POS and inventory management combo, but it is mainly built for POS. That means it's not the best inventory management platform on the market, but it offers more upfront than any other brand could. Its price for inventory management and POS is also remarkably good for retail businesses just starting out.
So if you're looking for a system that can help you track sales and do basic inventory counts, then Lightspeed is for you. Overall, with its combination of POS and inventory management, Lightspeed does an excellent job.
Lightspeed Inventory Management FAQ
How do I collect inventory in Lightspeed?
Adding inventory to Lightspeed is super easy and starts with either importing a catalog/database or manually adding products. From there, you can add IDs (like SKU and UPC numbers), update pricing and inventory counts, and organize the product into different categories, tags, and brands. Once your business is up and running, Lightspeed uses purchase orders to update inventory counts.
How do you use Lightspeed inventory?
A Lightspeed account gives you access to the Lightspeed Inventory Management tab where you can update everything from new items and labels to purchase orders and shipping. The system is built on Lightspeed's POS platform, so it's not a separate inventory management platform.
What is the easiest way to track inventory?
The easiest way to track inventory is to use an inventory management system like Lightspeed. These systems automate processes and update stock counts for you so you don't have to do it all by hand.
What is the best program to keep track of inventory?
We think Zoho Inventory has the best system on the market. It offers great plans at an affordable starting price so you can upgrade as your business grows. Zoho is perfect for small businesses on a budget and larger businesses that have a strong multichannel retail business too. Honestly, you can't go wrong with Zoho.
In our review of Lightspeed Inventory Management, we looked at pricing, major features, integrations, and how it compared with other top inventory management platforms. Also, because it doubles as POS system, we included that in our ranking.
Disclaimer
At Business.org, our research is meant to offer general product and service recommendations. We don't guarantee that our suggestions will work best for each individual or business, so consider your unique needs when choosing products and services.