6 Tips to Turn Your Hobby Into Income
The idea of turning your hobby into a money-making endeavor may seem too good to be true. Do what you love and get paid for it?!
But generating income from your hobby is hardly a pipe dream. Many people have translated their hobbies not only into income but into lucrative earnings that can replace their full-time jobs. Whether or not you're interested in going all-in on your hobby, investigating what options you have for generating some income from your pastime can pay dividends.
There are a variety of ways to turn your passion into a paycheck, from selling items you make online to becoming a social media influencer in relation to your hobby. Read on to get some ideas about how to drum up some income in your spare time.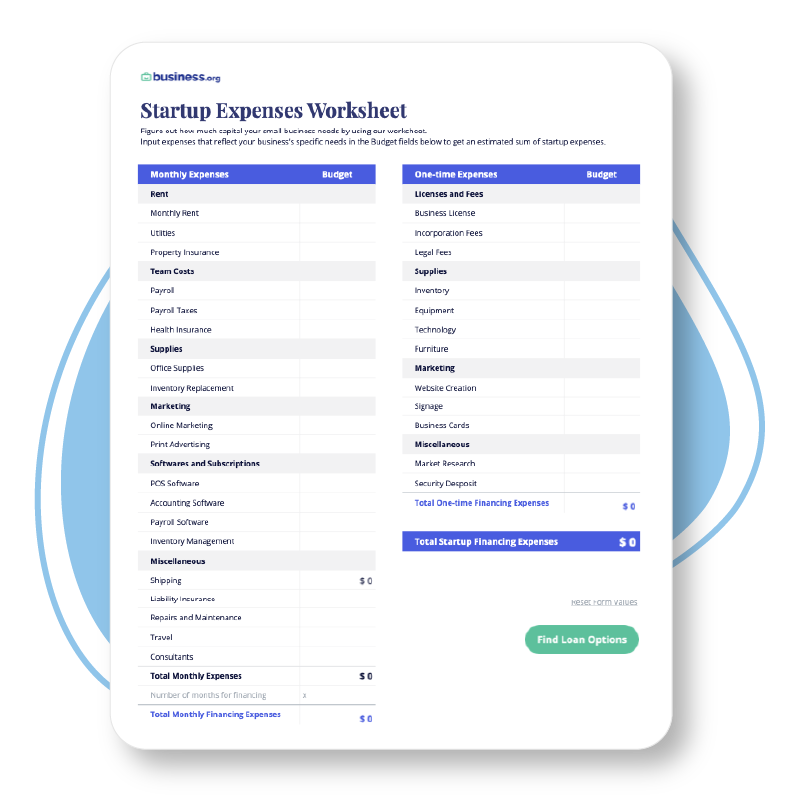 Do you know how much it'll cost to start your business?
Try our free startup costs worksheet to calculate expenses and estimate how much capital you need to launch.
1. Sell your products in stores or at fairs
If your hobby involves creating things that could be sold, you can find local markets for your wares with just a little legwork. Approach independently owned shops that may be interested in carrying your items or sign up for a table at a local craft fair or farmers market.
Selling locally can have tremendous benefits in terms of connecting you with a community of other makers. It also provides you with direct face-to-face access to customers who like what you produce.
2. Sell your products online
You'll be able to reach a bigger audience and potentially earn more income by selling your wares online at sites like Etsy or Amazon. This is especially true if you can create many versions of the same item, such as with photography or printmaking, and if your products are easy to ship.
Selling online can connect you with a fan base that spans the globe—picture your paintings hanging in people's homes in Turin and Tokyo, or your handmade candles lighting rooms in Johannesburg and Jerusalem.
Not every hobby results in art or handicrafts to sell, and even those that do involve a creation process that is core to why you are interested in the hobby in the first place. Another avenue for making money from your passion is teaching others how to do what you do.
You can teach others locally or online, either through an established institution or platform, or by creating your own online educational site or webinar. You can take students of any age or skill level, and design the course you want to offer to correspond with your own interests and talents.
Need some financing to get started? Fund your business idea with a personal loan.
As someone involved in a specific hobby, you can make a name for yourself on social media and build a thriving fan base around your interest. Hobbies as seemingly mundane as cultivating houseplants and searching for mushrooms attract enthused fans on sites like Instagram, YouTube, and Facebook.
Once you've grown an audience excited about your hobby-related content, you can monetize your fans' attention by becoming an online influencer. Brands in related retail spaces will be happy to hire you to recommend or publicly use their products.
5. Create hobby-related content
With inexpensive technologies for creating and publishing one's own newsletters, podcasts, blogs, and other content, it has never been easier to create informational products that your fans will want to subscribe to. Subscribers allow you to monetize your content, whether by charging them directly, getting sponsors, or selling related items.
Once you become a content producer and create your own platform with your own audience, the sky's the limit regarding how you can make money from your hobby. Just don't be surprised when people start considering you an expert in that thing you used to just dabble in.
An obvious way to get money from your hobby is to find people to pay you directly to do it. Maybe you'll take up freelance writing to monetize your writing hobby, or get a gig as a wedding photographer to draw some income from your shutterbug habit.
You may even be able to parlay your passion into a full-time job. Maybe you can find employment as an art teacher, marketing writer, terrarium builder, guitar repair person, or some other employment that aligns with your hobbyist interest.
Whatever your hobby, there's a high likelihood you can find a way to turn it into some additional—or even primary— income. Which method of monetizing you choose and how much you can make depends on your interests, type of creations, digital savvy, and ambition.
But chances are that whether you're an avid photographer, amateur watercolorist, or inspired miniature builder, you'll be able to find a way to turn your hobby into some cold, hard cash.
Disclaimer
At Business.org, our research is meant to offer general product and service recommendations. We don't guarantee that our suggestions will work best for each individual or business, so consider your unique needs when choosing products and services.