Should You Use Facebook Marketplace? Here's What the Experts Say
We asked current business owners and business professionals for their opinions and experiences using Facebook Marketplace. In this article, we've brought together the best advice we received so you can make an educated decision on whether Facebook Marketplace is right for your small business.
Big enough to get you in front of the right people
"The primary advantage that the Facebook Marketplace has over other channels is its audience scale. You're fishing in a pond of almost 3 billion individuals. Once your listings are live on the Marketplace, you can instantly begin promoting your products to people who are actively seeking them out."
—Hutch Ashoo, founder and CEO at Pillar Wealth Management
Facebook is a great tool for getting you in front of the right people, but once you have their attention, it's crucial to pull them into your personal business ecosystem. One of the best ways to do this is to ensure you have a clean and modern website.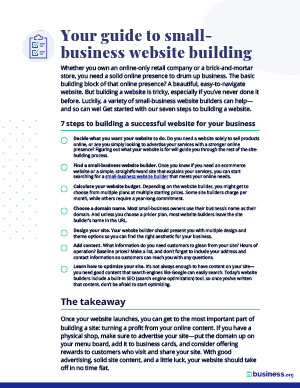 Grow Your Business's Online Presence
Build a beautiful website and start attracting more customers ASAP. Enter your email for a copy of our website building checklist.
Able to leverage audience data for advertising
"Marketplace displays products that consumers are interested in based on their browsing history, previous actions, and local communities. When looking for a specific product in your location, you can use filters to narrow down your results. Marketplace shows products that are available in your area automatically, making the purchase process simple.
"The Facebook Marketplace for Business, in my opinion, is one of the most cost-effective solutions to boost your earnings. It has a lot of promise to help your local business grow. So, if you've been considering selling your wares to your local community online, now is your time. Set up your Facebook Marketplace listings and see how they can help you build your business."
—Adam Wood, cofounder of RevenueGeeks
Facebook Marketplace is one of many places in the online ecosystem that allows you to set up shop for free to sell your wares. Because of its reach, it's hard to beat.
Can increase your local exposure
"Facebook's marketplace feature is a way for businesses to sell products on a wider scale. Small businesses like mine benefit from this because it helps us introduce our items and increase our exposure in the local community.
"It's particularly effective for disseminating information such as occasional sales and the details of our brick and mortar store. Marketplace allows our company to reach active target markets who are looking for high-quality woodwork products through convenient and safe transactions."
—Robert Johnson, founder of Sawinery
Full of customers who are too price sensitive
"What are the advantages or drawbacks? The advantage is that you can get your products in front of a very large audience. The downside is that the average buyer is very price sensitive and is usually looking for an absolute bargain."
—Marc Bromhall, founder of Surf Gear Lab
Not a perfect fit for all products
"Our company has tried to use Facebook Marketplace once. Though it gave us a few leads, it's still not as strong as advertising on other platforms like Instagram. From our experience, people are not usually looking for precious gems or stones on Facebook. Even when we've run ads for a few weeks, the engagement is comparatively not very high. It's possible that the preferences of Facebook users are not in line with our company products. However, when we used Instagram and TikTok to market our products, there was a significant increase in leads and new customers."
—Matt Perry, marketing specialist at BuyMoldavite
A great tool for driving traffic to your website
"One of the benefits of utilizing Facebook marketing for company owners is that Facebook can direct visitors to your website. On your Facebook profile, you may include a link to your website. Indeed, many companies claim that the most significant advantage of Facebook is the increased traffic it brings to their website. Visitors to the website may be exposed to more powerful marketing messages and, in some cases, the ability to purchase products and services. Customers that arrive at your website through Facebook are more likely to be responsive than the typical visitor since they are already familiar with your company and were driven to follow the link."
—Mike Chappell, founder of FormsPal
Facebook Marketplace is a platform available to any small-business owner with a Facebook account. Because the overhead costs of getting onto Facebook Marketplace are so low, it's worth giving it a shot. That said, it's not a perfect platform for all businesses thanks to its bargain-seeking culture and slowness to adapt to certain product markets.
If you're looking for more great tips from the experts, check out our article on podcast marketing.
Disclaimer
At Business.org, our research is meant to offer general product and service recommendations. We don't guarantee that our suggestions will work best for each individual or business, so consider your unique needs when choosing products and services.