How to Invest in Stocks as a Small-Business Owner
Want to start investing in stocks (or options, futures, or other related products)? Well, the good news is that you can do so with just a few clicks. Thanks to online brokers, you can start trading within minutes.
Of course, if you want to do things right, there are a few things you should do first (and after). After all, you want to maximize your chances of making a profit on the stock market.
So let's talk through each step of the investment process and get you started on the right foot.
How to invest in stocks as a small business
1. Make sure investing is right for you
We know you're eager to start buying stock, but we urge you not to skip this step. Before you get started trading on the stock exchange, you need to make sure that investing is the best choice for you and your business.
For individuals, investing is often a no-brainer. The stock market often gives better returns than simply sticking your money in a savings account, at least in the long term. And even if you're not interested in actively managing your portfolio, retirement accounts like your 401(k) and Roth IRA mean you likely have some kind of money on the stock market.
But for businesses, the math isn't so simple. For one, businesses usually have plenty of other ways they can effectively spend money. Instead of becoming an investor with business funds, you could use that money to buy more inventory, to upgrade your equipment, to hire more employees―you get the idea. The point is, you can spend your money in a way that affects your bottom line and the likelihood that your business will still be around in a few years.
Which brings us to the next point: the stock market usually works better as a long-term investment strategy. As you've probably noticed, the stock market has its ups and downs. Some years, you'll probably lose money. But over time, those ups and down balance out to give an average return between 4% and 10%, depending on who you ask. The "over time" bit is key, though.
Solid long-term return
Potential short-term return
Inability to use invested funds on business growth
Potential for short-term loss
For individuals, that's no problem. Most of us plan on being around for many years to come, so we can reap the sweet benefits of long-term returns. Businesses, though, tend to have shorter lifespans than people. In 10 years, you could have retired or sold your business, meaning your business never gets the long-term benefits of investment.
And we probably don't need to remind you of how many small-businesses fail in a 10-year period (too many). So you need to decide what will give your business a leg up during those 10 years: squirreling away money in the stock market or making regular investments in the business's strategy and operations.
In the end, only you have the answer. You know your business and its needs far better than we ever could.
So if you really think you want to become a business investor, we're here to help. The remaining steps below will help guide you on that journey.
But if you're having second thoughts, then you might want to consider doing something else with your business's money. For example, high-yield savings accounts for businesses offer some returns on your cash, but they're less risky and more liquid than the stock market.
With that word of caution out of the way, let's talk about what happens next in the investing process.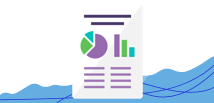 Don't Make a Mistake That Costs You Your Funding
Apply confidently for a loan with our free guide. Enter your email below and we'll send it to you shortly.
2. Decide on an investment strategy
Once you're sure you want to invest, you need to decide what that looks like for you and your business, because, as it turns out, investing covers a lot of territory.
For example, is there an individual stock (or several) you want to invest in? Or would you rather have a more diversified portfolio with an ETF (exchange-traded fund) or mutual fund? Do you think Bitcoin is the future and want to invest in cryptocurrency?
Investment 101
You can check out our guide to the stock market to get a refresher on stocks, ETFs, mutual funds, and a whole lot more.
Even if you want to stick with stocks, you'll need to decide on a specific investment strategy. Obviously, you'll have to decide what companies you want shares in, but you'll also have to decide what type of stock you want:
Preferred stock lets you get a dividend from the company (a share of the profits), but you don't get any voting rights.
Common stock gives you voting rights in the company, but you're less likely to receive any dividends.
In other words, you've got a lot to figure out if you want to be an investor.
The answers to all these questions will depend on things like your risk tolerance, how much money you want to invest, and whether you're trying to get short-term returns (riskier) or long-term returns (safer).
For example, if you're trying for short-term returns, you might want to stick to preferred stocks in the hopes that your company of choice does well.
In that case, you can end up with a nice dividend and the ability to sell the stock for more than you paid for it.
But if you're more interested in long-term returns, you'll probably want to get an ETF or mutual fund and hold onto it.
3. Find the right brokerage for you
After you've figured out a rough investment plan, it's time to start looking for a broker. A broker lets you conduct your trading, analyze your performance, and much more, all through their own platforms.
Because this is the year 2023, we recommend using an online stock broker for your trading needs. (We've ranked our favorites in our guide to the best online stock brokers for businesses.)
Business accounts
As a business investor, you must have a business brokerage account. Many brokers don't offer these, which will limit your options. But it's a legal issue, so don't try to use a personal account for business investing.
As you're comparing brokers, think back to the investing strategy you created in step two. Different brokers excel at different things. If you simply want to buy and sell stocks, many brokers can work. But if you want to trade cryptocurrency, you'll only have a few brokers to choose from. So look for a broker that can complement your investment strategy.
You'll also want to look at other key aspects of any stock broker:
Trading fees and commission fees
Brokerage account fees
Minimum account deposits
Analysis tools
Platform features
Basically, you're looking for a broker that will help you invest without taking too much money themselves. And if they have tools to help guide your investment decisions, that's even better.
4. Open and fund your brokerage account
When you've figured out which broker you want to go with, you'll need to open a new account and add money to it.
In many cases, you can do this all online. Just go to the broker's website and go through its signup process. (Make sure you have details for your business bank account handy so you can fund your brokerage account.)
In a few (frustrating) cases, you may need to open an account by printing off a physical form and mailing it in.
Note that some brokerages require you to make a minimum initial deposit when you open the account―sometimes requiring a few thousand dollars. Others don't require you to put any money in until you want to start trading. (And some limit your ability to use advanced features until you've made a large enough deposit.) Make sure you've done your homework so you can be ready to fund your account appropriately.
With an active brokerage account, you're ready to start putting your money to work on the stock market.
5. Make your initial investment
The process of actually buying stock (or an ETF or a mutual fund or anything else) will depend on who your brokerage account is with. But as a general rule, they make it as easy as possible.
You'll have to log on to your account, choose the product you want to buy, and then confirm the transaction.
And voila! You've started your new life as an investor. With any luck, you're on your way to making money on the market.
Of course, you'll probably end up doing much more than buying one stock. Your work isn't over just yet.
6. Adjust your strategy as needed
At this point, you can buy more stock, sell the stock you have, or simply hold onto what you have. The world is your (trading) oyster.
Again, you'll want to think back to the investment strategy you created. If you're aiming for long-term returns, you'll probably want to settle back and let your fund make you some money. But if you're trying to get short-term returns, you'll likely want to take a more active trading approach.
Any broker worth its salt should give you plenty of tools to analyze how your individual brokerage account is performing. So if you are planning adjustments to your investment portfolio, you should refer to those tools to inform your decision-making.
And that's how to invest in stocks as a business investor.
You can get started in stock investing with just a few simple steps. An investment plan, a brokerage account, and some money are all it takes to begin stock trading. Honestly, it's pretty simple. The harder part, of course, is actually making money on your investment.
Sadly, we can't help you with that part, but we hope we've demystified the stock investing process for you.
Good luck on the market!
If you want to do your trading on the go, check out our rankings of the best investment apps for business.
FAQs about investing in stocks
How much should you invest in stocks when starting?
When you're starting to invest in stocks, you can invest as much or as little as you want. It all depends on your investment strategy, your goals, and your specific situation. For a more specific number, you should probably talk to a financial advisor about all of those things.
How much money do you need to invest in stocks?
The amount of money you need to invest depends on both the stock price of the shares you plan to buy and the broker you go with. If you choose a broker with no minimum requirements and no trading fees, you can get started for just the stock price of a share―less than $5, in some cases.
What is the best investment strategy?
The best investment strategy is a hotly debated topic. Many, many books and articles have been written, all with their own takes on the matter. In other words, there's no clear answer.
So you'll have to figure out what you think makes a good investment decision for yourself. Sorry. (For the record, Warren Buffet thinks index funds are the best bet.)
Disclaimer
At Business.org, our research is meant to offer general product and service recommendations. We don't guarantee that our suggestions will work best for each individual or business, so consider your unique needs when choosing products and services.