How to Start a Consulting Business: Paula Zamarra Shares 8 Tips
Paula Zamarra runs a successful consulting business focused on increasing diversity, equity, and inclusion in the workplace. Here are her tips for aspiring entrepreneurs.
Paula Zamarra is no stranger to entrepreneurship. She grew up in a home where business was a frequent dinnertime conversation.
 "My grandfather was a successful entrepreneur, and my father was a successful entrepreneur," she says. "I feel very fortunate in how I was raised.I grew up around people who were used to forging their own paths."
Though she also aspired to launch her own business, Zamarra joined the traditional corporate world where she focused on building high performing teams and diversity, equity, and inclusion. Unfortunately, over the years she became dismayed with what she was seeing.
""I wasn't seeing the organizations I worked for walk their talk—they weren't able to truly be objective and to treat employees fairly. So I chose to start an independent consulting company."
Today, Zamarra is founder and CEO of Inclusion4Performance, an organizational development consulting firm that focuses on creating high-performing team environments with fair, equitable, and inclusive environments.
With a passion for her work and an upbringing rooted in entrepreneurship, Zamarra felt driven to take a leap into entrepreneurship. But she quickly learned that becoming a consultant wasn't going to be an easy feat—especially with so many services offered online. Still, she forged ahead. Here are the lessons she learned along the way.
1. Define a differentiator
Zamarra recognized from the get-go that differentiating herself from the competition was critical. While her goal was to help companies improve their diversity, equity, and inclusion practices, she recognized the need to hone in on a more defined niche.
"I did a ton of research, looking at the market and my field. I took at least a year of really drilling into diversity, equity, inclusion," she says. "I realized that I wasn't hearing a lot of people able to do what I do, which is help leaders and employees build skills to successfully resolve conflict and create fair trust-based environments. To be successful, you've got to find a differentiator."
2. Be creatively resourceful
Zamarra turned to community resources, like the local SBA, to kickstart her consulting business. But she struggled finding the robust information she actually needed. While several organizations offered her advice, she found that the advice really just skimmed the surface.
"I felt like I had to really do more work to know whether I was taking advantage of the resources that were available," she says. "I had to be super resourceful and do a lot of research myself upfront so I knew where the best place for me to invest was—like who I should hire and for what service. As an entrepreneur, you've got to make sure that you're spending money and time in the right places."
3. Evaluate your progress
Zamarra frequently likes to step back and examine her consulting business. She asks herself questions like: What is she getting right? What is she getting wrong? How can she improve? Is the business progressing in the best way forward? If not, what needs to change?
"Entrepreneurs must have the ability to self-evaluate. We must have good judgment about when we're on course, and when we're off course."
4. Get up when you're knocked down
If there's anything entrepreneurs can plan on, Zamarra says, it's making mistakes. It's how you manage those mistakes that can make or break the business. "As an entrepreneur, you'll get knocked down 10 times and you have to get up 11 times," she says. "That's the part that makes a successful entrepreneur."
Networking plays a critical role in entrepreneurship, according to nearly 80% of small-business owners.1 Zamarra agrees. Long before launching her consulting business, she spent time and effort cultivating a professional network. Many of those people are now some of Zamarra's largest clients. "So much of your business is going to be based on previous relationships, and some of your progress will also depend on those relationships."
Beyond growing and using your professional network, Zamarra advises finding someone with a complementary set of skills and vision to work with. "There's so much that you need to know and to do. If you find the right entrepreneurial partner, you can do so much more than doing it alone."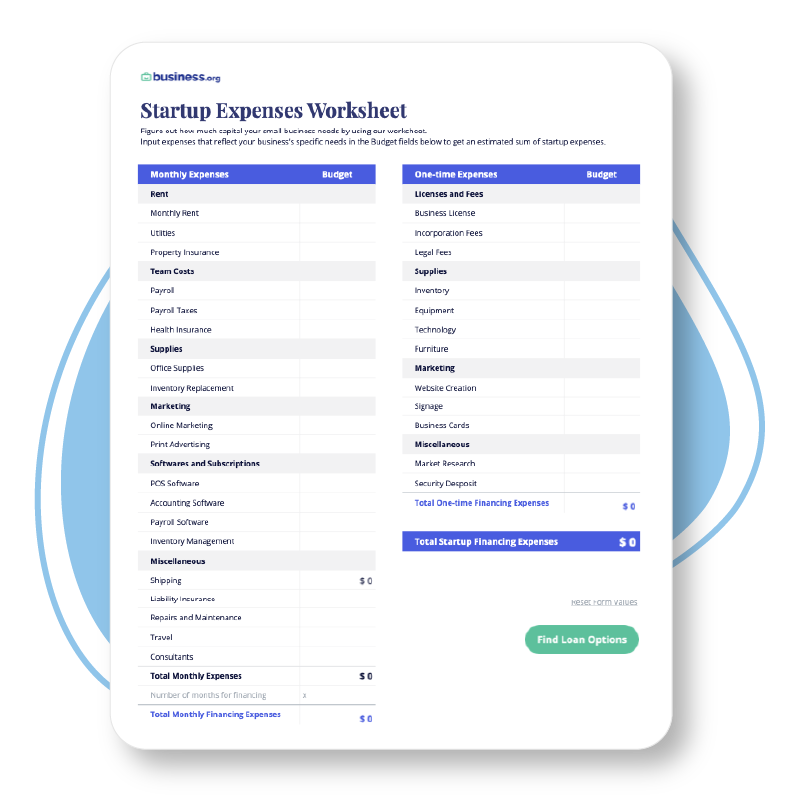 Do you know how much it'll cost to start your business?
Try our free startup costs worksheet to calculate expenses and estimate how much capital you need to launch.
Zamarra has found that self care is critical to keeping her energy high and stress low. "I meditate every morning for 35 minutes, and I try to walk at some time during the day. I also run at least four times a week. If I didn't do those things, I don't know if I would have the stamina to make this business happen," she says. "It's really important to take care of yourself."
With a family history rooted in entrepreneurship, Zamarra has seen firsthand the role that self confidence plays in an entrepreneur's success. "My father was probably the biggest optimist I've ever known in my entire life. He just always believed that he could find a way," she says. "Entrepreneurs have to be optimists. They have to believe that something can be done that hasn't been done before, and they have to believe that they can do it."
Are you ready to take the plunge into entrepreneurship? Here's a list of our top startup lenders.