The 5 Best Bank Accounts for Entrepreneurs
Every entrepreneur needs reliable financial services to succeed in business. But nailing down the best bank account for business owners isn't straightforward.
That's why Business.org spoke with over sixty entrepreneurs to discover the most popular bank accounts for business owners. Let's reveal our top five findings.
:

Bluevine

:

Lili

:

Found

:

Wise

:

Chase

:

Neighborhood credit unions

:

Binance
Best for Online Businesses: Bluevine
Let's say your business primarily exists online, with minimal cash on-hand. In this case, a primarily-online bank like Bluevine is a top-notch choice.
Often referred to as a "fintech" (financial technology) company due to its internet-centric nature, Bluevine doesn't have any physical locations. Instead, the company transacts entirely online, which it says reduces business expenses and allows  for higher-than-average interest rates (2.0% APY to be exact) and other perks.
Indeed, earning more interest and paying fewer fees can seem like a good trade-off for a physical branch. But this will only work for entrepreneurs living a largely cash-free lifestyle. Local mom and pop shops that rely on in-person cash and card transactions will have a much harder time with online-only banks like Bluevine.
"The best bank account for small businesses is Bluevine, especially for businesses that operate completely online as they have an online business bank account. Bluevine offers several benefits for entrepreneurs such as no monthly fee and no penalties for too many transactions."
-Daniel Patrick, owner and fashion designer, Daniel Patrick Inc.
Best Accounting Perks: Lili
Speaking of fintech, there's another worthy show in town: Lili. This US- and Israel-based financial technology company dishes out some of the best accounting and tax goodies we've seen.
For example, the service's Tax Bucket offering sets aside a percentage of your business's revenue. Then, once tax season rolls around, you can dip into this stash of cash to pay Uncle Sam, which helps you avoid unaffordable IRS bills.
There are other layers to Lili's accounting benefits. Here are some highlights:
In-house invoicing software
Write-off tracker to quickly identify business expenses for tax purposes
Pre-filled Schedule C IRS form, which saves time
Fee-free checking accounts and debit cards with over 38,000 free ATMs
The company offers a beautiful user interface while keeping most things free, including no-fee overdrafts. As a result, we think Lili's a smashing choice for any discerning entrepreneur looking to keep tabs on every last cent.
Best for Solopreneurs: Found
Though Lili recently has opened up its services to all business entities, Found is best for solopreneurs with no employees. Both fintech's offer no-fee checking account and Pro account options, but Found's free account comes with more features than usual.
Found has several helpful app integrations, which could prove helpful for the Lyft driver or Etsy shop owner who wants all their transactions in one place. It also links to popular payment apps for free, including Zelle, CashApp, Venmo and PayPal—all while offering unlimited invoices. To top this, Found also has basic accounting perks (with more advanced perks on its paid account) like autogenerated paperwork, built-in expense tracking, and tax savings options.
Though their paid account is slightly higher than Lili's, they've still got plenty of options on their free account to help solopreneurs get a handle on their finances with ease. 
JPMorgan Chase, or simply Chase, has been a banking goliath for more than two centuries. Because of its lengthy history, the financial powerhouse is best for entrepreneurs who want to work with an established banking institution.
In particular, Chase is a good fit for small-business owners who want a credit card with plenty of value and perks, like generous cashback. Business owners can choose from nearly a dozen commercial credit cards, each with its own perks and fees, to match various needs. For example, if your business is international, the bank's United Club credit cards deliver abundant airline travel rewards.
Keep in mind that despite Chase's robust name recognition, the institution isn't perfect. Far from it, in fact—Chase has incurred criminal charges of fraud and market manipulation, to name just two troubles.
"The best credit card to use as an entrepreneur, in my opinion, is the Chase Ink Business Preferred card. Due to the high level of traveling and advertising required for most start-up companies, this credit card offers entrepreneurs the chance to earn many rewards fast. Although there is an annual fee, this card offers an amazing welcome bonus, and it provides cards to employees of your new business at no extra cost. With this credit card, it's easy to rack up many points. And if you are an entrepreneur who frequently travels for business, there are many bonus categories that will prove to be extremely valuable to your ventures."
—Avner Brodsky, CEO and co-founder, Superwatches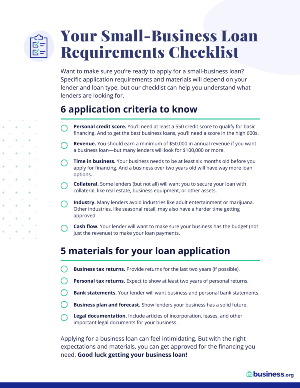 Applying for a small-business loan soon?
Our free checklist can help you understand what lenders are looking for.
Best for International Payments: Wise
If you reel in cash from abroad, then congratulations on achieving international growth. Oh, and our sympathies.
After all, currency exchange fluctuations, excessive fees, higher fraud rates, and geopolitical issues are just a few troubles entrepreneurs struggle with.
But thankfully, banking services provider Wise has it figured out. Formerly known as Transferwise, Wise boasts several handy perks:
Market-rate currency conversions without inflated spreads and fees
Support for over 54 currencies received from 80 countries
Automatic conversions of third-party payments, like Paypal and Amazon, into another currency
Bank accounts in 10 countries, eliminating the need for cross-border transactions
Bottom line, if you suffer from global commerce frustrations, then Wise is a perfectly tailored solution to your peskiest pain points.
"I've been a small business owner for around five years now, and we use the Wise (formerly Transferwise) business bank account and credit card. We absolutely love it! We do a lot of international transactions because of our digital business—we have customers from all over the world. Wise makes it super easy for us to transfer all of that into one place without a ton of fees. It's super easy to pay your team and super easy to transfer your money—you can spend in any currency. I would highly recommend Wise for other online business owners!"
-Deya Aliaga, founder, DBM Bootcamp
Honorable Mention: Neighborhood Credit Unions for Local Businesses
Although big shots like Bank of America and Chase get plenty of fame, a small, regional credit union is often a worthier contender. That's because these local institutions often dish out better interest rates, fewer fees, and many other perks that national chains can't compete with. And unlike online banks like Bluevine, credit unions manage to boast generous terms while still providing a physical location.
Sounds too good to be true? Well, there is a catch. Credit unions restrict membership, unlike national banks. This limitation means you'll need to qualify to open an account. For example, the Los Angeles Federal Credit Union restricts access to people residing in the greater Los Angeles, California area, among a few other eligible classifications.
While this might seem discouraging, many credit unions accept family members of current clients. So, if you're not eligible on your own, then maybe it's time to reconnect with your long-lost sibling—but only if they have credit union membership, of course.
"We use Member's First Federal Credit Union based out of Central PA. Our go-to credit card is the Chase Ink Business Preferred. Not only was the sign-on bonus great, but we also get 3x points on all marketing expenses. This helps us rack up points quickly since we are digital-based.
Suggestions for other business owners would be to shop around local banks for the best rates and loans. Local banks will most likely work with you personally to create a banking situation that works for you. But if you are looking for nationwide flexibility, the larger national entities work best."
-Josh Eberly, owner, 717 Home Buyers
Honorable Mention: Binance for Cryptocurrency Payments
More than a decade after it first hit the internet, cryptocurrency continues to soar in popularity. And as more countries formally recognize blockchain-based money, entrepreneurs will inevitably need to adapt.
Learning to use crypto is daunting, though. Exchange rates between crypto and fiat currencies fluctuate constantly. Moreover, crypto wallets, which are used to send and receive payments, usually involve sharing lengthy alphanumeric "addresses" that are impractical to remember.
Thankfully, companies like Binance, Coinbase, Gemini, and other crypto startups make it a little easier to break into the world of crypto. For example, scannable quick response (QR) codes let small-business owners receive payments instantly. Plus, cryptocurrency payments are irreversible. This permanence can mean fewer fraudulent transactions and frivolous chargebacks.
"I highly recommend Binance for any entrepreneur looking for an alternative to a traditional bank. With Binance, all your funds are stored in real money (USD, euros, and so on) but also in cryptocurrency. So if you have Bitcoin, for example, you can still use a VISA card to make purchases at any physical store and online as well. You can either use the flat currency on your account or convert some of your cryptocurrency to pay for purchases. It makes it really simple and easy to use, but the best part is that it's much cheaper to send bank transfers and make payments in crypto. Not only that but it's also faster, since transactions can be completed within minutes in networks such as Ethereum and Cardano."
—Stefan Ateljevic, crypto entrepreneur and founder, PlayToday.co
No single bank is perfect for every entrepreneur. Local mom-and-pop business owners are a better fit for credit unions. Meanwhile, ecommerce entities would enjoy the perks of an online bank such as Bluevine. Ultimately, the right bank for you depends on your specific needs and business growth trajectory.
Need a beautiful website for your business? Then check out our top website builders for small businesses.
Best Bank Accounts for Entrepreneurs FAQ
What is the best bank to have an account with?
The best bank account for you will depend upon your business needs and type of business. If you need online banking, Bluevine is great. If you're a solopreneuer with accounting needs, Lili or Found would be a good match. If you need a credit card, Chase is ideal, or if you do a lot of international payments, Wise is perfect. And if you're a local business, you'll probably find the most luck at your neighborhood credit union. 
Which bank is the best bank to save money?
Bluevine is the best banking option if you're looking to save money. You can earn 2.0% interest on balances up to $250,000. That's a super competitive interest rate. All you need to do is spend $500/month on your Bluevine MasterCard or receive $2,500/month in customer payments to your Bluevine checking accounts or sub-accounts.  
Disclaimer
At Business.org, our research is meant to offer general product and service recommendations. We don't guarantee that our suggestions will work best for each individual or business, so consider your unique needs when choosing products and services.